Do tego miejsca trafiliśmy całkowitym przypadkiem, na tak zwanego 'czuja" postanowiliśmy zajrzeć do środka ;) Zazwyczaj przed wyjazdem lub już będąc na miejscu sprawdzamy gdzie najlepiej zjeść aby posmakować lokalnego jedzenia – tym razem, nie mieliśmy czasu zająć się tematem i wyszło nam to doskonale… zapraszam na smakowity wpis o tawernie specjalizującej się w owocach morza oraz lokalnej, kreteńskiej kuchni :)
Hotel w Chani mieliśmy oddalony od zabytkowej części miasta, ale za to z balkonem wychodzącym na morze, więc doskonale ;) Od plaży dzieliła nas jednokierunkowa ulica, znaczy romantyczny spacer brzegiem morza możliwy do realizacji codziennie. Chania jest niesamowicie klimatyczna, jednak nie na tym chciałabym się skupić a na restauracji, którą odkryliśmy chwilę po wyjściu z hotelu. Tak, tak, to był kolejny plus lokalizacji. Niebiesko biała sceneria restauracji, otwarte na oścież okna i urocze świeczniki z zewnątrz wyglądały bardzo przyjemnie i do tego ten widok…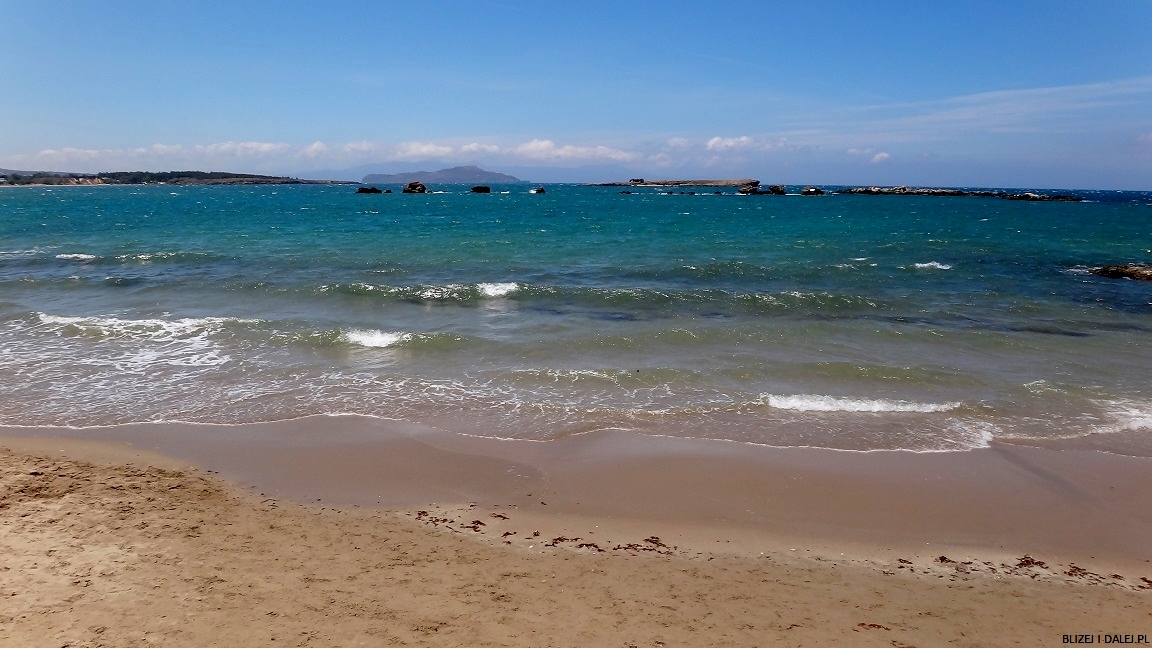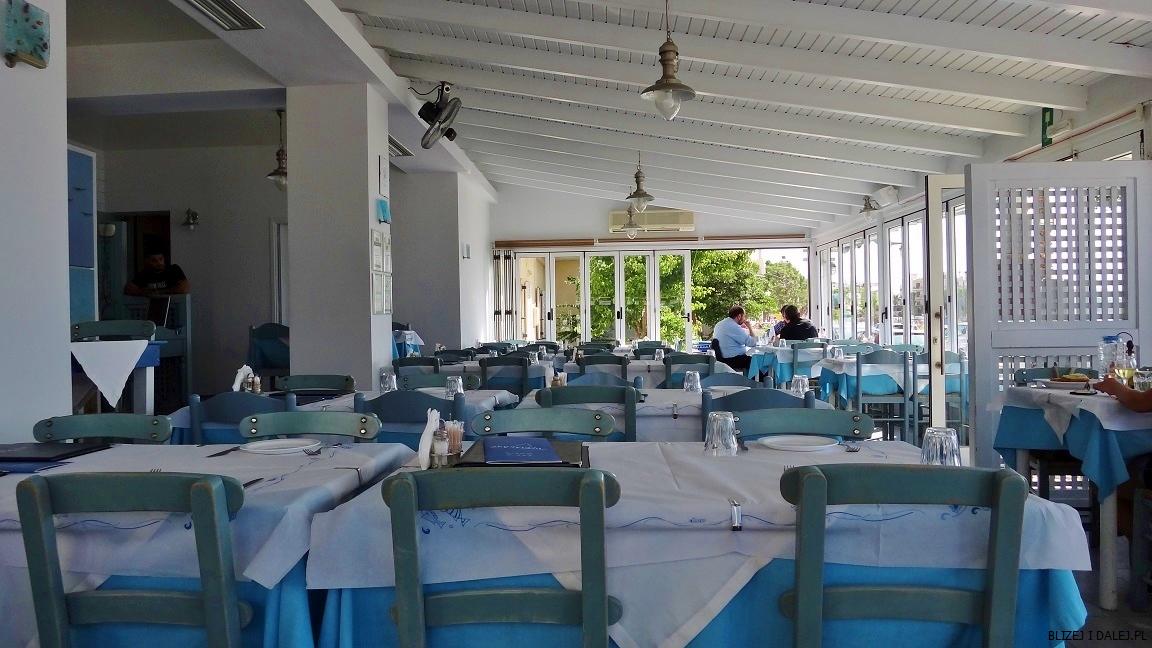 Postanowiliśmy dać szansę Akrogiali Taverna i był to bardzo dobry wybór! Przywitała nas Właścicielka z uśmiechem i kilkoma polskimi słowami – śmiała się, że coraz więcej nas na Krecie :) Bezpośrednie loty tanich linii wykonują zadanie celująco, faktycznie w wielu miejscach na wyspie słychać było język polski. Tego dnia zamówiliśmy przede wszystkim dania obiadowe i tak, ośmiornica podana z pure z fasoli (tytułowe zdjęcie) była absolutnie przepyszna. Rybki (nie pamiętam już niestety jakie dokładnie jedliśmy) pieczone, smażone, w panierce lub bez podane z ziemniaczkami były doskonałe. Zestaw mięs, takich jak souvlaki, kiełbaska i kotleciki podane z frytkami było poprawne, jednak niczym szczególnym się nie wyróżniało…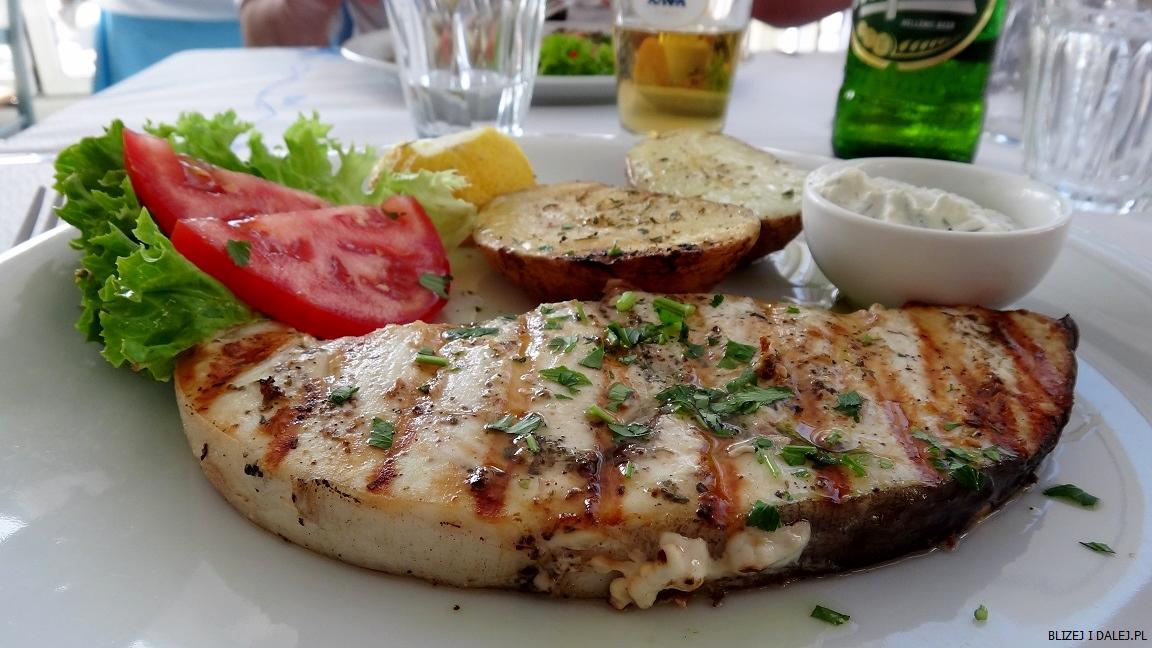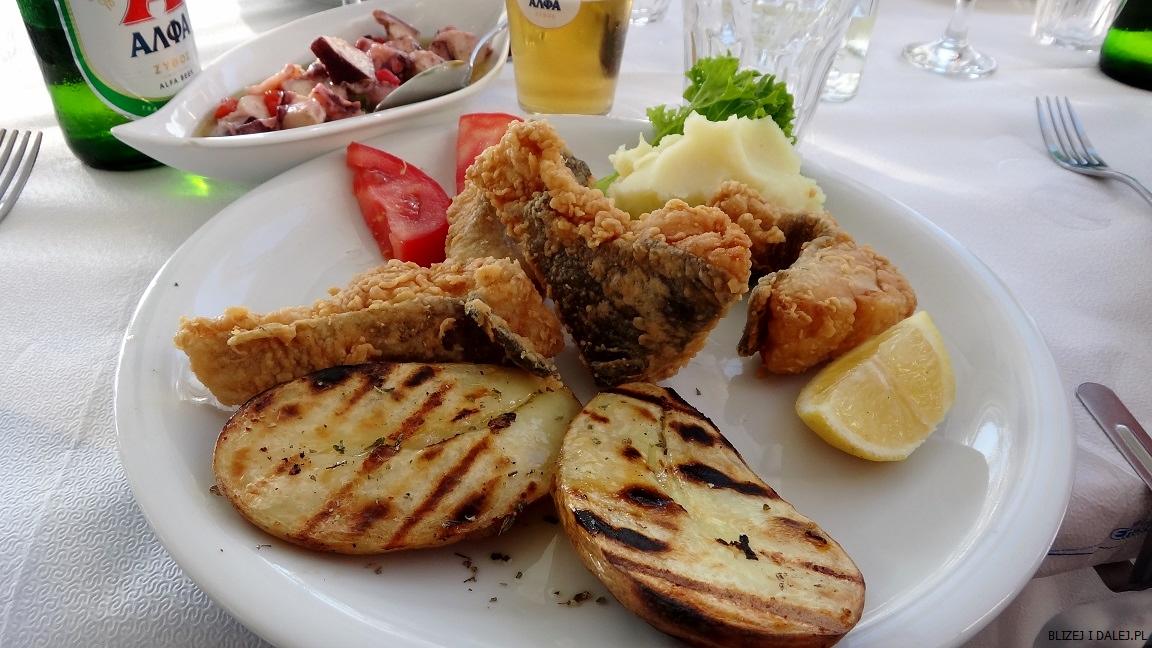 Saganaki znaczy krewetki podane z fetą w sosie pomidorowym to nasze odkrycie wyjazdu – jeszcze kilka razy je zamawialiśmy w różnych miejscach, ale tu było najlepsze! A przystawka w postaci marynowanej ośmiornicy w oliwie to mój zachwyt wyjazdu, wracałam na nią i tęsknię do dziś – rozpływała się w ustach, była absolutnie doskonała… na samo wspomnienie chciałabym się spakować i wybrać ponownie do Chani :)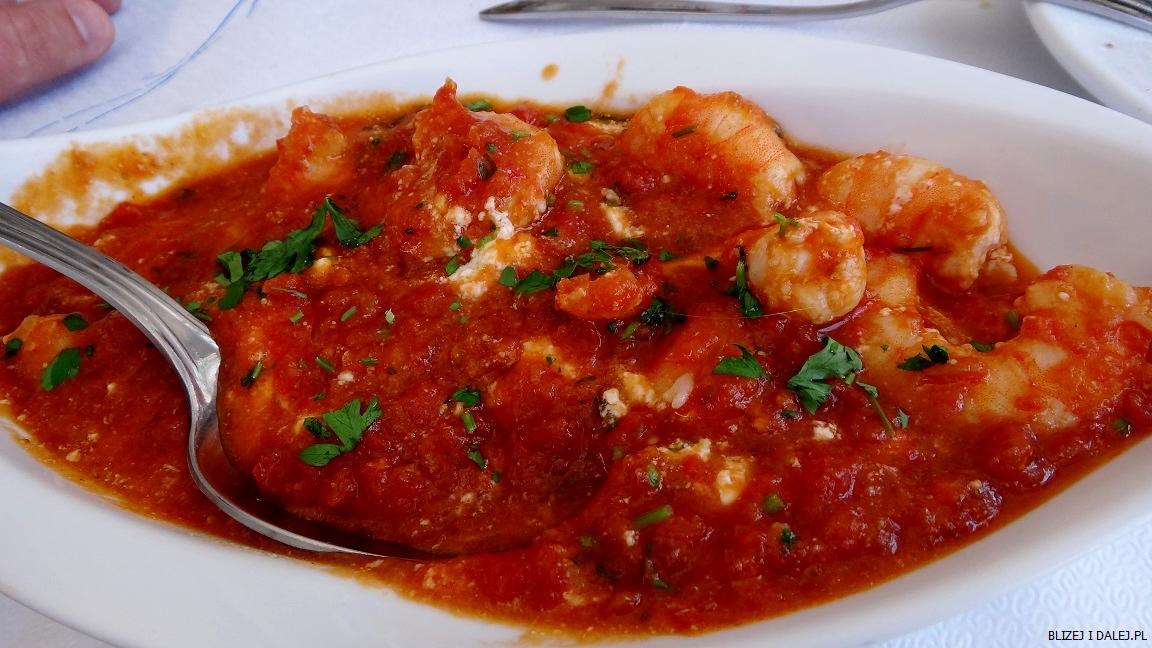 Tradycyjna Moussaka, czyli grecka zapiekanka z mięsem mielonym i bakłażanem w pomidorach oraz sosem beszamelowym – pioruńsko ciężkie, ja bym go nie zamówiła… Jednak wszyscy twierdzili, że dobra ta moussaka ;) Próbowaliśmy jeszcze naleśnika z krewetkami, którego słodko – wytrawny smak nie do końca do mnie trafił a jeśli chodzi o sałatkę grecką, to jest praktycznie identyczna z tą wersją znaną u nas tylko lepsza ;) A  do tego bardzo smaczne domowe wino, białe i czerwone lub jeśli ktoś woli piwo, to nie ma problemu, na miejscu serwowana jest zimna, butelkowana Alfa.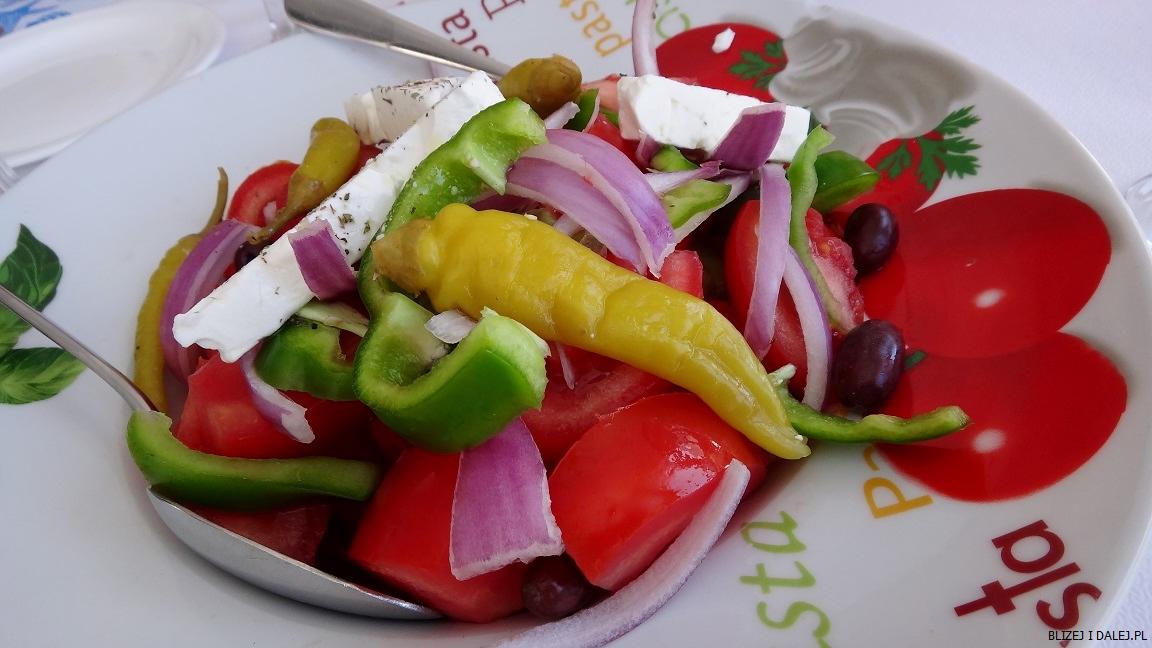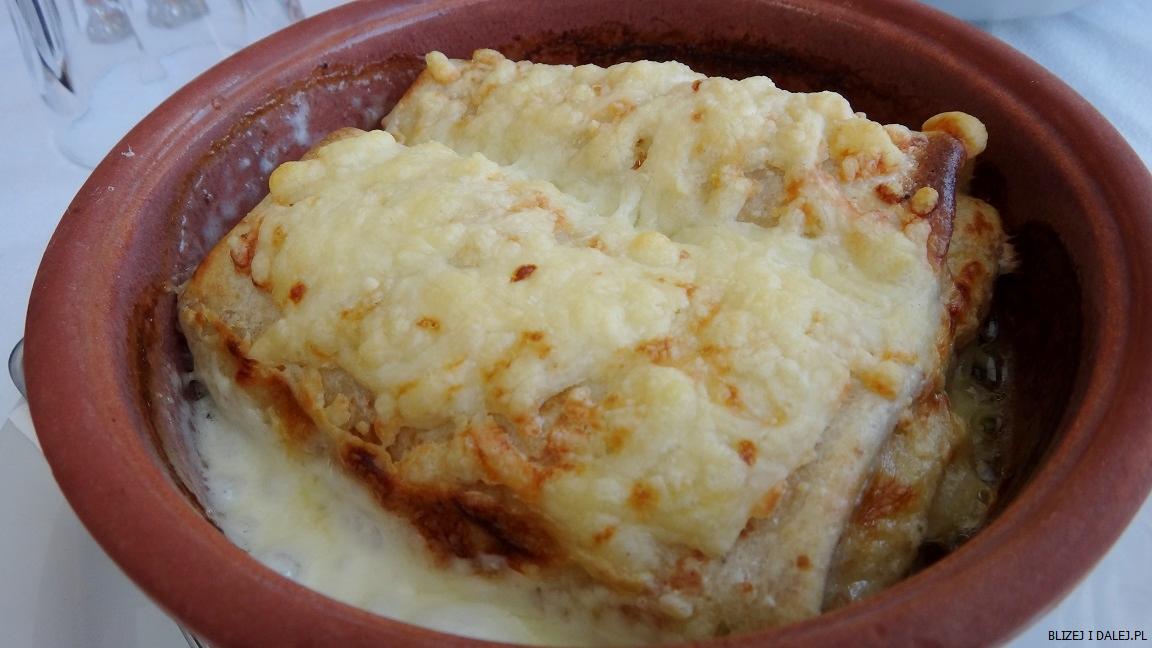 A co na deser? Nie, my deserów nie zamawiamy, a wyjątki zdarzają się bardzo rzadko. Jednak w tym miejscu prosząc o rachunek dostaniecie nie tylko lokalną rakiję na pożegnanie ale także coś słodkiego. I to nie będzie byle co, tylko pyszne kokosowe kuleczki – nie do końca wiem co to dokładnie było, ale wiem że smakowało wybornie! Za którymś razem dostaliśmy także coś podobnego w smaku do tiramisu serwowane w kieliszku, jednak kuleczki były nie do pobicia ;)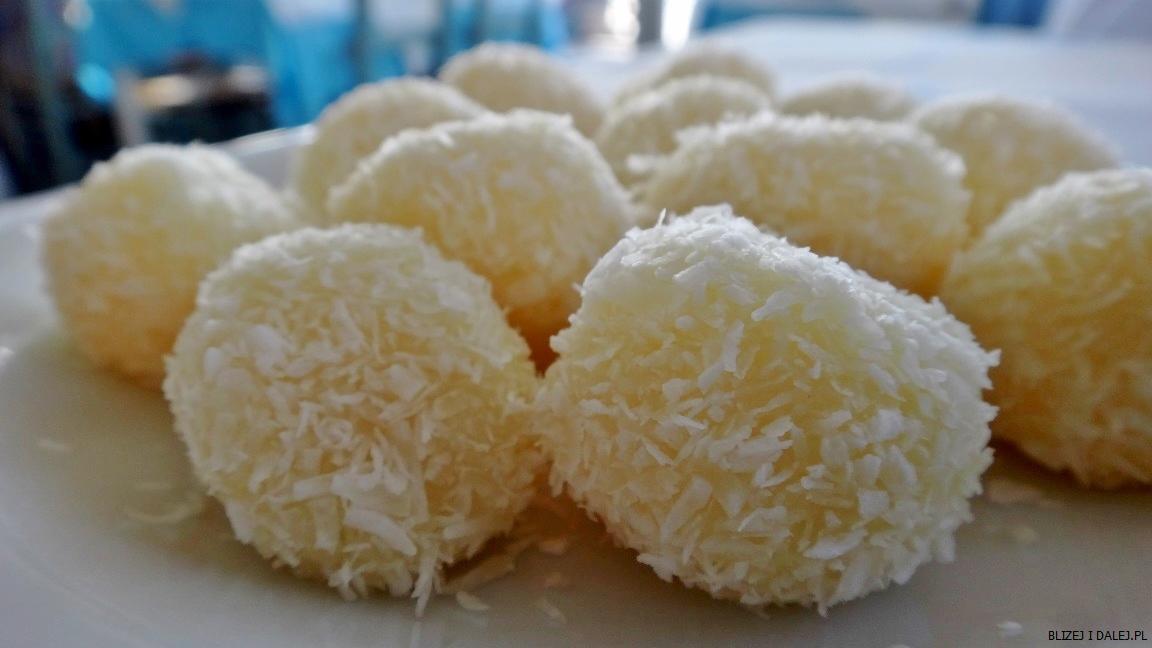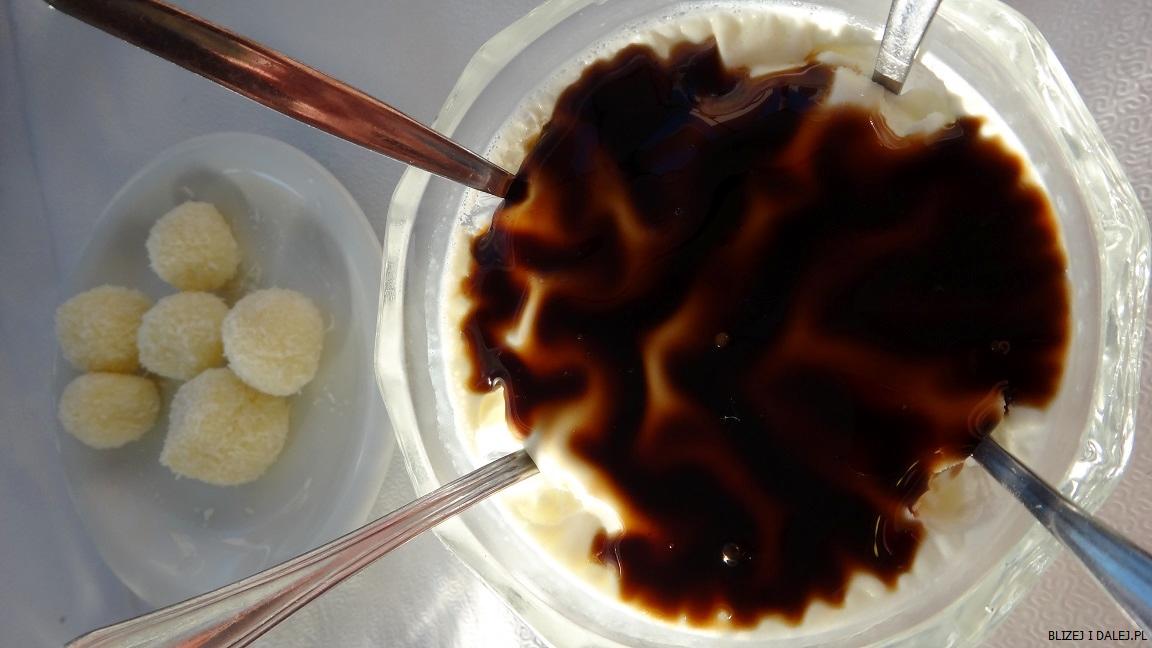 A gdzie znajduje się restauracja Akrogiali Taverna? Około 1,5km od turystycznego centrum miasta, czyli jakieś 20 minut spacerem wzdłuż wybrzeża. Jeśli chodzi o ceny, to nie jest to jakieś szaleńczo drogie miejsce, ceny są rozsądne w porównaniu z innymi restauracjami w Chani. Natomiast jeśli chodzi o poziom obsługi to wszystko zależy od humoru, dosłownie – zdarza się sztywno i bez grama uśmiechu (jeden raz na cztery wizyty, więc można uznać, że się czepiam). Czasem także trzeba dłużej poczekać na danie, jednak nie ma co się stresować, trzeba grzecznie czekać, później powinno być już tylko pysznie :)

Cała nasza zacna czwórka zgodnie stwierdziła, że miejsce to karmi doskonale i już pierwszego dnia zauroczyli nas do tego stopnia, że przez kolejne dni jedliśmy tylko tu! I niezależnie od tego co zamówiliśmy smakowało pysznie, bardzo dobrze lub w najgorszym wypadku było po prostu smaczne. Polecamy, bo to wspaniałe miejsce na mapie Krety :)
A jeśli zdecydujecie się na wieczorną, romantyczną kolację to celujcie w zachód słońca, potrafi być piękny spektakl!

Dodatkowe informacje:
Adres: 19 Akti Papanikoli, Chania, Kreta 731 31, Grecja
Przykładowe ceny: moussaka 8,5€, saganaki 9,9€, dania rybne 9-14€, wino 5-6€/0,5l, piwo 3,3€/0,5l
Więcej artykułów o Krecie (tutaj).
---
You might also like