W Lizbonie spędziliśmy intensywne trzy dni podziwiając wspaniałą architekturę i zabytki, spacerując niespiesznie po klimatycznych uliczkach, pokonując niezliczoną ilość schodów i pionowych podejść aby podziwiać rozległe panoramy, ciesząc się jak dzieci na widok sławnych, żółtych tramwajów oraz delektując się pysznymi napojami i jedzeniem w promieniach słońca :) Lizbona w moim odczuciu to wspaniałe miasto, jednak jestem przekonana, że nie każdemu się będzie podobać… Miasto miejscami wydaje się być zapomniane i dość mocno zaniedbane, ale za to z duszą i charakterem! Na każdym kroku czuć historię i magię miasta :)

Jakie miejsca koniecznie należy odwiedzić aby poczuć atmosferę miasta i zakochać się w nim? Zapraszam na subiektywną listę najlepszych miejsc w Lizbonie :)
Na dobry początek, punkt absolutnie obowiązkowy, czyli spacer wąskimi, zabytkowymi uliczkami Alfamy, wieczorem dzielnica ta rozbrzmiewa tęsknym fado… Pamiętaj, że jeśli chcesz wziąć udział w koncercie na żywo w którejś z restauracji to trzeba zrobić wcześniej rezerwację – bez tego, jesteś bez szans na romantyczną kolację. Na szczęście część koncertów odbywa się pod chmurką, więc jest szansa na romantyczną ławeczkę i chwilę zapomnienia ;) W dzielnicy Alfama trzeba wejść choć na chwilę do znanej Katedry Sé, a jeśli lubimy zamki to i tu czeka na nas dodatkowa atrakcja w postaci Castelo de S. Jorge.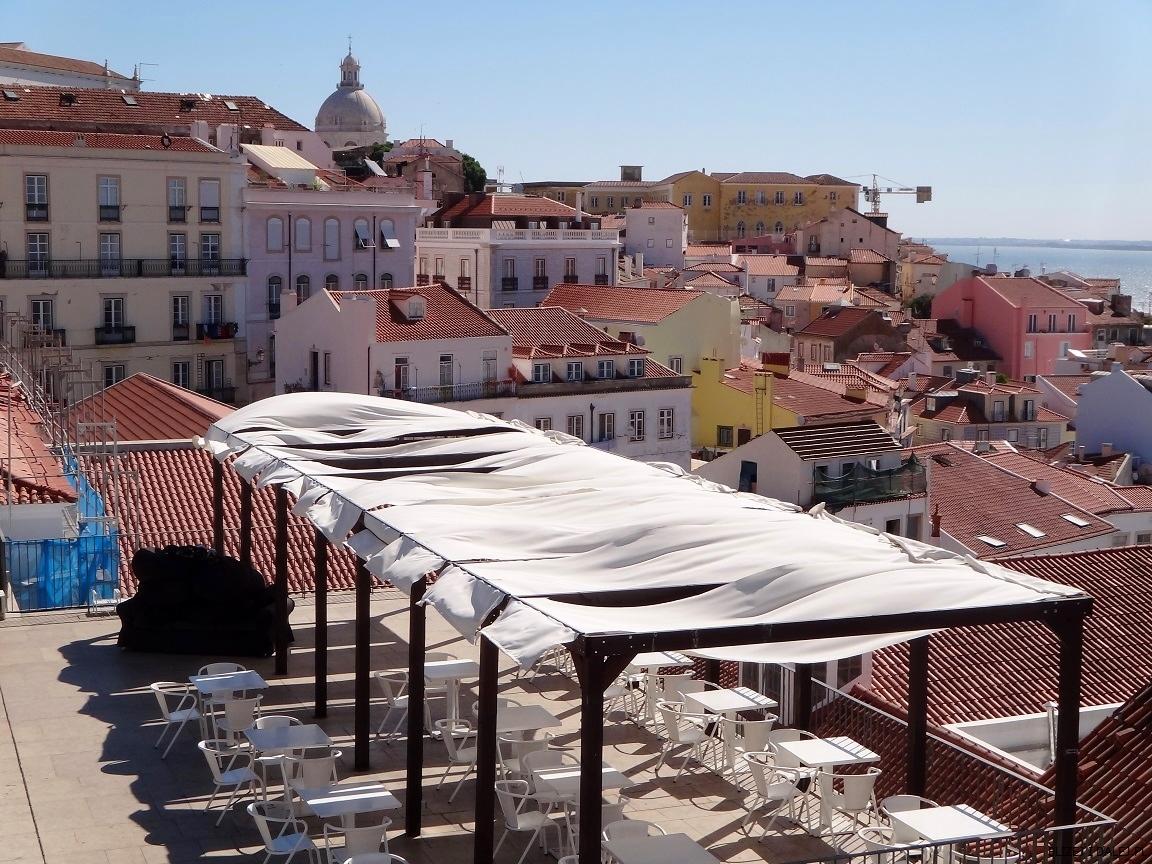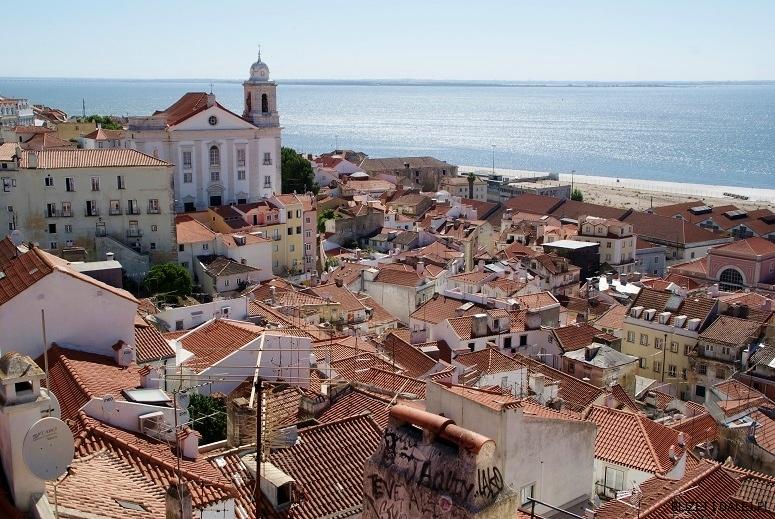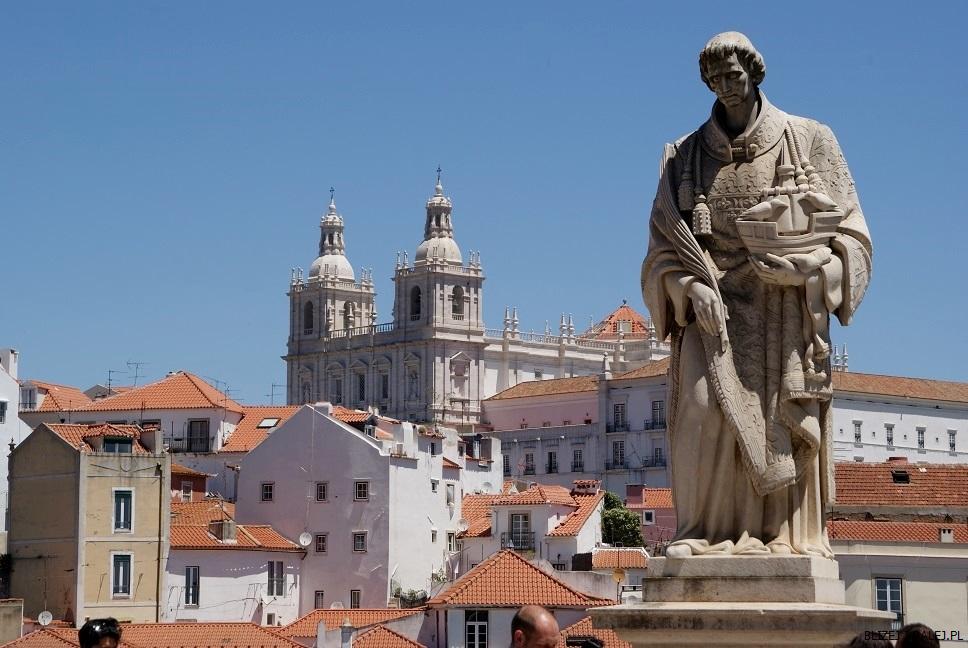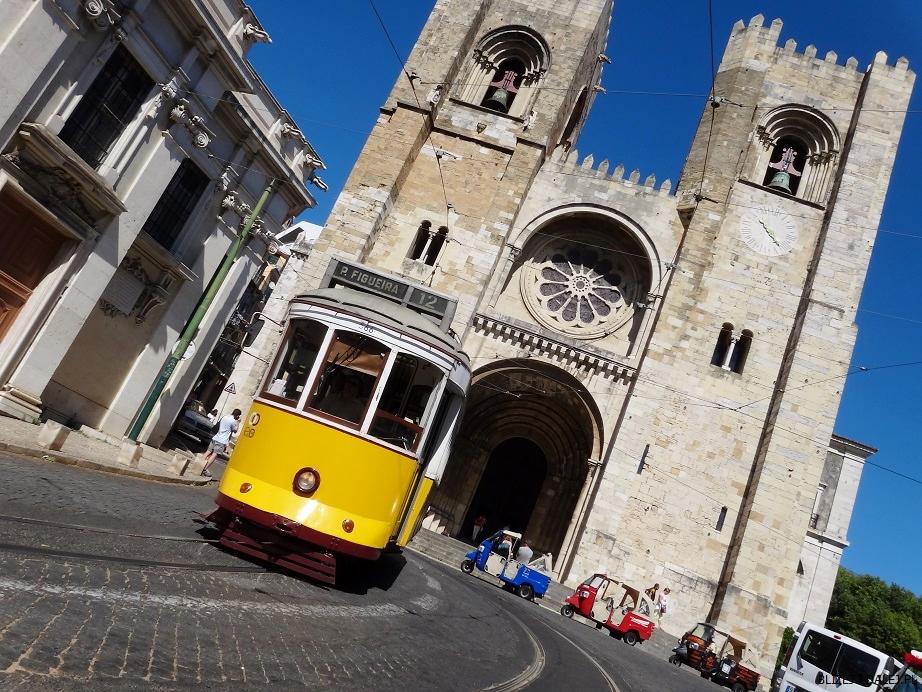 Zarezerwuj sobie czas na wycieczkę słynnym, żółtym tramwajem numer 28, to symbol miasta i niezapomniana przygoda! Tramwaje w większości są zabytkowe, obowiązkowo w kolorze żółtym, a po trasie rozciągają się fantastyczne widoki… tu możemy wyskoczyć aby chwilę później wskoczyć ponownie do kolejnego wagoniku i pojechać dalej – jedna z najlepszych tras widokowych w Lizbonie :)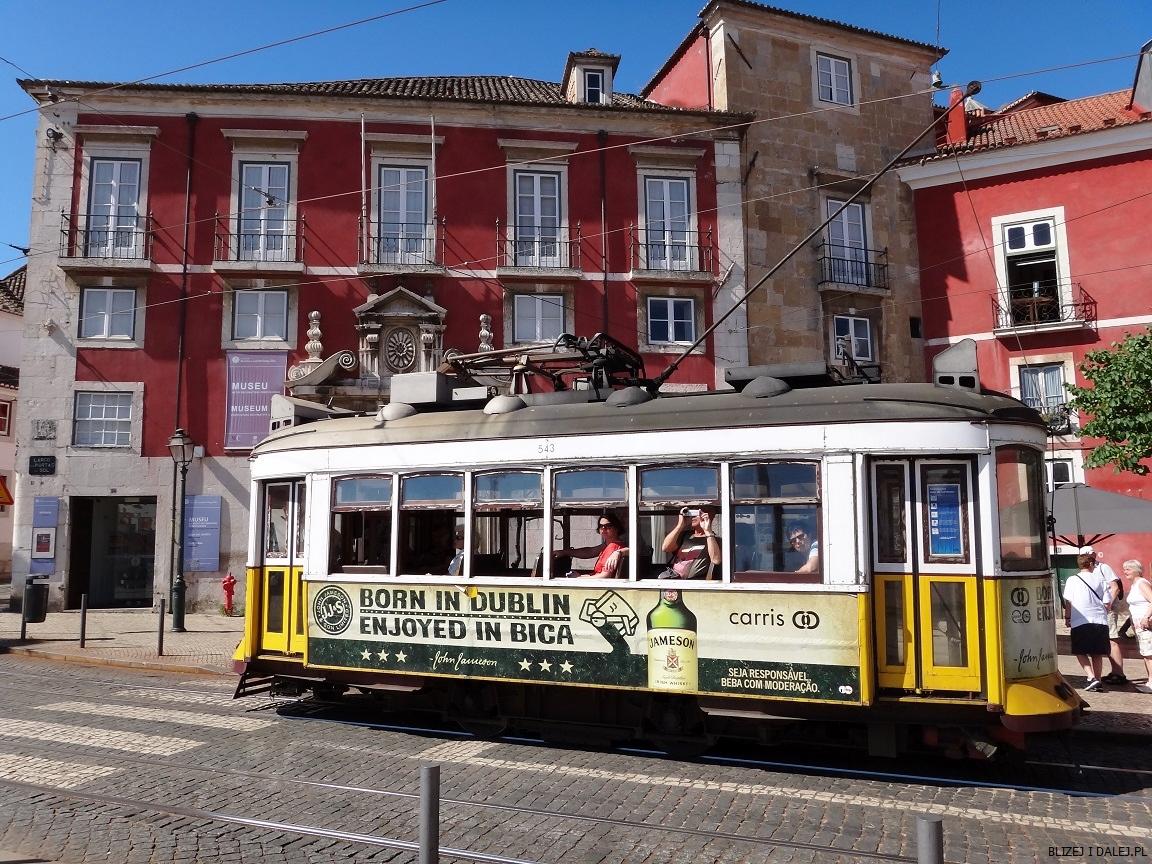 Poruszając się po mieście warto skorzystać z klimatycznych i starodawnych wind, które przenoszą nas bez zmęczenia nóg na wyższe poziomy miasta. Dla mnie najpiękniejsze widoki rozciągają się z Elevador da Bica, winda podąża w górę po szynach wzdłuż typowej, portugalskiej wąskiej uliczki… tu i tam kwiaty, suszące się pranie i widok na rzekę Tag, czego chcieć więcej :)
Kolejna winda Elevador da Gloria przenosi nas wagonikiem na jeden z lepszych punktów widokowych w Lizbonie, czyli Miradouro de São Pedro de Alcântara. Na górze, w cieniu drzew i delikatnym chłodzie od fontanny można się rozkoszować uroczą panoramą na miasto. I te wagoniki, takie mniej zwyczajne się wydają… niby zwykły wagonik, a tak śmiesznie ma zadarty "tyłeczek" ;)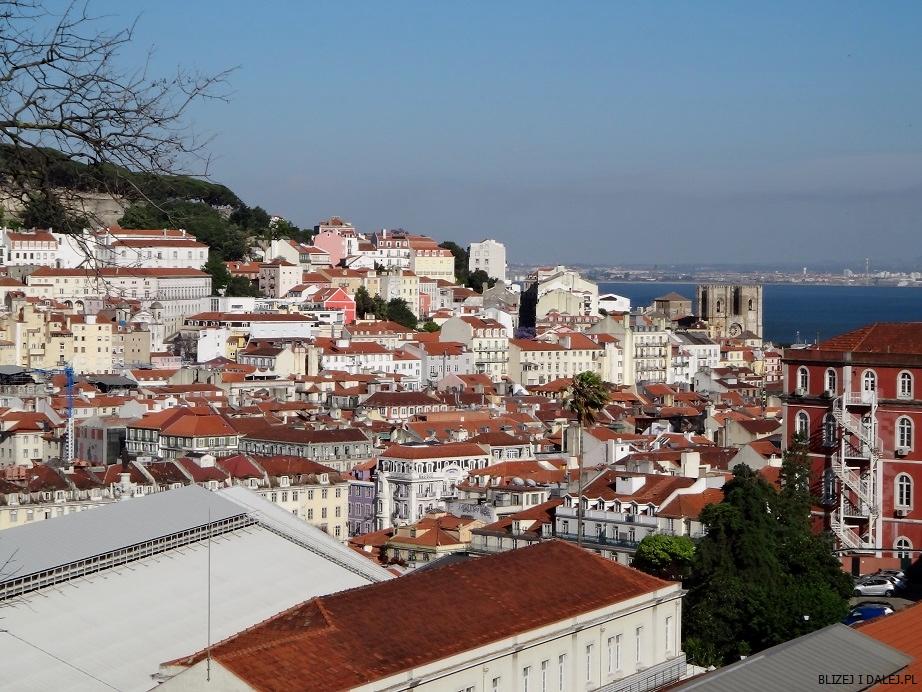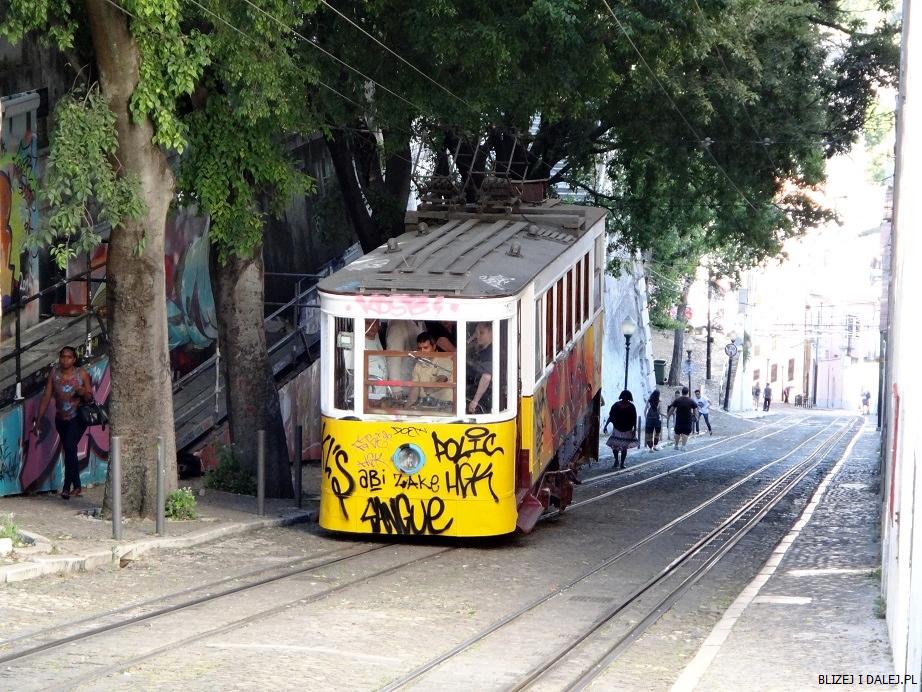 A tuż obok windy da Gloria znajduje się najpiękniejszy kościół w jakim byłam w Lizbonie, Church of Sao Roque. Z zewnątrz nie wyróżnia się niczym szczególnym, my go prawie ominęliśmy… Na szczęście zajrzeliśmy do środka i przenieśliśmy się w czasie – wspaniałe malowidła, piękne zdobienia i praktycznie zero zwiedzających.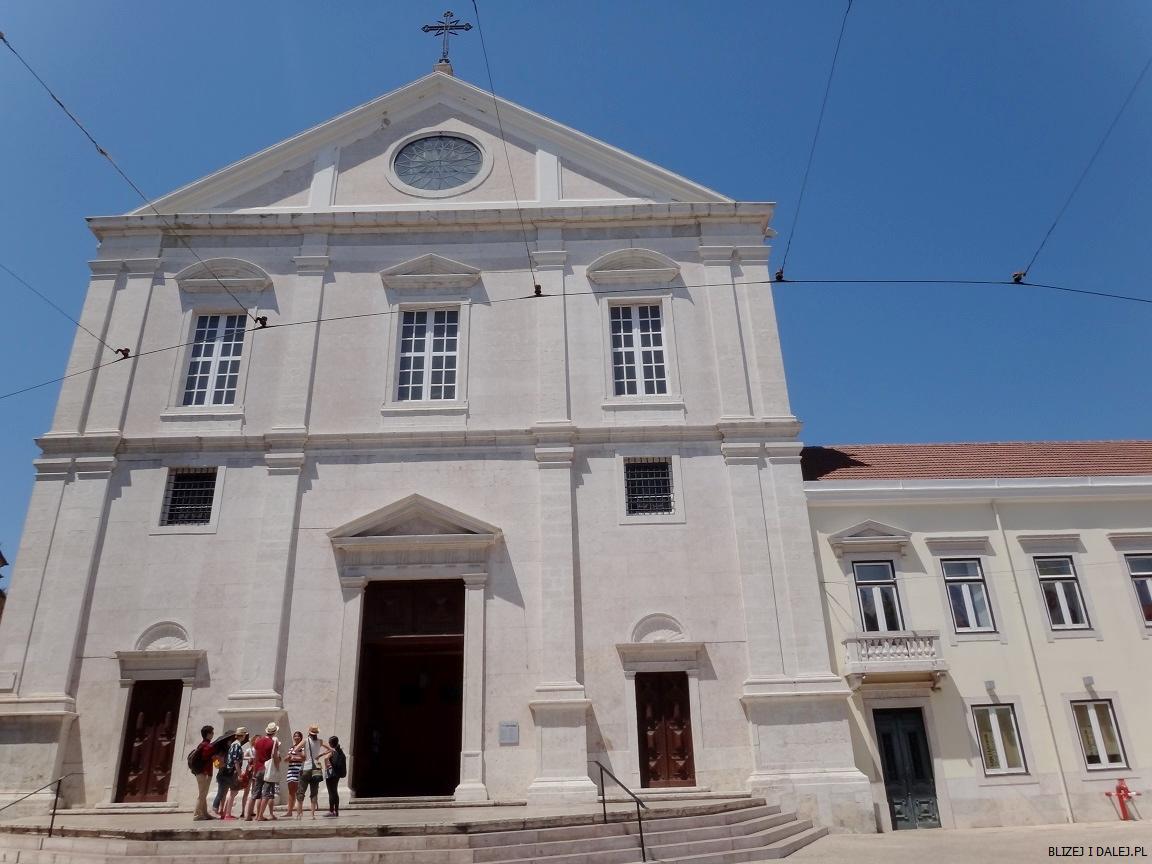 Kolejna winda Elevador do Lavra, jest najmniej znana, prowadzi wzdłuż muru praktycznie w całości wymalowanego różnorodnym street artem… Specyficzny klimat, lekko dziwna atmosfera z elementami dreszczyku i świetne murale, zobaczcie sami…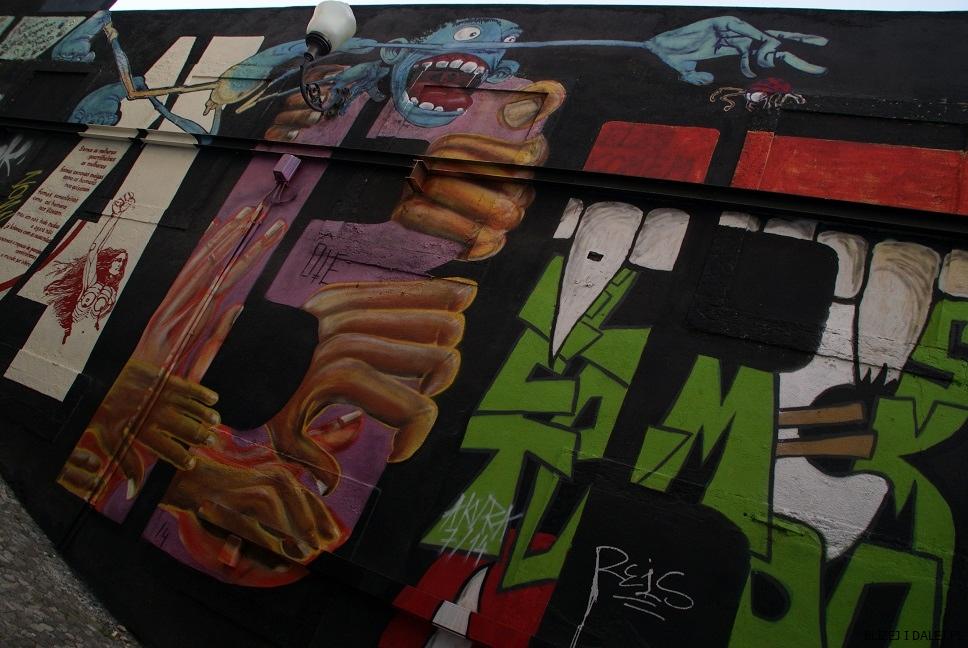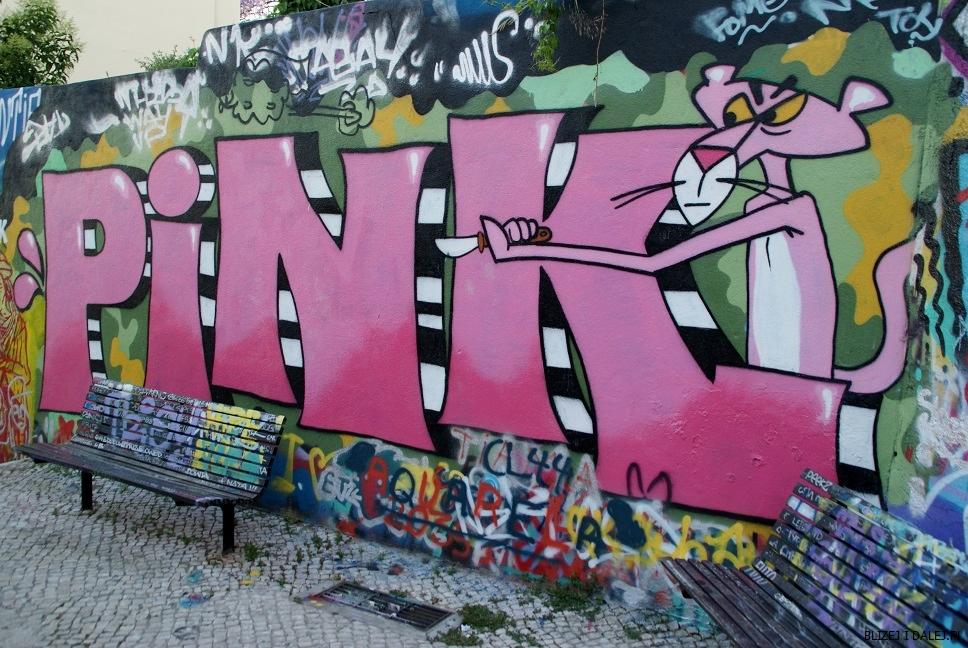 Dla zmęczonych stóp świetnym rozwiązaniem poza tramwajami i windami będą znane i uwielbiane przez wiele osób tuk tuki – kolorowe autka z uśmiechniętym kierowcą, który często jest także przewodnikiem :)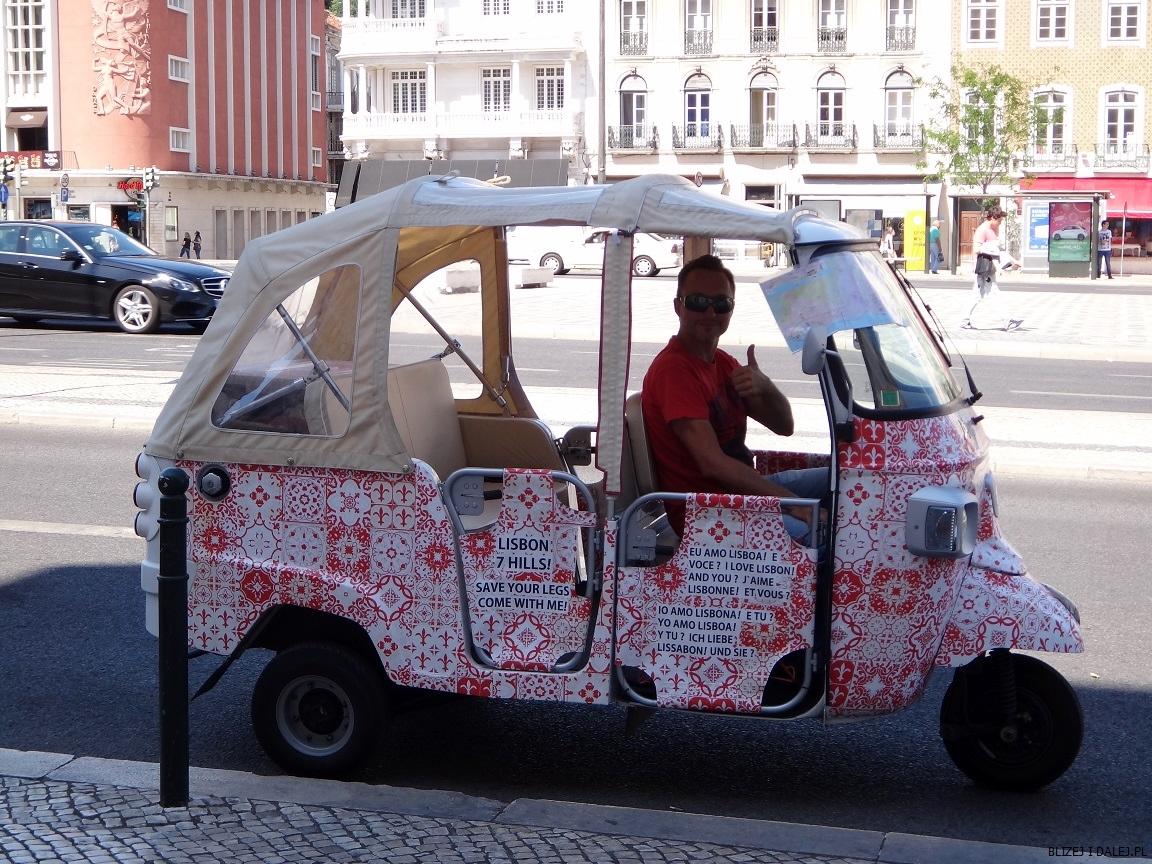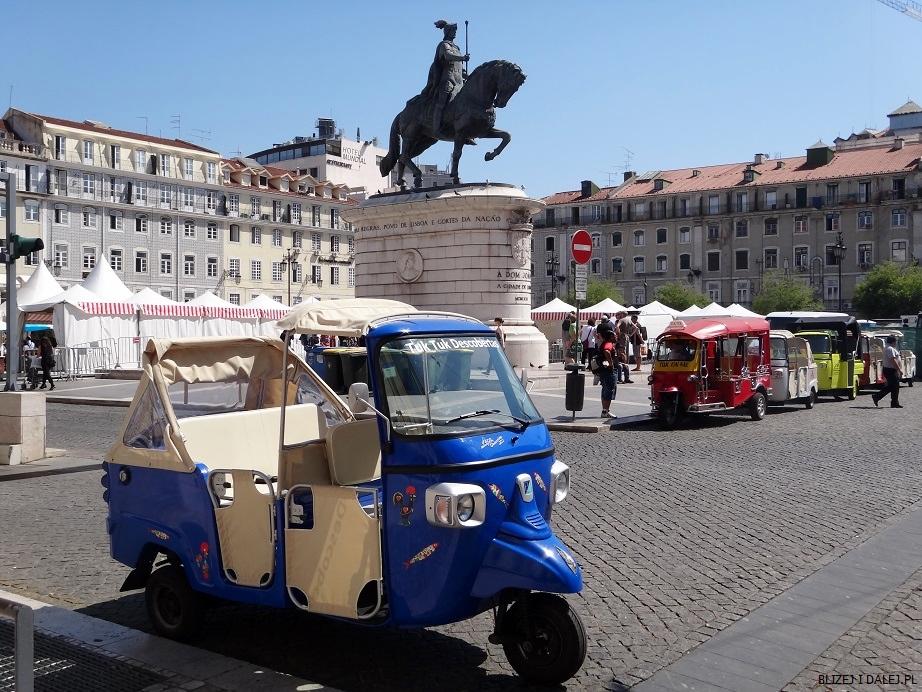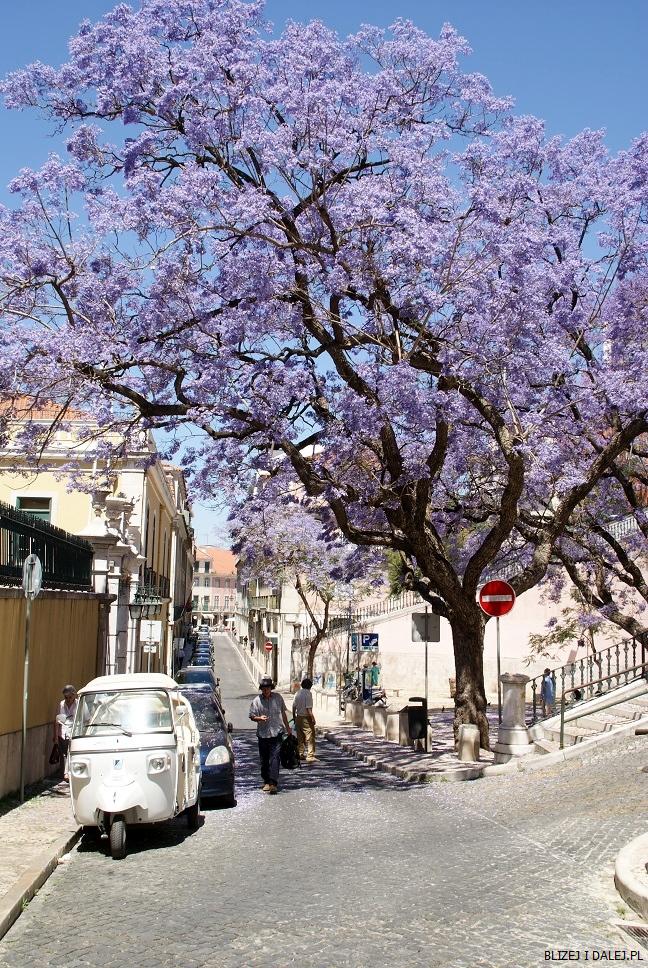 W samym sercu miasta znajduje się plac Rossio, wokół którego rozciągają się zabytkowe kamienice, fontanna i pomniki a to wszystko otoczone kwitnącymi na fioletowo drzewami, cudownie :) Będąc na placu Rossio koniecznie należy wpaść na choć jednego lub dwa shoty ginji, zwanej ginjinhi! Wspaniałej, portugalskiej wiśniówki serwowanej z wisienką (ma moc!) – miejsce kultowe mieści się właśnie w tym miejscu i absolutnie nie można go pominąć :)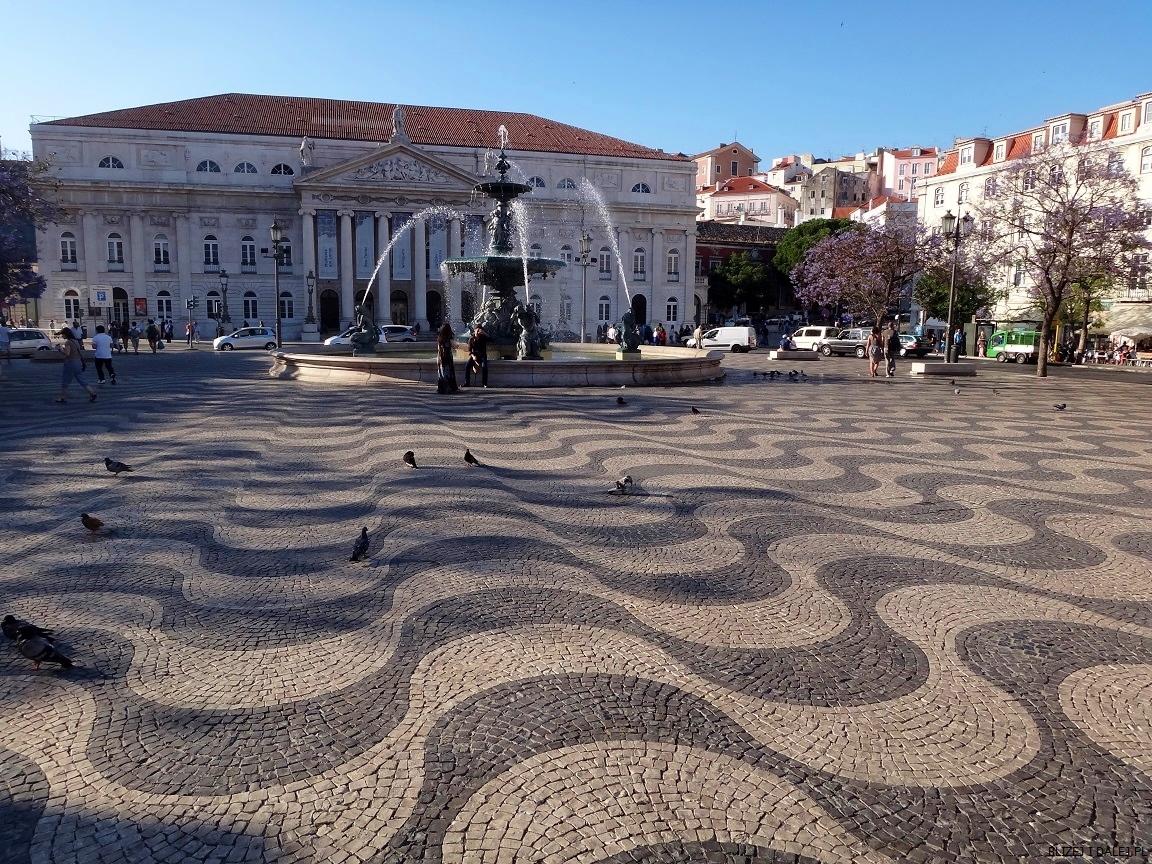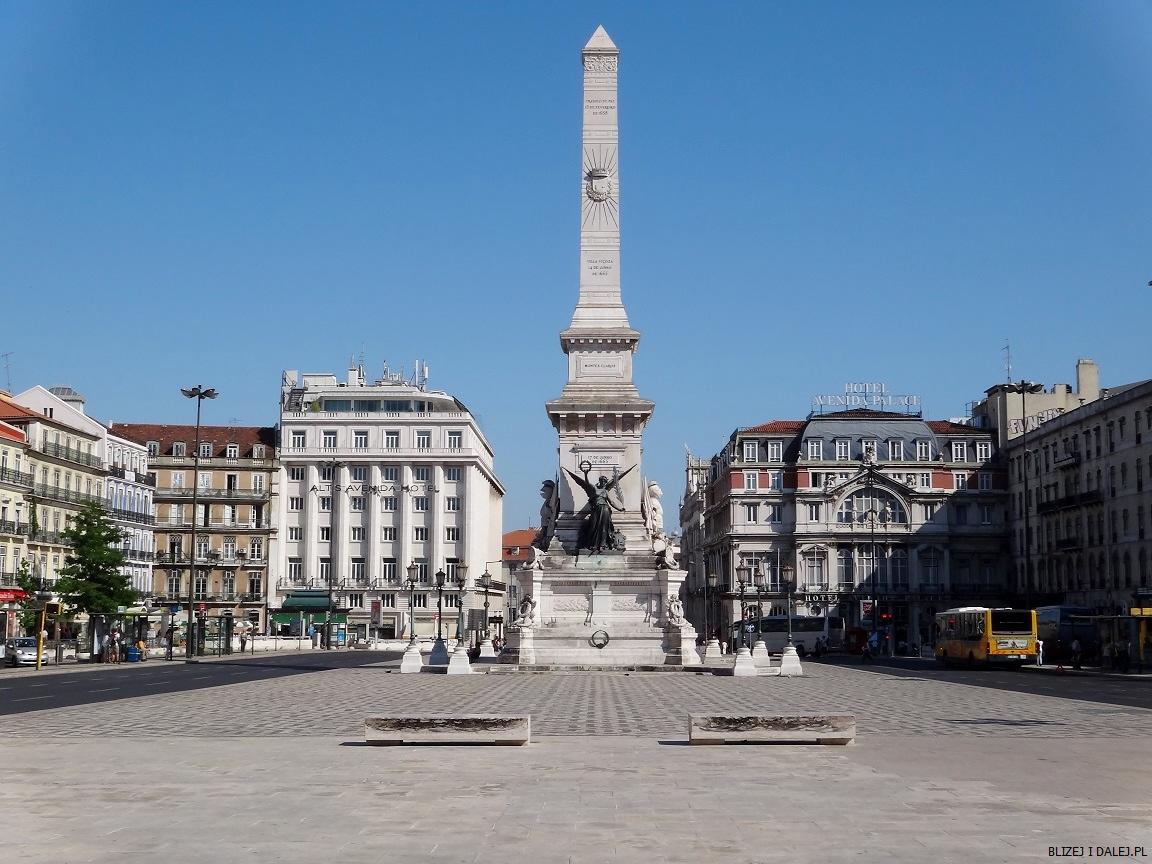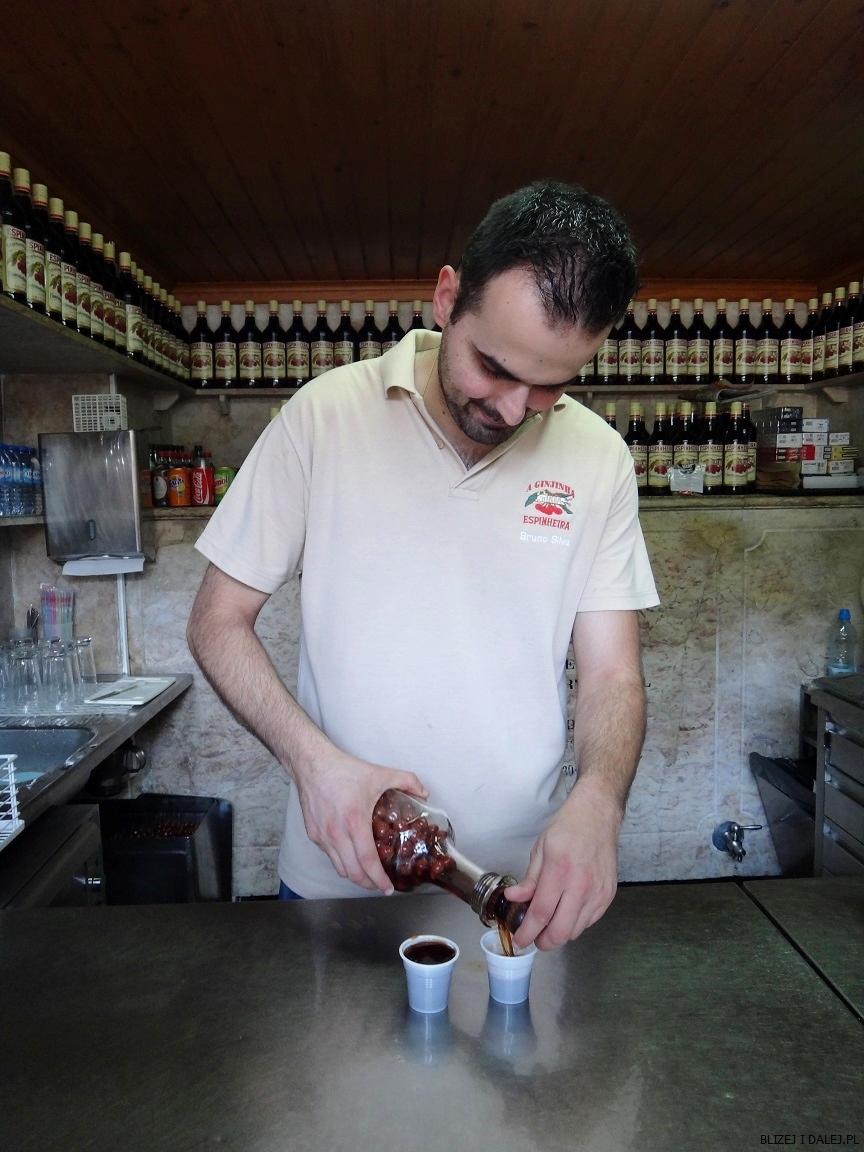 Eleganckimi uliczkami dzielnicy Baixa udajemy się na najsłynniejszą i jedyną poruszającą się pionowo windę w Lizbonie, czyli Elevador de Santa Justa. Winda została zaprojektowana przez Raoula Mesnier de Ponsard, który był uczniem samego Gustawa Eiffle, w moim odczuciu jest to dość specyficzna konstrukcja ;) Na jej szczycie mieści się taras widokowy z fantastyczną panoramą na miasto.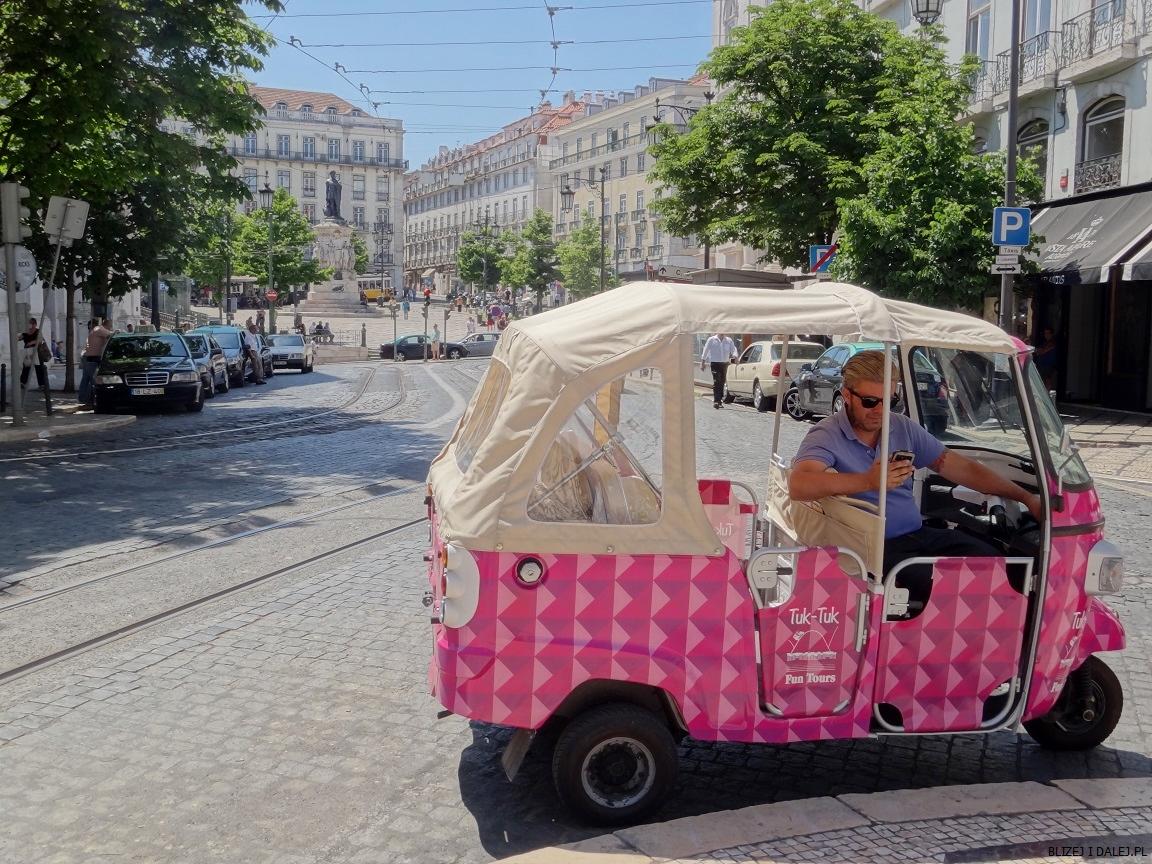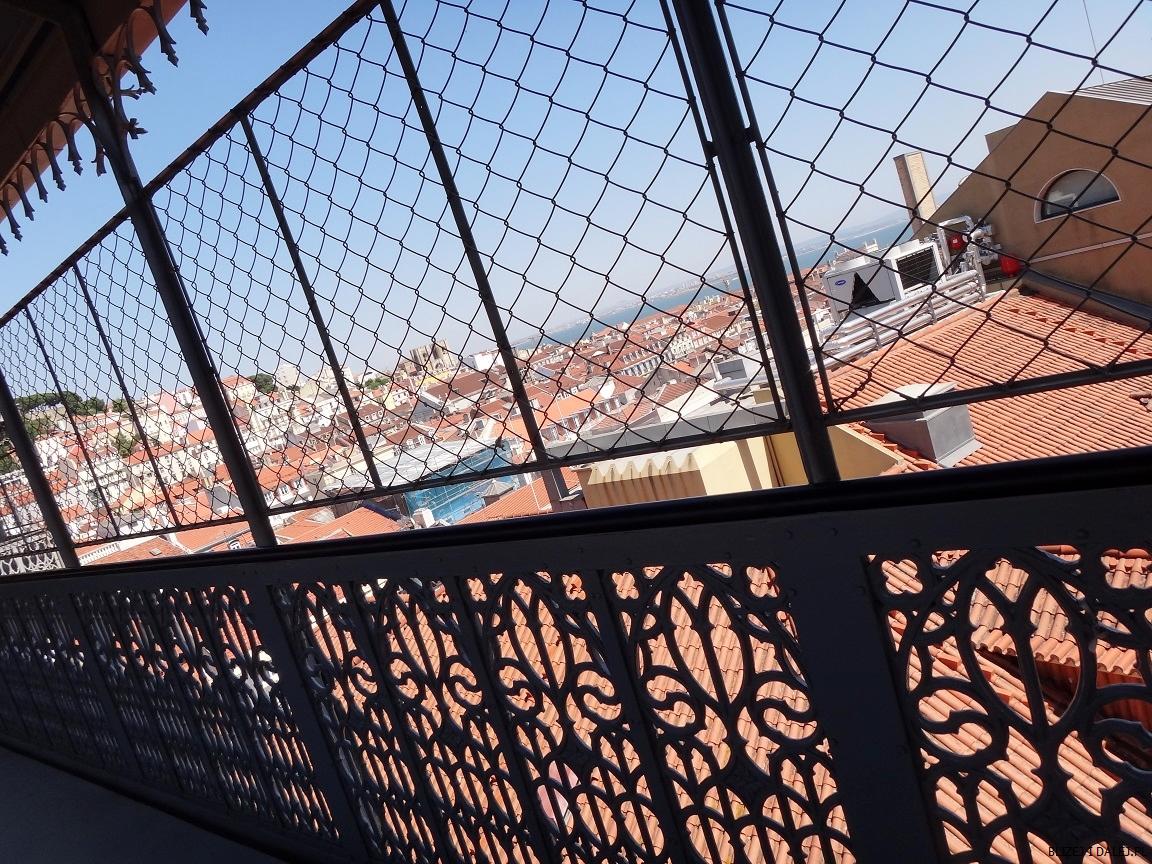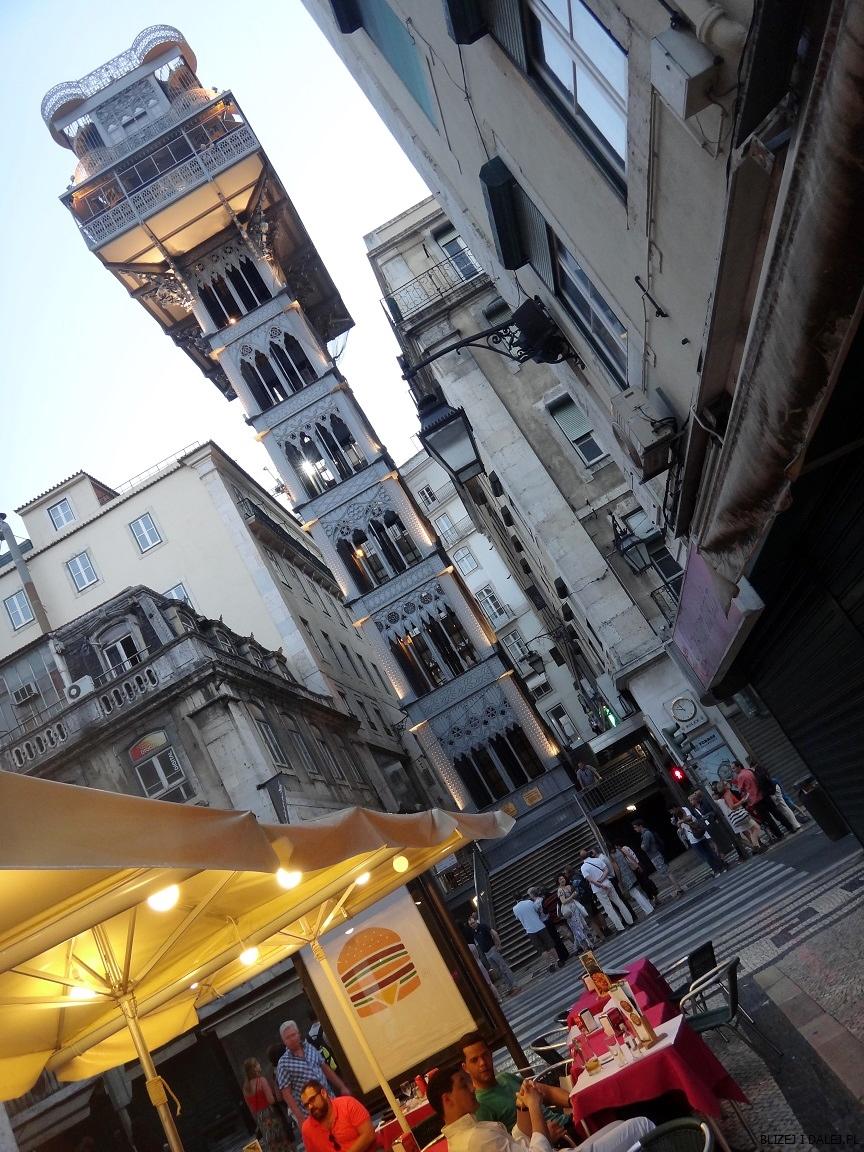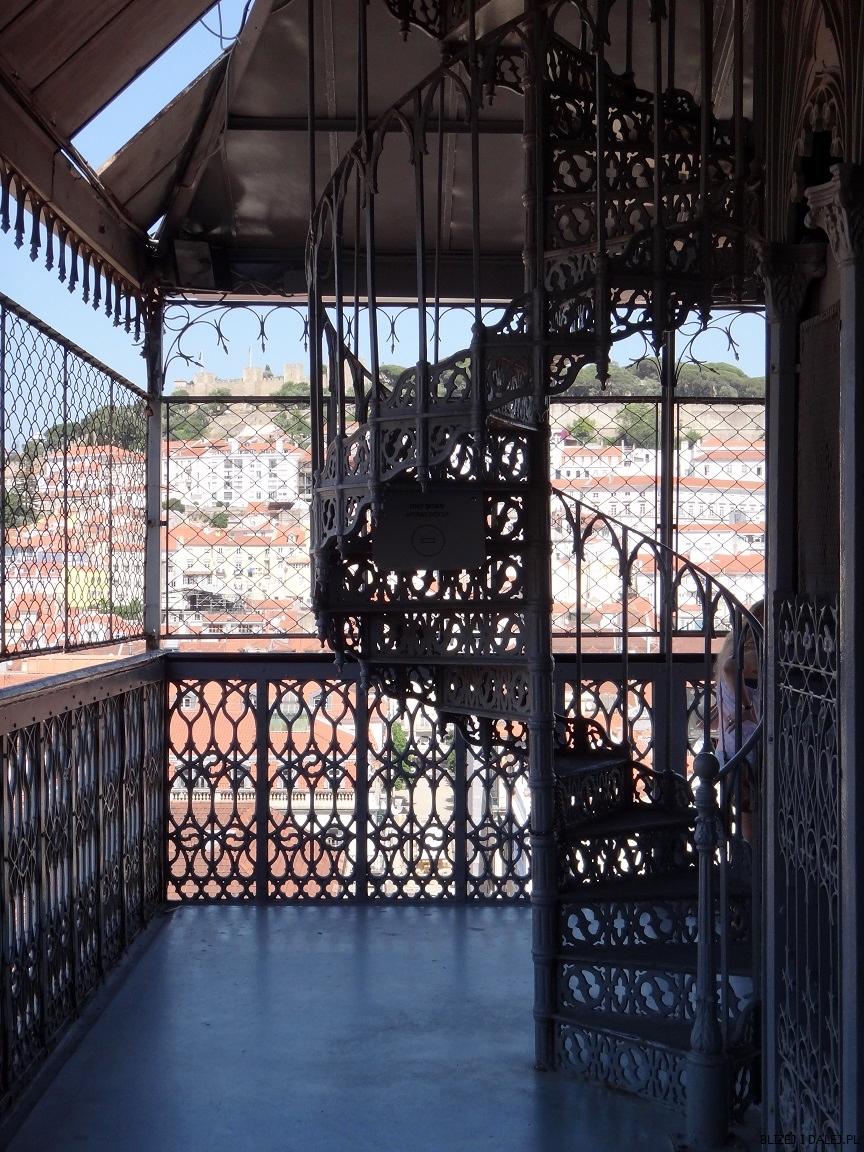 Podążamy dalej dzielnicą Baixa, mijamy Łuk Triumfalny i przenosimy się na plac Praca de Comercial mieszczący się tuż nad rzeką Tag. Otacza nas olbrzymia przestrzeń, zabytkowe i historyczne budowle, wokół restauracje i kawiarnie… Idąc wzdłuż rzeki docieramy do Mercado de Riberia, czyli wielkiego targowiska rybno-warzywnego i hali gastronomicznej w jednym. Jest to jedno z modniejszych punktów na mapie gastronomicznej Lizbony otwarte w 2014 roku – mieści się tu około 30 punktów w których możemy delektować się różnorodnymi przysmakami zarówno typowo portugalskimi, takimi jak: owoce morza, ryby, zielone wino, ginja i smakowite porto czy też specjały z innych zakątków świata :)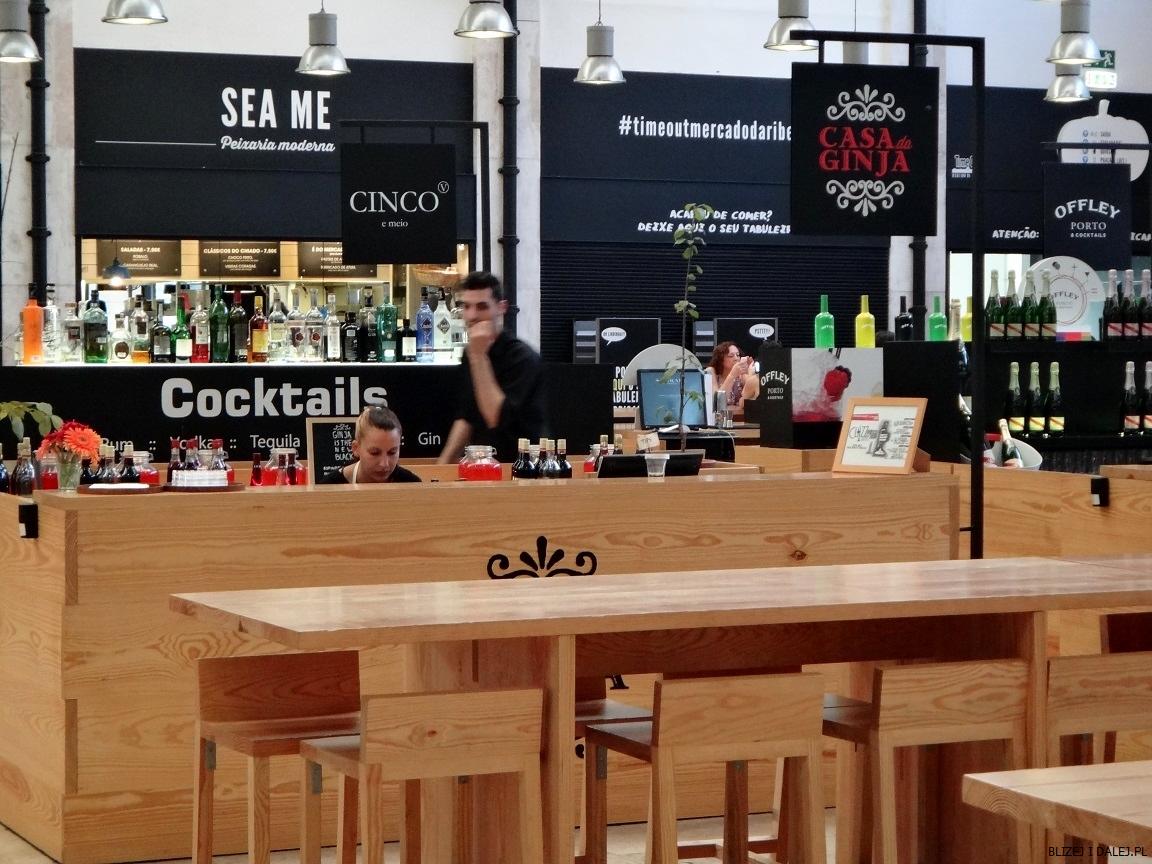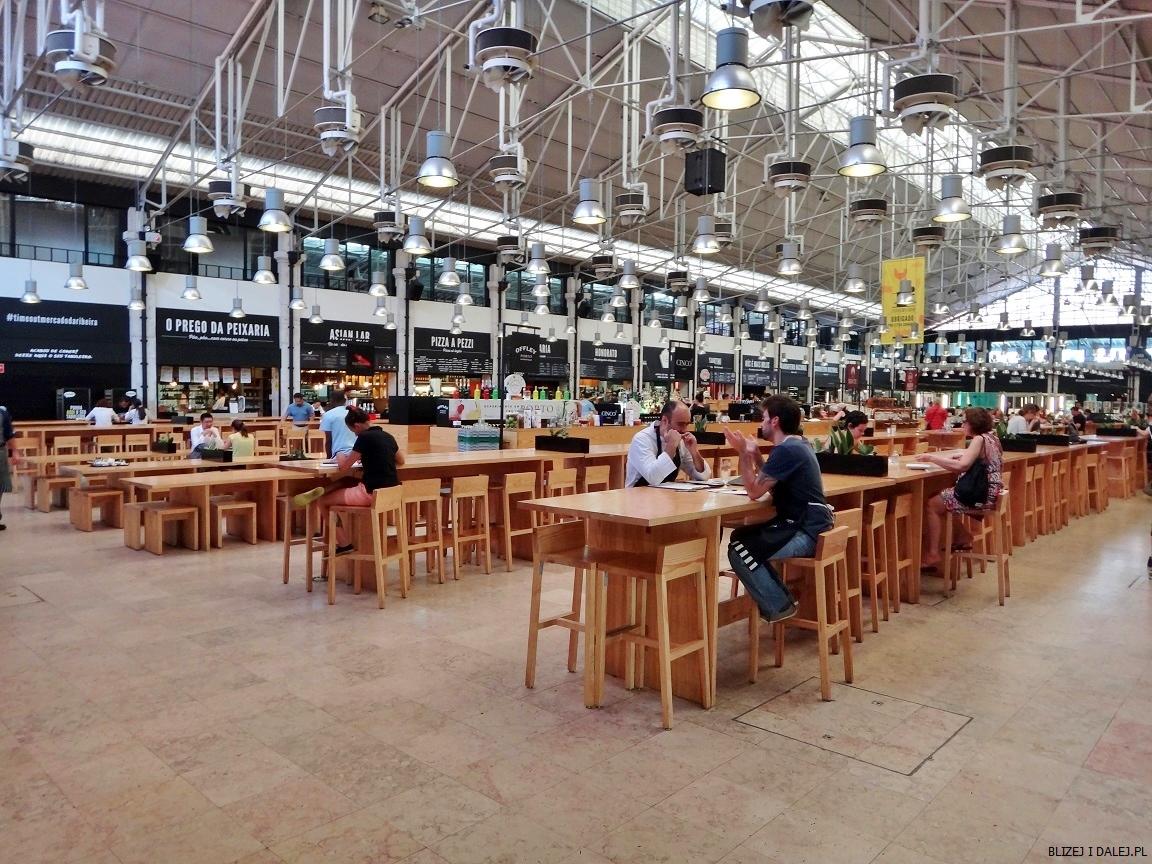 Nie można nie wspomnieć o dzielnicy Belem, choć jest ona nieco odsunięta od centrum miasta. W Belem trzeba zobaczyć sławną wieżę Torre de Belem, monumentalny pomnik Odkrywców czy majestatyczny Klasztor Hieronimitów zwanym Mosteiro dos Jeronimos – wszystkie te punkty mieszczą się w bliskiej odległości od siebie, więc spacer między nimi powinien być przyjemnością… pod warunkiem że nie będzie słońca w pełni, trzydzieści parę stopni na plusie i zero cienia – tak właśnie mieliśmy, więc nie do końca poczuliśmy urok tego miejsca ;)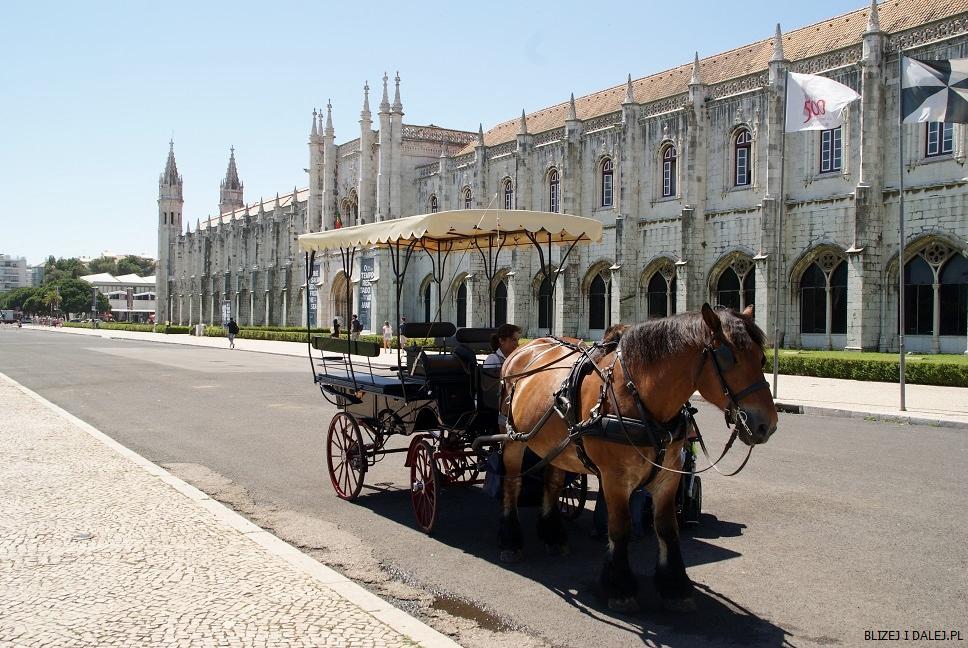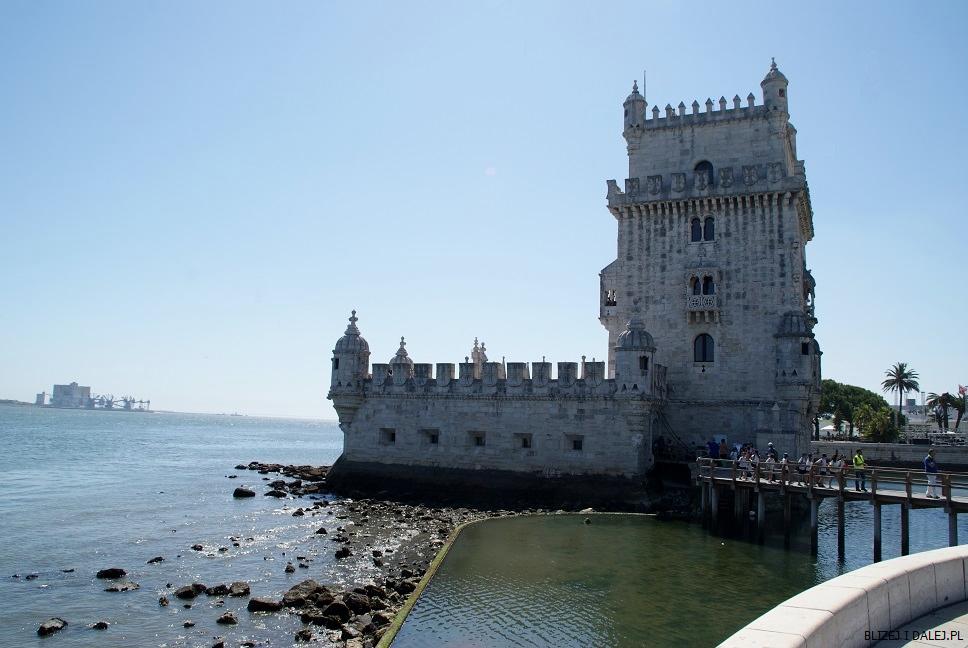 A jak już będziemy w Belem to podobno tam są najlepsze ciasteczka pasteis de Belem, można je dostać także w mieście jak i w większości cukierni w całej Portugalii, tylko już pod nazwą pasteis de nata. Są to niewielkie ciasteczka z budyniowym środkiem i lekko posypane cynamonem, osobiście nie jestem ich fanką, ale mój mąż mówi "pyszne" ;) Więc jeśli nadarzy się okazja, bez wahania spróbuj – może Tobie posmakują…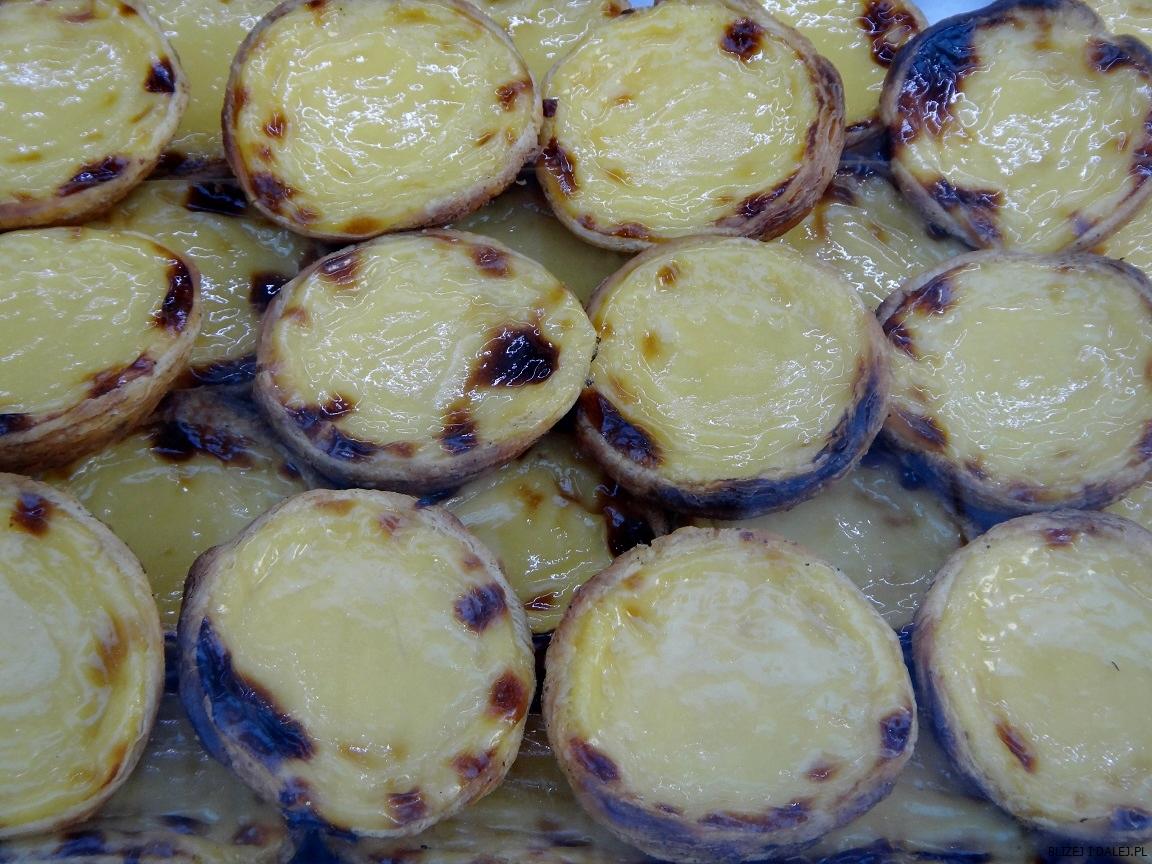 Spacerując po mieście warto rozglądać się w poszukiwaniu azulejos, czyli portugalskich, ceramicznych płytek z których ułożone są obrazy lub ozdobione są fronty kamienic, odnajdziemy je na każdym kroku – magiczne i historyczne elementy miasta, którym warto przyjrzeć się bliżej…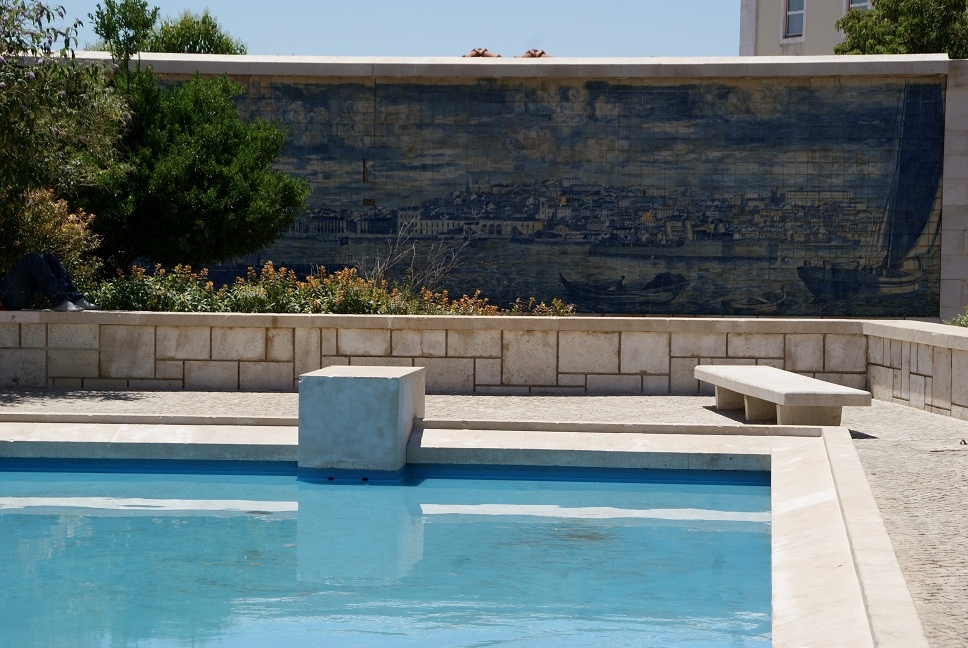 W trakcie spacerowania warto zaglądać do sklepów z pamiątkami, tradycyjnymi smakami lub konserwami! Tak, tak znajdziemy tu sklepy poświęcone w całości zapuszkowanym rybkom, fajne ;)
I ostatni, ale zdecydowanie nie najsłabszy punkt… jeden z najwspanialszych punktów widokowych w całej Lizbonie, czyli Miradouro de Senhora Do Monte to najbardziej romantyczny punkt widokowy z panoramą rozciągającą się na całe miasto rozłożone u naszych stóp… Jest to także najlepsze miejsce do podziwiania zachodu słońca – spotkacie tu mnóstwo ludzi, którzy z lampką wina lub butelką piwa delektują się widokiem. I to zarówno turyści jak i lokalni, którzy robią tu sobie mini pikniki. Uprzedzam, że dostać się na szczyt nie będzie łatwo… czeka na nas niekończąca się liczba większych i mniejszych schodków, jednak widok z góry wynagrodzi poświęcenie ;)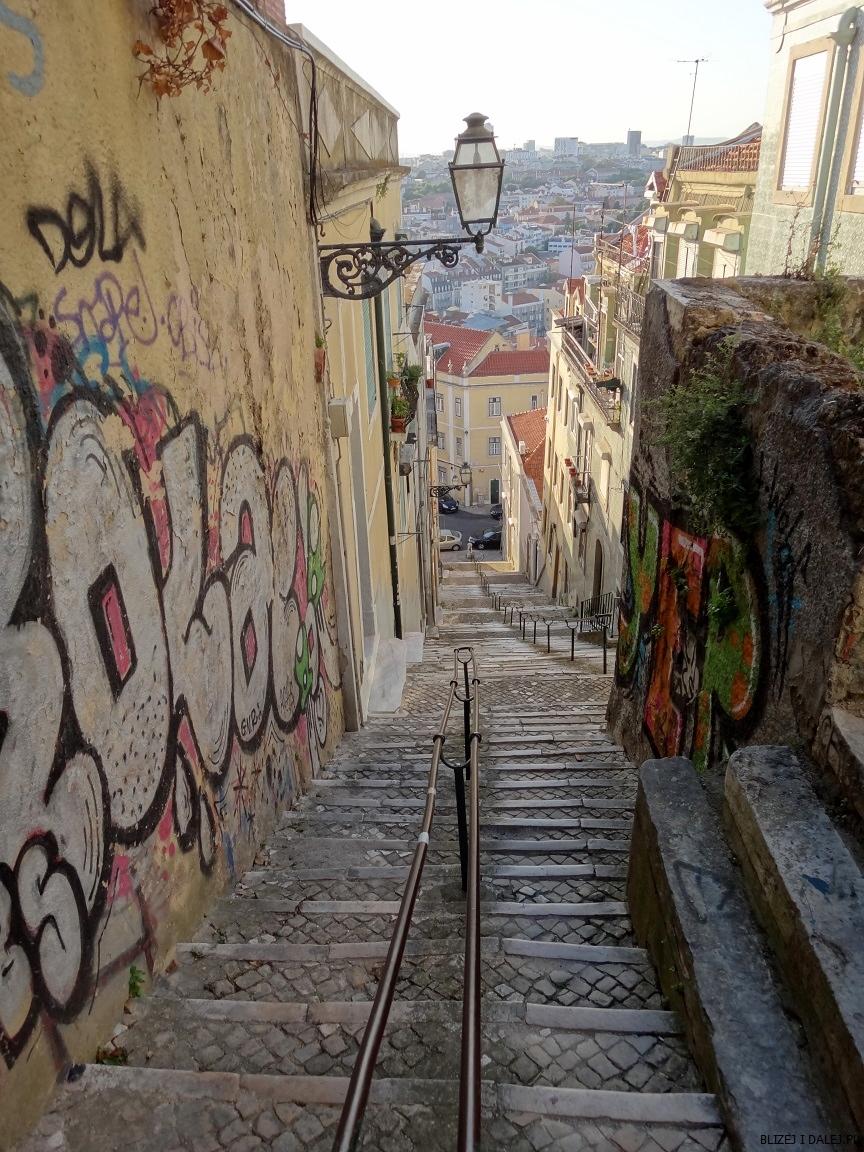 Nas Lizbona oczarowała! Myślę, że jeszcze kiedyś tu przyjedziemy, może już w któryś z nadchodzących, wiosennych weekendów… wiele rzeczy pozostało jeszcze do odkrycia a i okolice Lizbony kuszą coraz bardziej :)
Ciekawa jestem czy już byliście w Lizbonie? Jak Wam się podobało? A może dopiero się wybieracie? Jeśli tak, to mam nadzieję, że powyższa lista choć troszkę pomoże w planowaniu pozycji "must see" w Lizbonie :)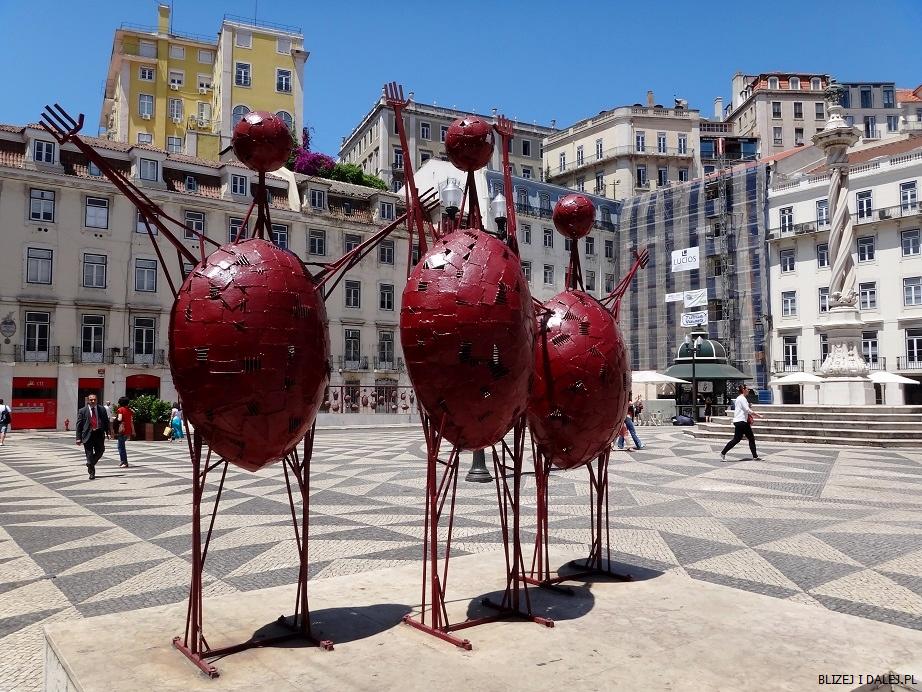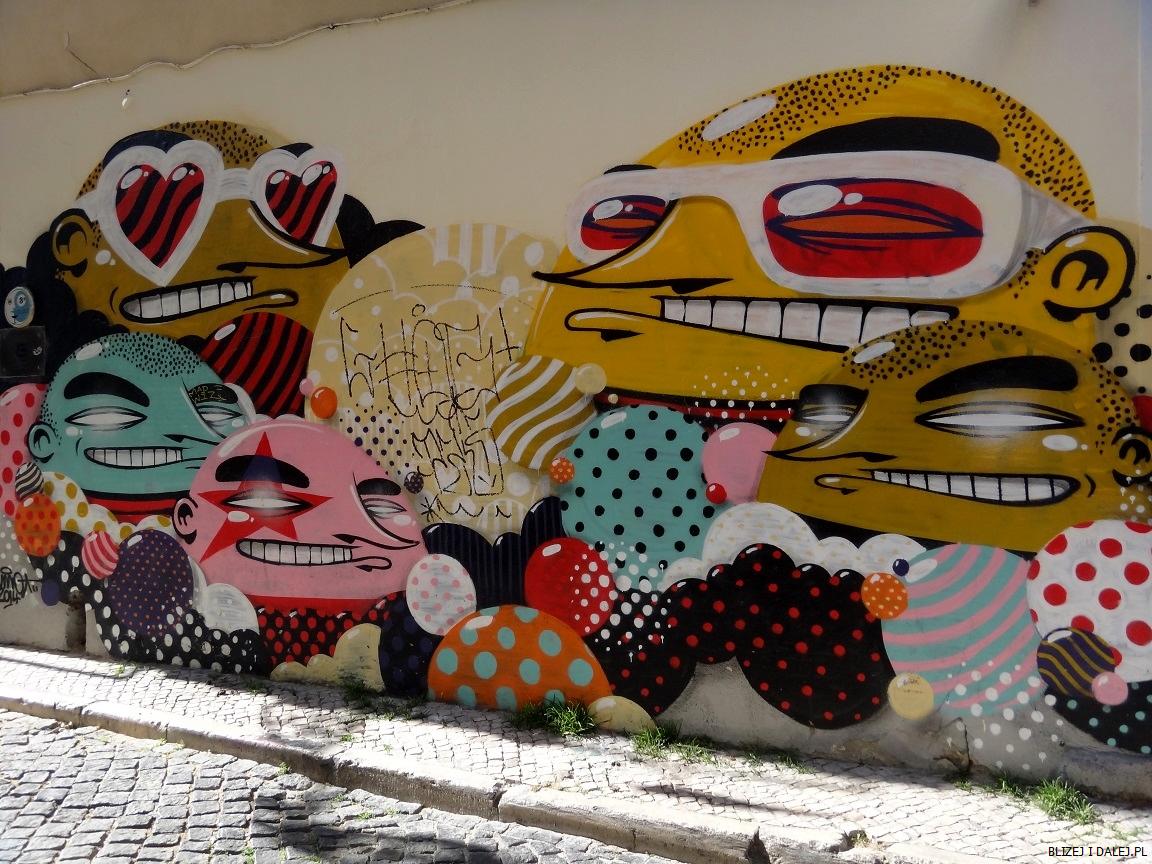 Więcej artykułów o Portugalii – kliknij Portugalia :)
---
You might also like