Jak tylko zaczęliśmy planować wyjazd w bałkańskie klimaty i kombinować z orientacyjną trasą, Sarajewo i Mostar pojawiały się na przemian… No bo jak to pojechać do Bośni i Hercegowiny i nie zobaczyć Sarajewa? Nie, tak to my nie lubimy ;)
Miasto jest dość zniszczone, w wielu miejscach widać ślady po wojnie , która jeszcze nie tak dawno bo w latach 1992-1995 miała miejsce. Sama przed przyjazdem do BiH miałam mieszane uczucia, jednak po nadrobieniu braków nie miałam wątpliwości, że to bezpieczny kierunek. Sarajewo upamiętnia tą trudną historię zarówno pod postacią pomników czy muzeów jak i słynnych sarajewskich róż, czyli oznaczeniu miejsc po eksplozjach w których zginęły co najmniej trzy osoby – są to czerwone plamy na chodniku wypełnione żywicą, bardzo jednoznaczny przekaz…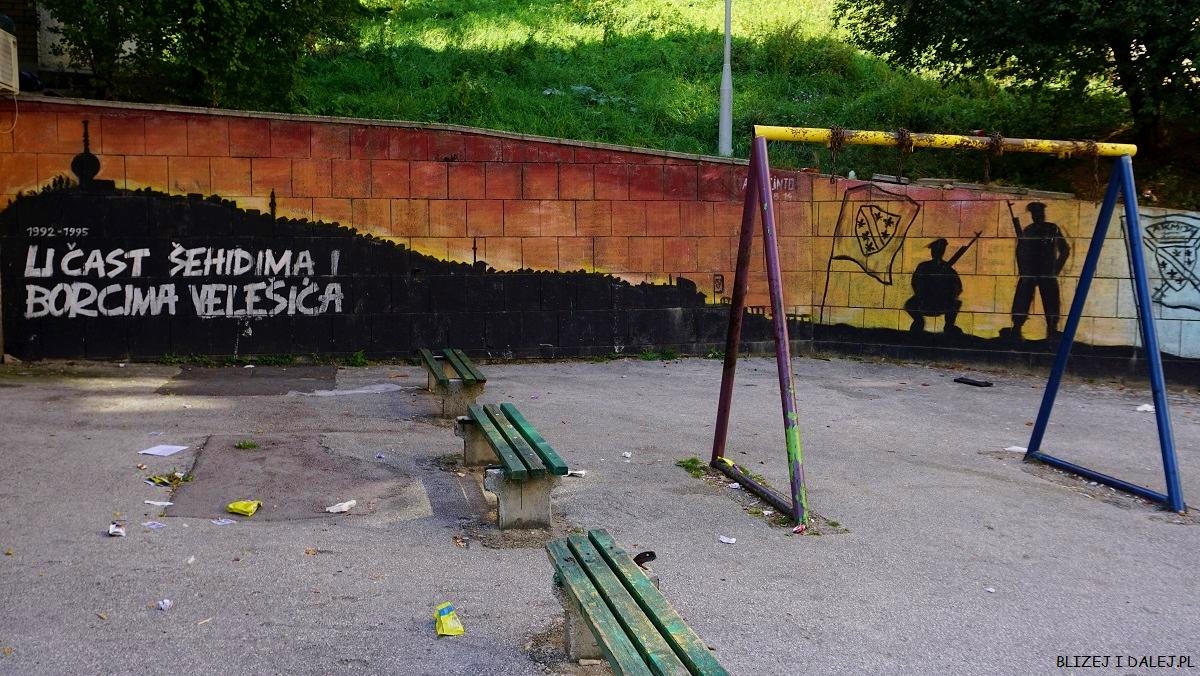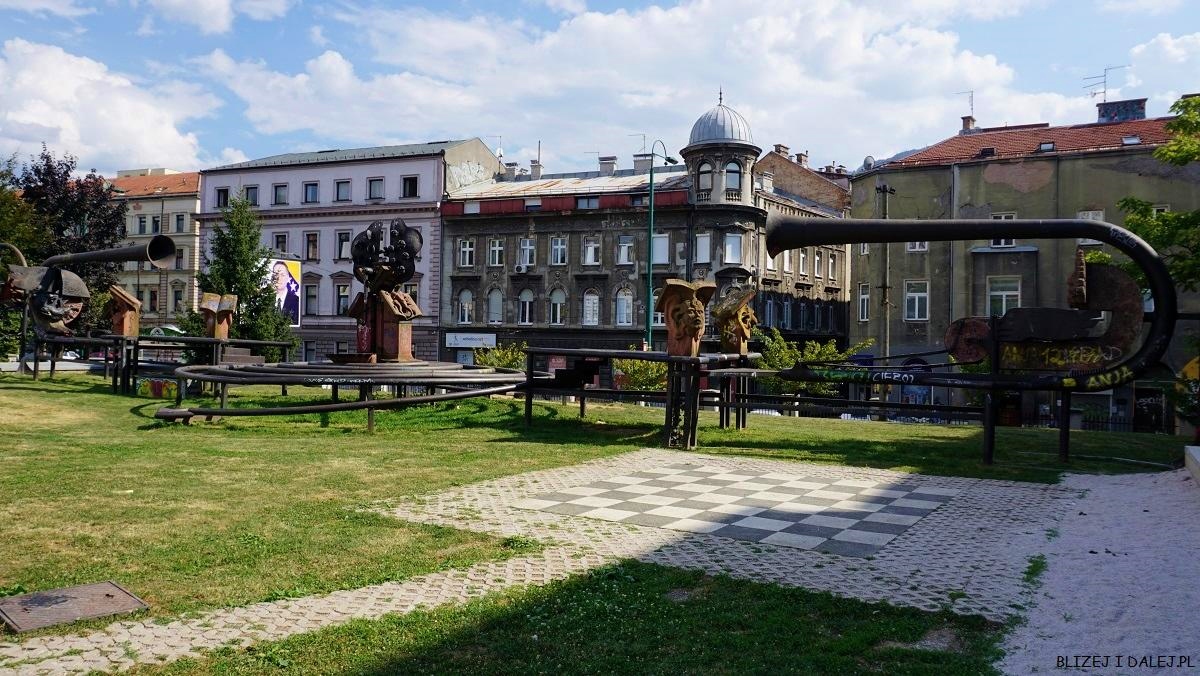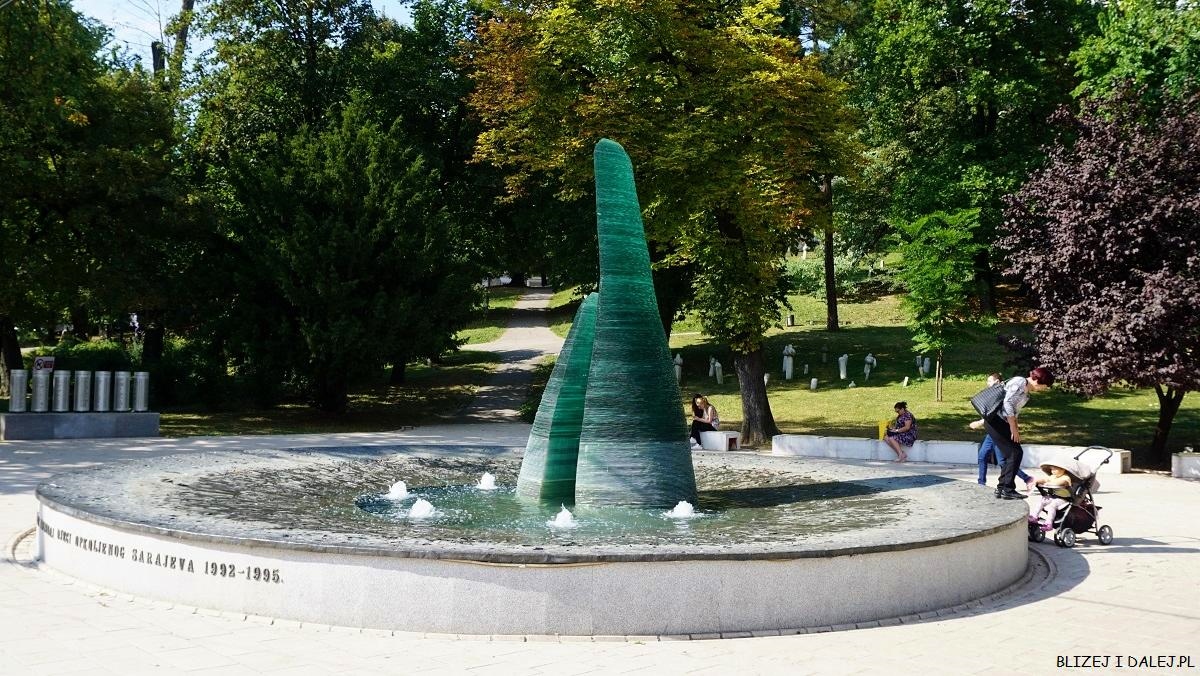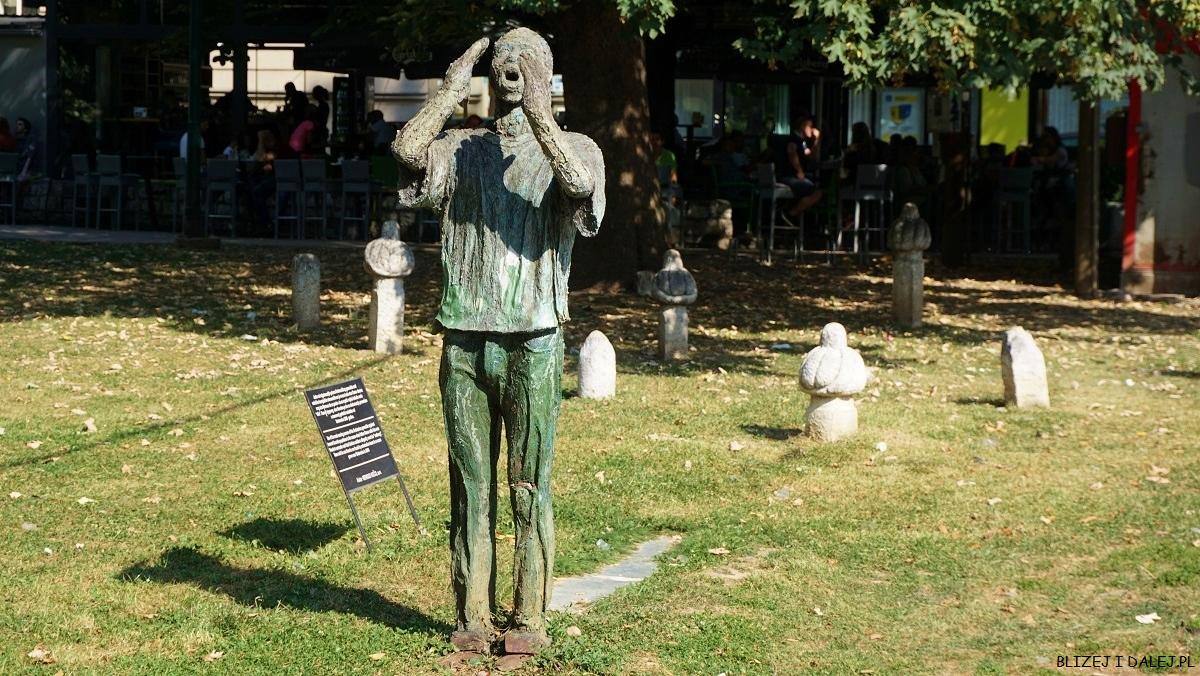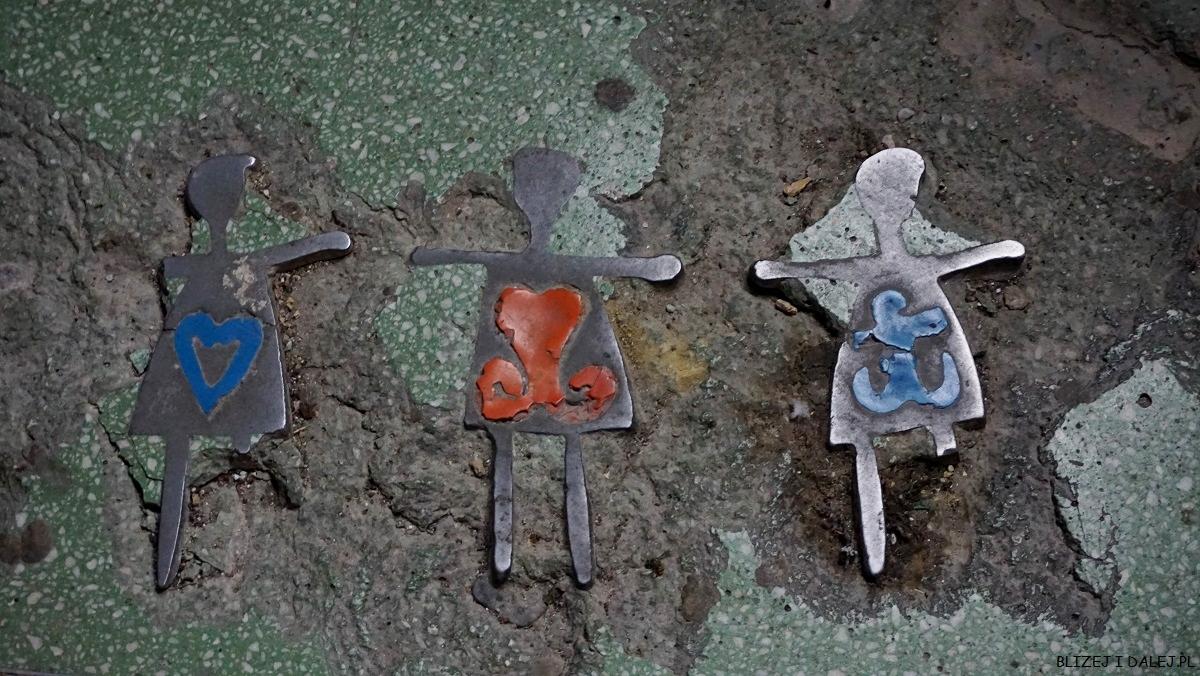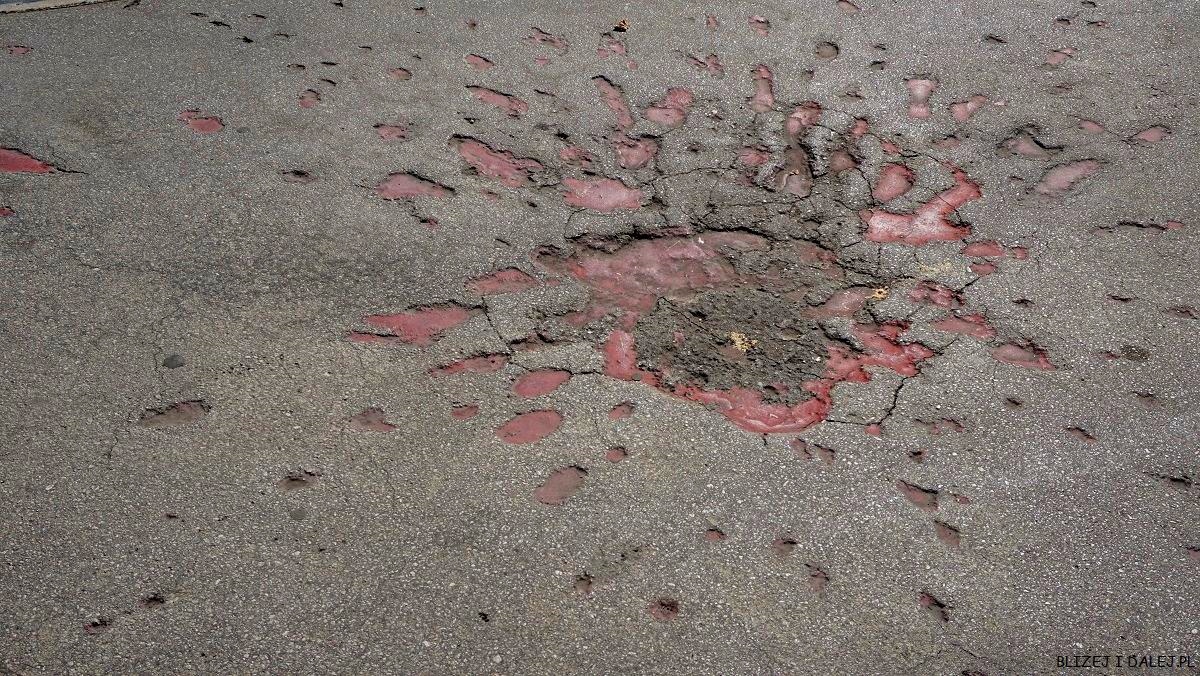 Im bardziej zbliżamy się do centrum tym miasto nabiera kolorów, wokół nas coraz więcej pięknie zdobionych kamienic, mnóstwo restauracji, kawiarni, sklepików i coraz więcej ludzi. Poznajecie kto został upamiętniony na ostatnim pomniku?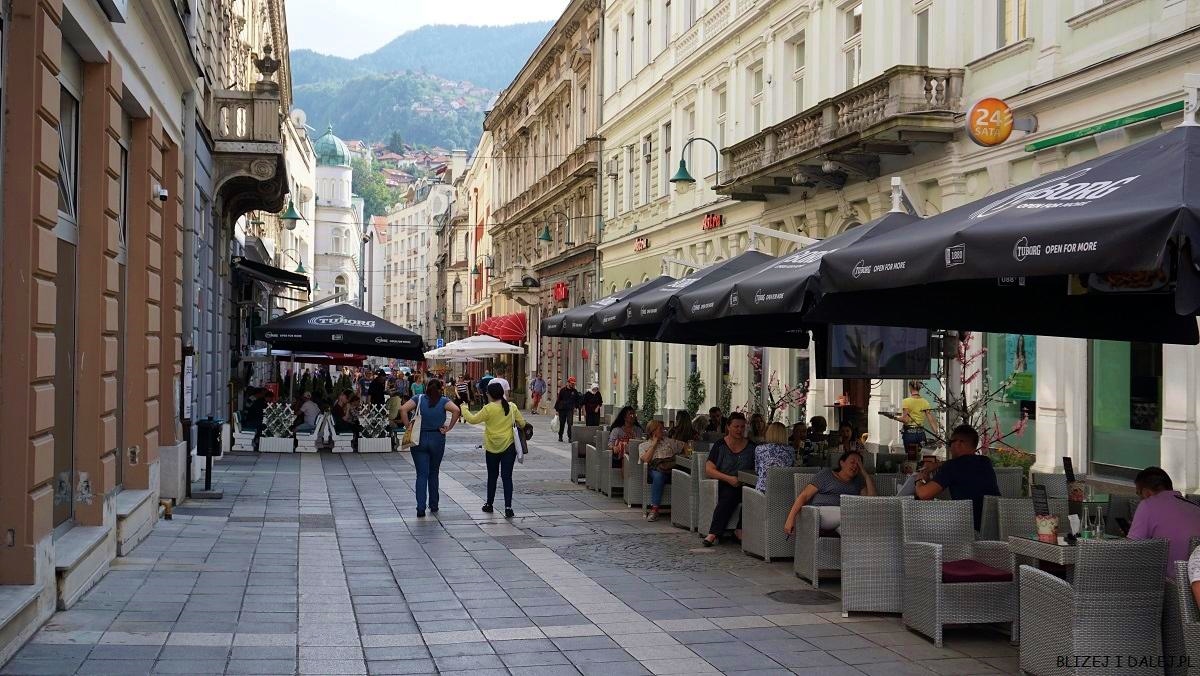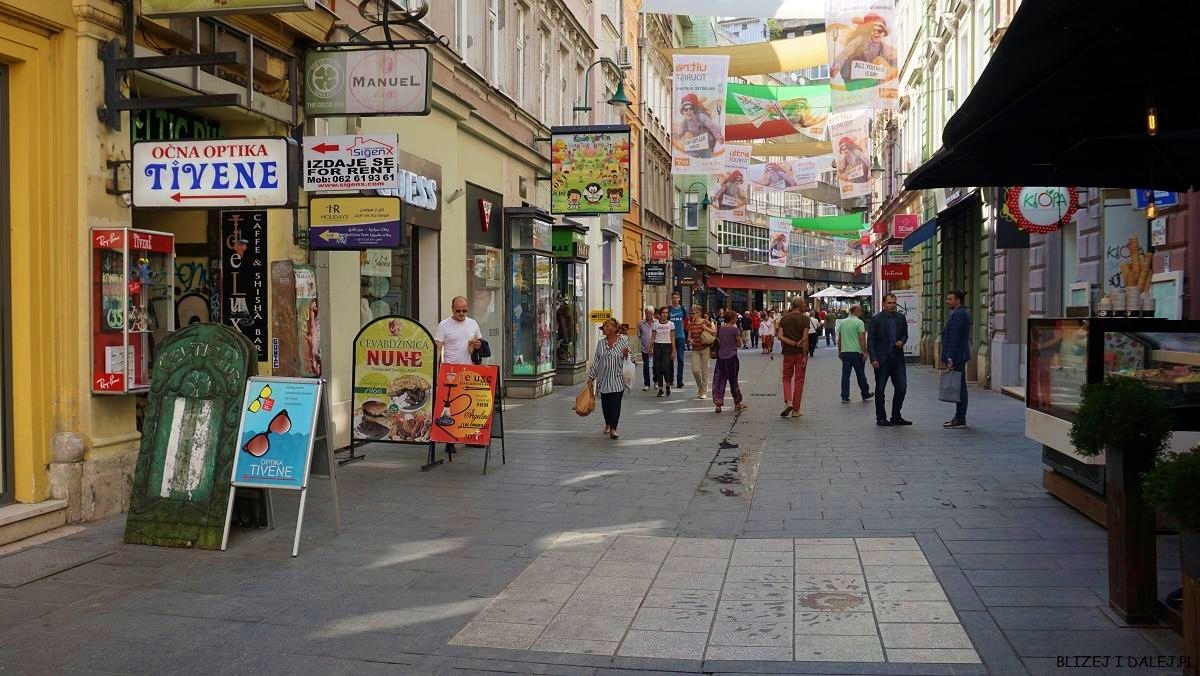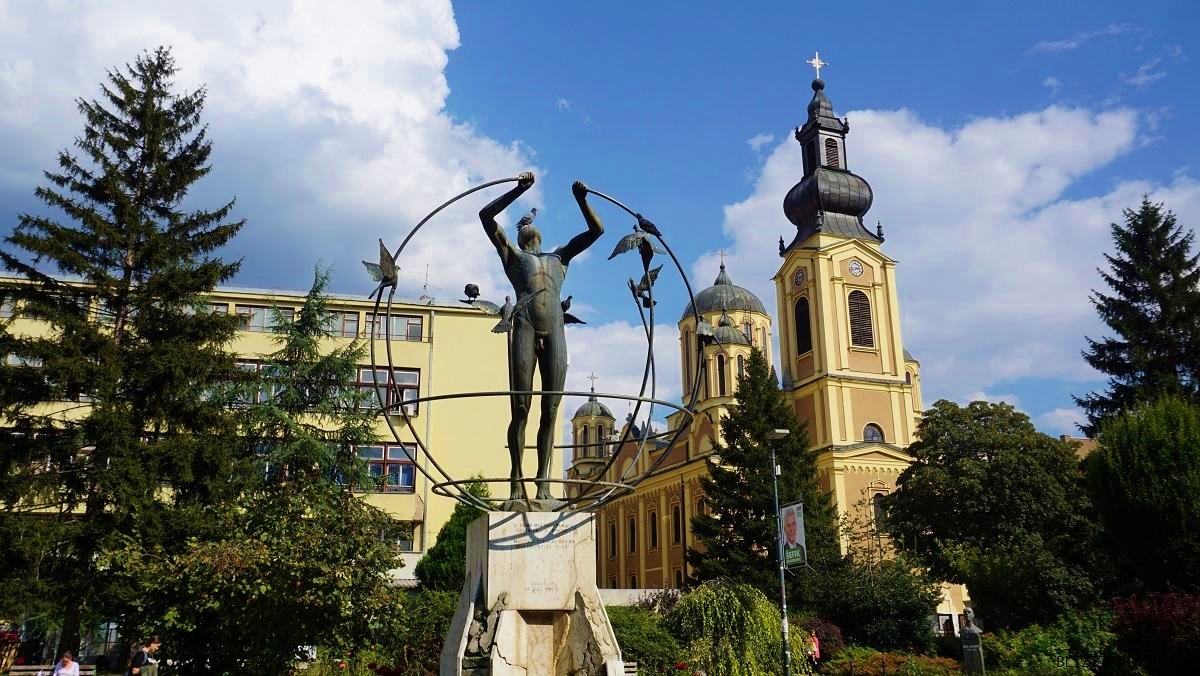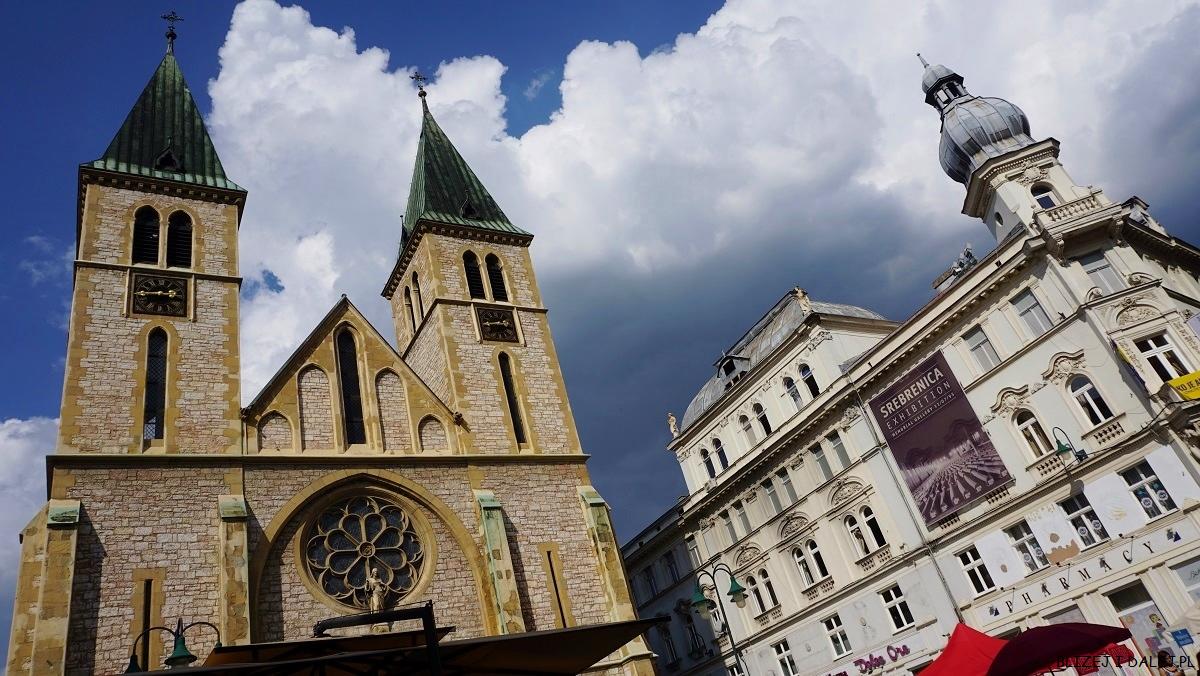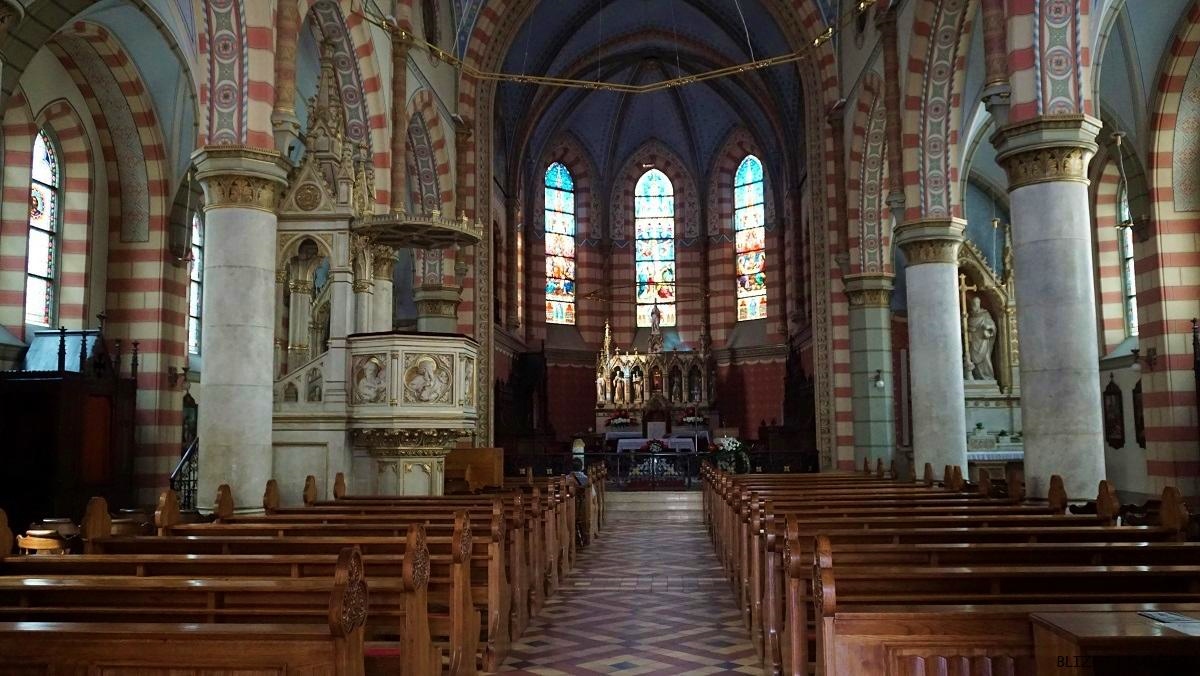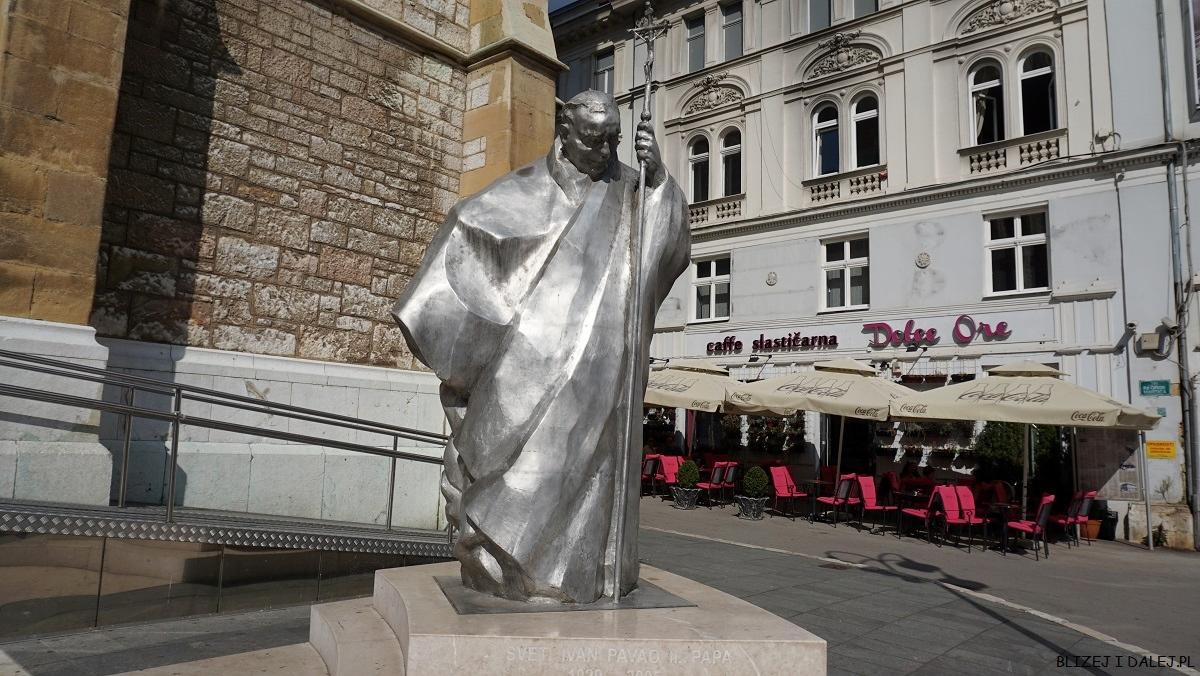 Tak, tak, w Sarajewie od 2014 roku stoi pomnik papieża Jana Pawła II – zaskoczeni? My się nie spodziewaliśmy ;)
W końcu dotarliśmy do najsłynniejszej i bardzo klimatycznej dzielnicy Bascarsiji, czyli wielkiego bazaru w samym sercu starówki. Kamienna, niska zabudowa, zabytkowy meczet Gazi Husrev-bega i charakterystyczna, drewniana studzienka a'la grzybek zwana Sebilj – wydaje się, że to miejsce spotkań lokalnych ludzi i turystów. Otaczają nas wszystkie narodowości świata i tak naturalnie mieszają się kobiety w chustach, burkach czy turyści w klapkach – nikt nikomu nie przeszkadza… Obserwujemy z zaciekawieniem otaczającą nas rzeczywistość – w końcu jesteśmy w wielokulturowym mieście "Sarajewo meeting cultures" :)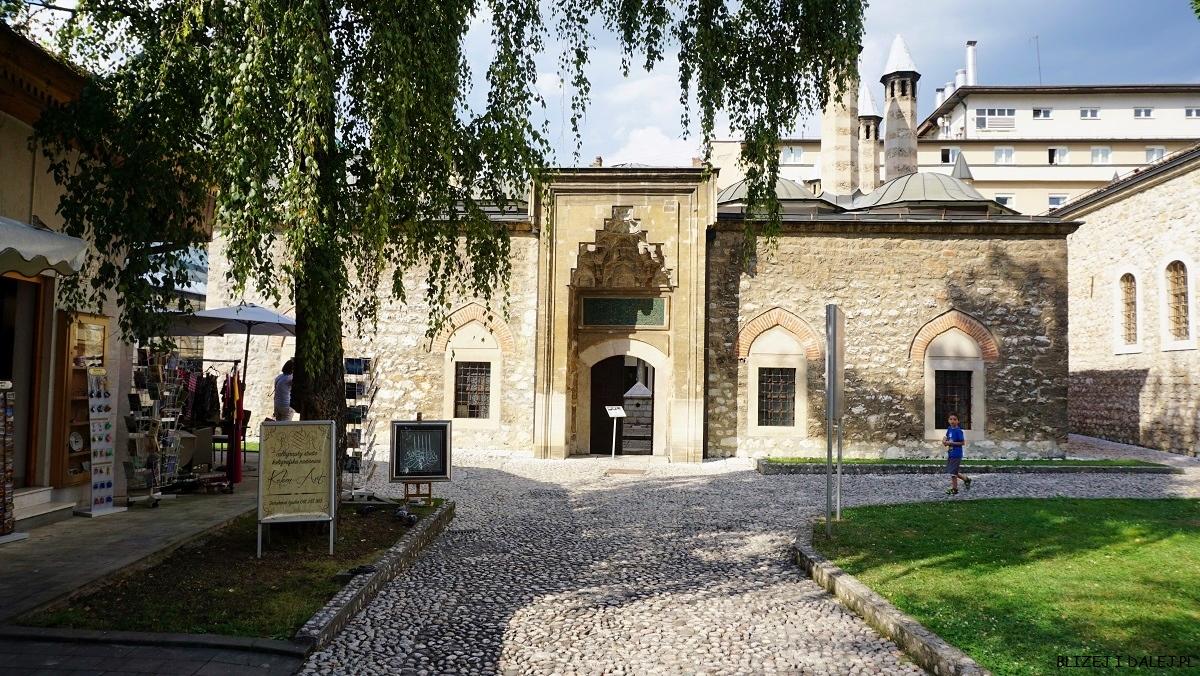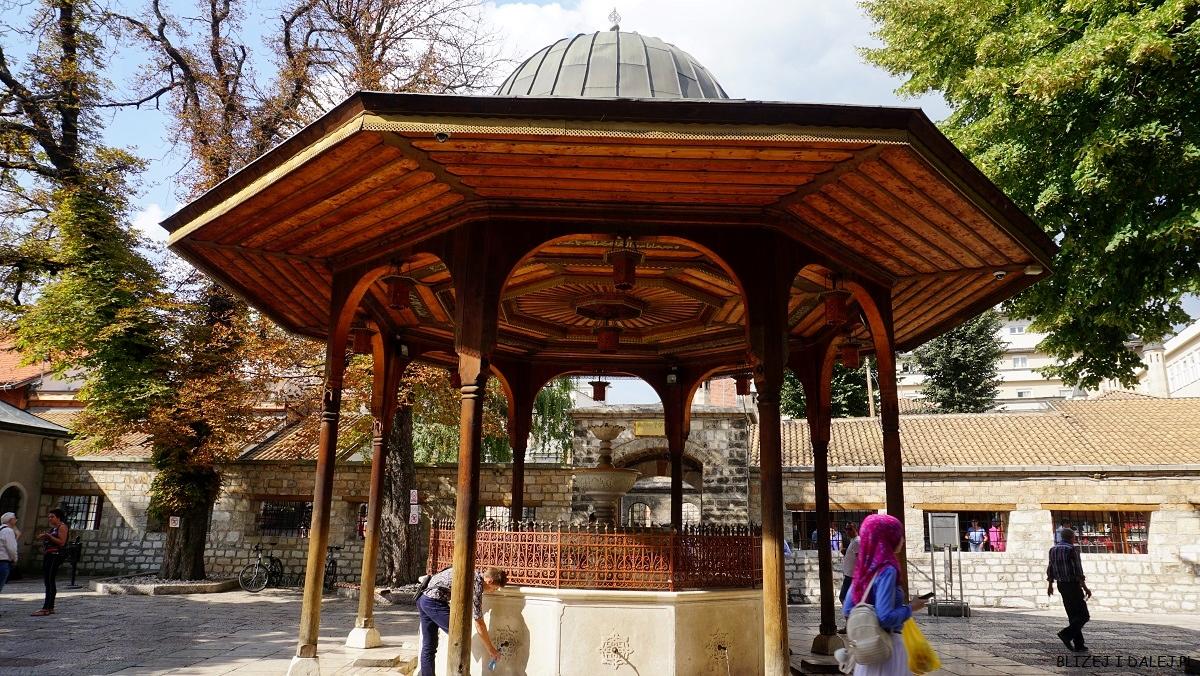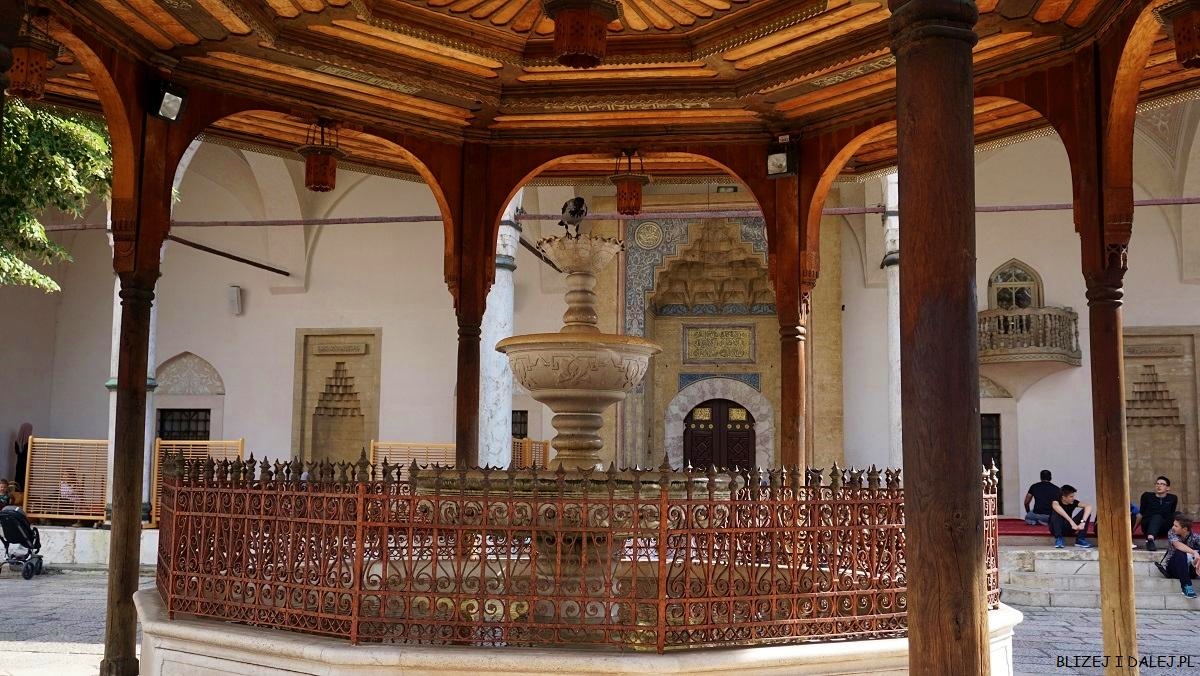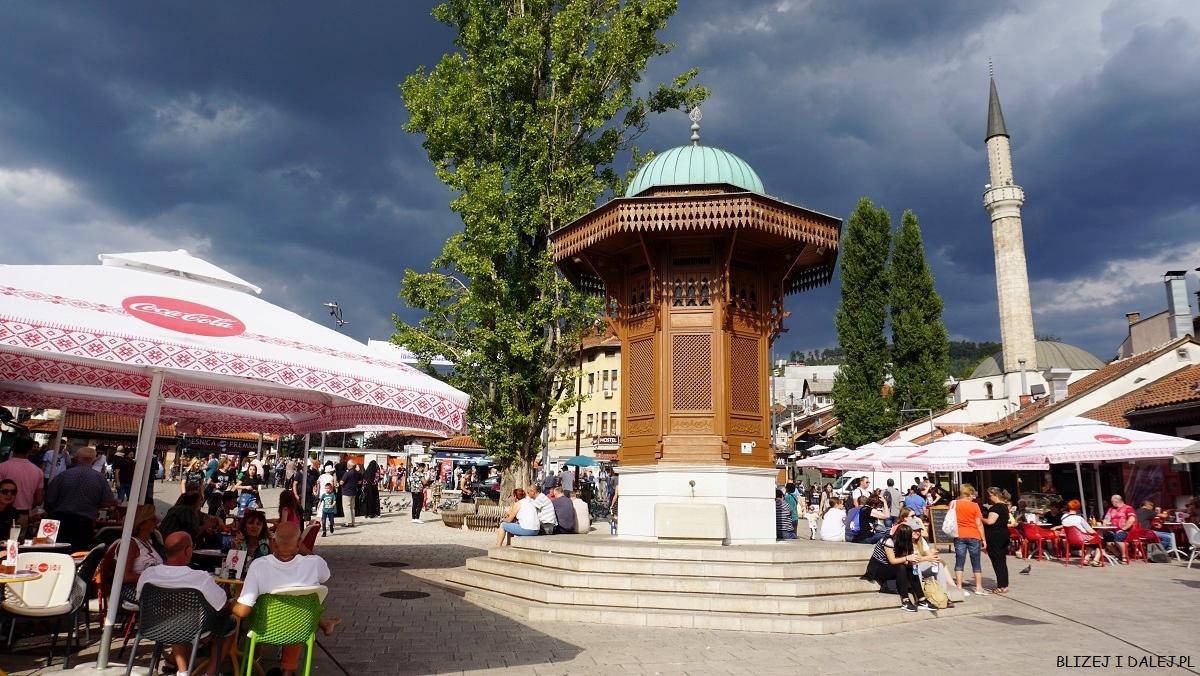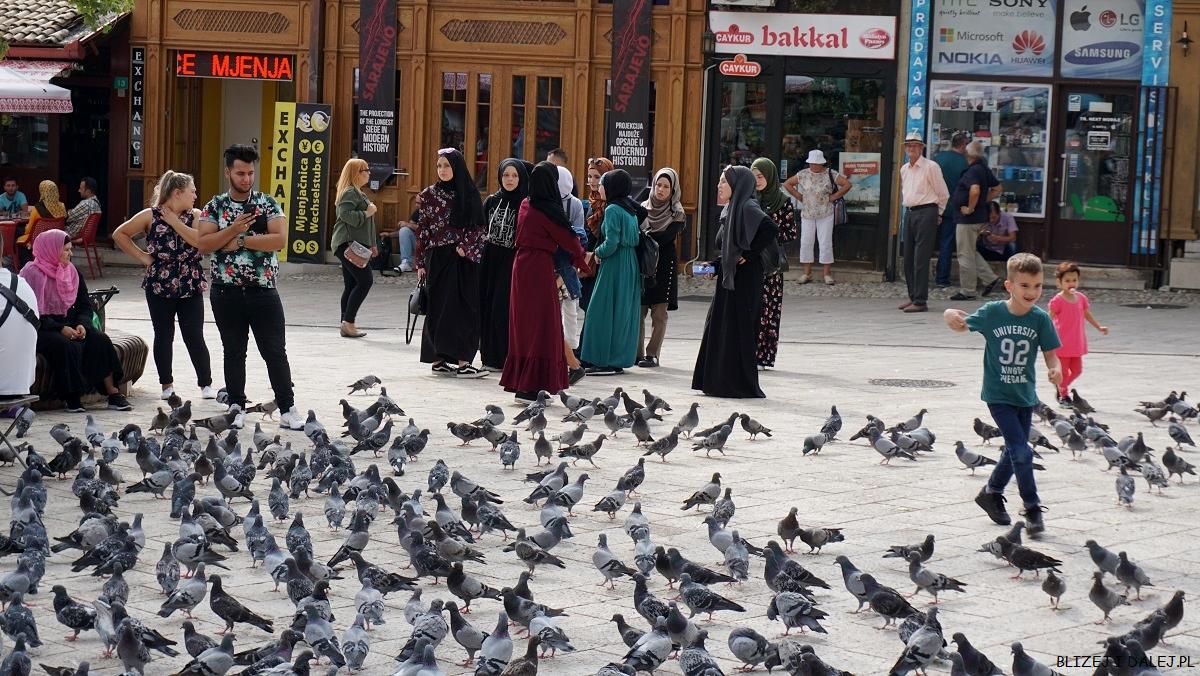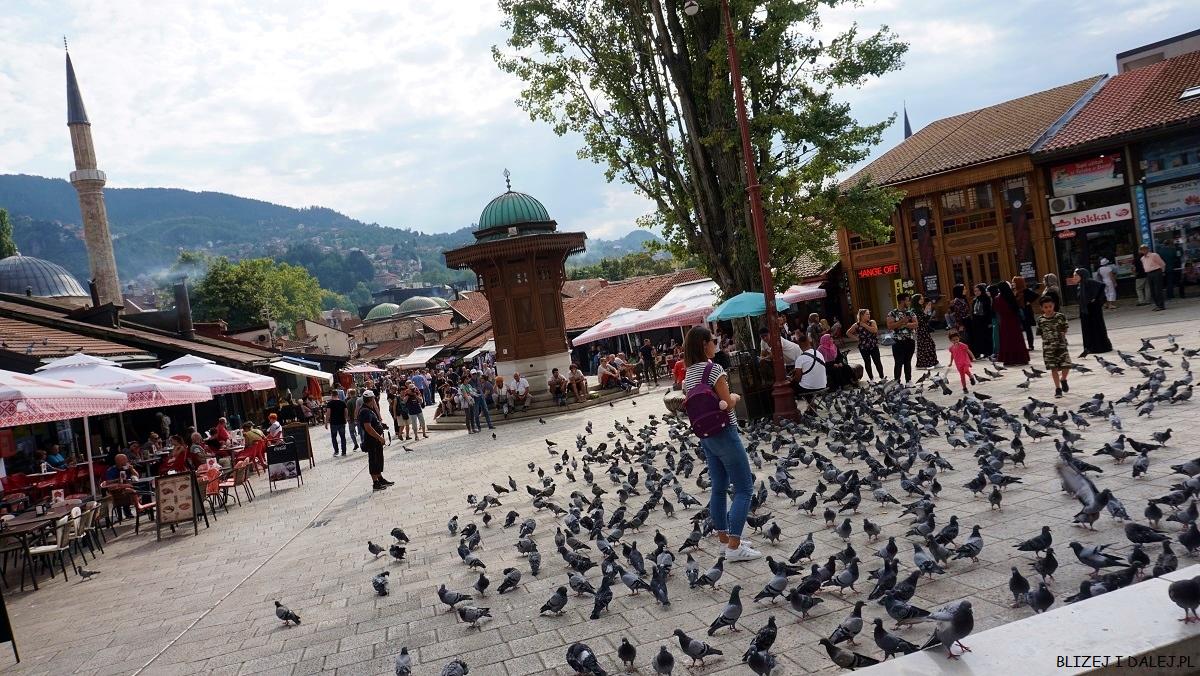 Zachwycamy się targowiskiem, otacza nas pachnący i fascynujący orientalny świat! Kolorowe i mieniące się w słońcu lampki, barwne szale , chusty, tkaniny, dywany czy różnorodne naczynia… czego tu nie ma! Niesamowite, niby jesteśmy w Europie a zupełnie tego nie czujemy :)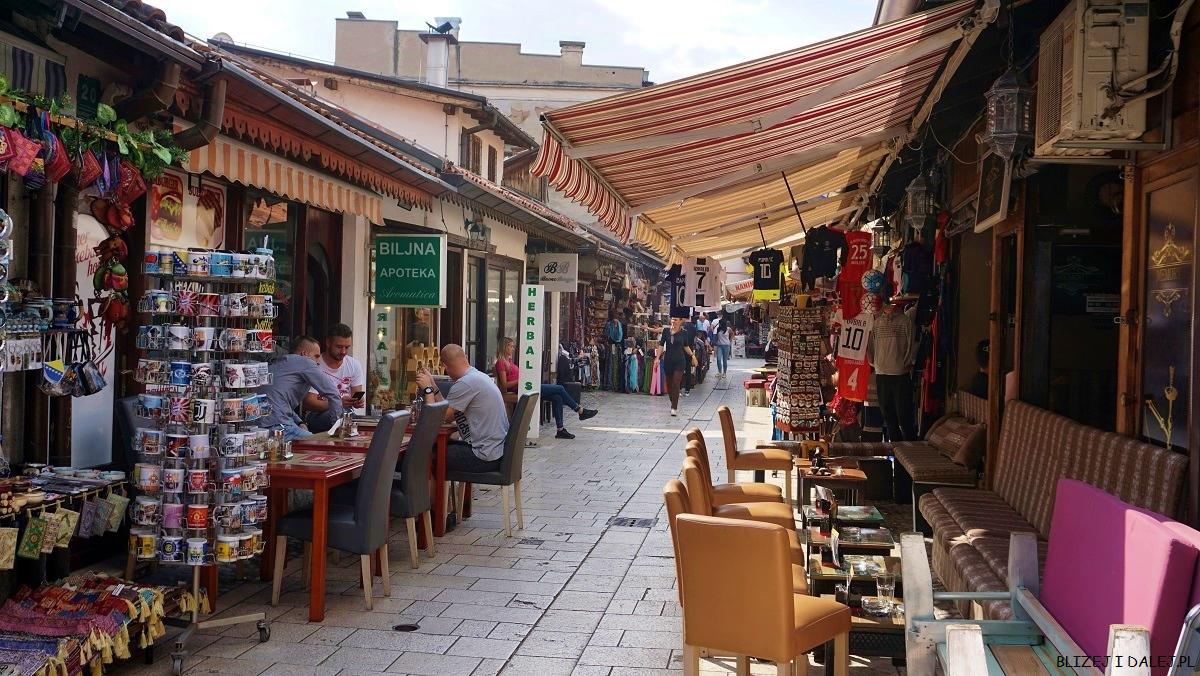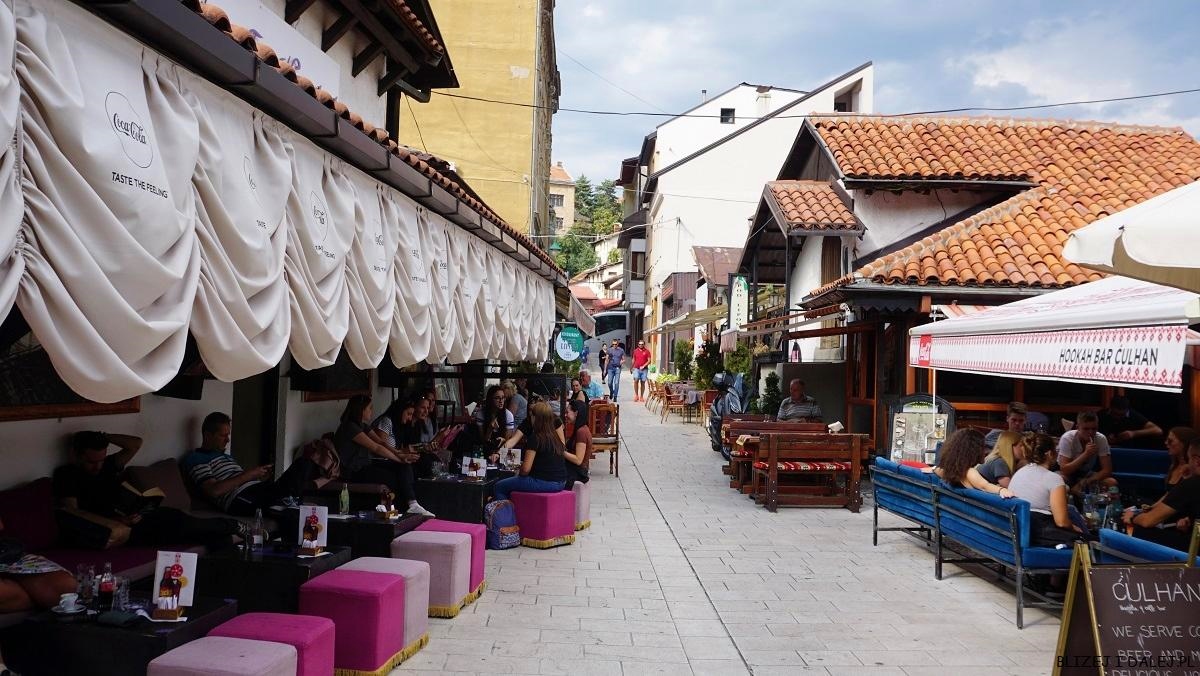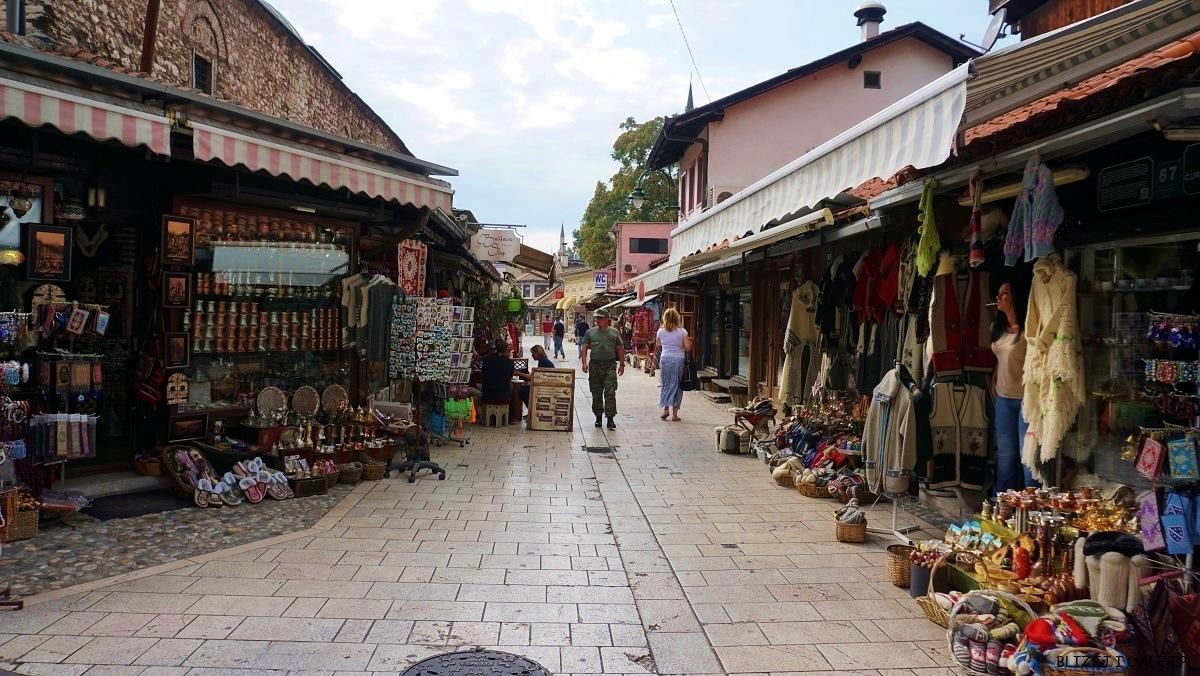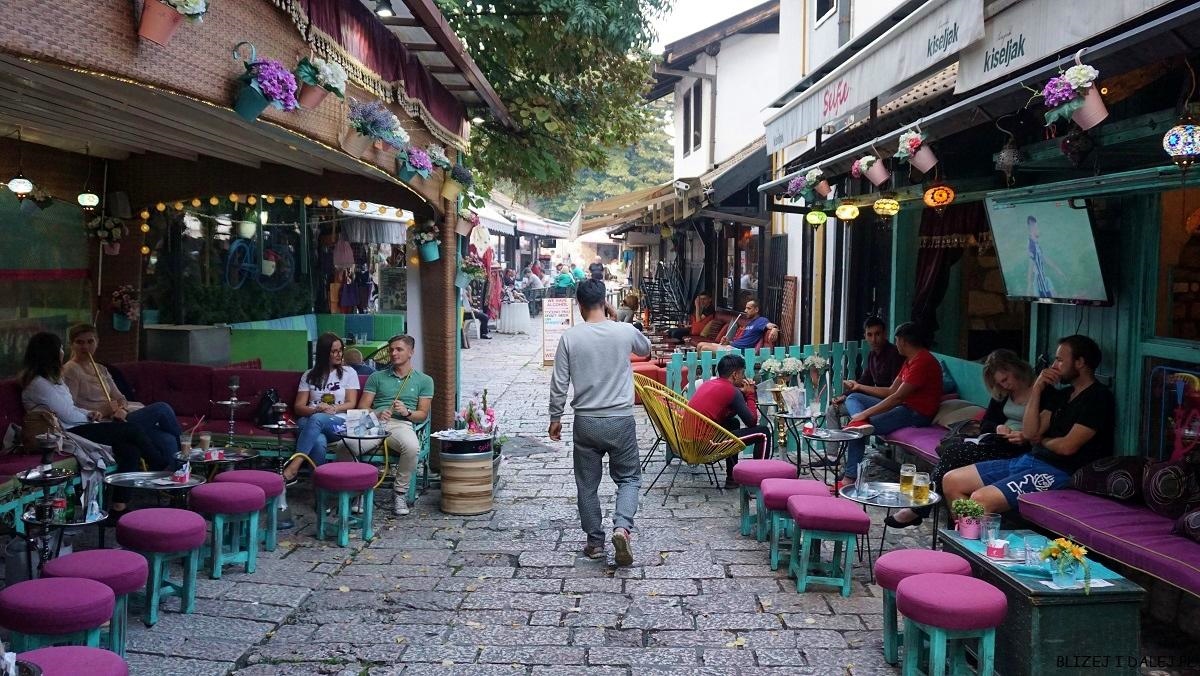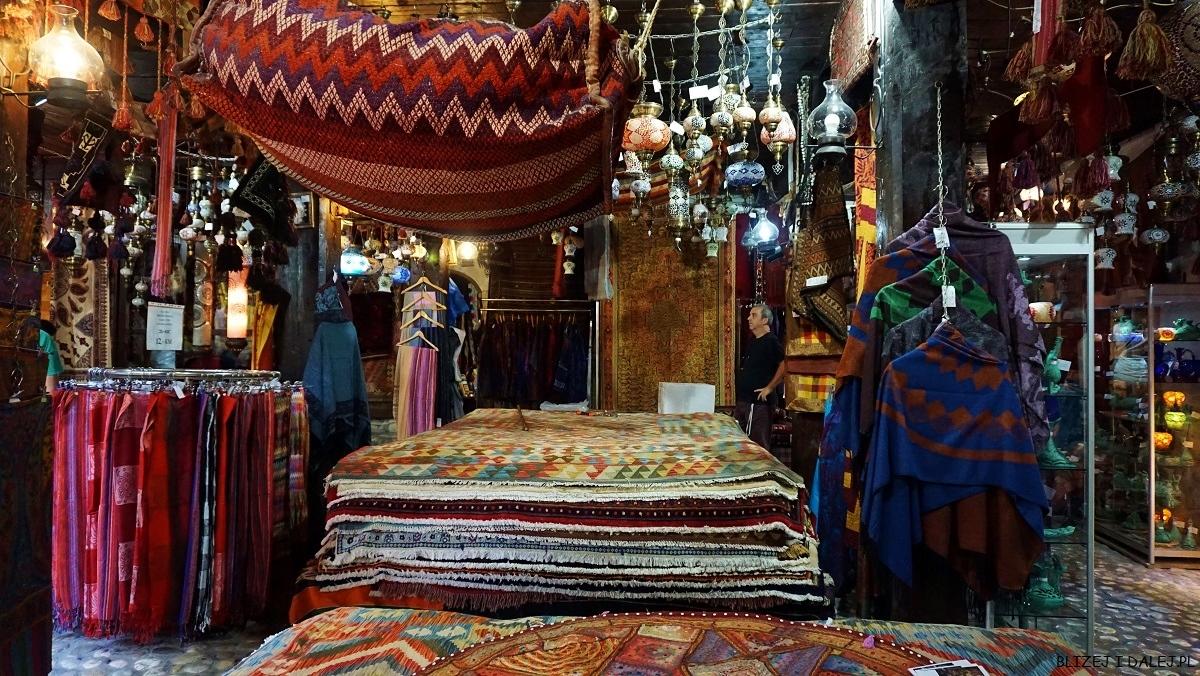 W Sarajewie podobnie jak w Mostarze (więcej "Bajeczny Mostar" tutaj), zdecydowanie łatwiej jest zapalić sziszę niż wypić piwo, nie wspominając o mocniejszych trunkach. A my chcieliśmy zjeść i napić się złocistego napoju z pianką – zadanie jak na te warunki okazało się być wyzwaniem. Chodziliśmy po starówce szukając swoistego "graala"… dopiero tripadvisor przyszedł nam z pomocą i udaliśmy się do polecanej Dzenity. Zamówiliśmy corbę, czyli zupę z jagnięciny, mini gołąbki zwane dolmas (dawno temu zakochałam się w nich w Rumunii) oraz malutkie pierożki a'la ravioli zwane klepe. A na deser skusiłam się na tufanija, czyli jabłko gotowane w syropie z orzechami i bitą śmietaną – masakrycznie słodkie… a do tego wszystkiego, pyszne i zimne Sarajevsko! To była uczta! Wspaniała uczta :)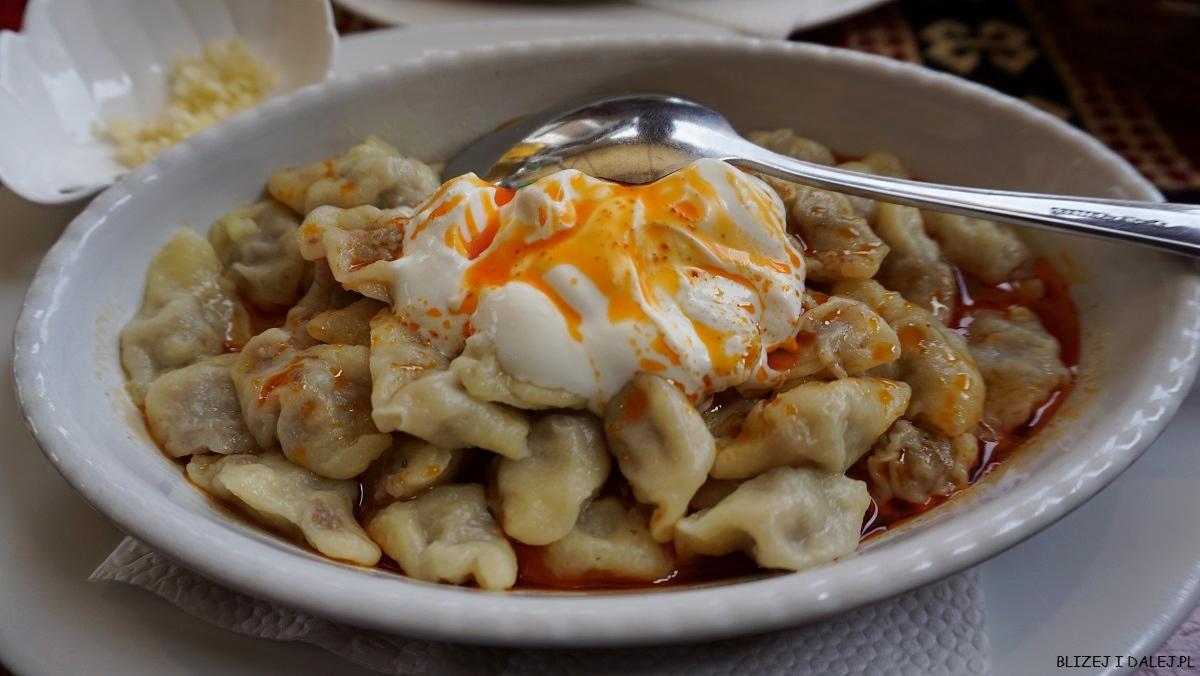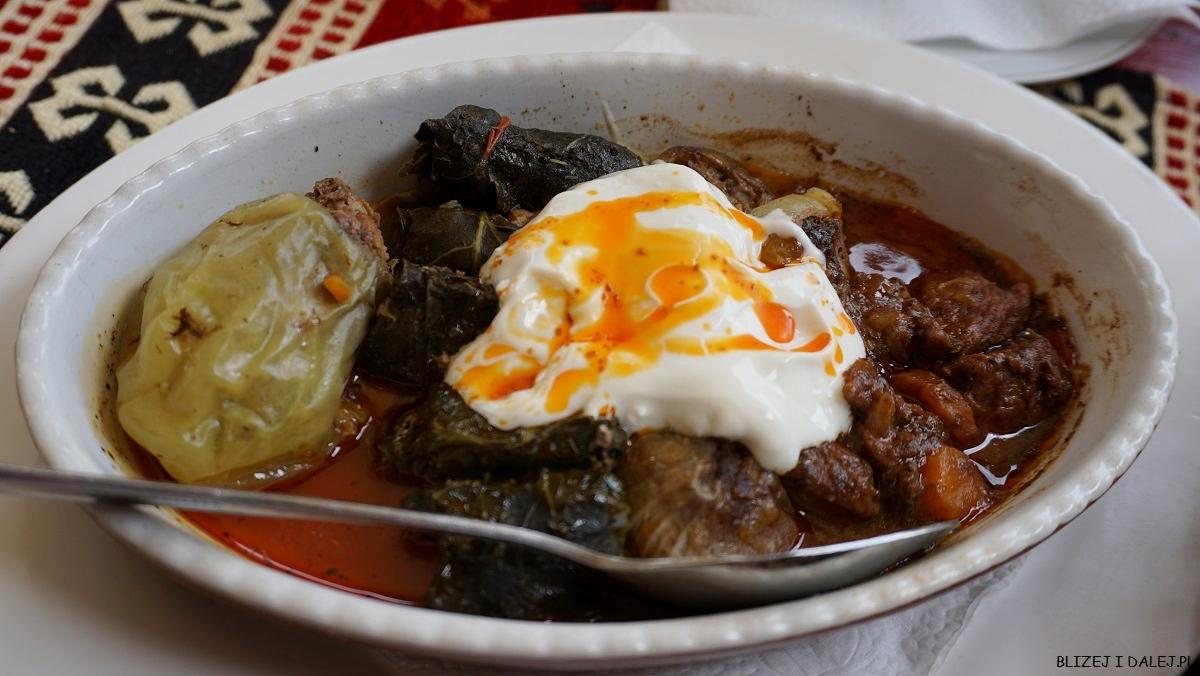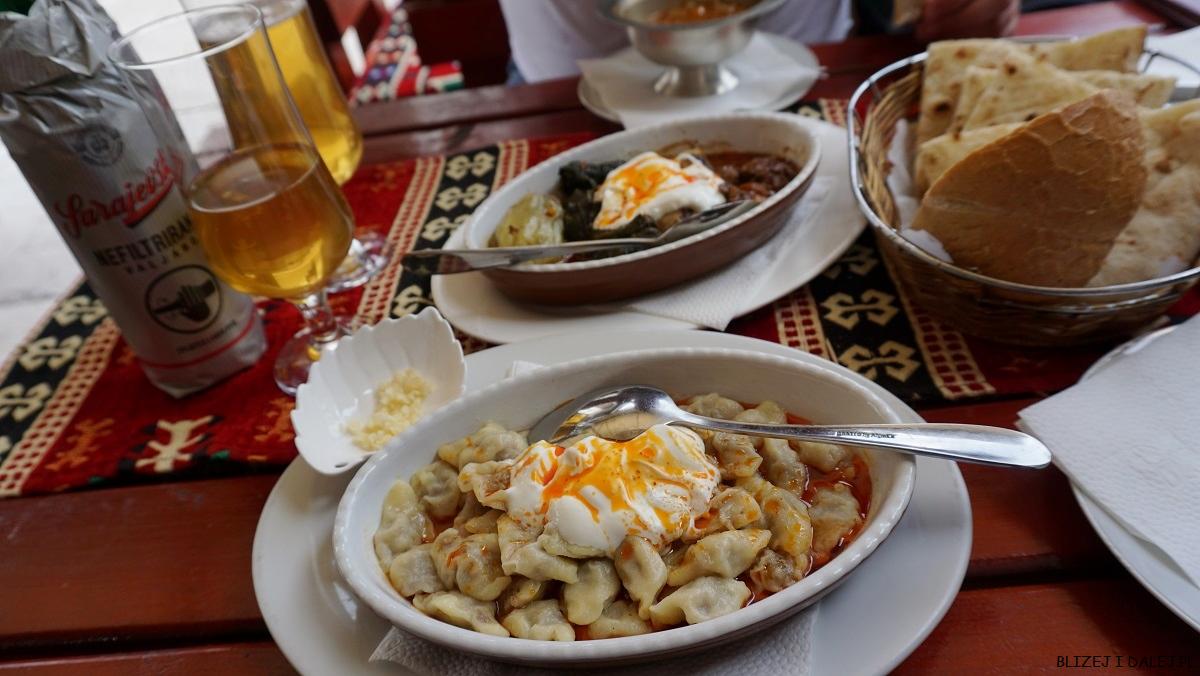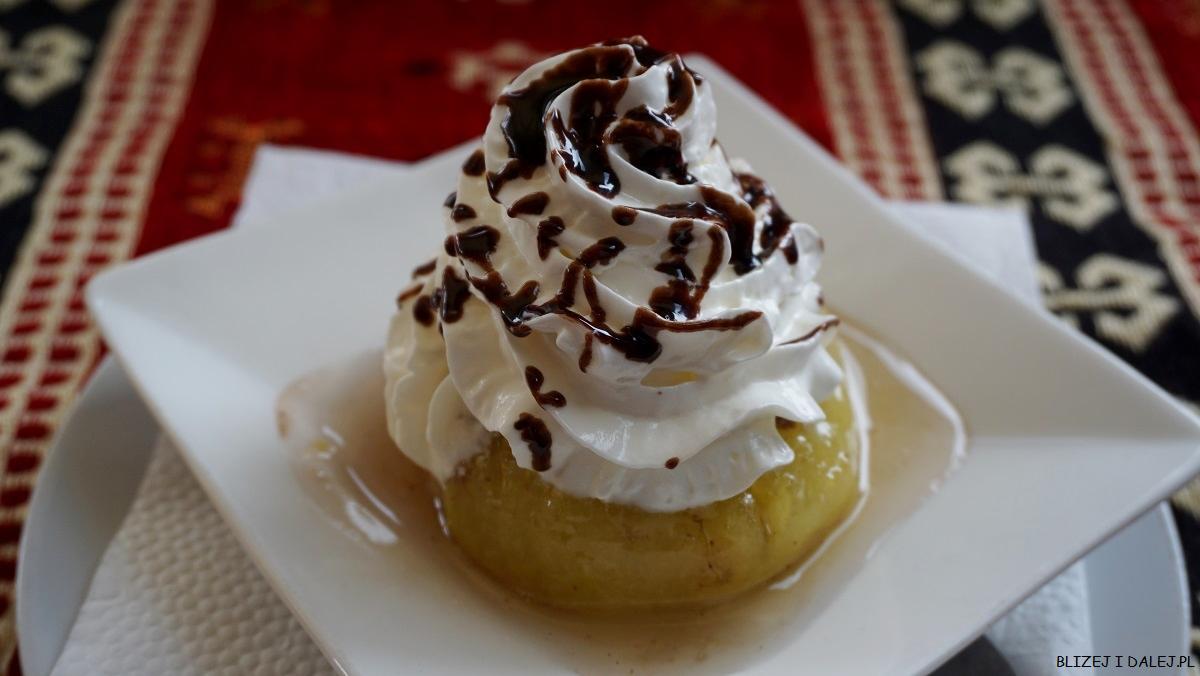 Spacerem docieramy nad rzekę Miljacka, gdzie dumnie stoi jeden z bardziej zachwycających, orientalnych budynków jakim jest ratusz Vijecnica w Sarajewie. Wspinamy się pod górę i trafiamy na jeden z najstarszych, muzułmańskich cmentarzy Alifakovac…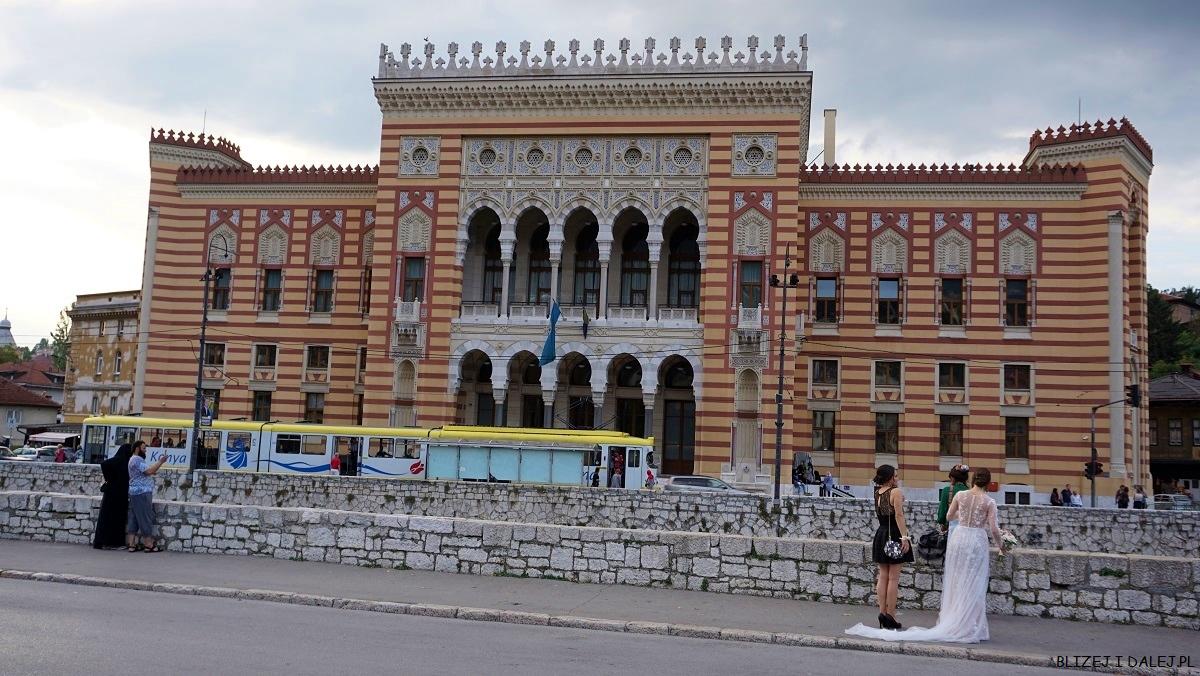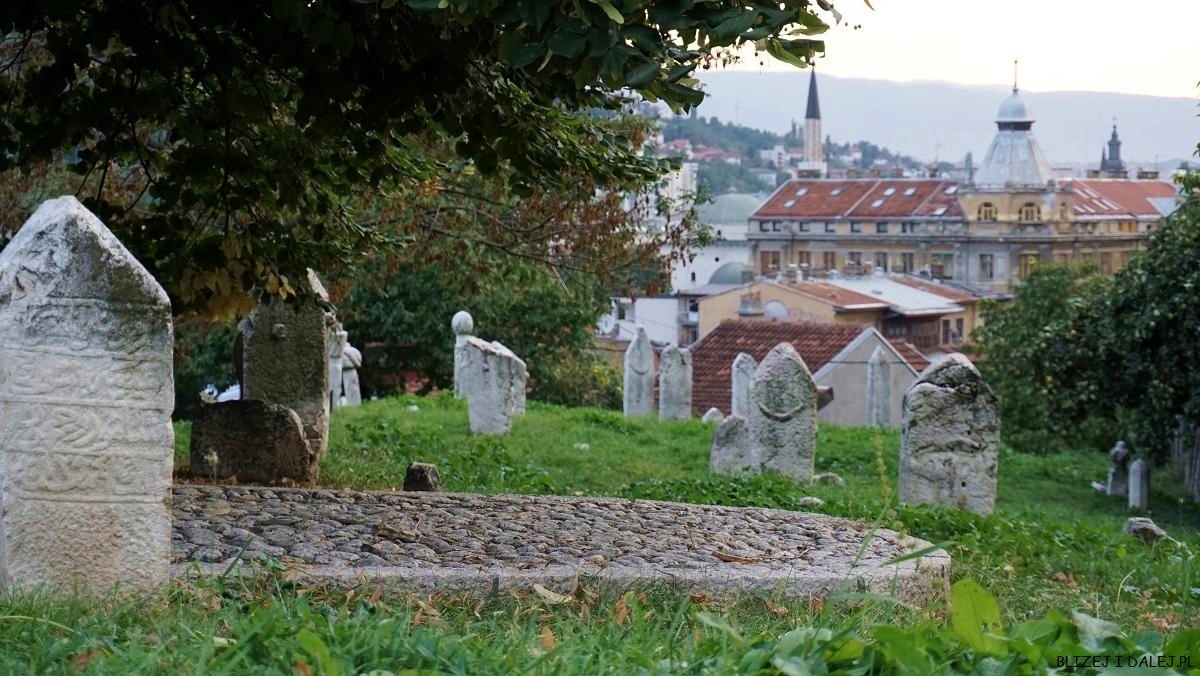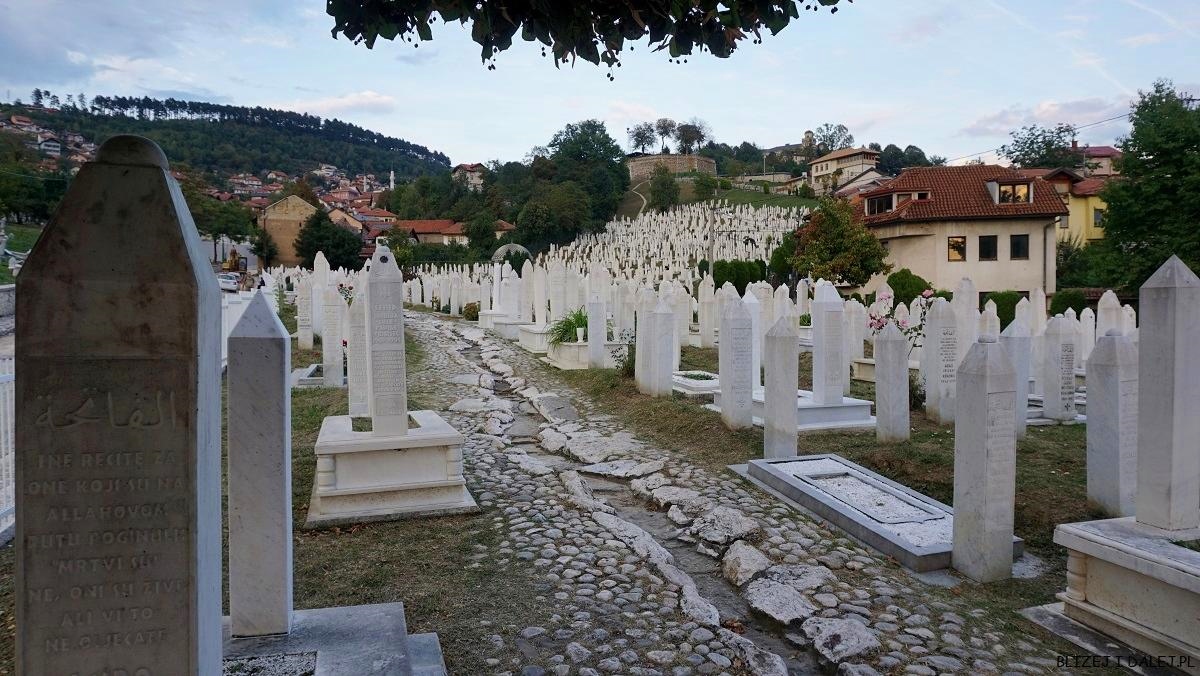 Gdzie się zatrzymaliśmy? W dumnie brzmiącym Grand Hotelu! Pierwsze wrażenie? Dość specyficzne… hotel utrzymany jest w "cudownych" latach osiemdziesiątych, więc czasy jego świetności minęły dawno, dawno temu. Za to z uwagi na odległość od centrum miasta, gwarantowany mieliśmy 3km spacer.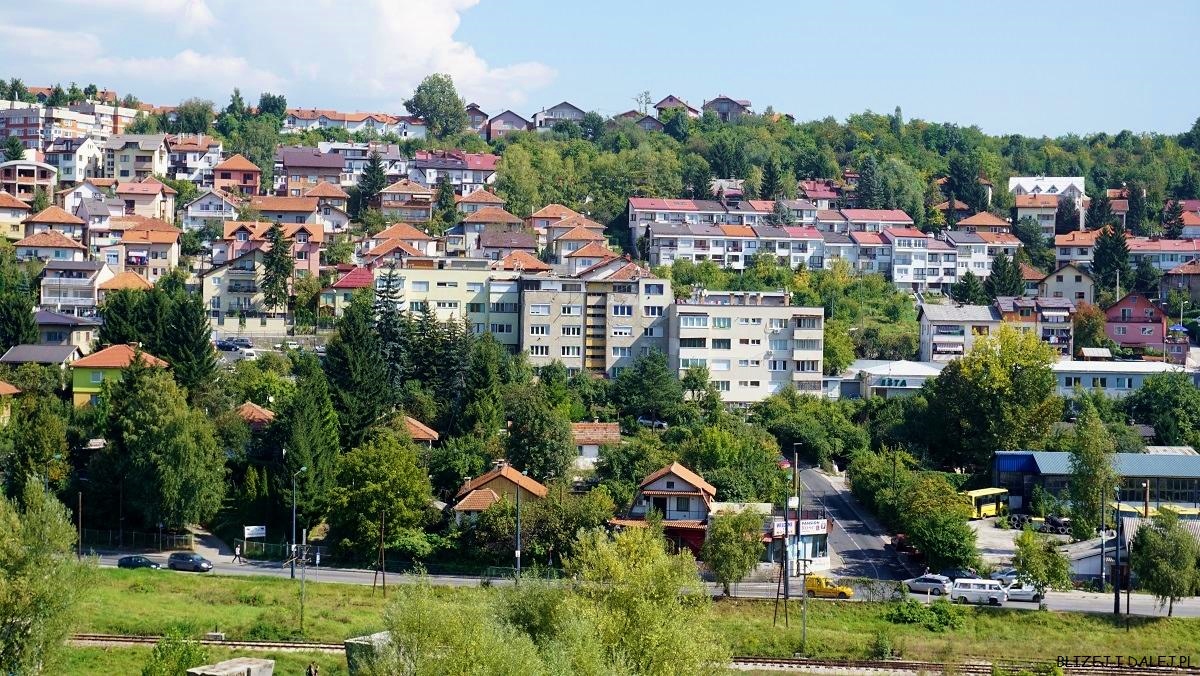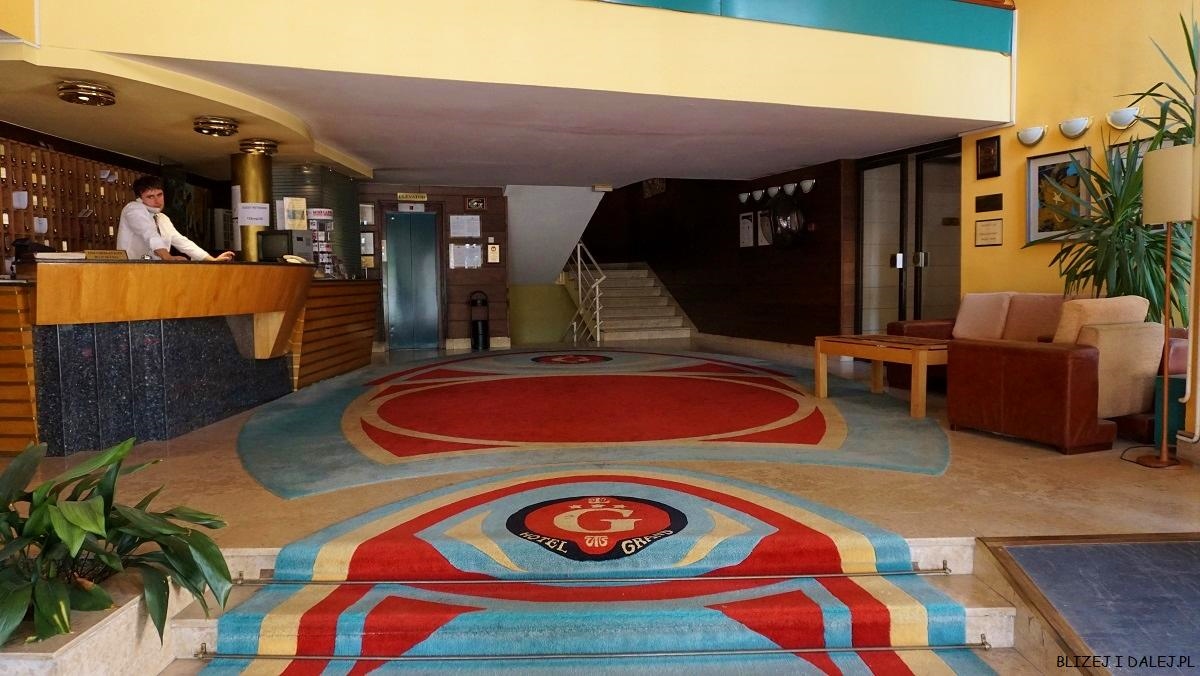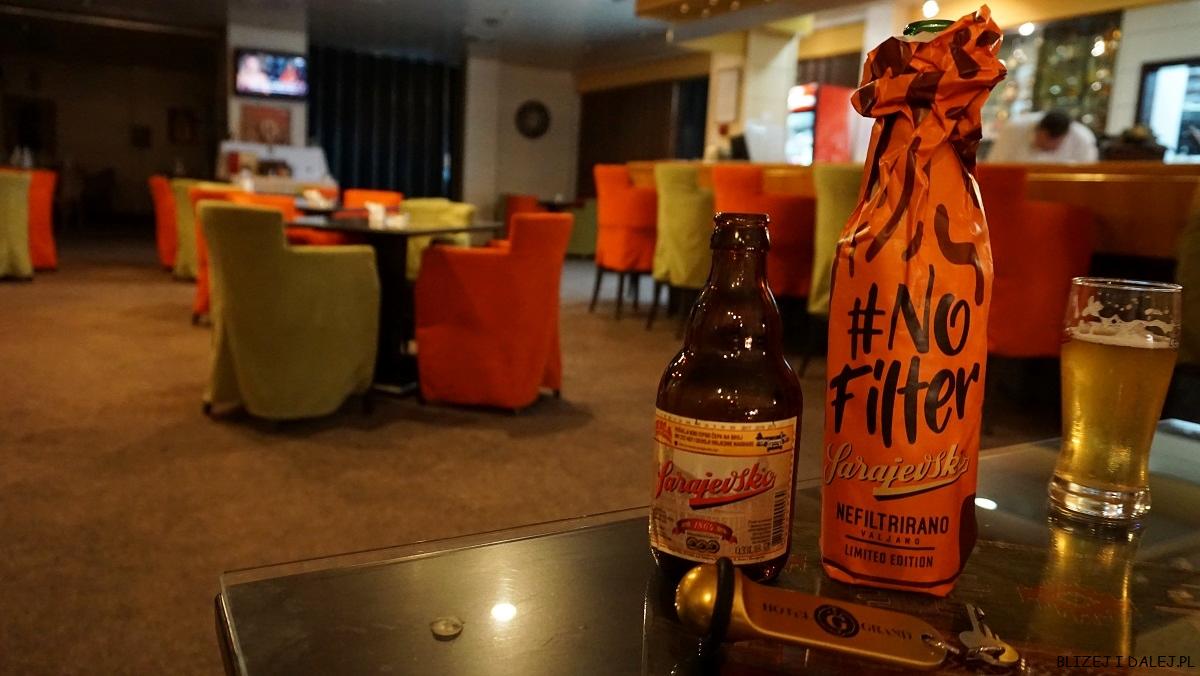 Bośnia i Hercegowina nas zauroczyła, jest tak niesamowicie otwarta, różnorodna i piękna! Niby jesteśmy w Europie a zupełnie inny świat! Zdecydowanie zaplanowaliśmy w tym kraju za mało czasu, ale kto by się spodziewał że aż tak nam się będzie podobać… Przeglądając zdjęcia z podróży, tylko utwierdziliśmy się w przekonaniu, że wrócimy – wrócimy na dłużej :)
Dodatkowe informacje:
Restauracja Dzenita – adres Prote Bakovića 10, Sarajevo 71000, Bośnia i Hercegowina
Więcej artykułów z Bośni i Hercegowiny (tutaj)
---
You might also like