Budzik ambitnie nastawiliśmy na 6 rano, aby wyruszyć jak najwcześniej – nic z tego nie wyszło, po wycieczce na Połoninę Wetlińską wszystko nas boli… ale jak to tak, jesteśmy pierwszy raz w Bieszczadach i po jednym wyjściu w góry nic więcej nie zobaczymy?!? Nieeee, na to się zgodzić nie możemy… z trudem wstaliśmy i po chwili byliśmy gotowi na kolejne wyzwanie czyli wyruszamy na Połoninę Caryńską :)
Wyruszyliśmy samochodem do Ustrzyk Górnych, gdzie zostawiliśmy na parkingu autko i autobusem miejskim pojechaliśmy na Przełęcz Wyżniańską – z tego miejsca można się wybrać zielonym szlakiem na Małą i Dużą Rawkę lub tak jak my na Połąninę Caryńską. Jest to jedno z najłatwiejszych i najkrótszych podejść, co było dla nas jedną z ważniejszych kwestii ;)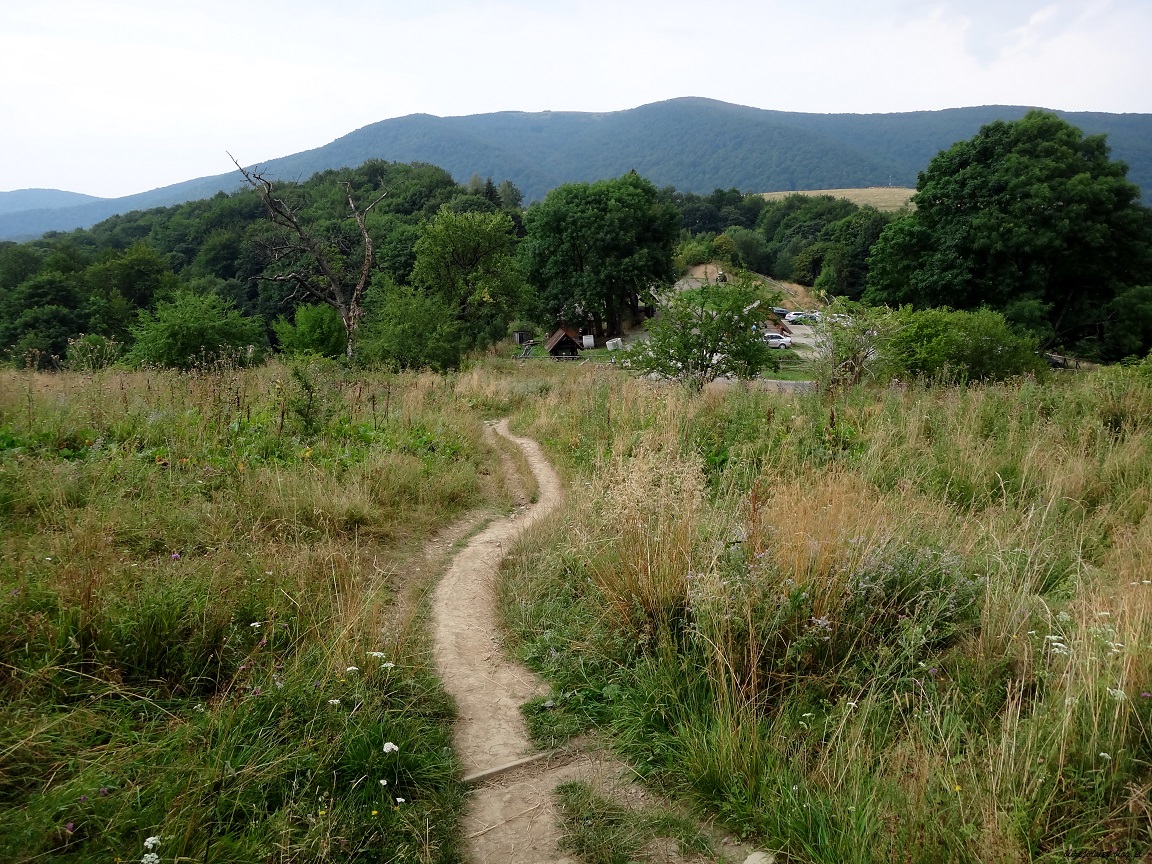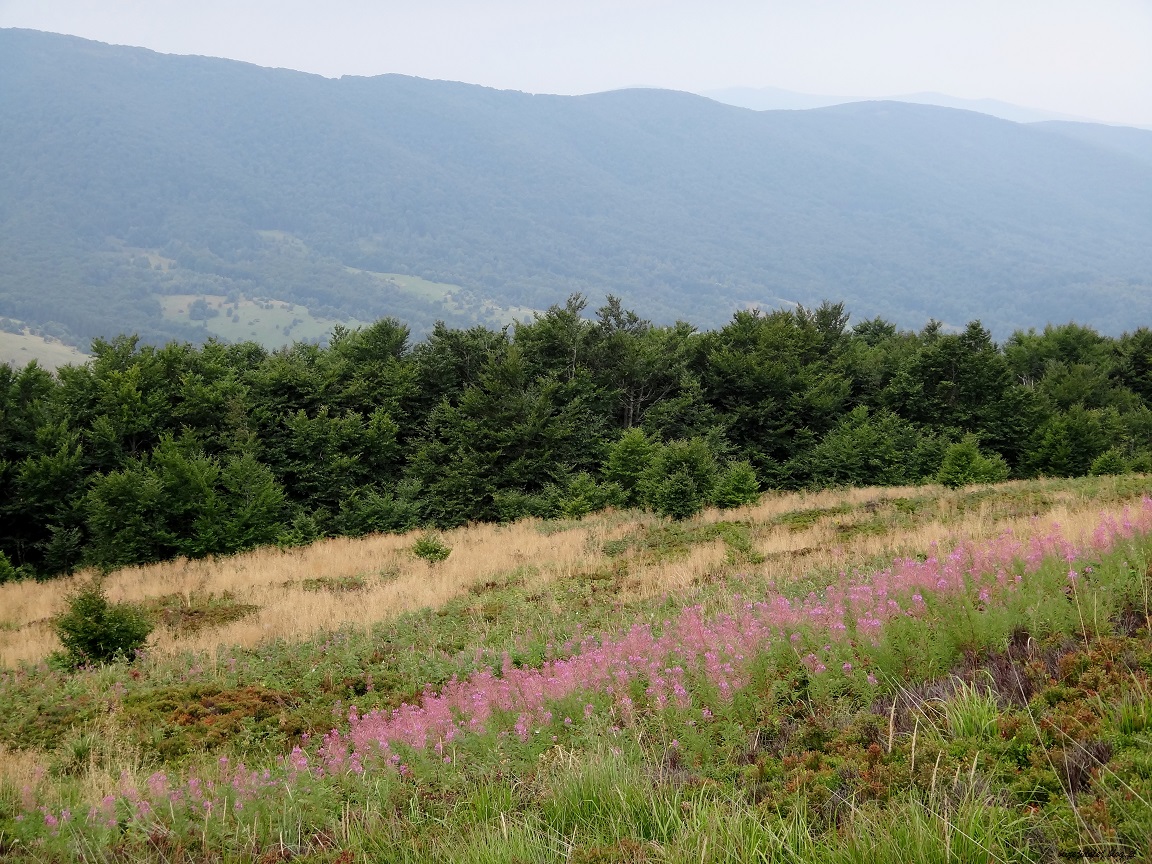 Jednak tak jak w przypadku naszej pierwszej wycieczki na Połaninę Wetlińską to że jest to najłatwiejsze podejście nie znaczy wcale, że jest ono łatwe! Podejście rozpoczęło się dość przyjemnie i lekko, po to aby chwilę później przejść w prawie pionową ściankę do wspinania ;) I tak jak dzień wcześniej, po korzeniach, piachu i kamieniach dzielnie się wspinamy!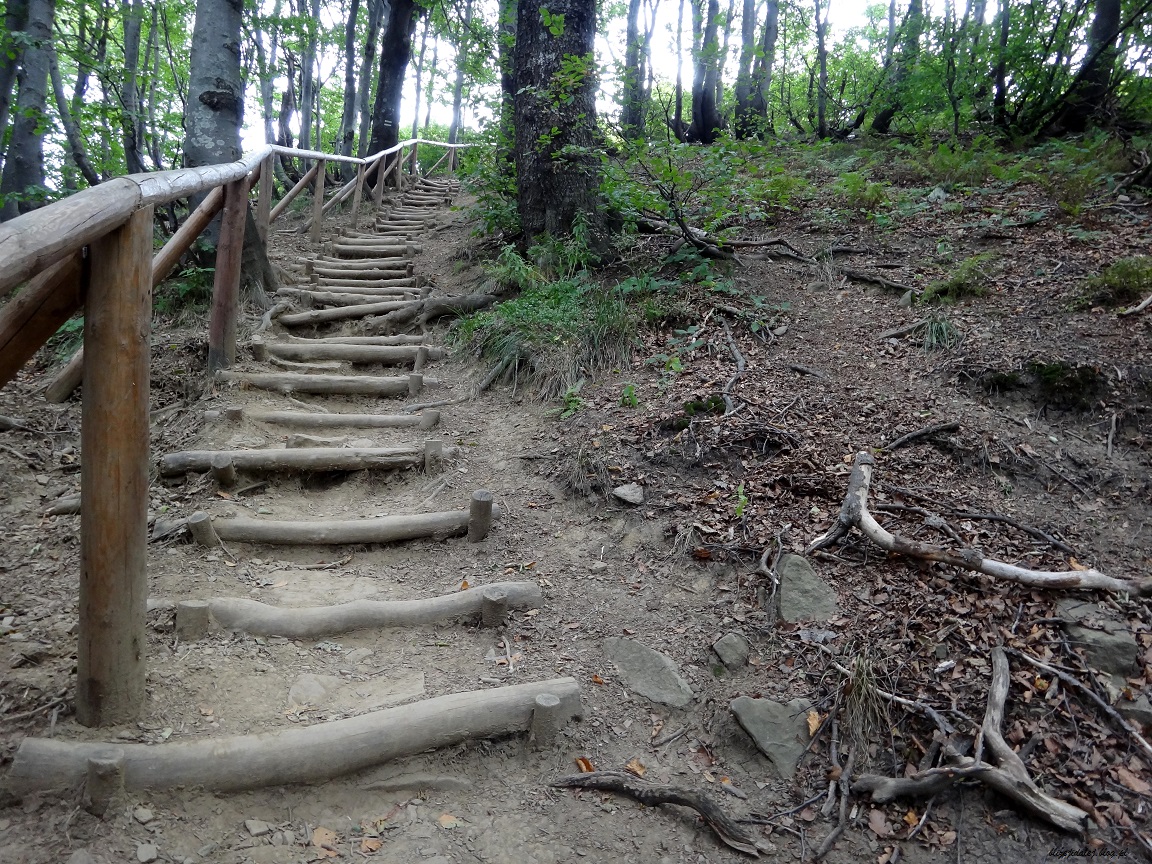 Ech, łatwo nie było… co chwilę po pseudo schodach w górę, krótki odcinek z delikatnym podejściem i ponownie pionowo w górę – mniej więcej w połowie drogi zwątpiłam i zastanawiałam się czy nie zawrócić, poddać się i zapomnieć! Jednak nie mniej zmęczony Piter stwierdził, że skoro już tu dotarliśmy to idziemy dalej…
Po drodze mijaliśmy się z dwiema niewielkimi grupkami, gdzie na zmianę my lub inni siedzieliśmy w trawie starając się złapać oddech przed dalszą wędrówką. Wiele osób tak jak my, nie spodziewało się, że jedno z łatwiejszych podejść może być takie wyczerpujące… aż strach pomyśleć jak wyglądają inne szlaki ;)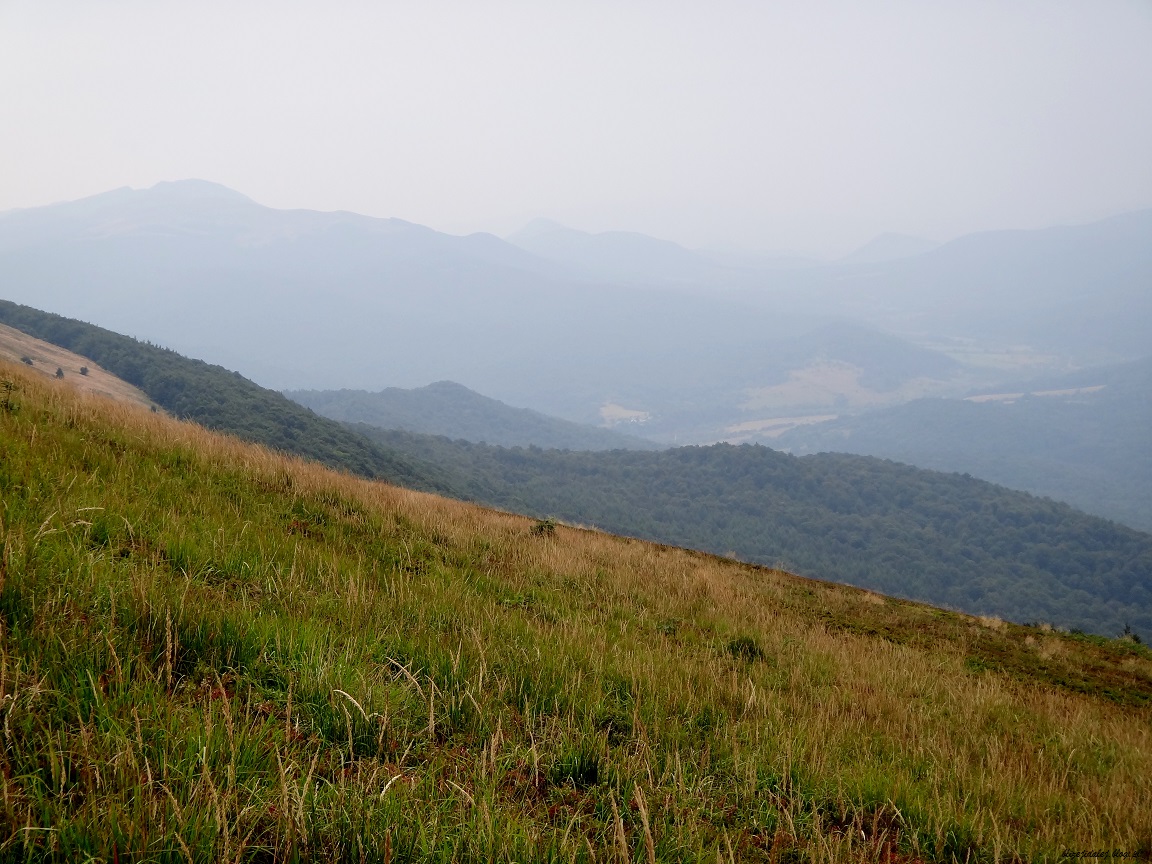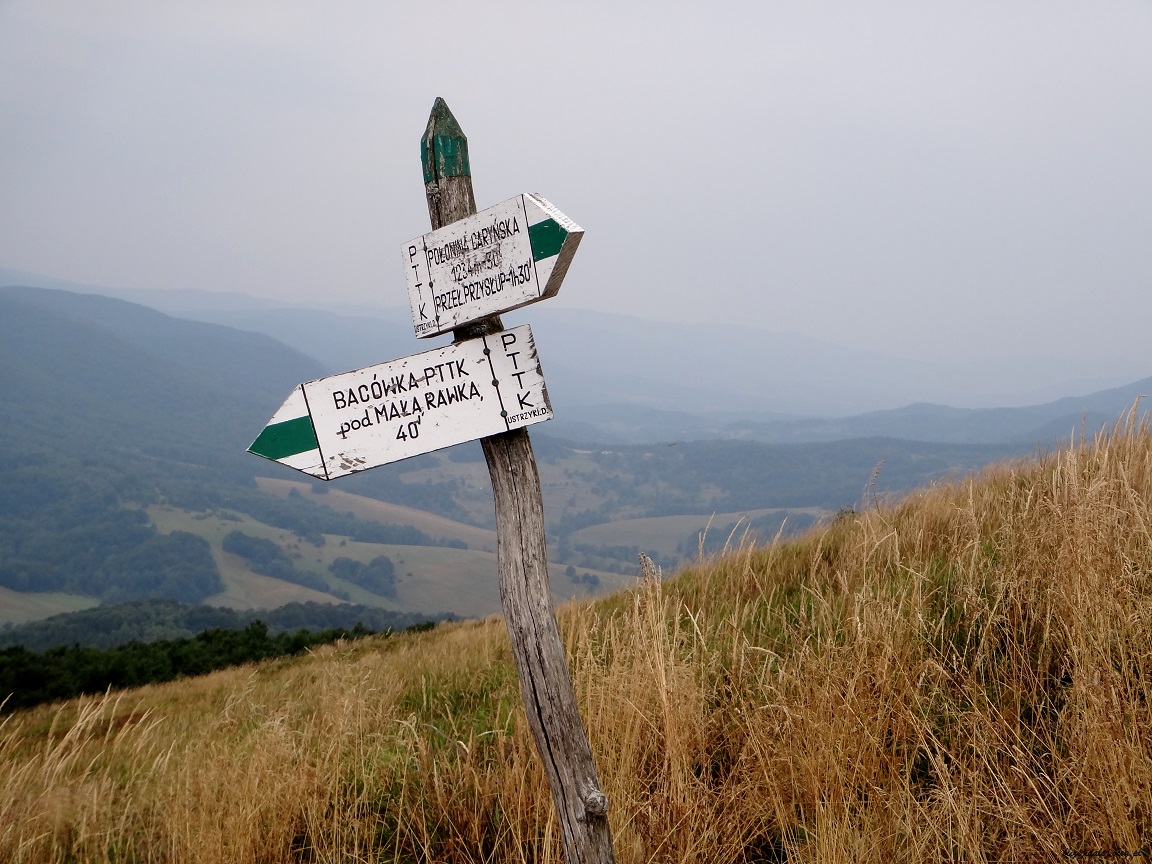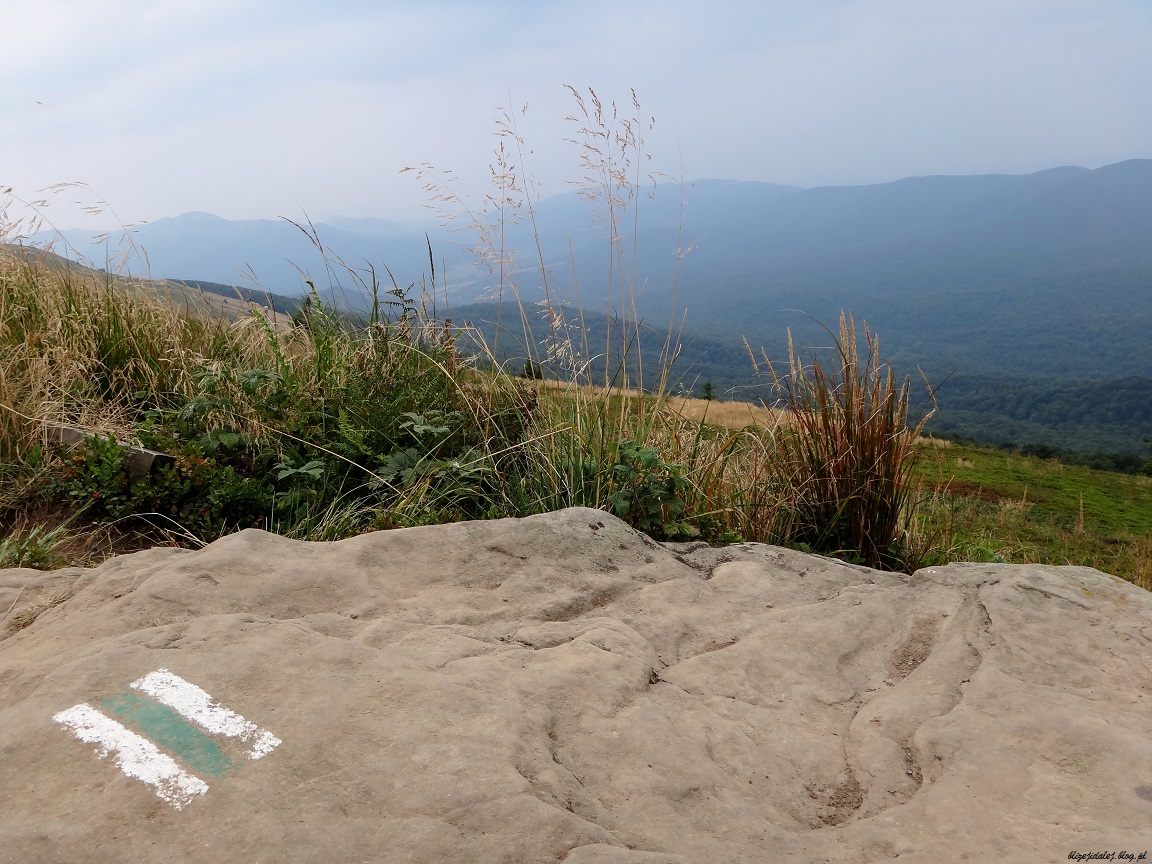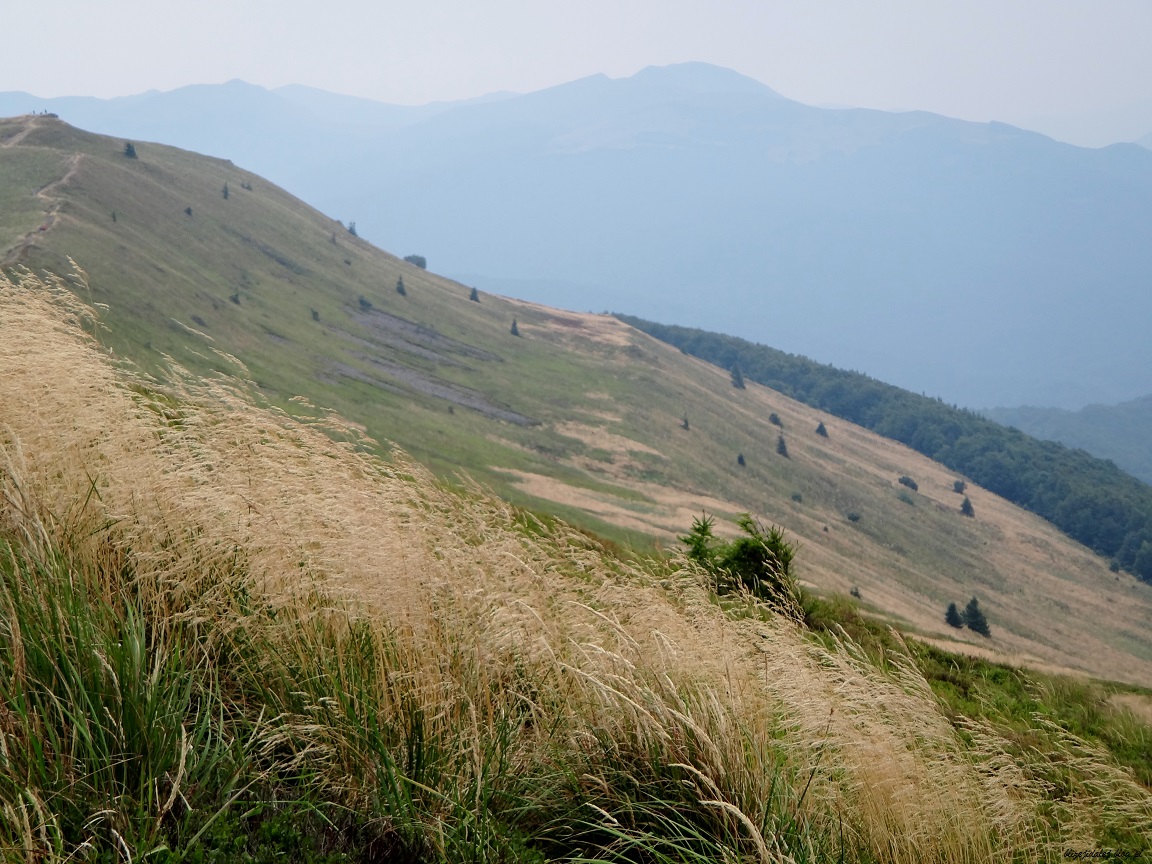 Już prawie jesteśmy na górze, jeszcze kilka kroków, jeszcze kilka mijanek ze schodzącymi turystami, wymiana pozdrowień i oto jesteśmy! Uff, najważniejsze że się udało :) Widok jaki rozciąga się ze szczytu w praktycznie wszystkie strony jest ukoronowaniem i nagrodą za "hardcorowe" podejście!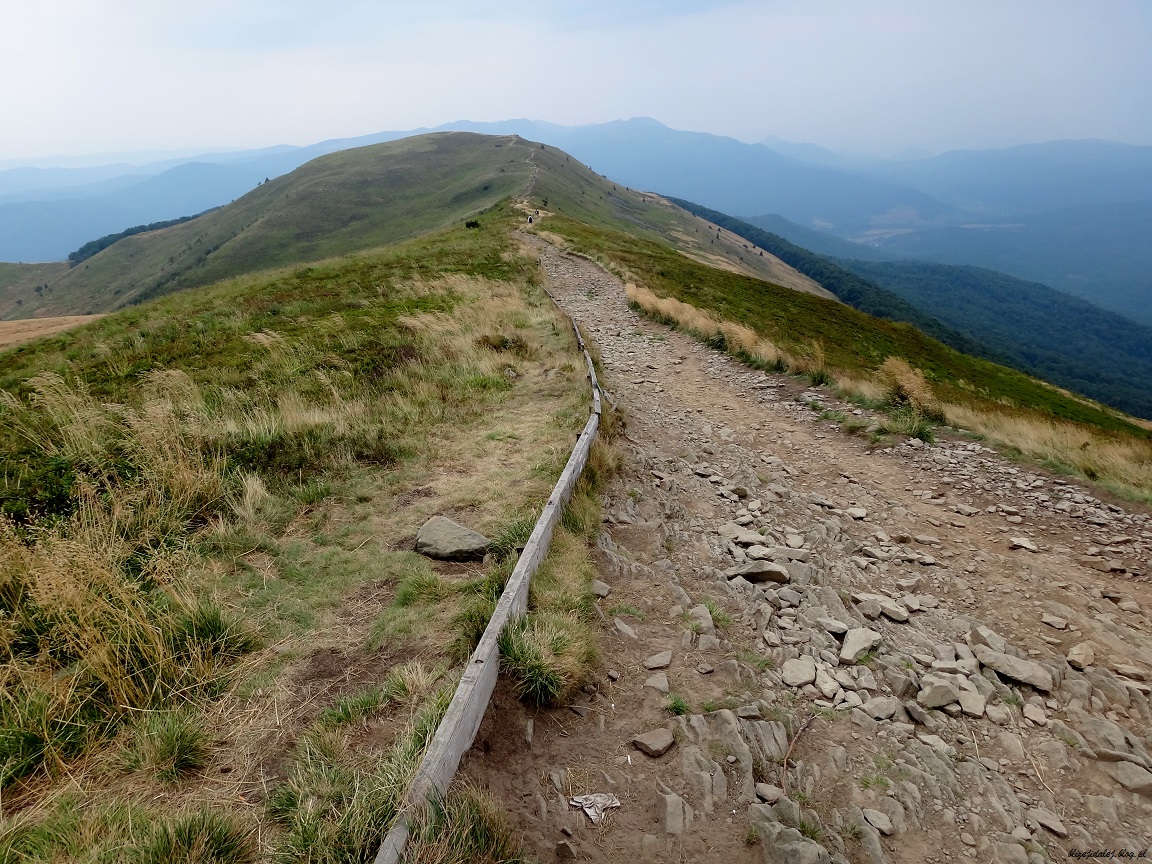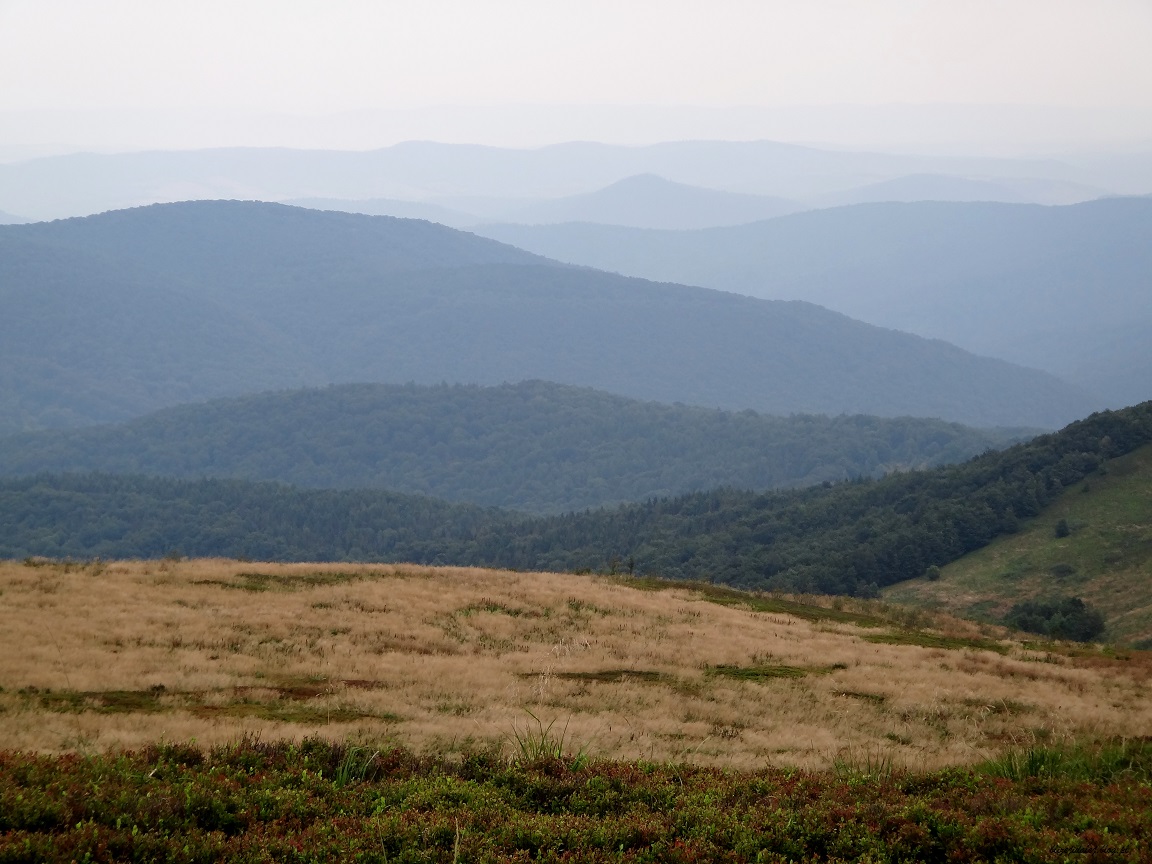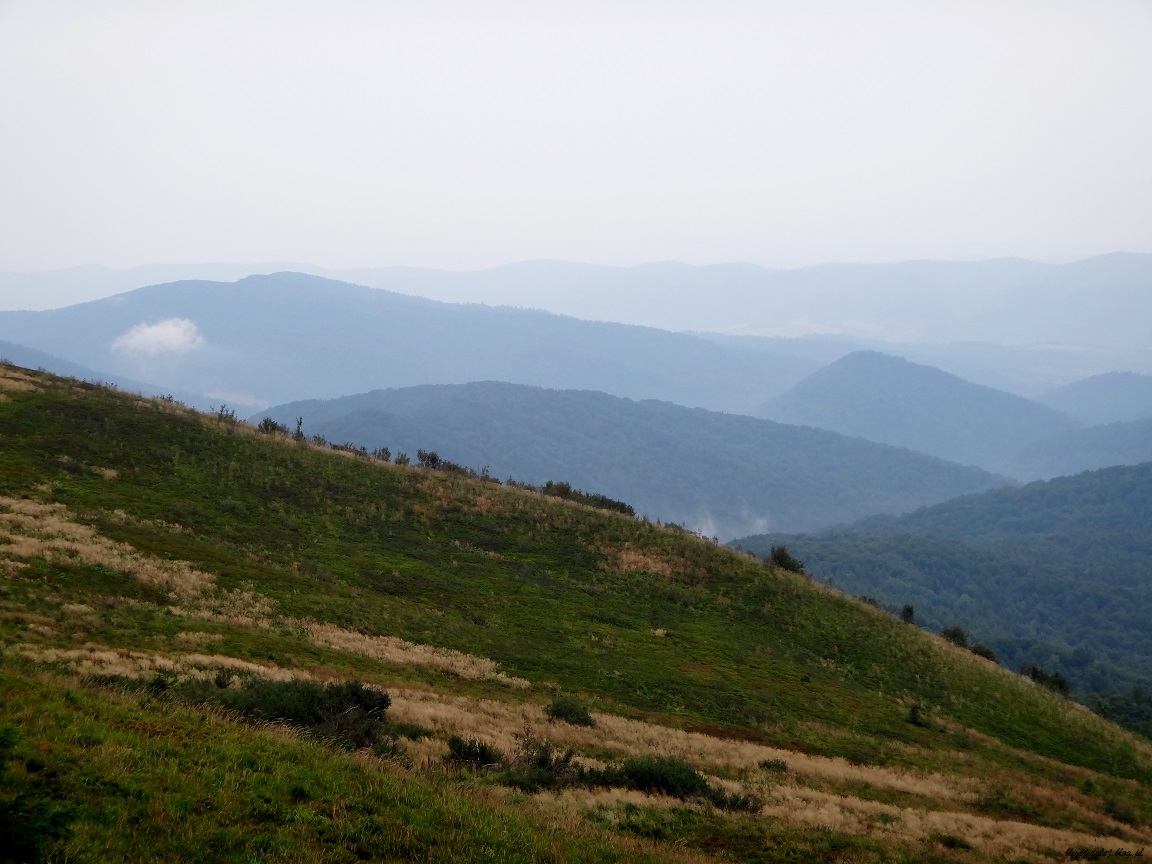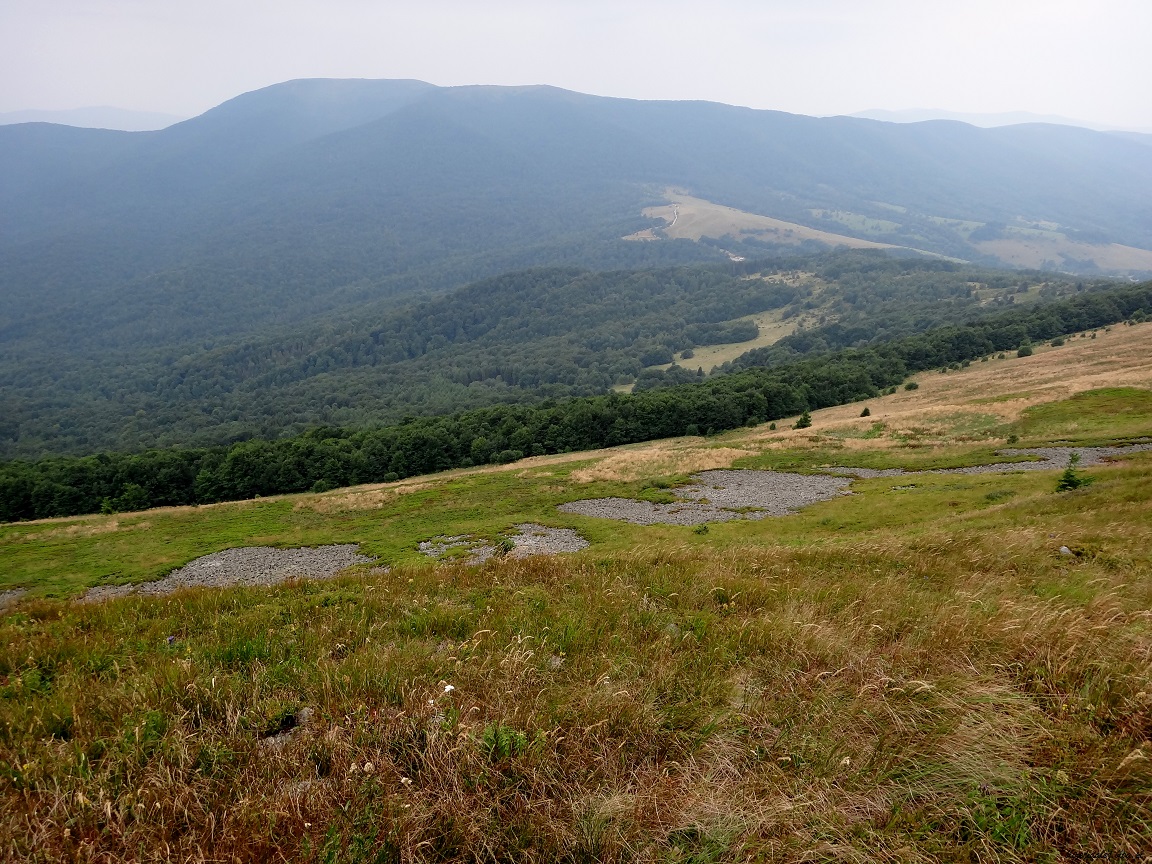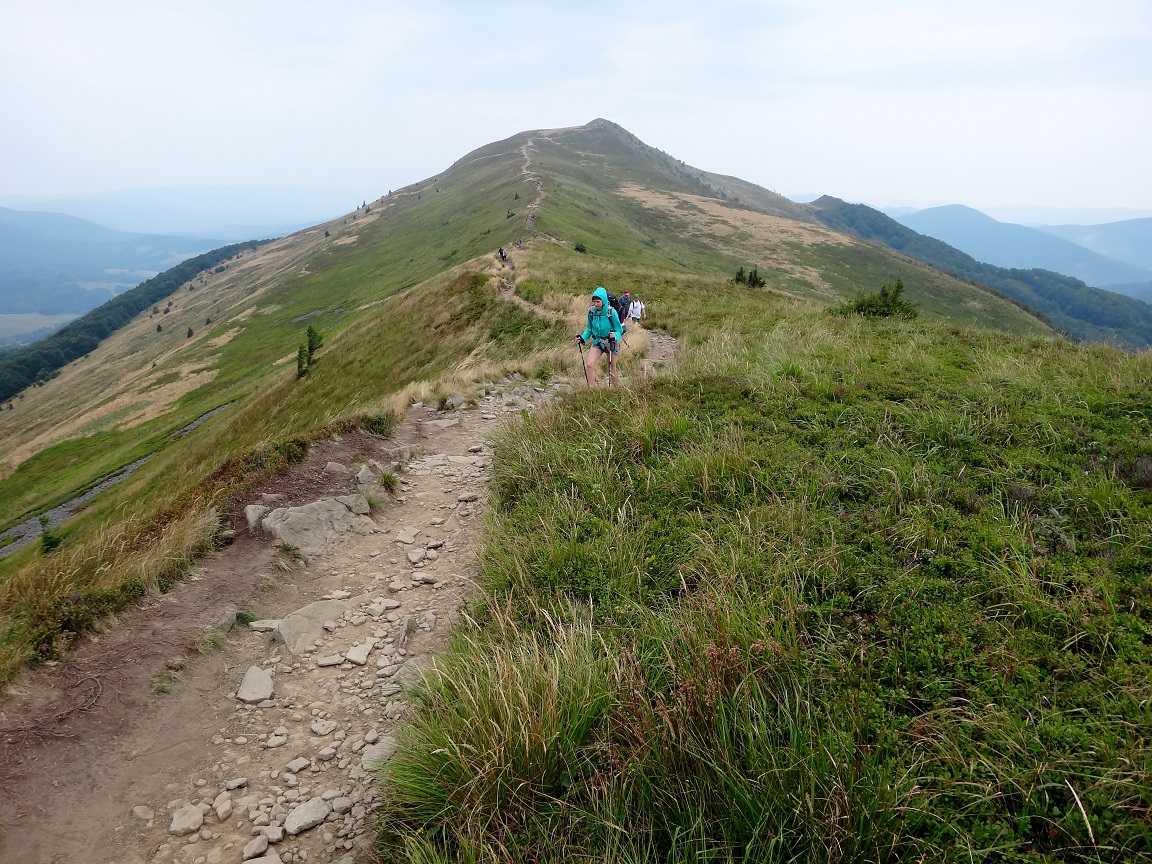 Niestety w międzyczasie diametralnie zmieniła się pogoda – wychodząc z hotelu było ciepło, miło i słonecznie a na górze kompletnie inny świat… przede wszystkim straszne wietrzysko, ciemno i burzowe chmury tuż nad naszymi głowami. W związku z tym przyspieszyliśmy kroku, a ja zarzuciłam na siebie moją ulubioną kurtkę przeciwdeszczową z kapturem i dalej w drogę :)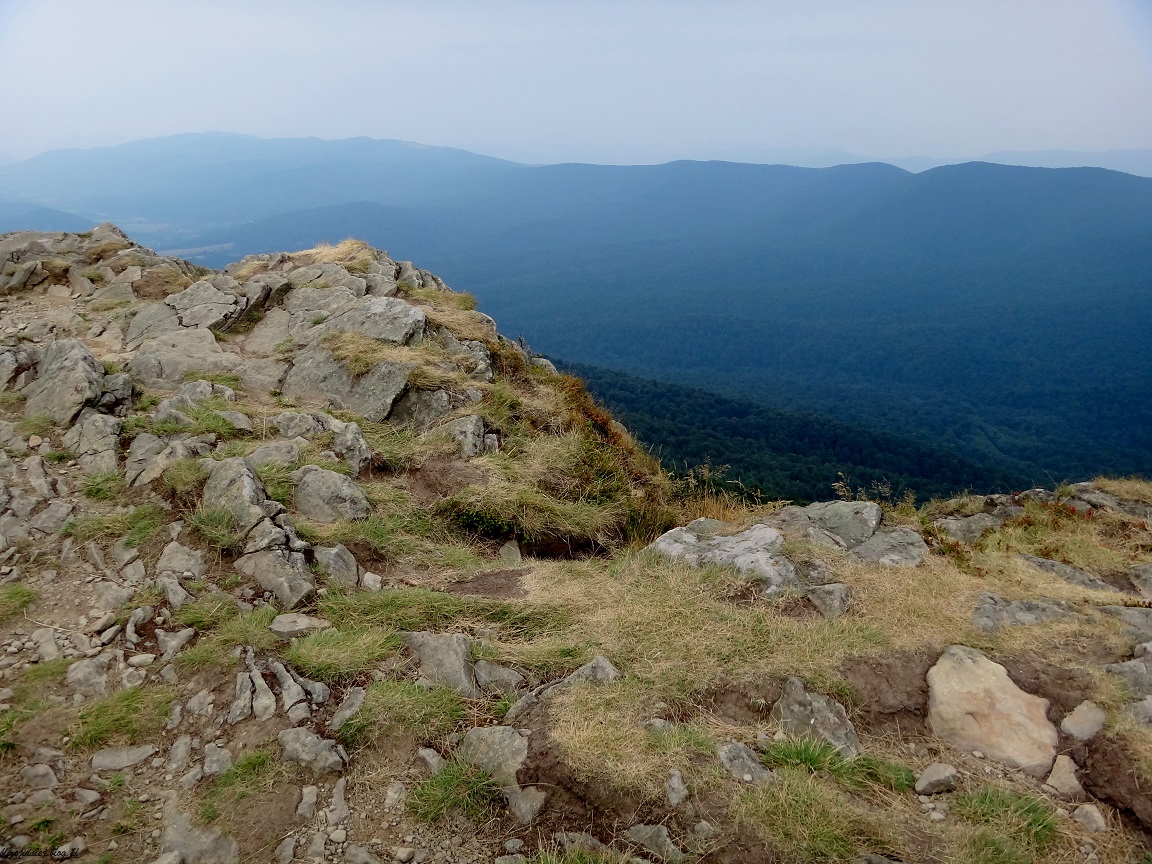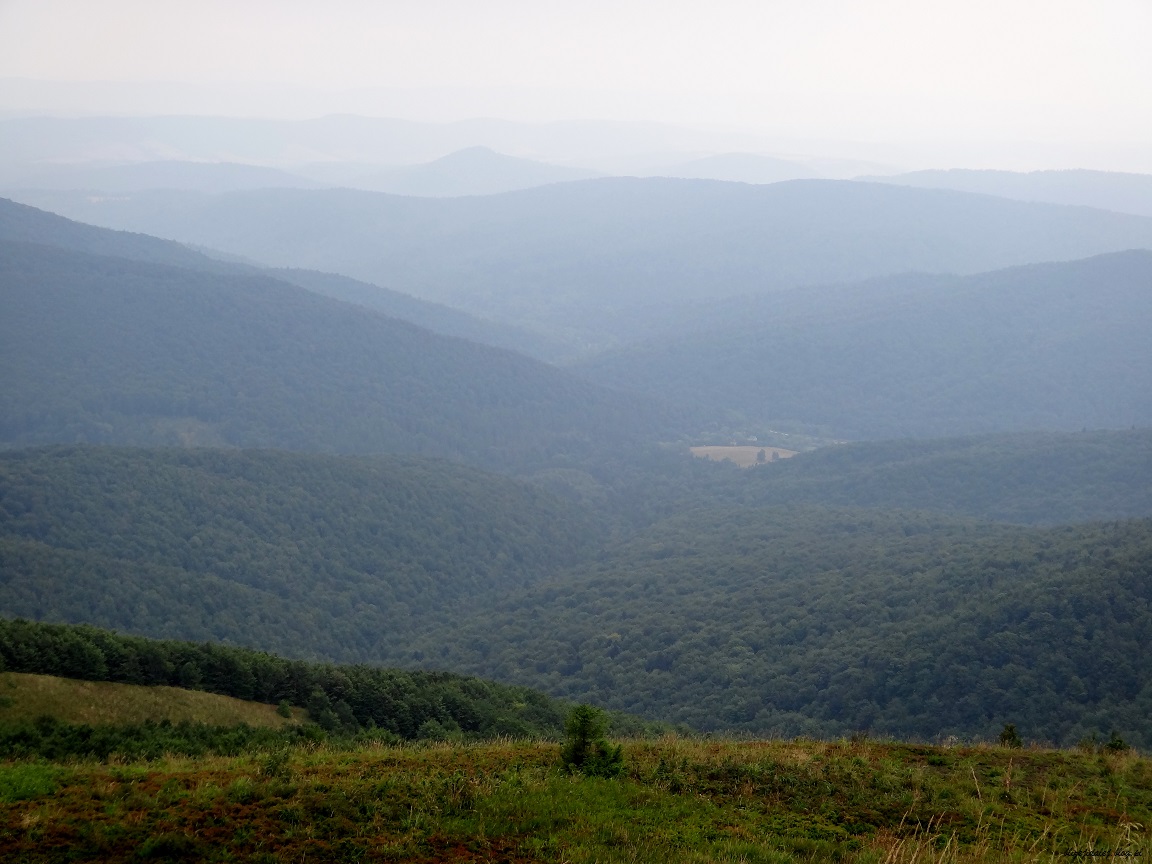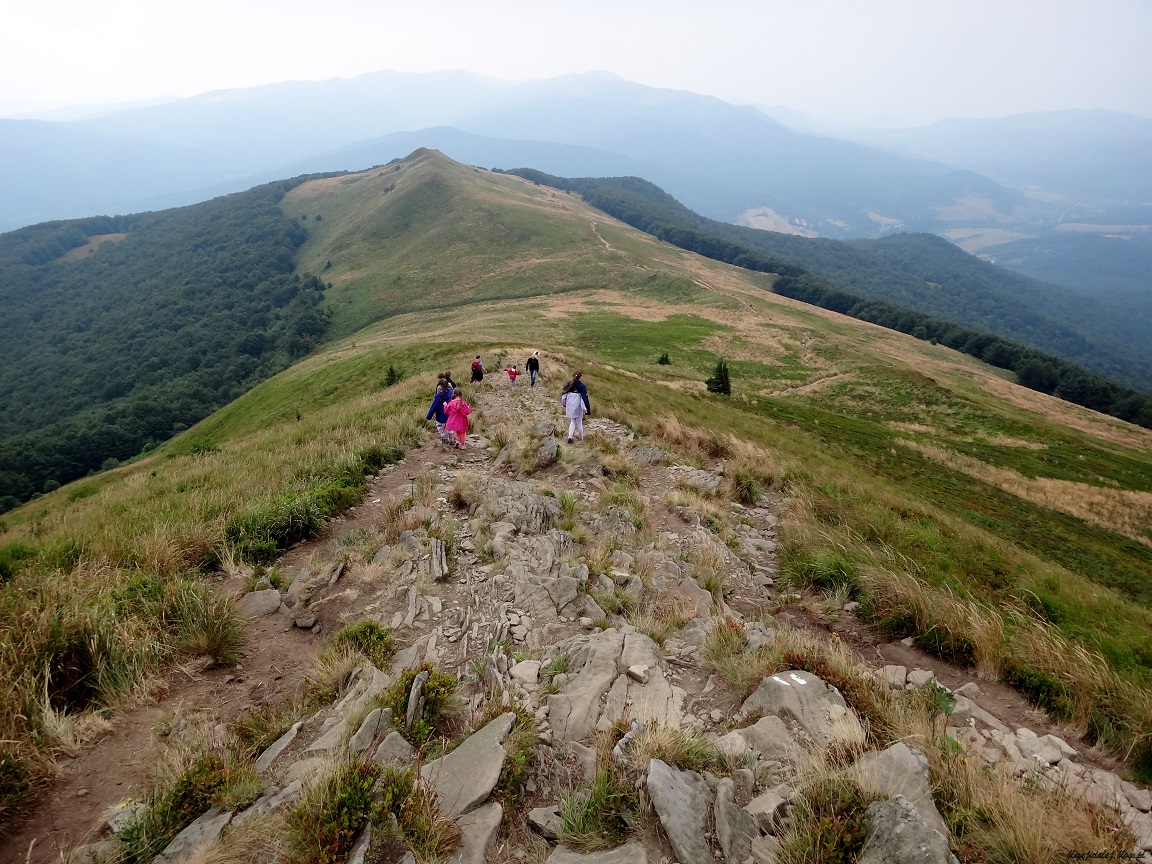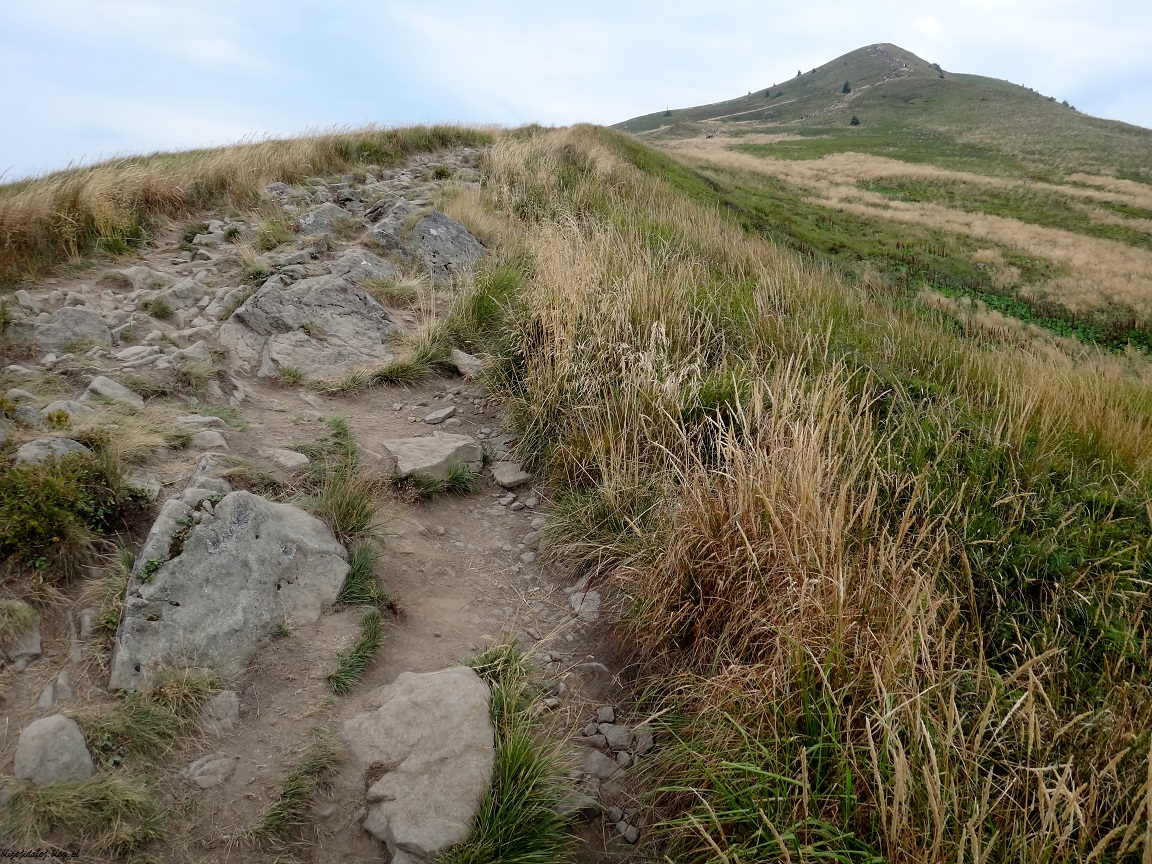 Schodziliśmy w pierwszych kroplach deszczu w kierunku Ustrzyk Górnych, do samochodu który zostawiliśmy na dole, wg planu mamy około 1h15min marszu. W trakcie zejścia mogliśmy się przekonać jak nieprzyjazne jest wejście od strony Ustrzyk Górnych, my szliśmy w dół i nie było łatwo więc co mają powiedzieć osoby kierujące się w przeciwnym kierunku?!? Potwierdzeniem trudności byli zziajani turyści, oczywiście z wyjątkiem dzieciaków do jakiegoś 10-go roku życia – one są totalnie niezniszczalne ;) Na szczęście my szliśmy w jedynym akceptowanym w tym miejscu kierunku czyli w dół!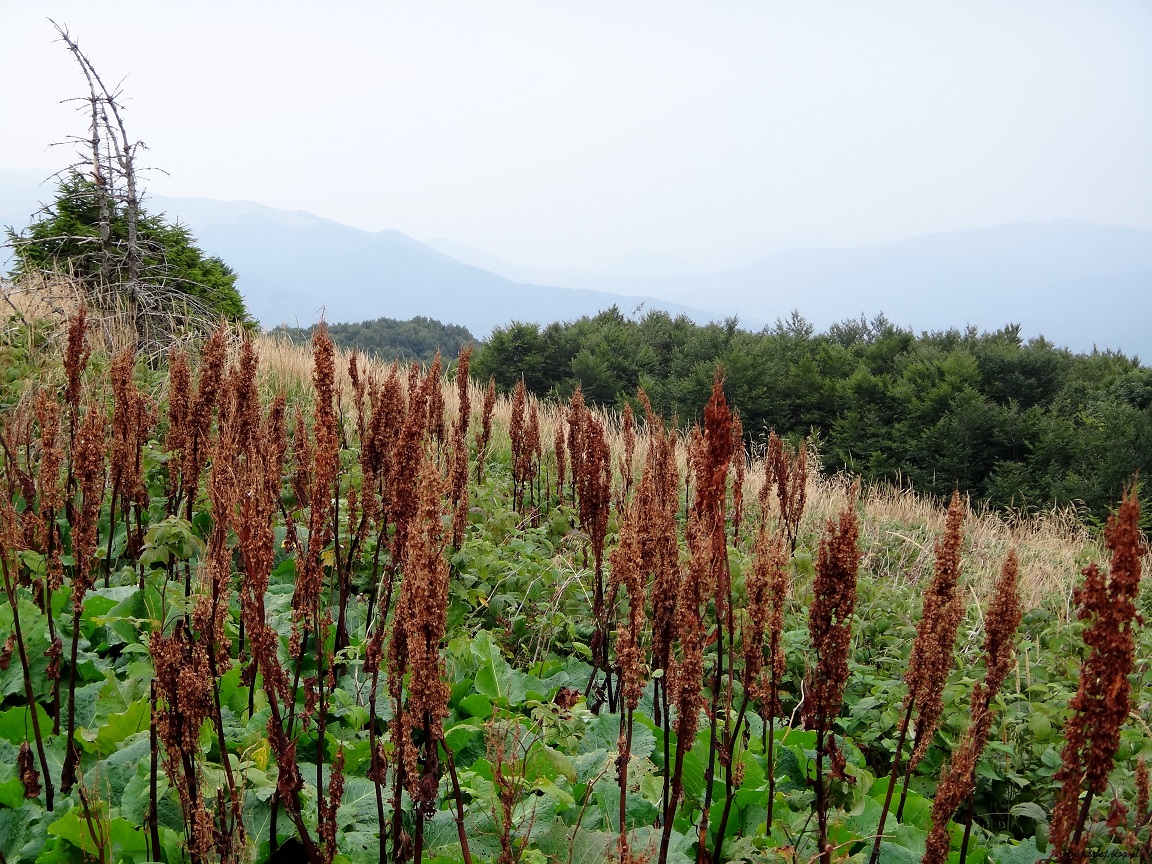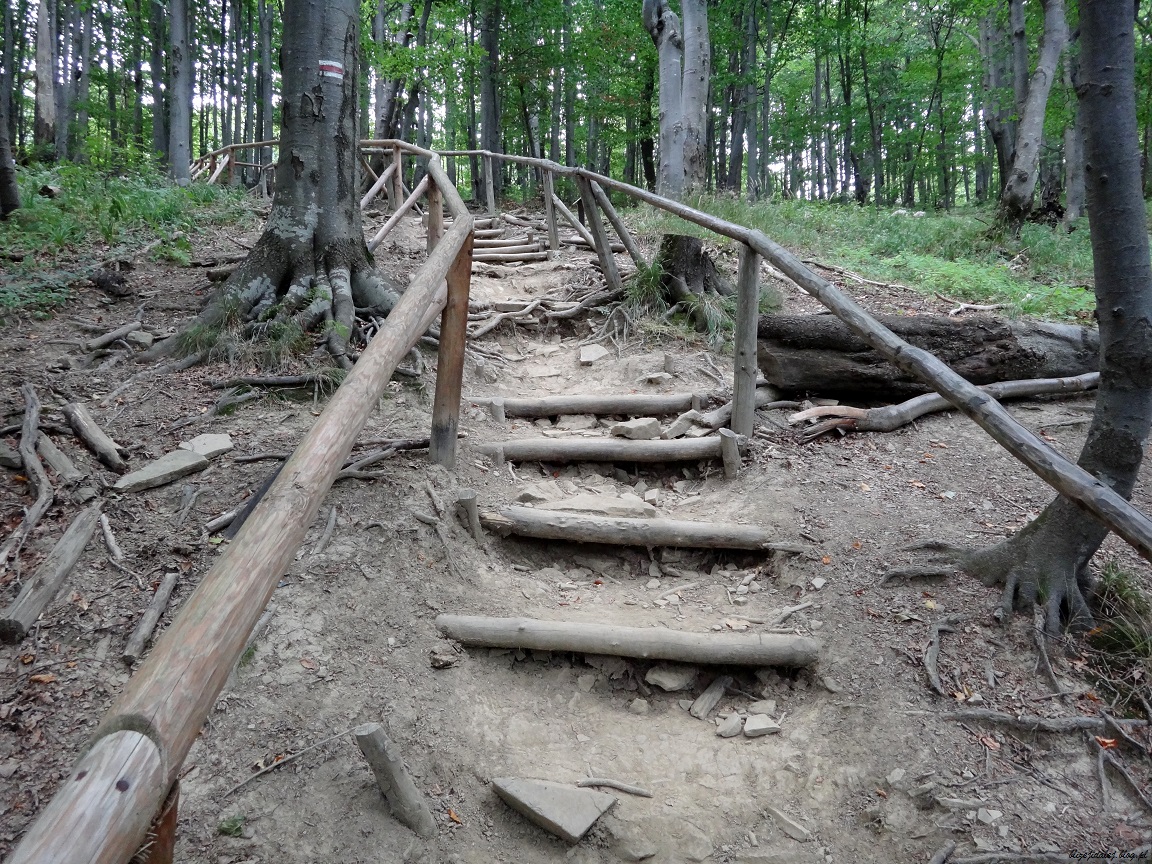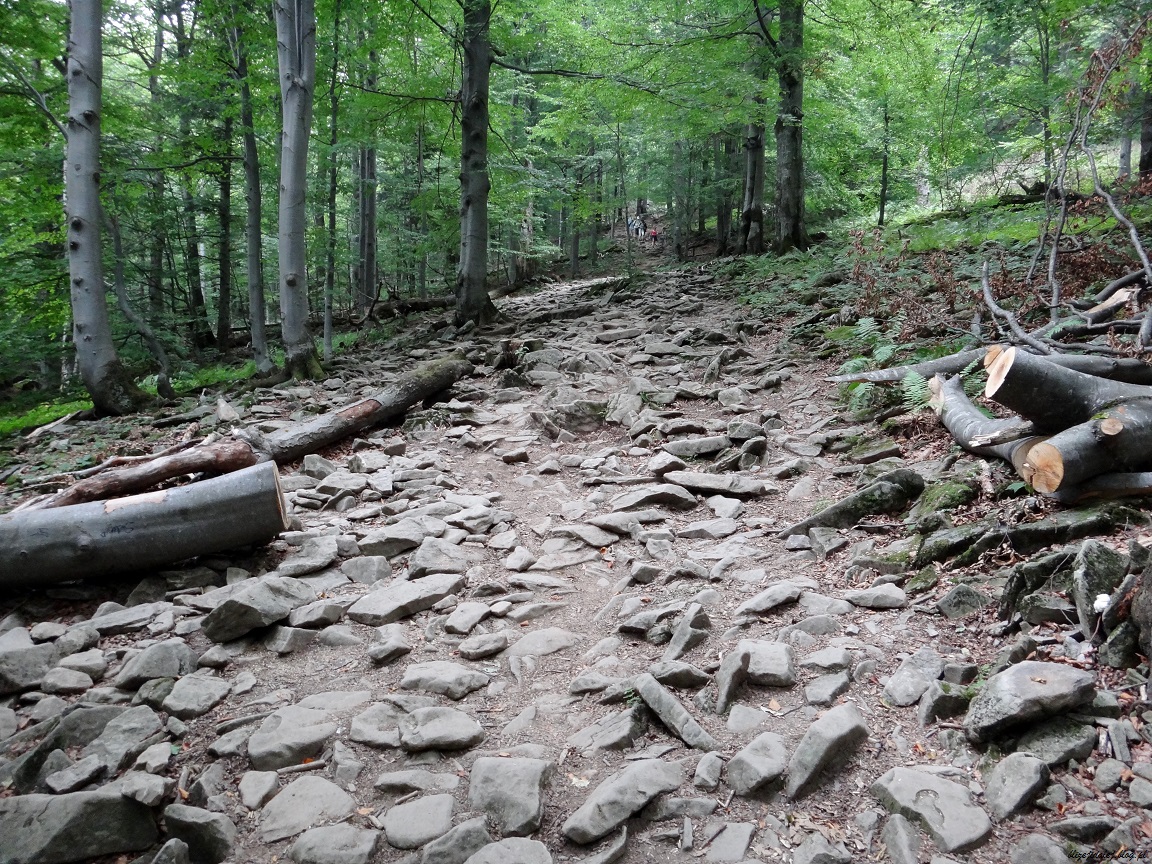 Podsumowując, jeśli rozważacie wycieczkę w Bieszczady to zdecydowanie trzeba i należy! My byliśmy w sierpniu, jednak wszyscy mówią, że Bieszczadzki Park Krajobrazowy jest najpiękniejszy na jesieni, więc nie pozostaje nam nic innego jak przyjechać jeszcze raz :)
Ktoś z Was był w Bieszczadach? Kiedy Waszym zdaniem jest najlepszy czas na piesze wędrówki po Bieszczadzkich Połoninach?
A na koniec kilka praktycznych informacji:
Koszt parkingu w Ustrzykach Górnych 10 zł
Wejście do Krajobrazowego Parku Bieszczadzkiego – ok. 7 zł
Autobus miejski – ok. 5 zł
---
You might also like