Tradycyjnie skuterem wybraliśmy się na zwiedzanie wyspy. Na początek jedziemy na środek wyspy do świątyni hinduistycznej Pura Ulun Danu Beratan. Malowniczo położona na brzegu jeziora, otoczona pięknym i zadbanym parkiem. Na jego terenie znajduje się punkt ze zwierzętami takimi jak nietoperze, sowy i jaszczury – gdzie za kilka monet można zrobić sobie zdjęcie z wybranym "zwierzakiem".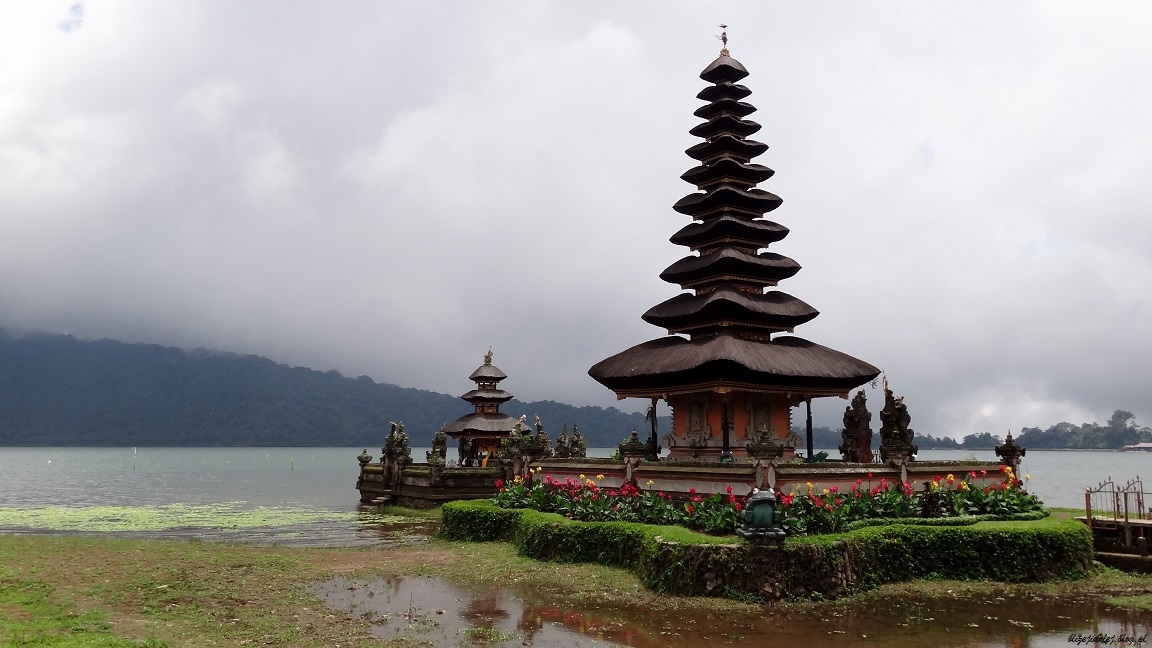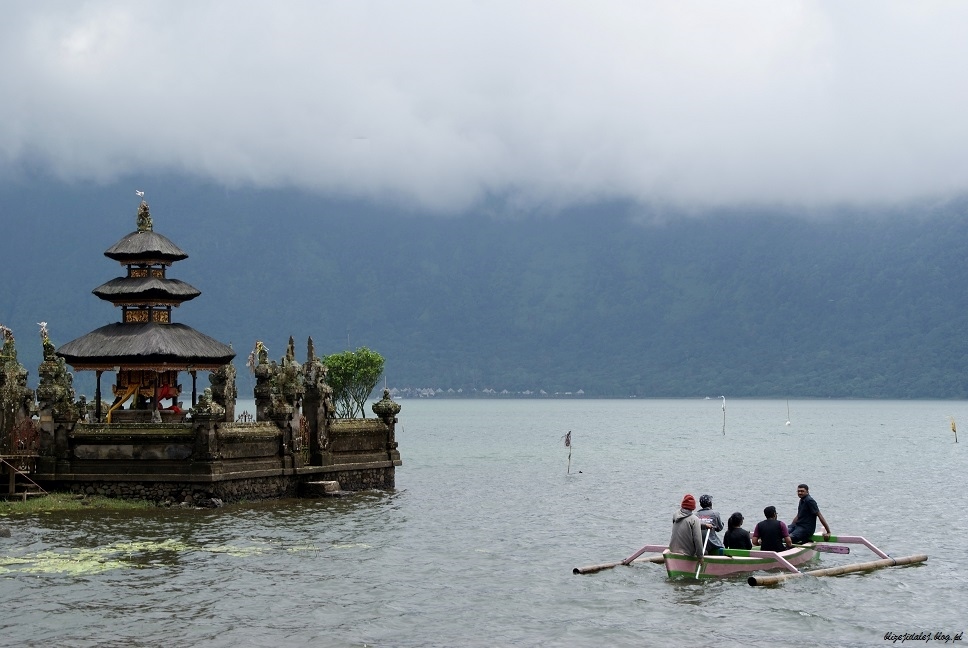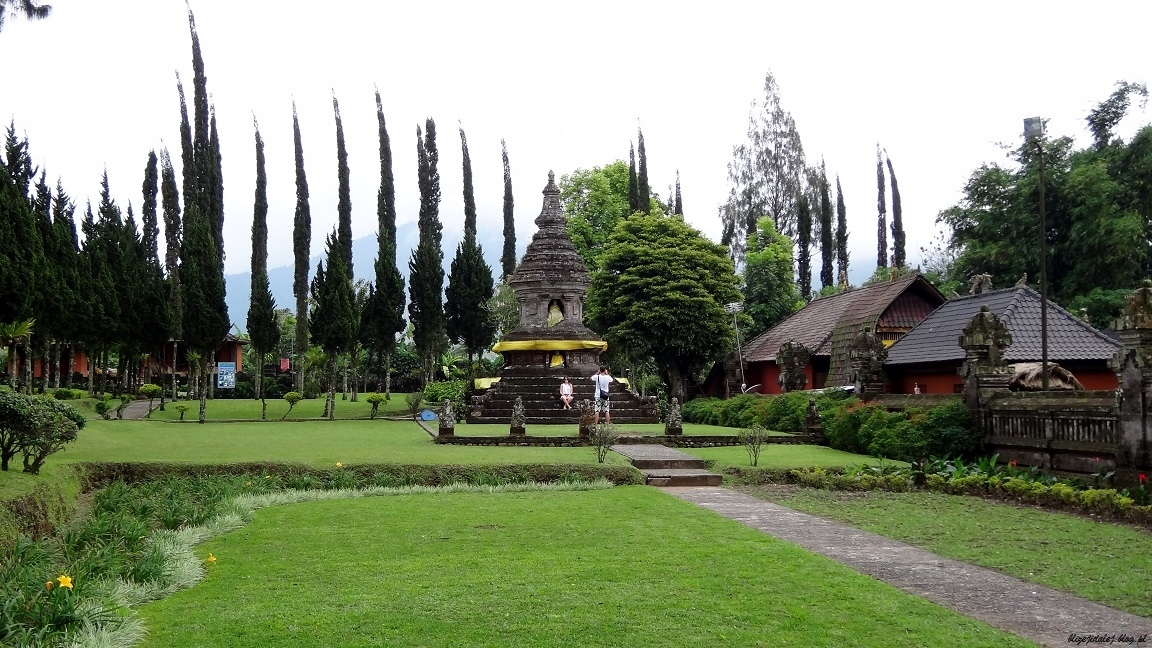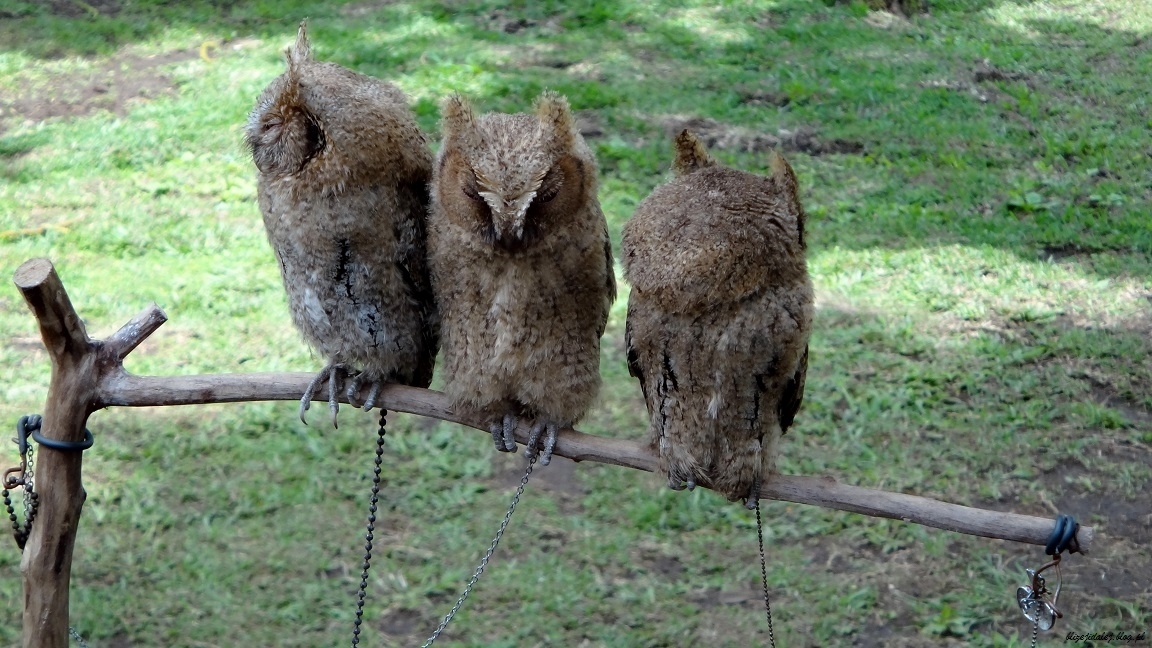 W świątyni trafiliśmy na fantastyczną procesję lokalnej społeczności. Panie i panowie ubrani w tradycyjne, balijskie stroje. Kobiety na głowach niosły ofiary dla bogów – konstrukcje nawet metrowej wysokości składające się z owoców i kwiatów, zwieńczone z fantazyjnie plecionego bambusa. A to wszystko przy akompaniamencie balijskiej orkiestry… niesamowity spektakl!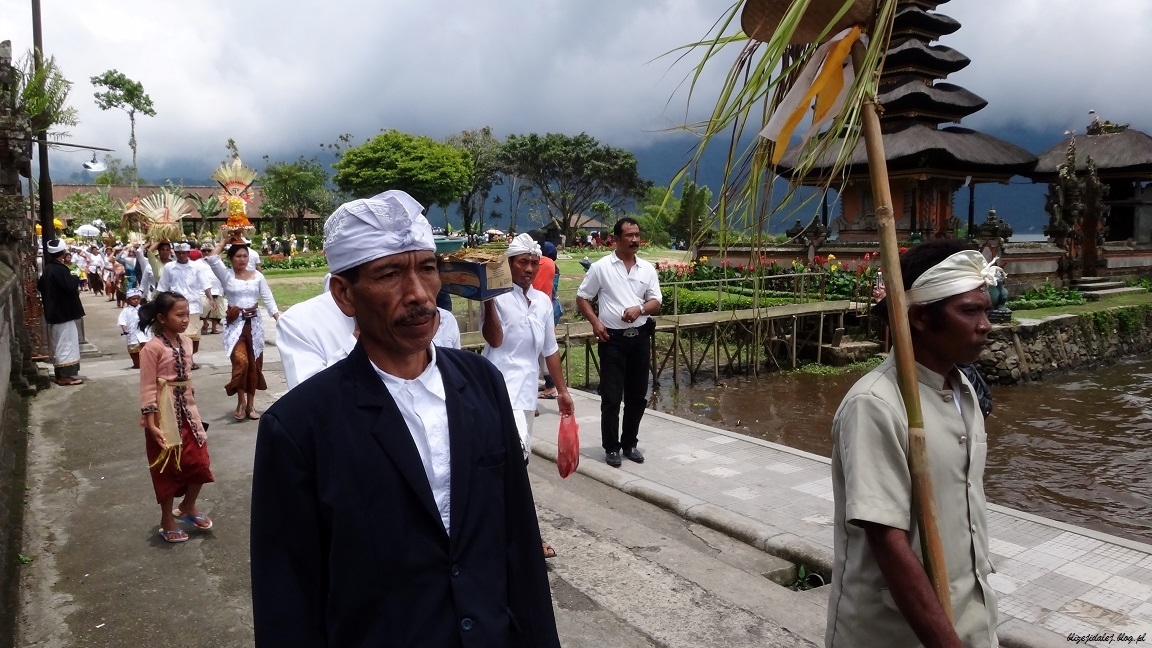 W tej świątyni, spotkaliśmy się po raz pierwszy z dość nietypową prośbą – miejscowa kobieta poprosiła nas, abyśmy zrobili sobie razem zdjęcie. Zaskoczeni i nieco onieśmieleni z uśmiechem na ustach pozowaliśmy do kilkunastu zdjęć. Jak się okazało starsza pani była z wieloosobową rodziną i absolutnie każdy musiał mieć z nami zdjęcie! Można poczuć się jak znana gwiazda filmowa – troszkę męczące, ale miłe uczucie :)
Jadąc motorkiem wypatrzyliśmy tuż przy drodze pięknie przystrojoną świątynię i zbliżającą się kobietę niosącą na głowie wielki, przystrojony "kosz" owoców – koniecznie trzeba zobaczyć co tu się dzieje… a na terenie świątyni, kolejne kobiety i mężczyźni w balijskich strojach, stoły zastawione pięknie przystrojonymi ofiarami, wszędzie wetknięte białe i żółte parasolki, przepasane kolorowymi chustami figury bożków, kobiety wyplatające koszyczki z bananowca i przygotowujące paczuszki z darami dla bogów – w koszyczkach z bananowca znajdują się kwiaty, kadzidełka, gumy do żucia, ciasteczka i wiele innych doczesnych dóbr… Wszystko to wygląda na przygotowania do jakiegoś święta, cudownie!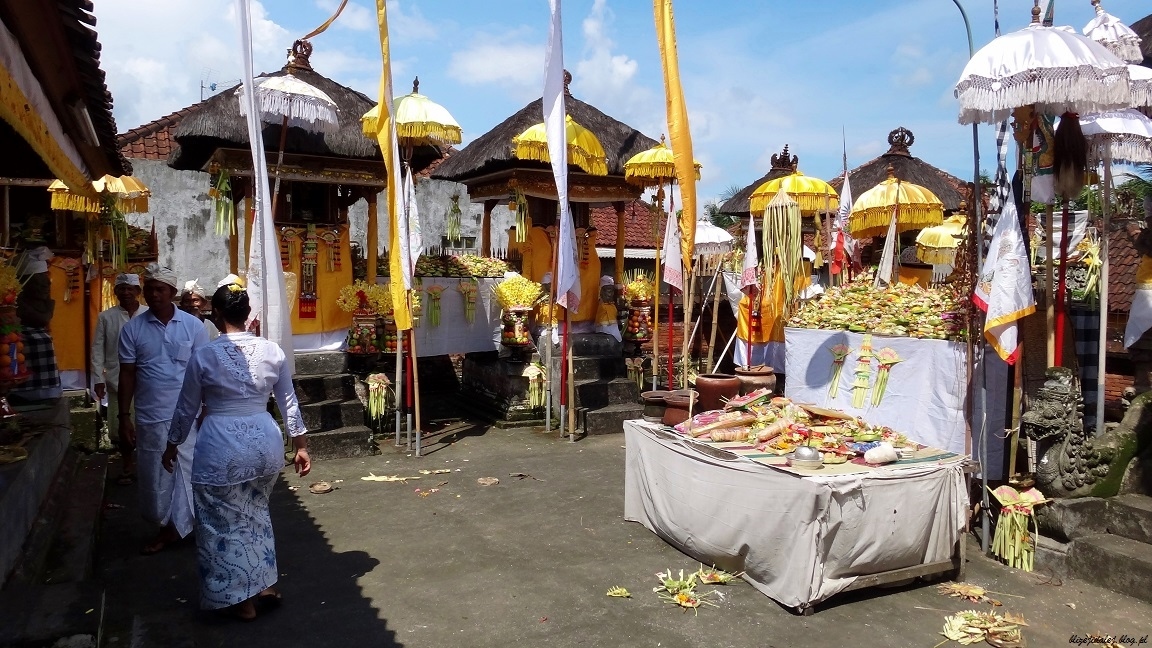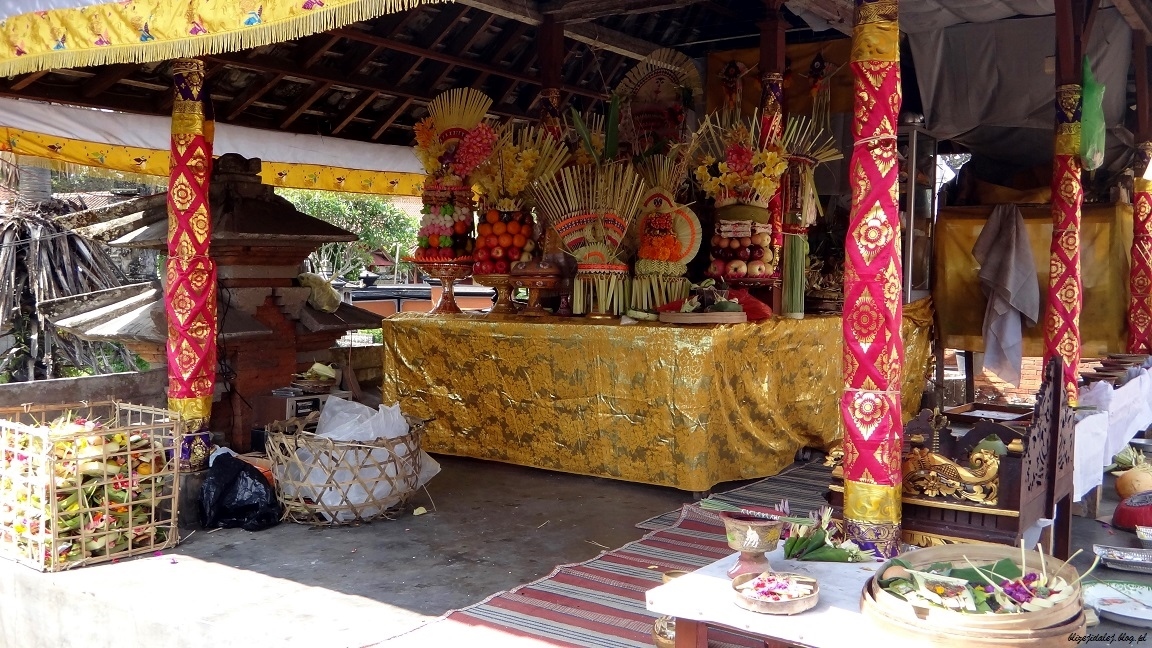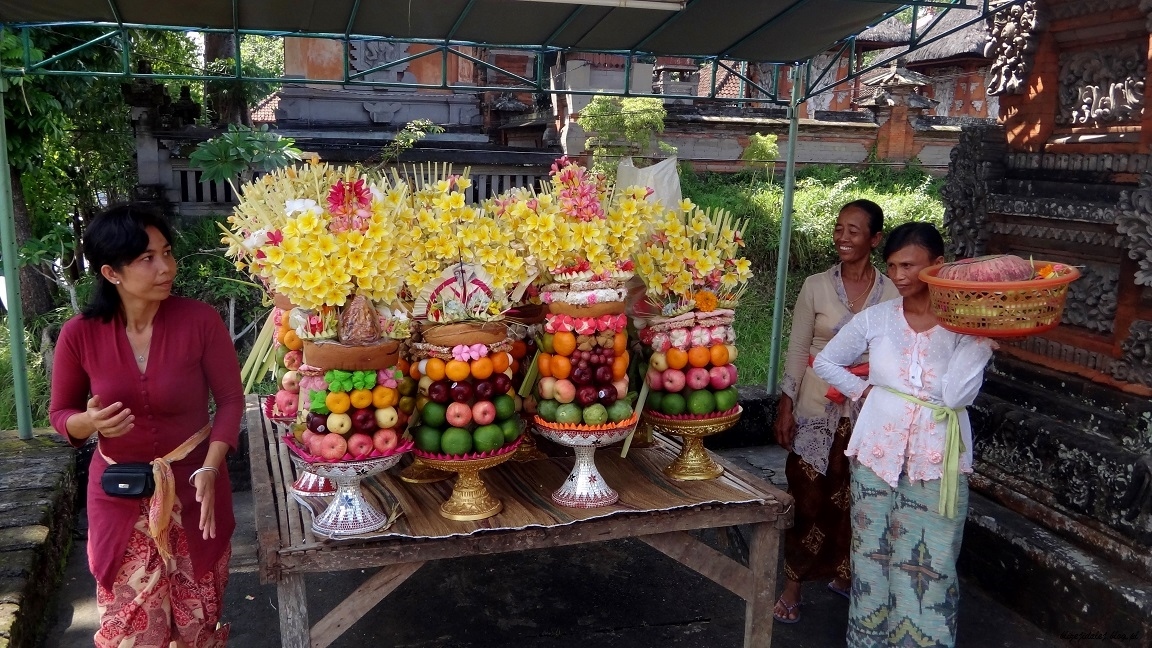 Cudowny dzień, przepełniony tradycyjnymi obrzędami i kulturą…
---
You might also like