W trakcie planowania naszej ostatniej wycieczki do Puszczy Białowieskiej, przypomnieliśmy sobie o możliwości zwiedzenia puszczy od strony białoruskiej. Od 2015 roku został wprowadzony ruch bezwizowy i obowiązuje na przygranicznym obszarze pozwalającym zwiedzić całą, a nie tylko polską część puszczy. Po stronie naszego wschodniego sąsiada puszcza ma niebagatelną powierzchnię 80tys. ha, więc o 20tys ha więcej niż u nas – jak tylko usłyszałam o ruchu bezwizowym wiedziałam, że to tylko kwestia czasu jak będziemy przecierać nowe szlaki w puszczy :)
Oczywiście ruch bezwizowy nie oznacza, że bez wcześniejszego przygotowania zostaniemy wpuszczeni na teren Białorusi, tak łatwe i bezproblemowe to to nie jest ;) Konieczne jest wykupienie przepustki uprawniającej do przekroczenia granicy i to minimum 24h przed planowaną wycieczką. My skorzystaliśmy ze strony bezvizy (tutaj) – przepustka w kwocie ok. 18zł/szt. Dodatkowo, niezbędne jest wykupienie ubezpieczenia na Białoruś, skorzystaliśmy z besure (tutaj), na jednodniową wycieczkę koszt ubezpieczenia to 8zł/szt. Dopiero tak przygotowani, możemy wyruszać na odkrycie jeszcze mało znanej części Puszczy Białowieskiej :)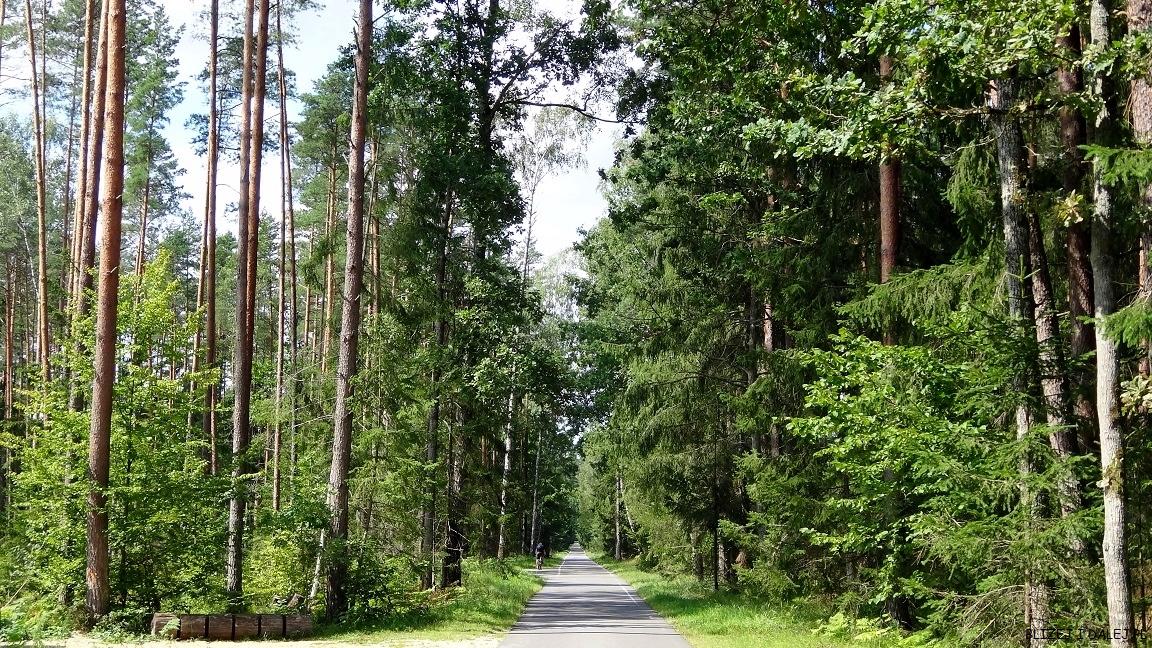 Przejście graniczne na którym obowiązują przepustki znajduje się kilka kilometrów od Białowieży w miejscowości Grudki-Piererow, jest to przejście piesze i rowerowe, więc samochody trzeba zostawić po naszej stronie. Parking przy granicy zmieści tylko kilka aut, więc polecam opcję rowerową. Po przekroczeniu granicy, udajemy się do małego budynku informacji turystycznej gdzie konieczne jest wykupienie biletów na minimum dwie atrakcje – decydujemy się na Dziadka Mroza i Muzeum Narodowego Bytu i wyruszamy w nieznane :)
Po puszczy można się poruszać wyznaczonymi ścieżkami, wszystkie wyasfaltowane więc bez problemu nawet przy słabszej kondycji dotrzesz do poszczególnych atrakcji rowerem. Po białoruskiej stronie masz możliwość wypożyczenia roweru lub wykupienia wycieczki autokarem, więc każdy znajdzie coś dla siebie.
My na początek jedziemy do Dziadka Mroza – nigdy wcześniej o nim nie słyszałam, więc z ciekawością kierujemy się na odpowiednik naszego Świętego Mikołaja :) Droga jest bardzo klimatyczna, jedziemy cały czas puszczą aż tu nagle znajdujemy się nad wielkim jeziorem. Przez chwilę zaskoczeni rozglądamy się wokół, w zasięgu wzroku nie ma absolutnie nikogo… okazuje się, że w tym miejscu nie można się kąpać czy biwakować, więc chwila relaksu i jedziemy dalej.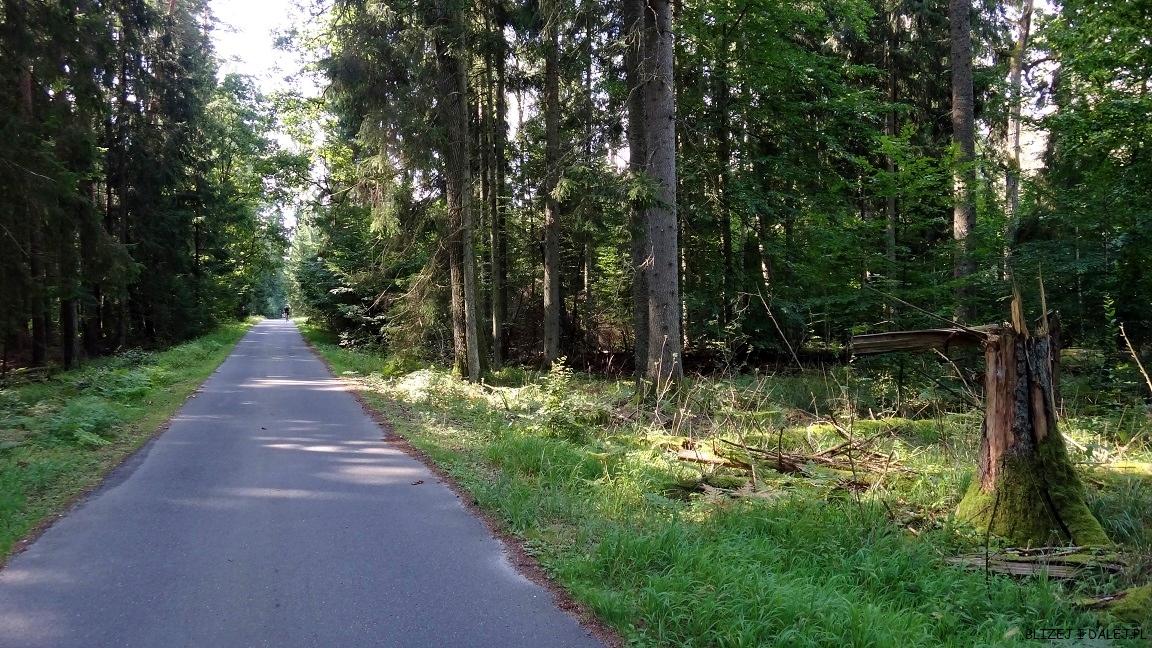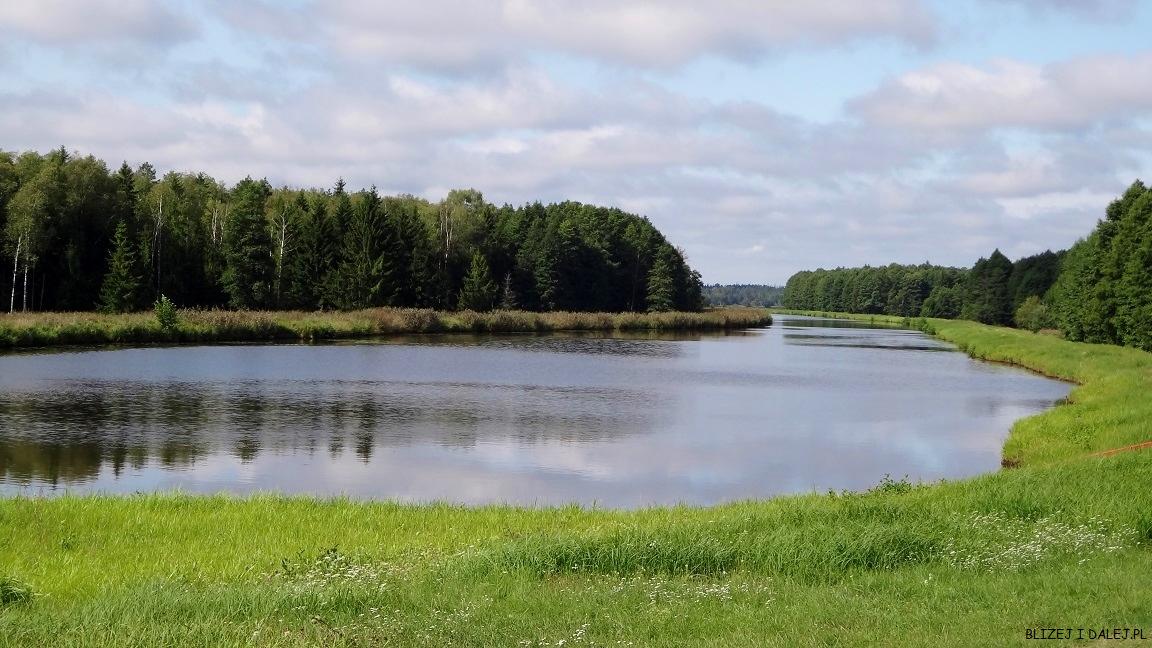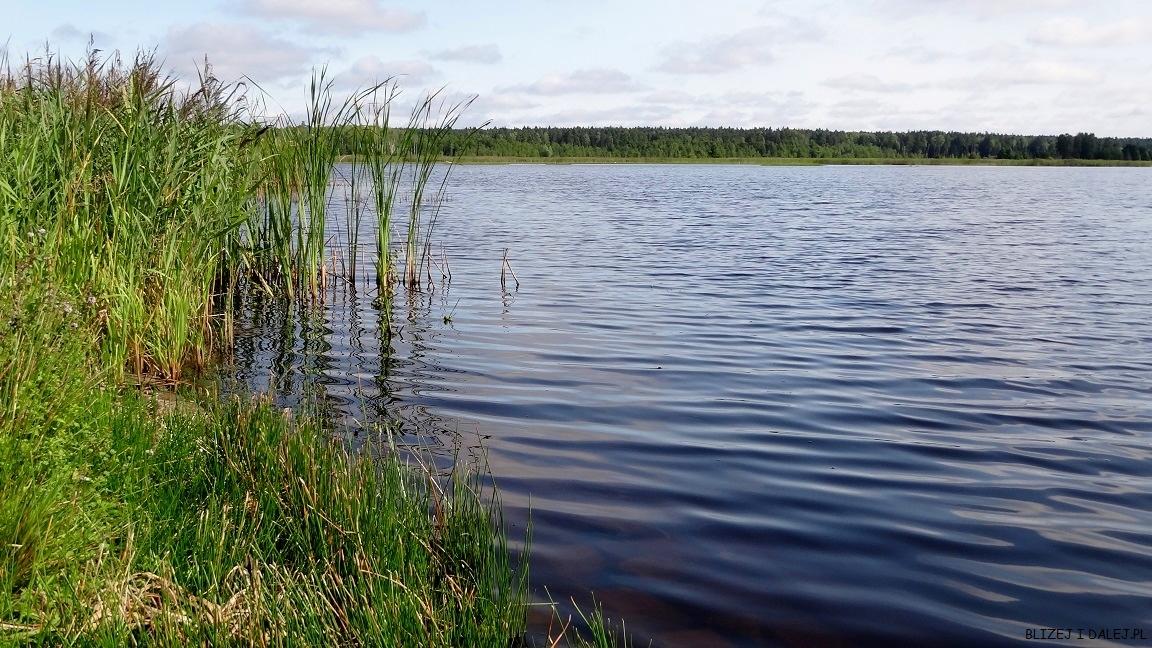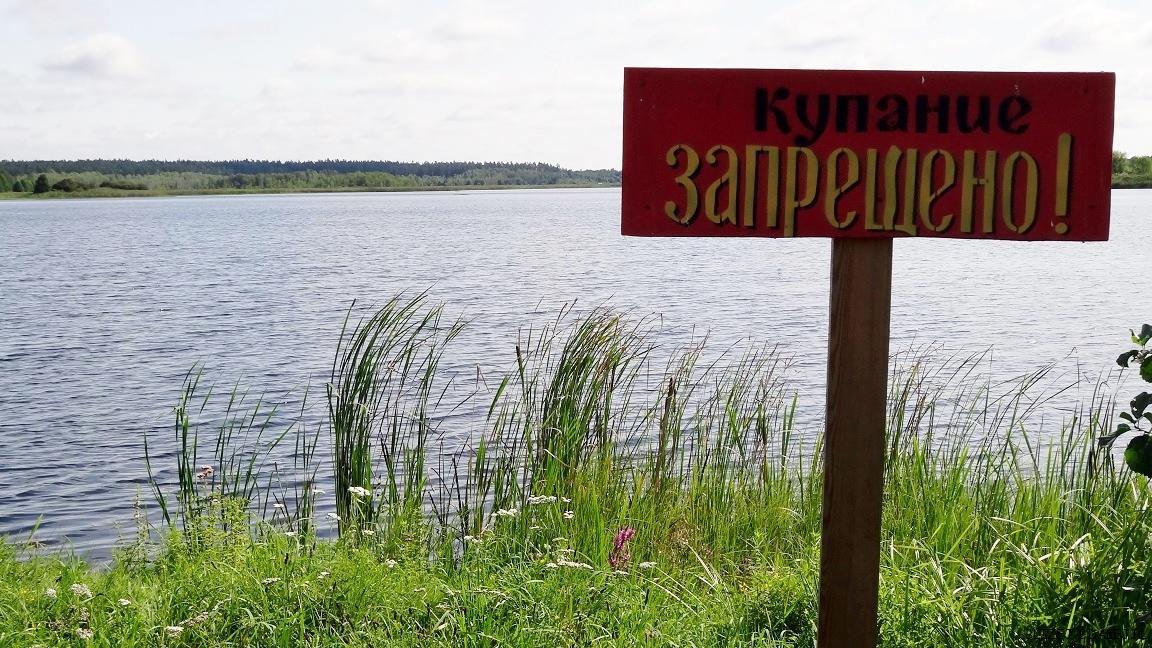 Docieramy do siedziby Dziadka, chwilę przed nami podjechały dwa wycieczkowe autokary, czyli zwiedzamy razem z białorusinami. Oprowadza nas dziewczyna ubrana w jakieś bajkowe ciuszki – strasznie dużo mówi, gestykuluje, wszyscy się śmieją a ja kompletnie nic nie rozumiem… na szczęście Piter coś tam kojarzy z rosyjskiego, więc podpowiada o co mniej więcej chodzi ;) Spacerem docieramy do wielkiej bramy za którą ma swoją siedzibę białoruski Mikołaj i głośnym nawoływaniem przekonujemy do jej otwarcia…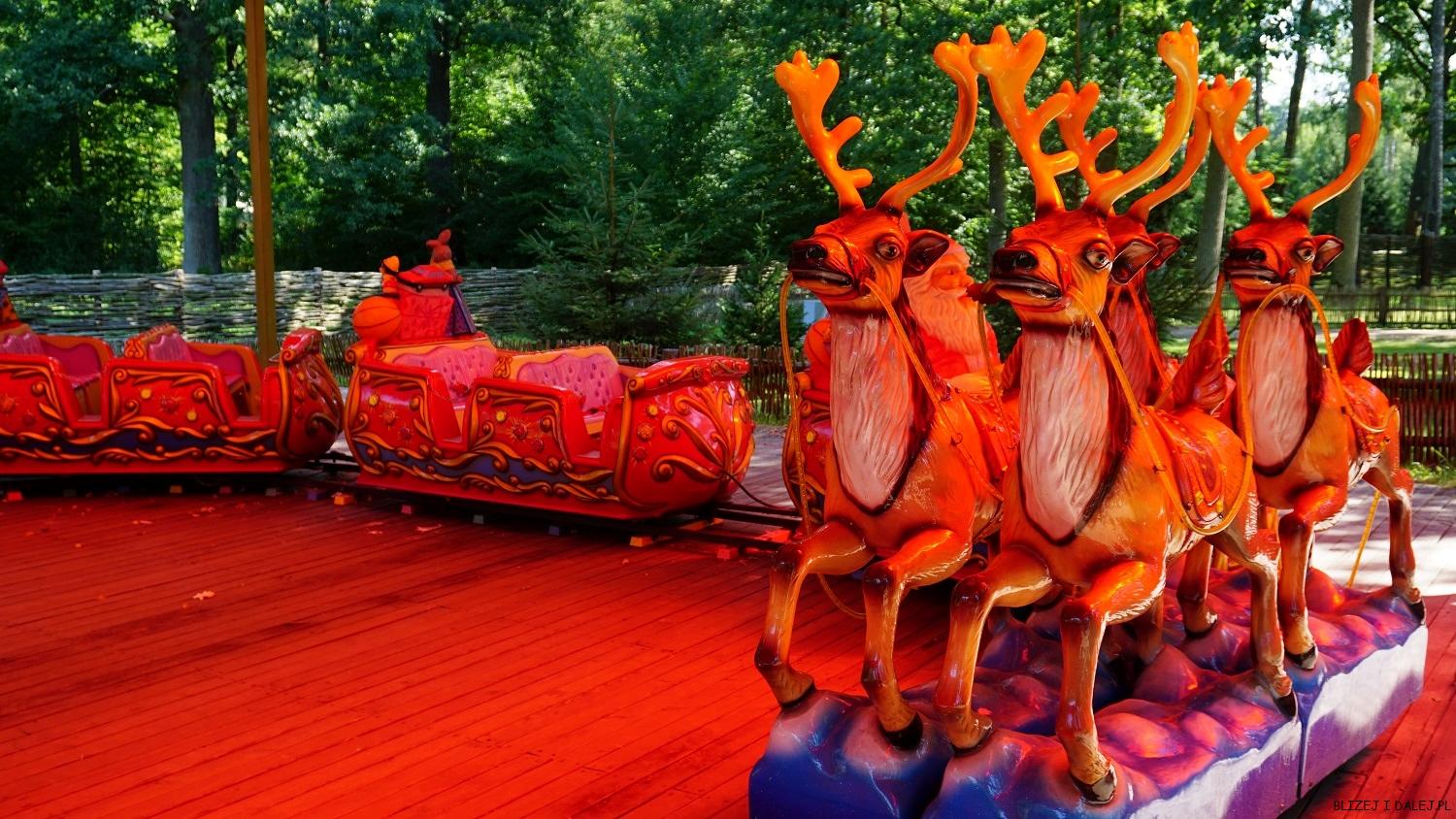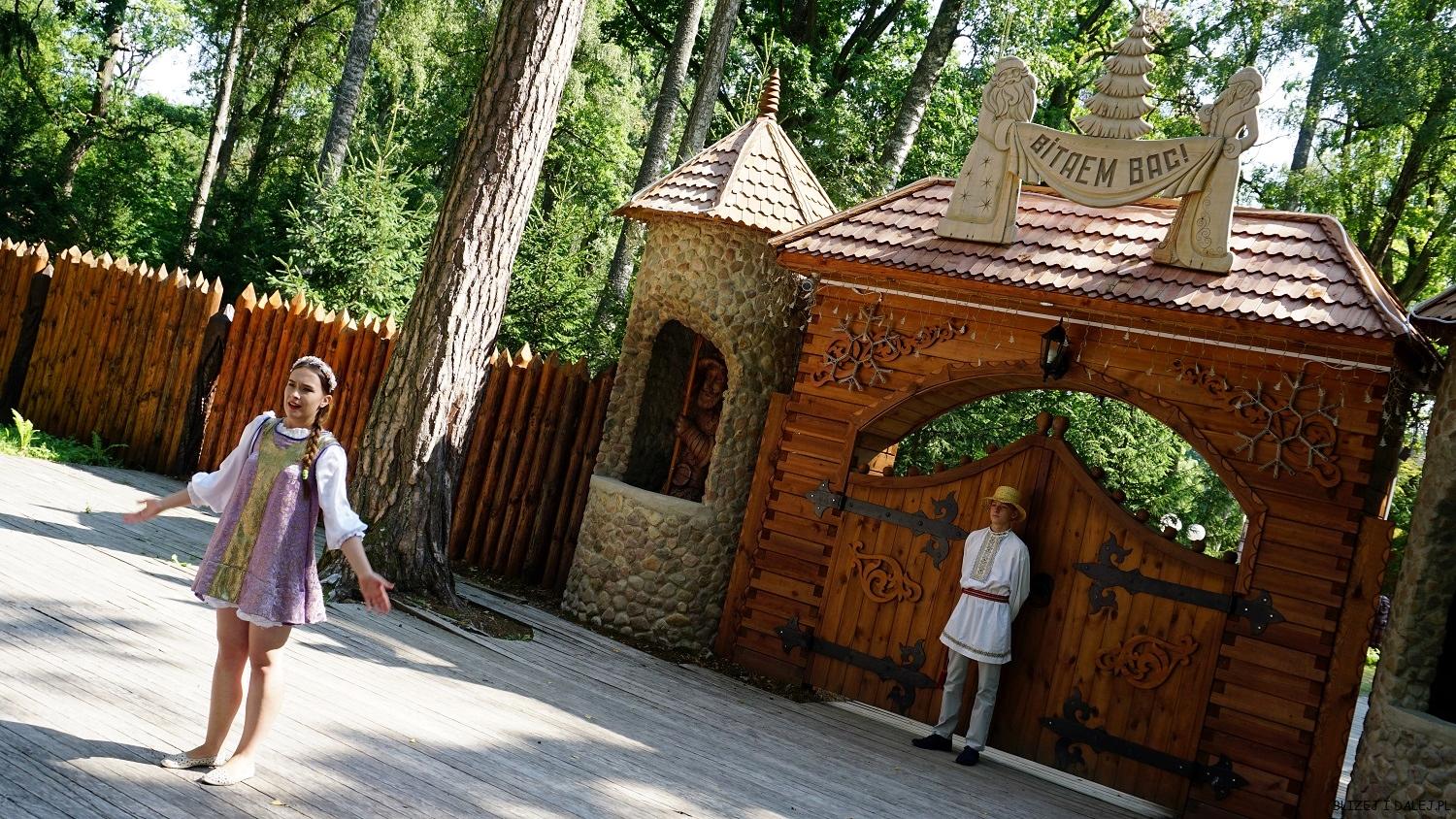 A tam mnóstwo większych i mniejszych mikołajów, postaci z Królewny Śnieżki, krasnoludki, Czerwony Kapturek… istne szaleństwo ;)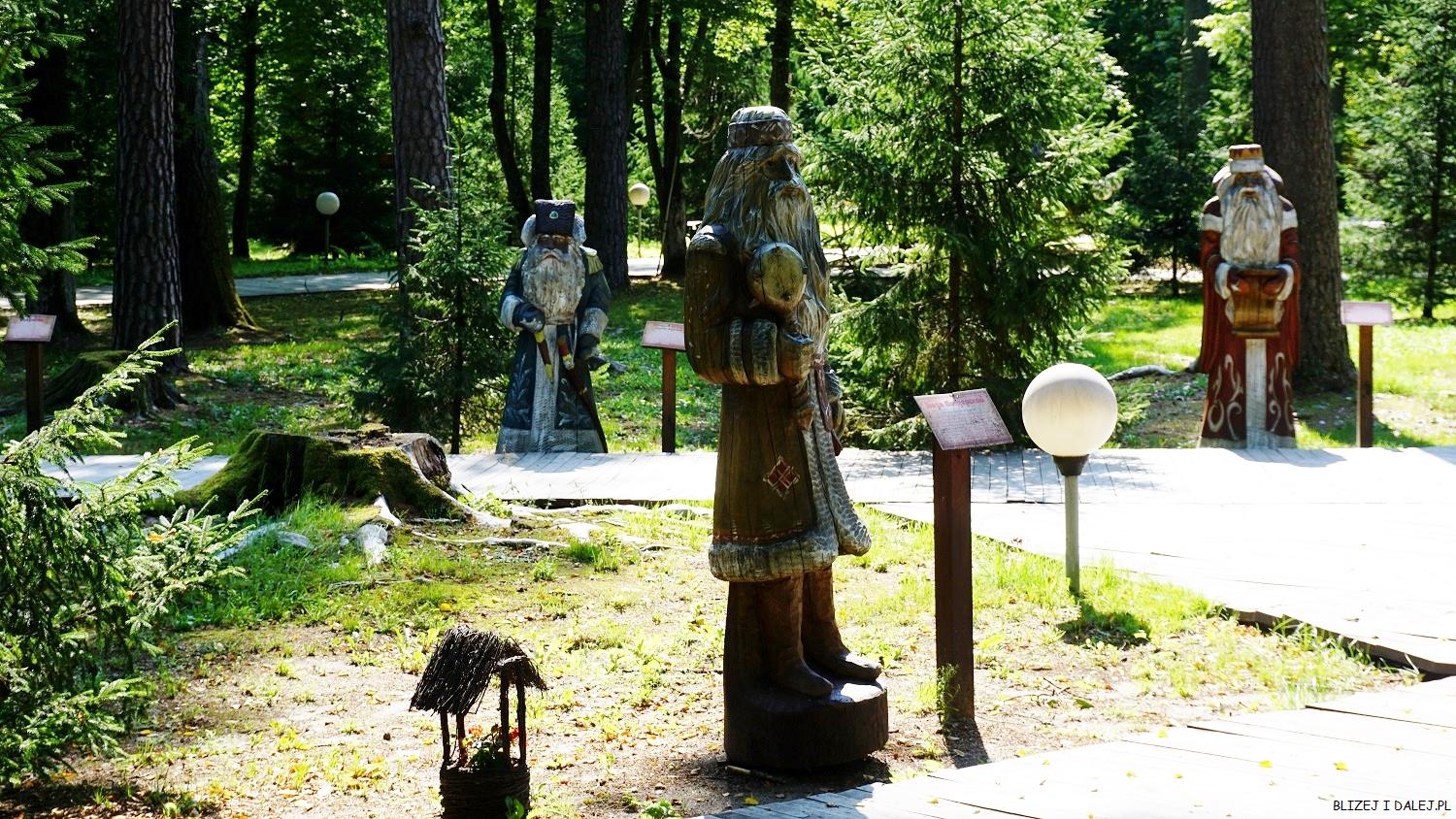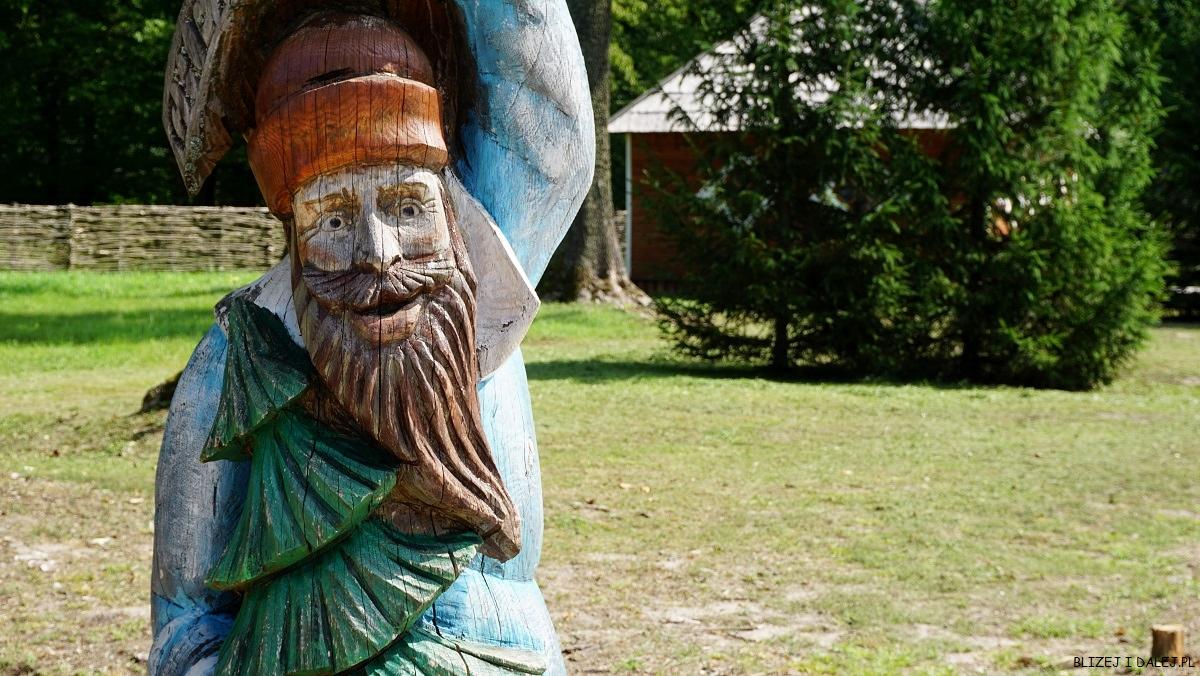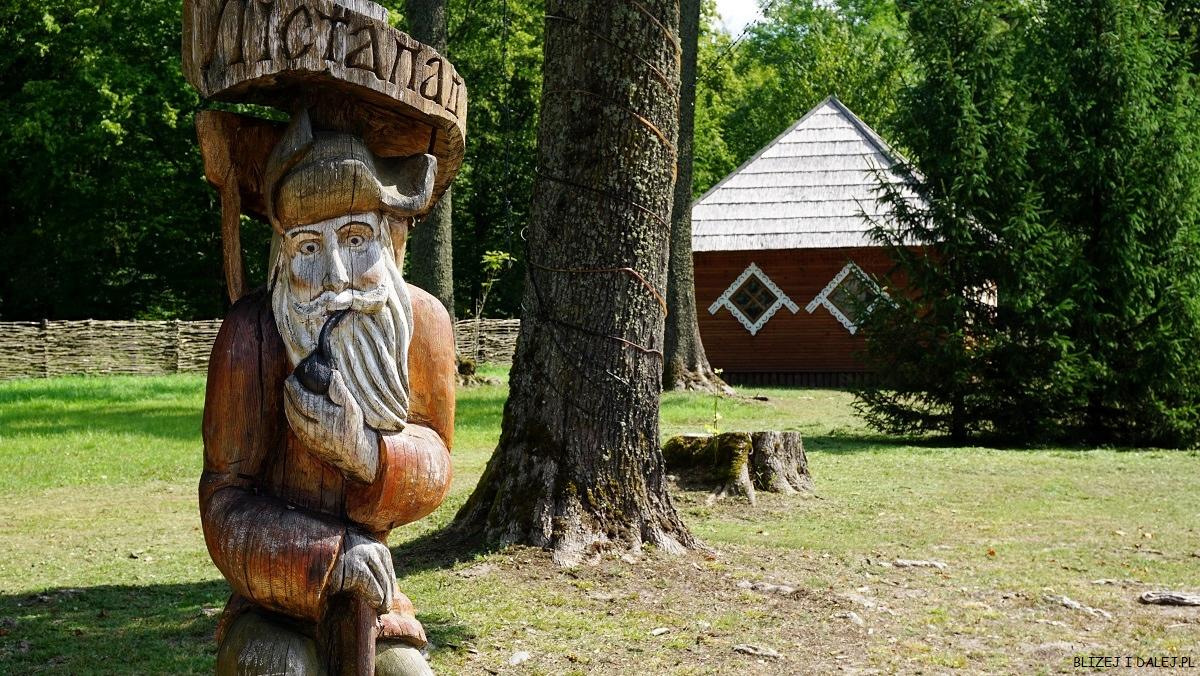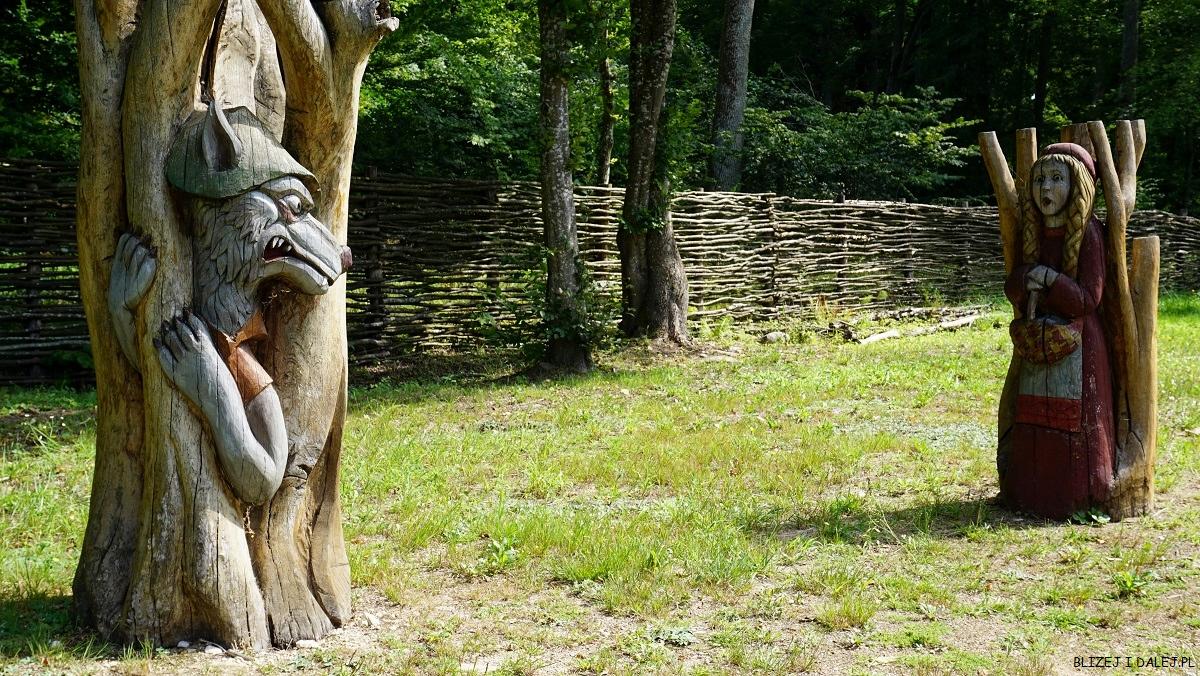 Po dotarciu pod dom Dziadka Mroza, wszyscy głośno i donośnie nawołują Mikołaja, prosząc o wyjście do gości – mnóstwo śmiechu i radości i oto on! W drzwiach pojawia się dziadek ubrany w odświętne, letnie szaty, z długą, białą brodą i uśmiechem od ucha do ucha. Znowu sobie pogadali, pośmiali się, poopowiadali sobie jakieś historie aż nadszedł czas na pamiątkowe zdjęcia – duży czy mały, każdy chciał choć jedno! Przy okazji okazało się, że dziadek całkiem nieźle włada polskim, więc ucięliśmy sobie krótką pogawędkę :)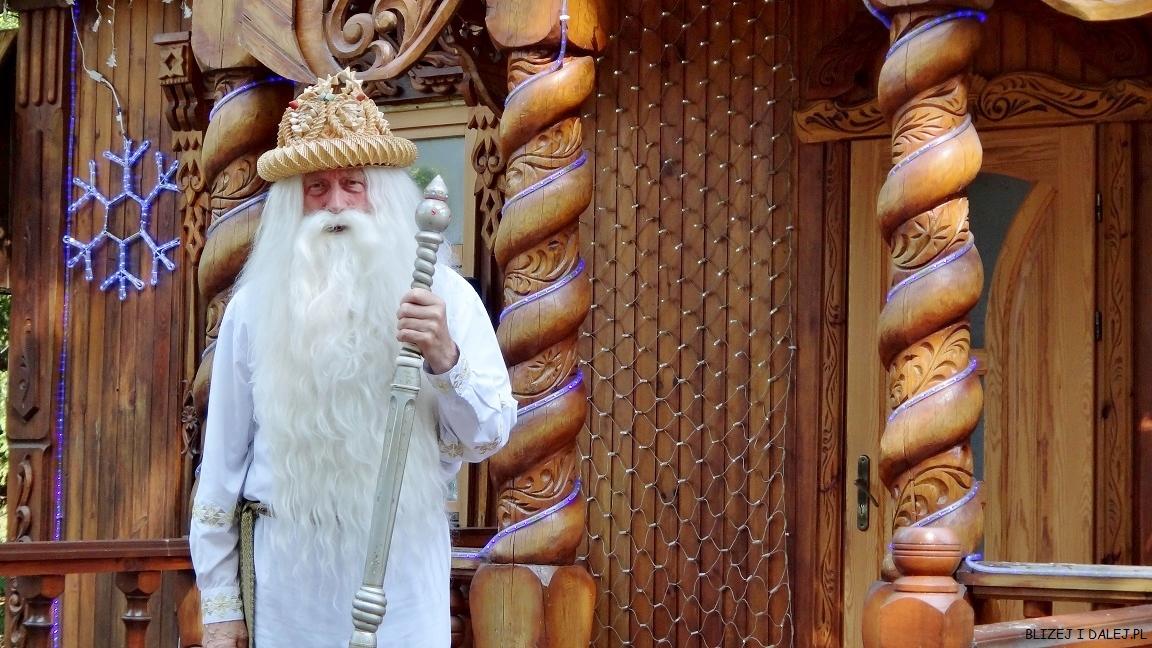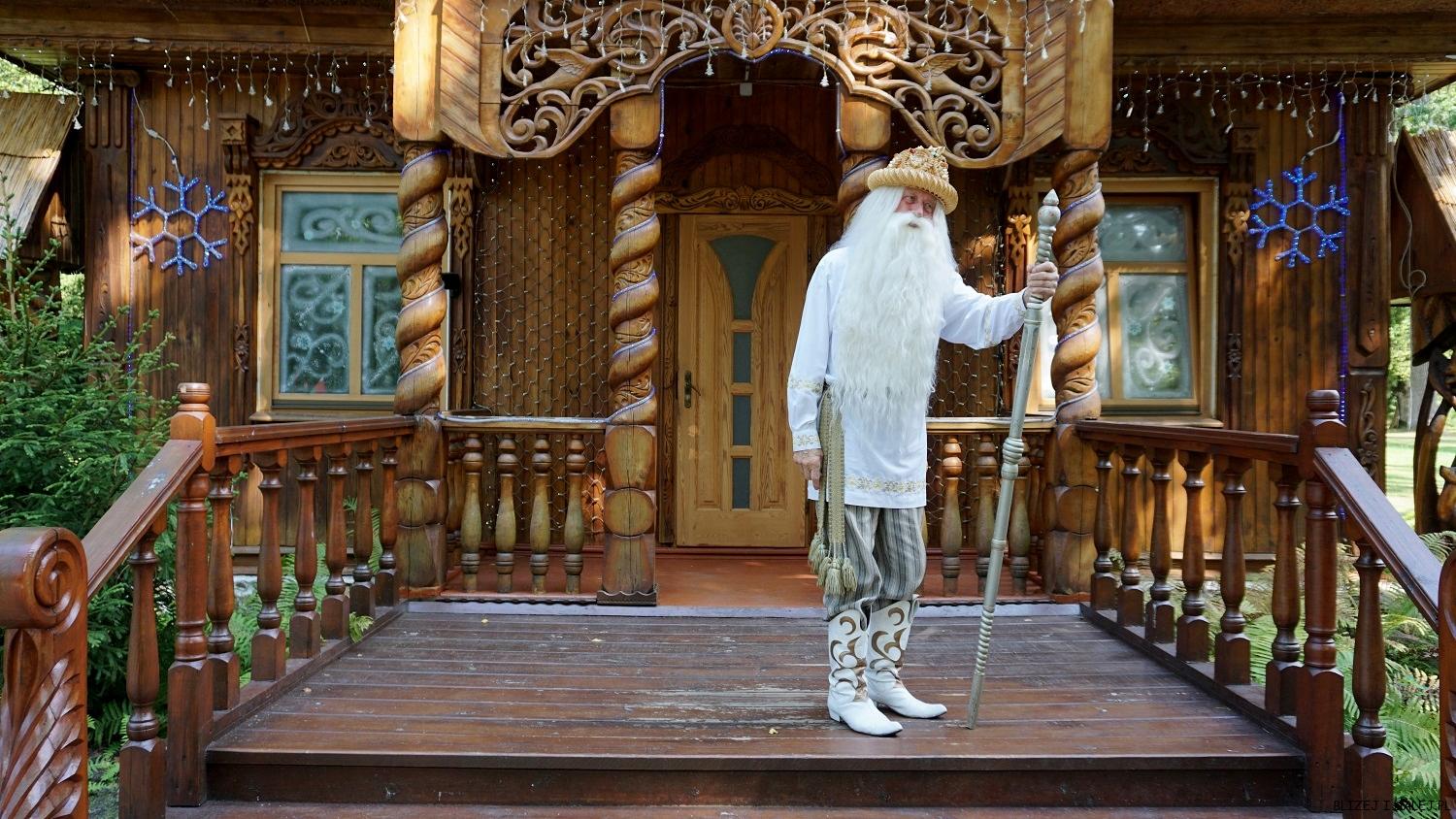 Na całym terenie jest mnóstwo dodatkowych atrakcji takich jak sanie z reniferami, pasieka ze zgłodniałym niedźwiadkiem, magiczny młyn który przemieli nasze złe uczynki i zamieni je w pył czy most dobrych, spełniających się życzeń… Pod koniec zwiedzania dostajemy słodką niespodziankę od Dziadka Mroza w postaci słodkiego grzybka. Jestem przekonana, że w zimę, gdy puszczę pokryje warstwa białego puchu wrażenia u Dziadka Mroza są jeszcze fajniejsze :)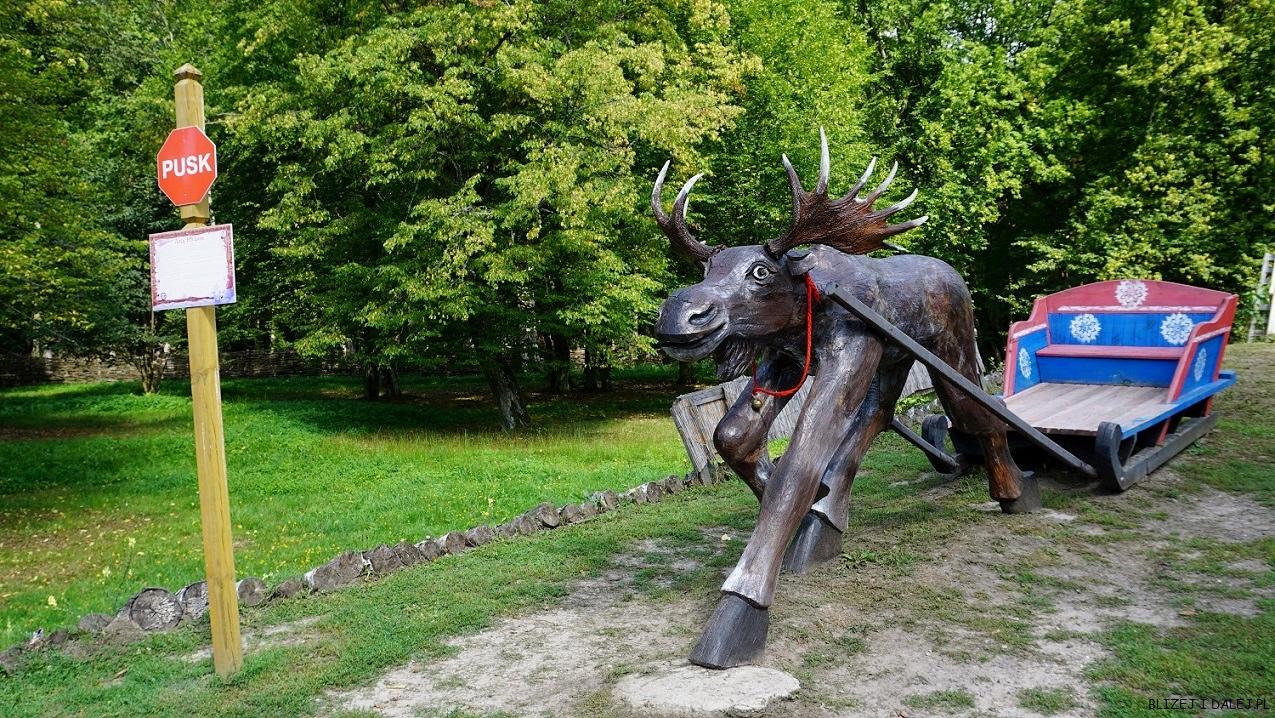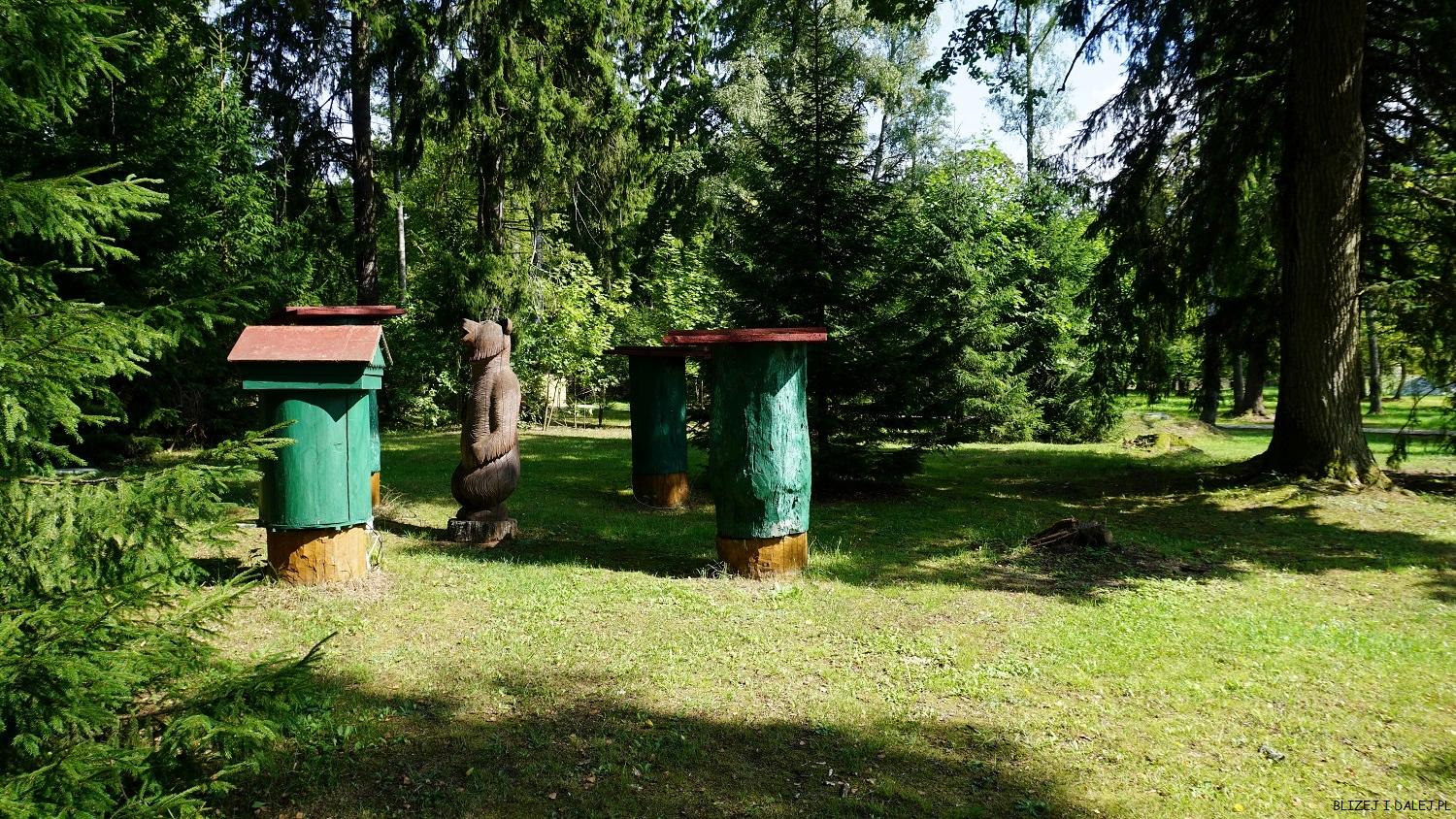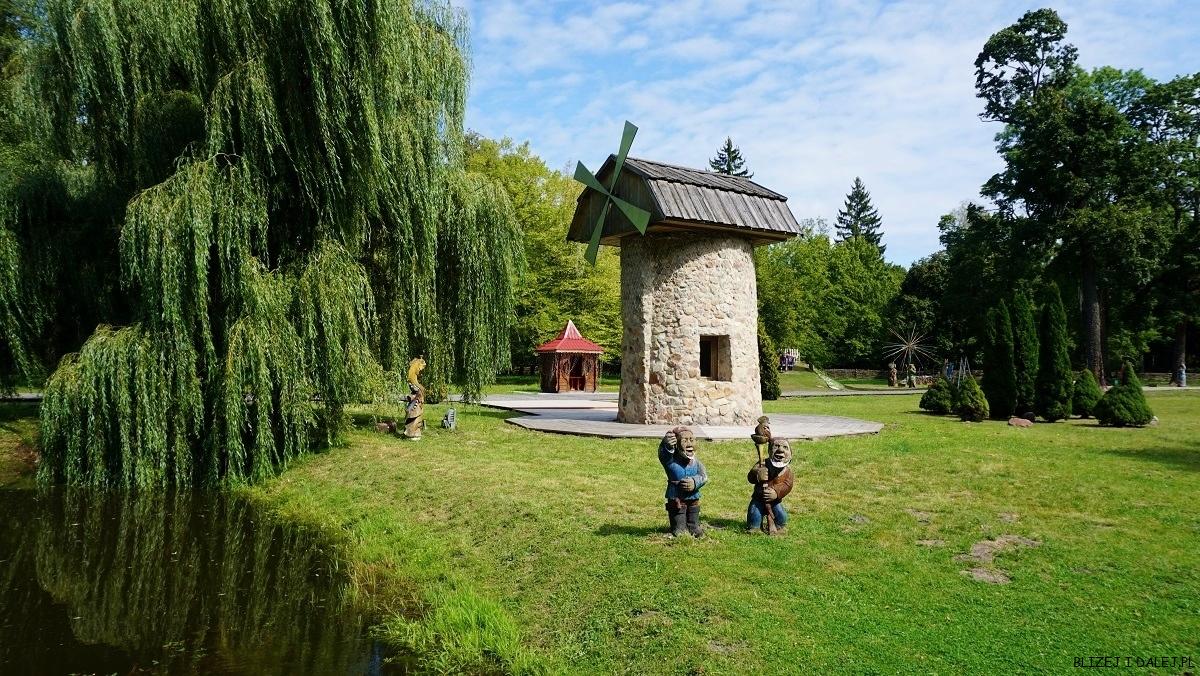 Następnie kierujemy się do miejscowości Kamieniuki – spotkaliśmy na szlaku troszkę rowerzystów, jednak to była dosłownie garstka ludzi. Strona białoruska zdecydowanie jest jeszcze nie odkryta przez masową turystykę, więc tym bardziej trzeba tam jechać ;) Na samym wjeździe do miasteczka znajduje się niewielkie zoo, podobne do Pokazowego Rezerwatu Żubra w Białowieży.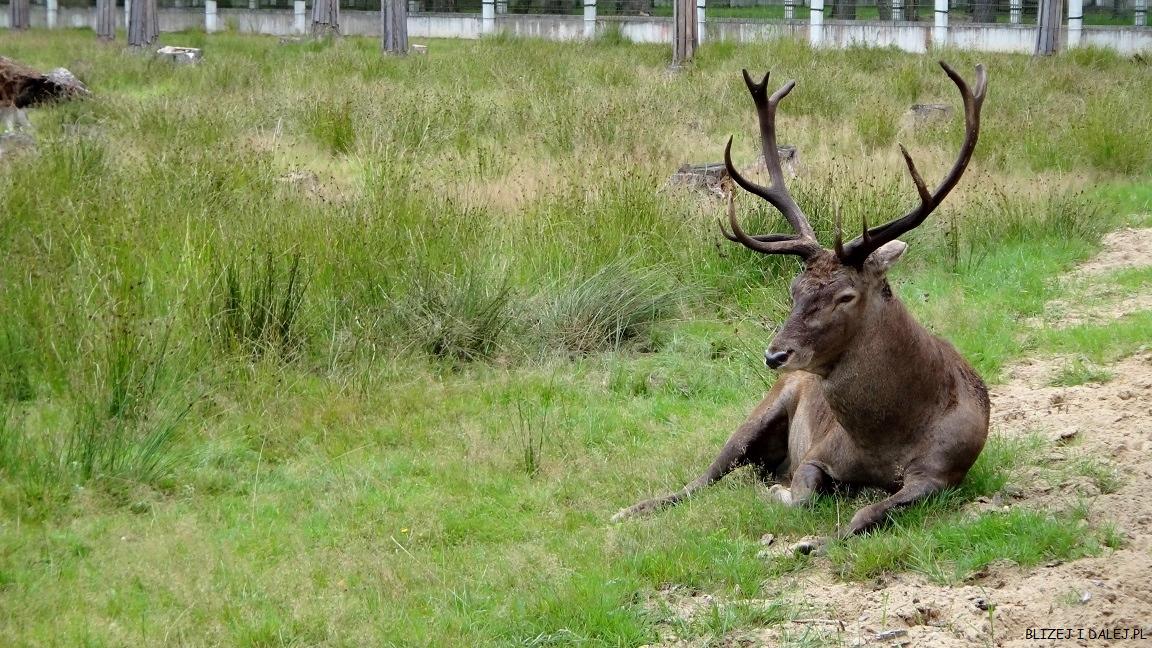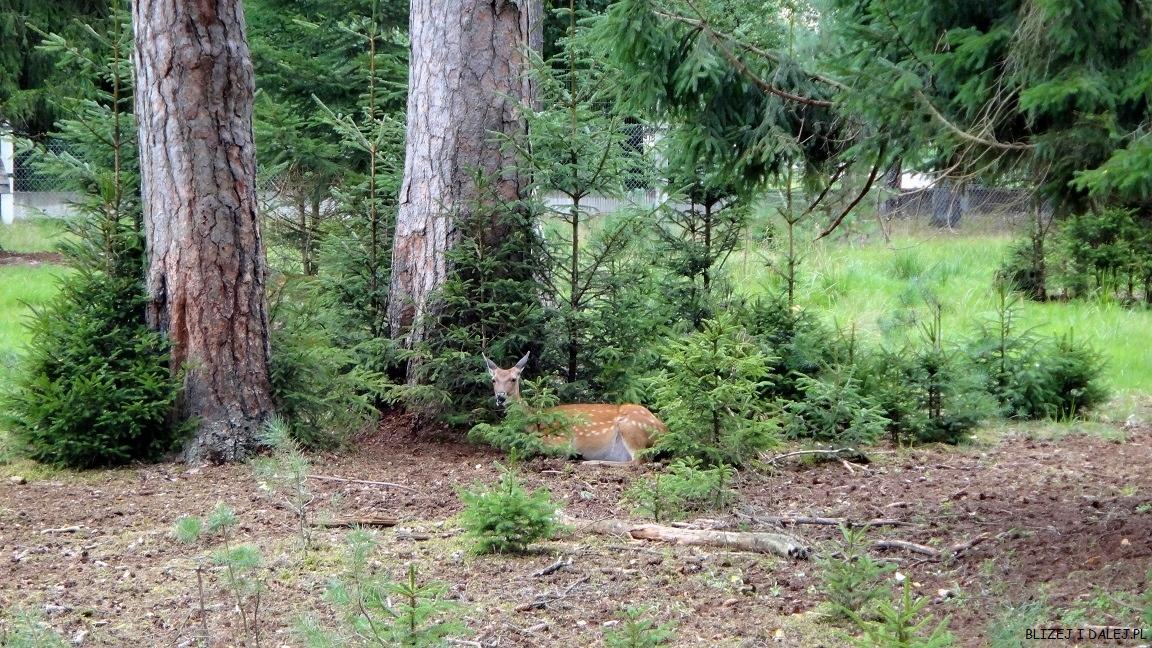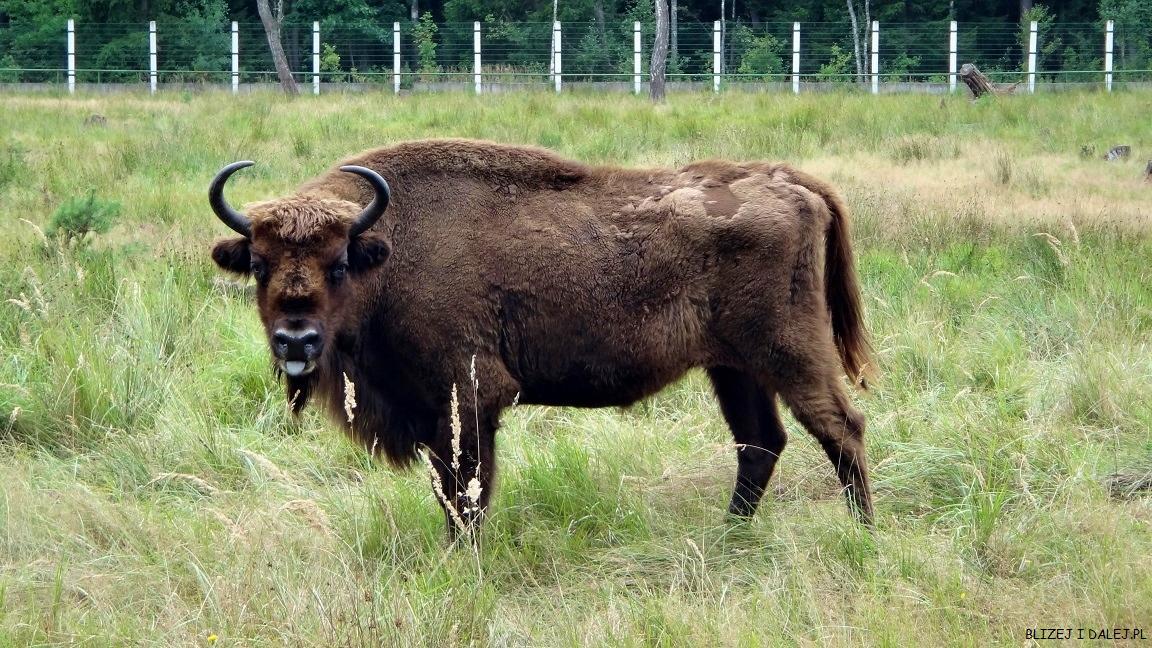 Kamieniuki to podobno taki odpowiednik naszej Białowieży – no cóż, samo miasteczko niespecjalnie zachwyca… My od razu skierowaliśmy się w poszukiwaniu sklepiku, gdzie moglibyśmy kupić coś na wynos i tak przywieźliśmy słodycze, alkohol (czysta w szklance! ;) ) i ikrę, podobno świetna, jeszcze nie przetestowana :) A tuż obok sklepu mieści się cerkiew Św.Georgija, oczywiście zamknięta…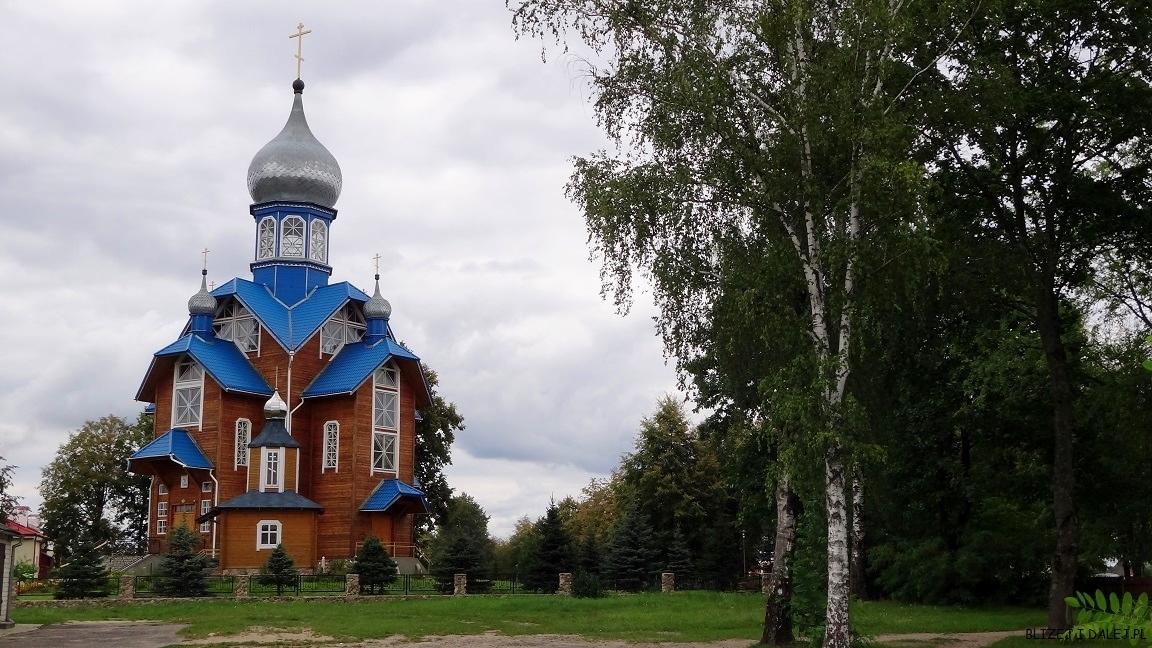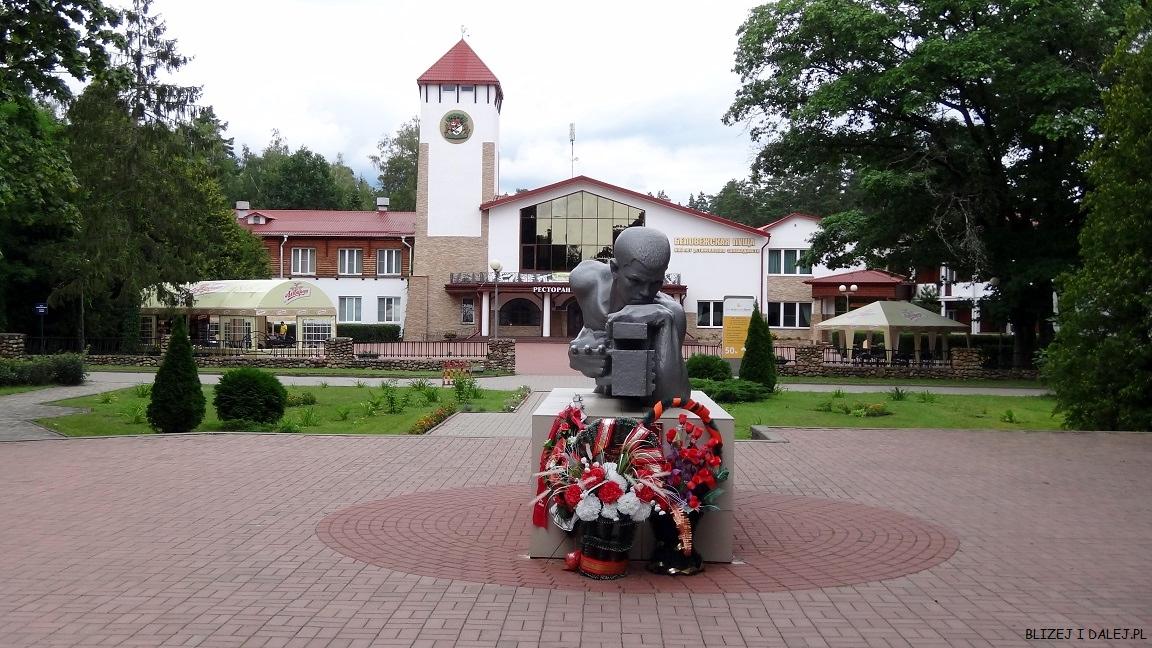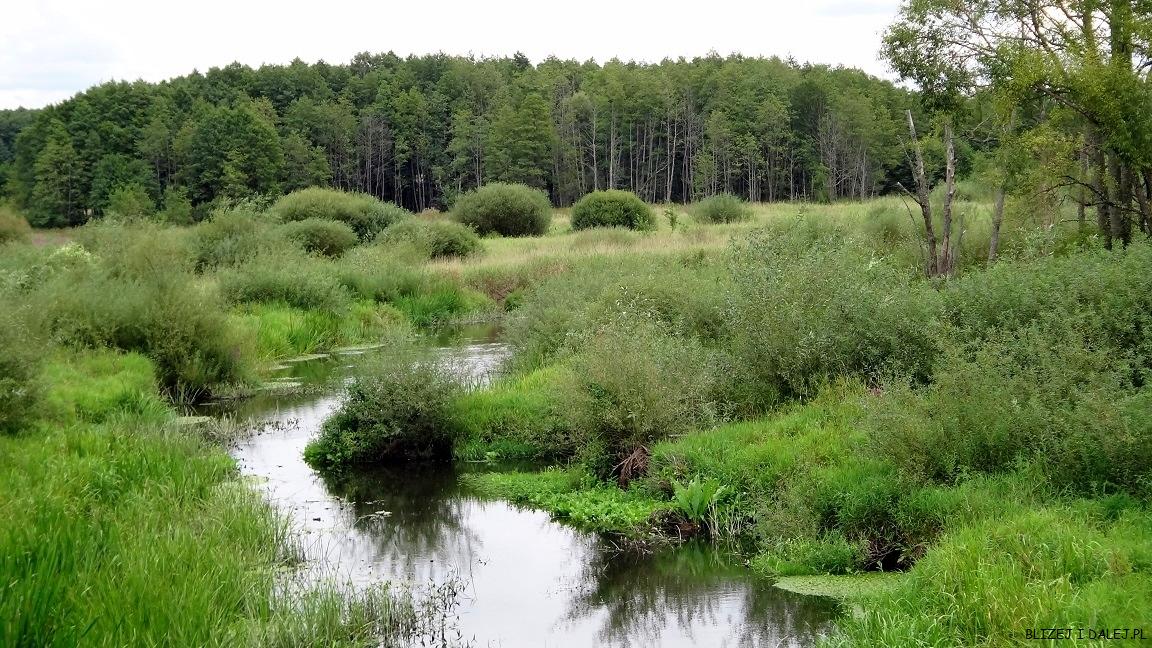 Miasteczko dość szybko nam się skończyło, zakupy zrobione a w brzuchu burczy, co nam przypomniało że od śniadania głodujemy… Zatrzymaliśmy się w dość przypadkowo wybranej knajpce i bez większych wątpliwości zamówiliśmy soliankę i pierożki z baraniną – zupa okazałą się być wodą z parówką i kleksem śmietany, na szczęście pierożki troszkę uratowały sytuację. Polecam jednak tu się nie zatrzymywać i poszukać godniejszego miejsca ;)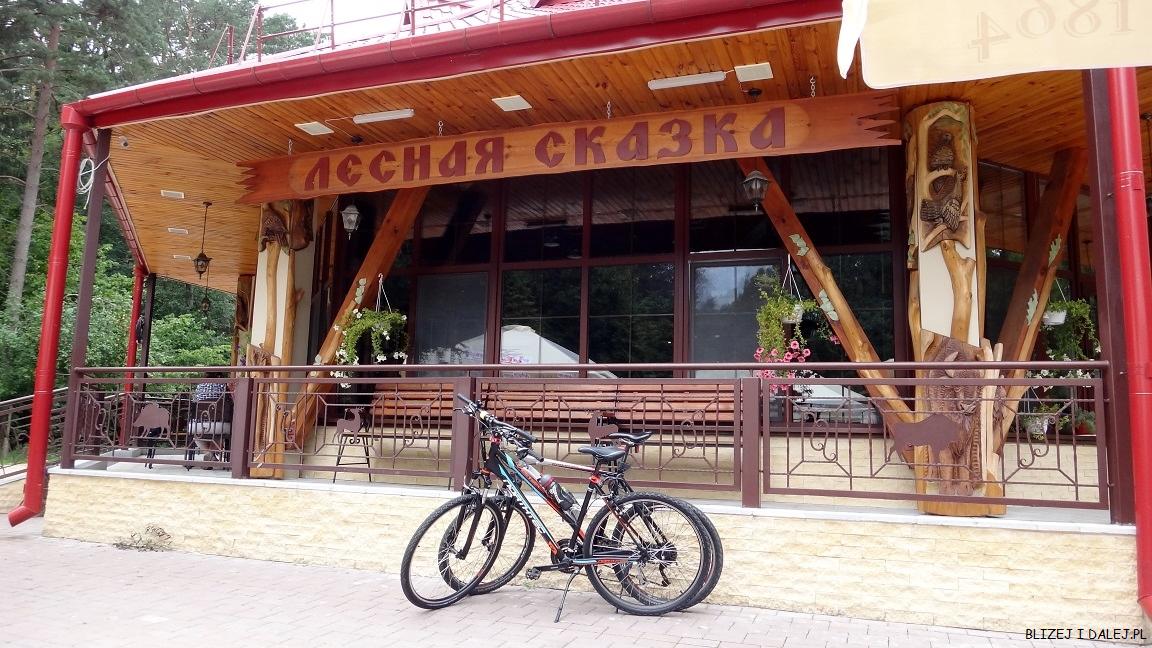 Wracając śmigamy jak szaleńcy, kilometry na asfalcie uciekają nie wiadomo kiedy i tylko raz na jakiś czas zatrzymujemy się aby pstryknąć kolejną pamiątkową, białoruską fotkę :) Zatrzymujemy się ponownie nad jeziorkiem – tak jak wcześniej w zasięgu wzroku nie ma absolutnie nikogo… cisza, spokój i tylko ptaki wokół dokazują – urocze miejsce i bardzo fotogeniczne :)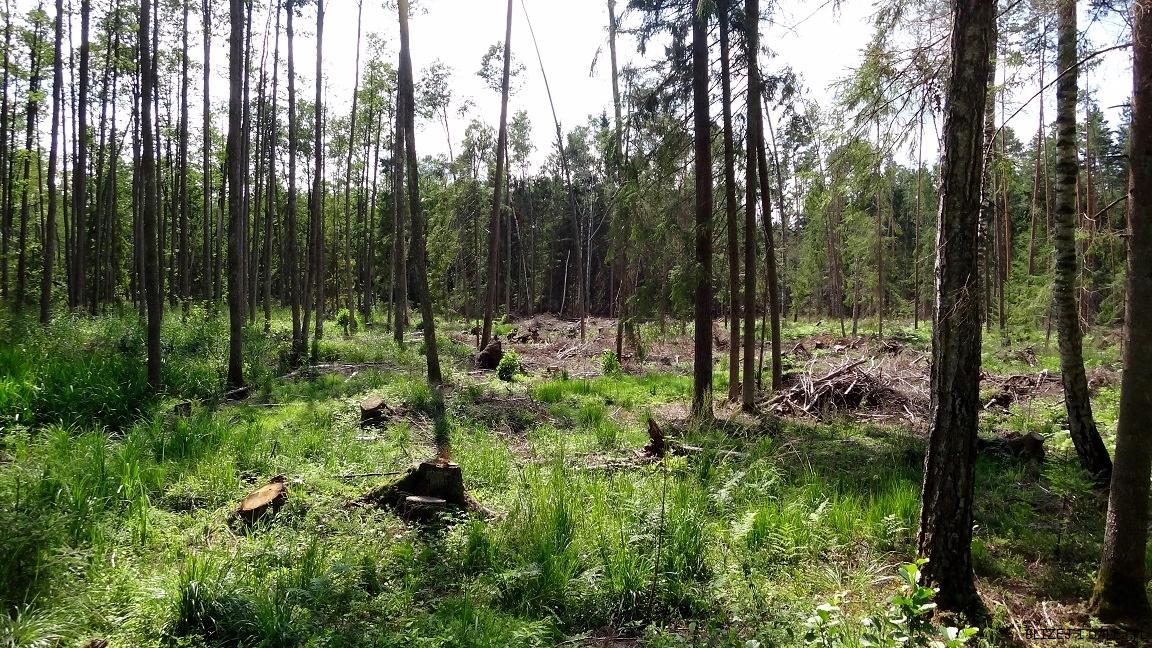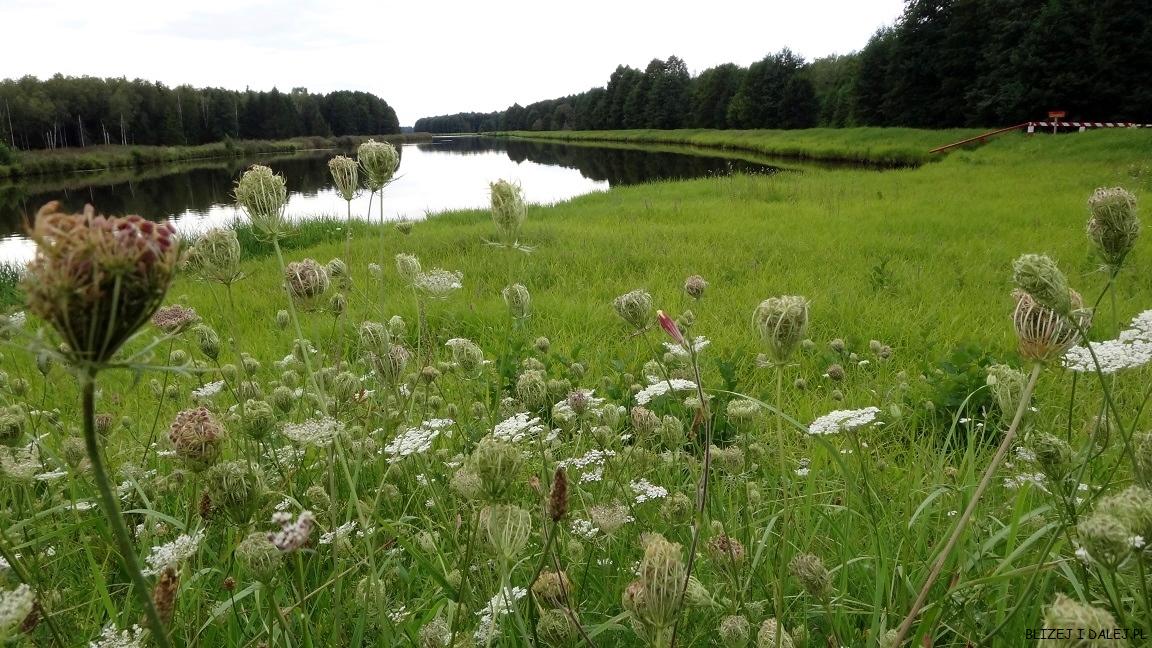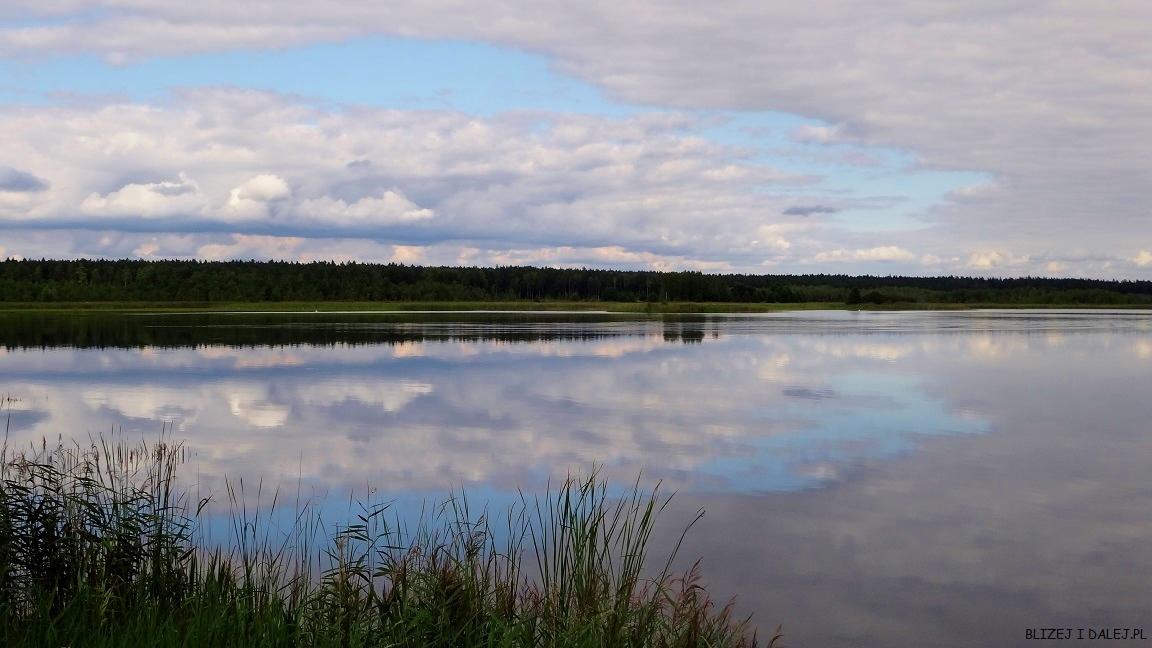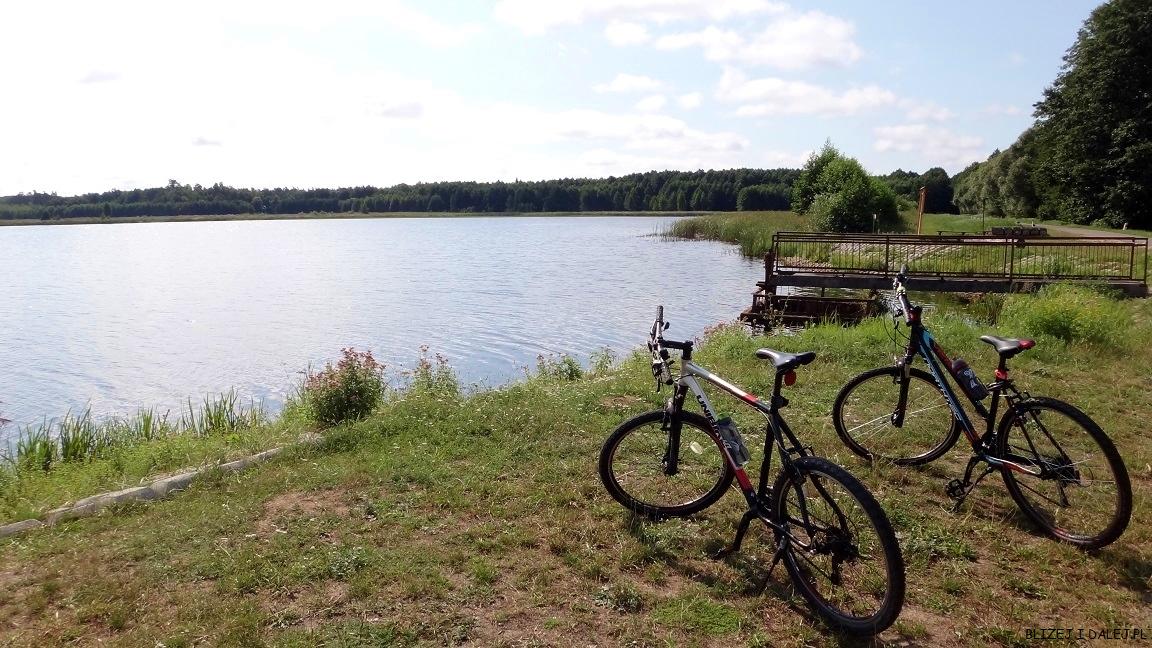 Mieliśmy jeszcze wpaść do muzeum, na które kupiliśmy na początku wycieczki bilety jednak już sił nam troszkę brakowało i dodatkowo czas się kończył (granica otwarta do godziny 20) więc zamiast w prawo do Muzeum Narodowego Bytu pojechaliśmy w lewo do granicy ;) Kto wie, może jeszcze kiedyś wpadniemy w te rejony i zobaczymy to na co tym razem czasu zabrakło…
Rower po stronie białoruskiej jest genialnym środkiem transportu – my w sumie tego dnia zrobiliśmy ponad 70km, więc po dotarciu do Hotelu Białowieskiego (tutaj więcej) w Białowieży, pierwsze na co mieliśmy ochotę to basen i sauna! Idealne lekarstwo na ewentualne zakwasy ;)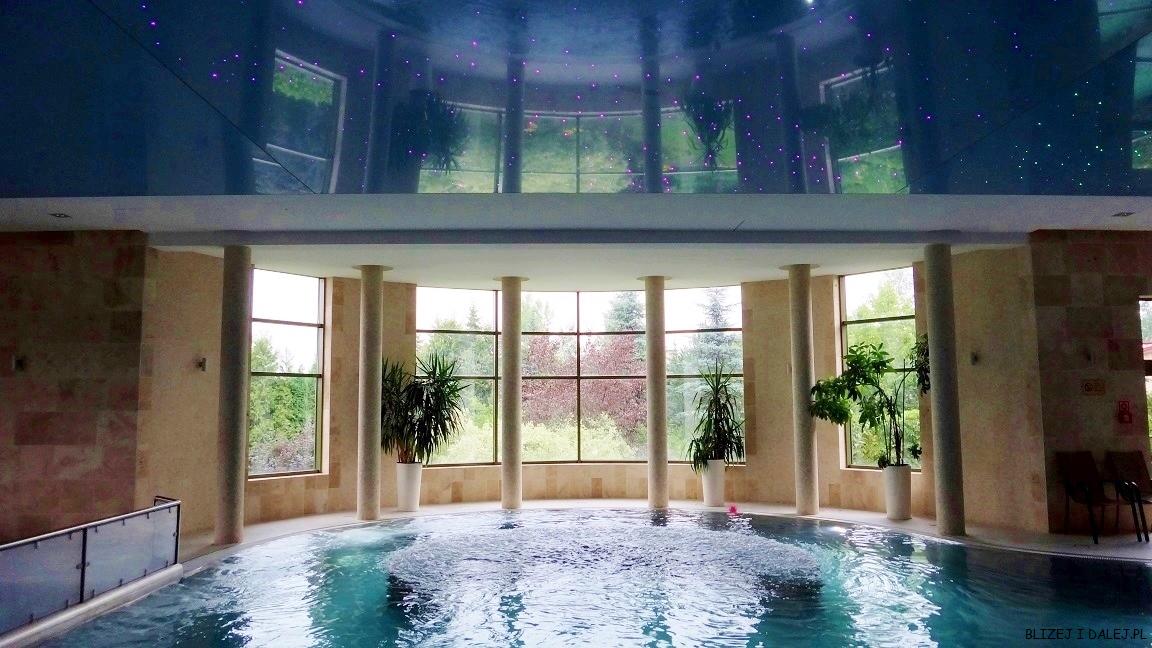 Podsumowując wypad na Białoruś, to u Dziadka Mroza było śmiesznie a cała białoruska puszcza troszkę bardziej ujarzmiona niż po naszej stronie, jednak także bardzo fajna. Jak najbardziej polecamy wyskoczyć choć na jeden dzień aby poznać białoruskie klimaty :)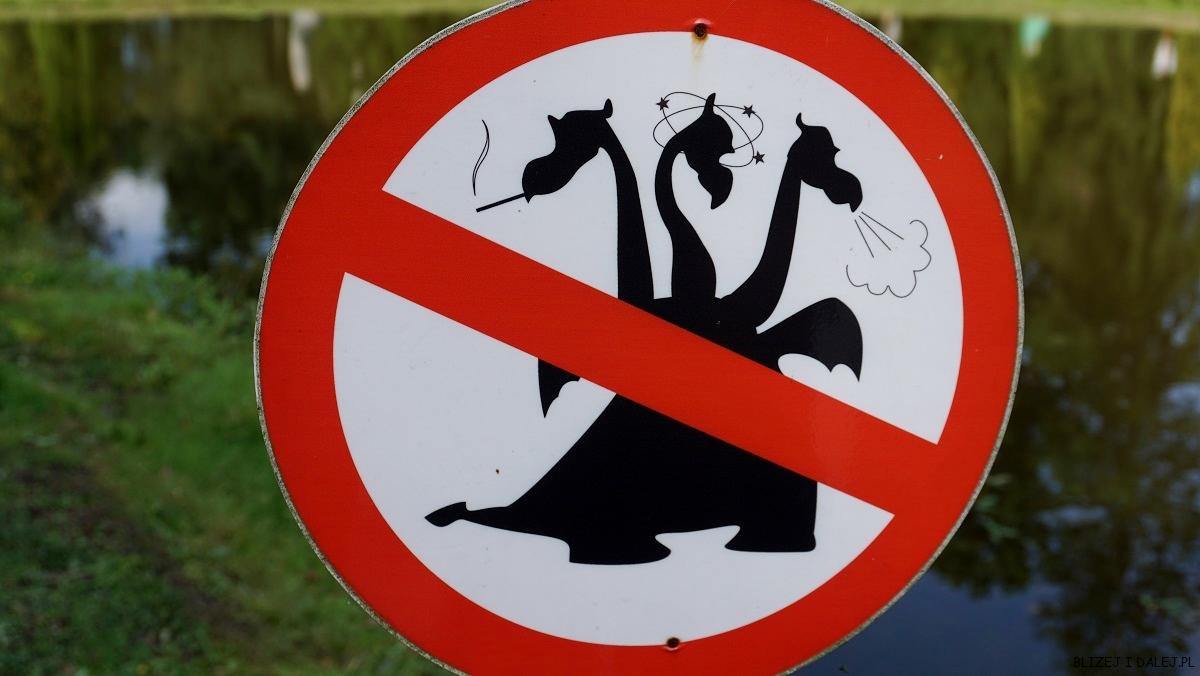 Dodatkowe informacje:
Przejście graniczne Grudki-Piererow otwarte w sezonie, czyli od kwietnia do września w godz. 8-20, w innym terminie 8-18.
Jeśli nie masz czasu i/lub chęci na samodzielne załatwianie przepustki uprawniającej do wjazdu na Białoruś to PTTK w Białowieży lub Hotel Białowieski z przyjemnością zrobią to za Ciebie :)
Hotel Białowieski – Waszkiewicza 218, Białowieża – więcej na oficjalnej stronie hotelu
Polecam skorzystać z linka na booking – jeśli zarezerwujesz hotel z linka i go zrealizujesz otrzymasz zwrot w wysokości 50zł dla Ciebie i 50zł dla mnie – zapraszam (tutaj) :)
Więcej artykułów z Puszczy Białowieskiej (tutaj).
---
You might also like