Koh Phi Phi to jeden z najbardziej znanych na świecie zakątków Tajlandii. Jest to Park Narodowy Mu Ko Phi Phi Natotional Park składający się z archipelagu sześciu wysp: Koh Phi Phi Don, Koh Phi Phi Ley (Maya Bay), Bida Nok, Bida Nai, Mai Phai i Ko Yung. Wyspy te znajdują się w prowincji Krabi u wybrzeży Morza Andamańskiego.
W 2004 roku przez wyspę przeszło tsunami i widać, że jeszcze do końca nie została odbudowana. Jest tu upamiętniająca katastrofę galeria zdjęć oraz kawałek historii tego miejsca. Po tamtym kataklizmie w wielu miejscach na wyspie widoczne są tablice uprzedzające o drogach ewakuacyjnych w razie tsunami…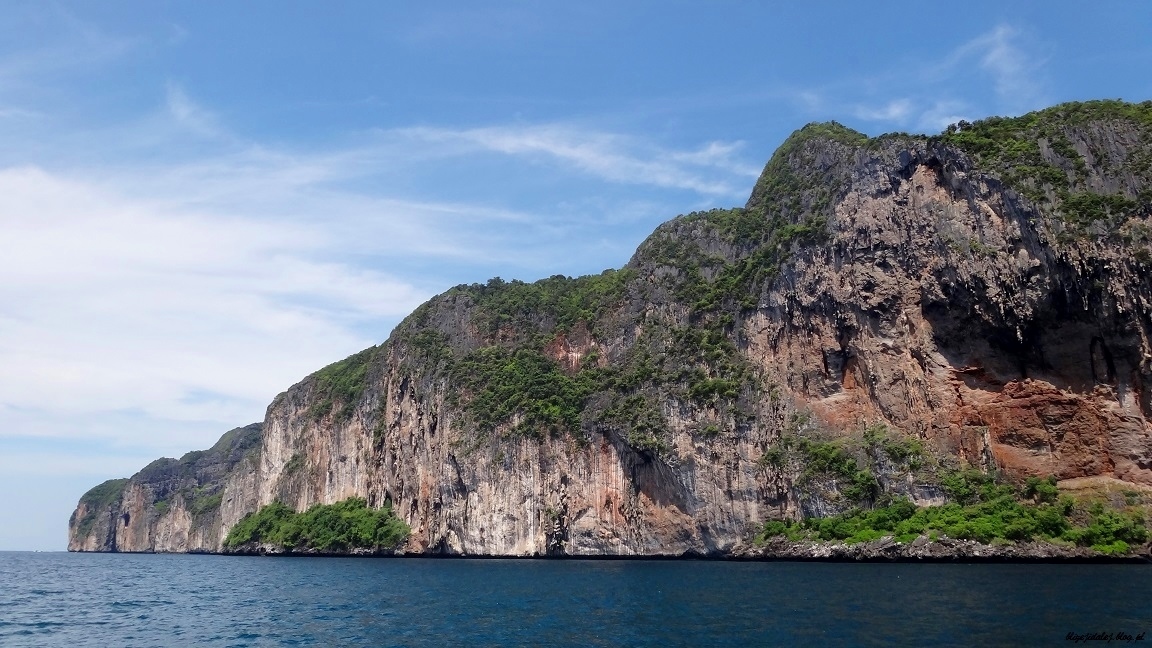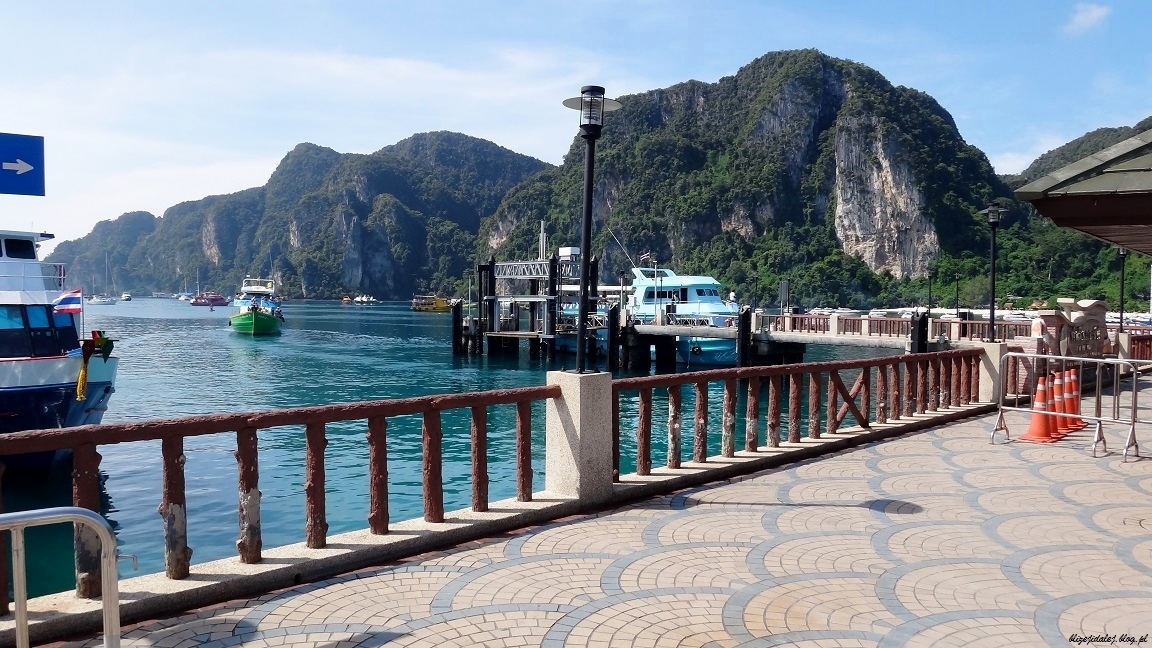 Koh Phi Phi Don jest największą i jedyną zamieszkałą wyspą całego archipelagu, więc jak wszyscy turyści, którzy wpadli tu na dłużej zatrzymujemy się na kilka dni. Wyspa ma zaledwie 30km2 powierzchni, z czego większość to niedostępne klify i skały pokryte lasem tropikalnym. Pozostała część to nieskończona ilość różnorodnych hoteli, restauracji, sklepów i innych atrakcji turystycznych. Wyspa jest na tyle mała, że nie ma tu żadnego transportu, poza oczywiście transportem wodnym. Nie ma skuterków, motorków, nic… za to są wszechobecne wózki ciągnięte przez Tajów, stale pokrzykujących "pi pi". W ten sposób są przewożone wszystkie artykuły – do najczęstszych widoków należy wózek z lodem – w końcu jesteśmy na imprezowej wyspie a lód przy panujących temperaturach to towar deficytowy i wszystkim stale potrzebny! Na każdym kroku widać hollywoodzką sławę tego miejsca, a to wszystko za sprawą Leonarda Di Caprio i kinowego hitu "The Beach" – w Polsce wystawianego pod tytułem "Niebiańska Plaża". Faktycznie turystów jest baaardzo dużo, właściwie można powiedzieć, że wszędzie jest tłum – a co za tym idzie i ceny są zdecydowanie wyższe niż w innych miejscach Tajlandii. Jednak to nie umniejsza piękna tego miejsca. Woda we wszelkich odcieniach błękitu i zieleni, przejrzysta na kilkanaście metrów, cudowne rafy koralowe, niebiańskie zatoki – rajsko tu :)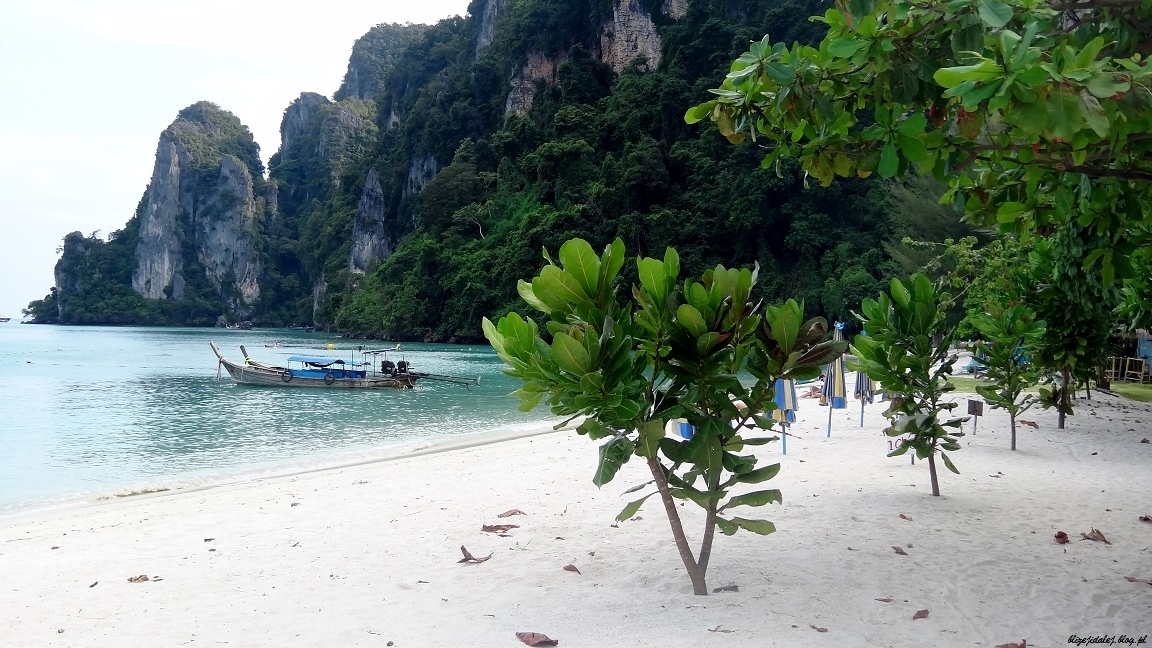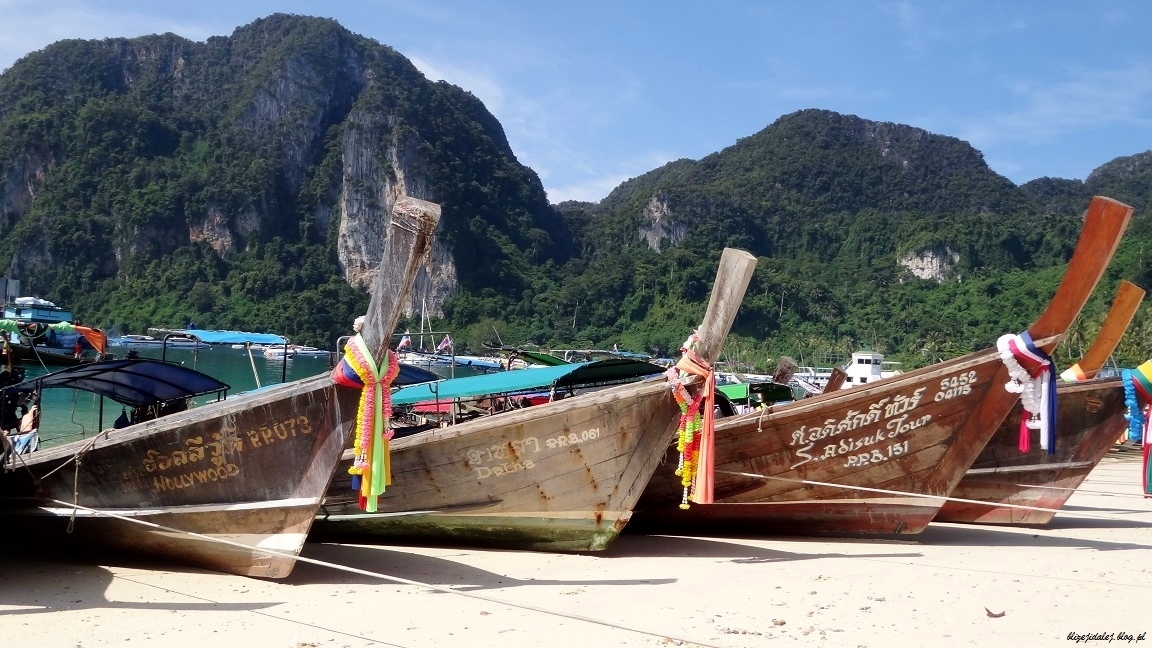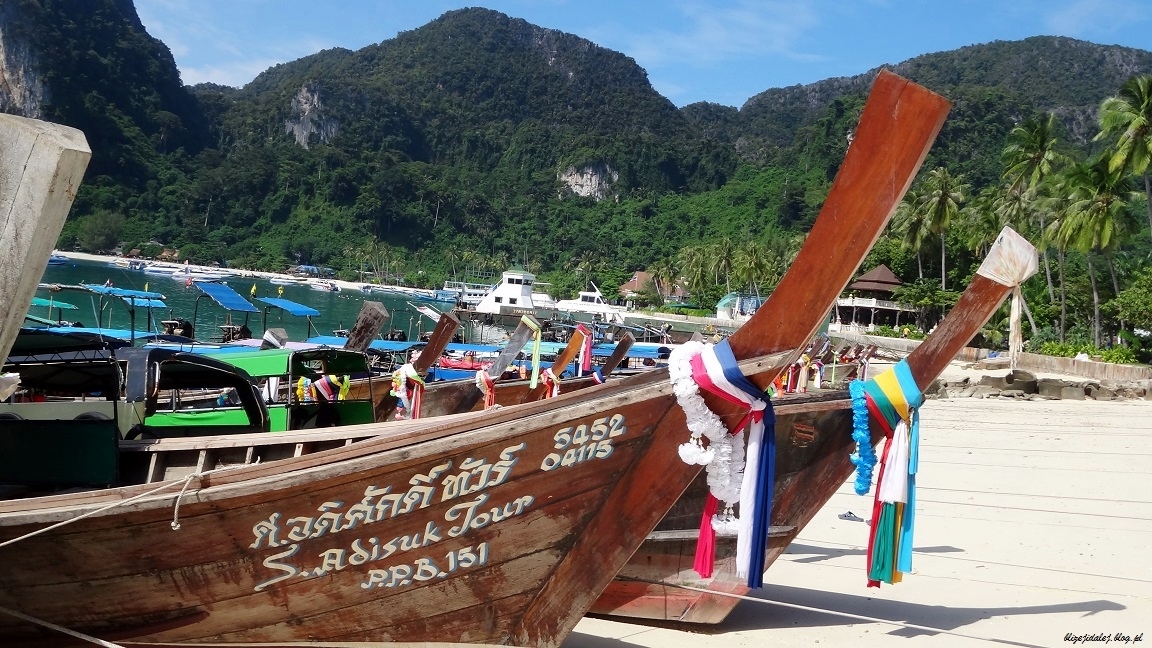 To miejsce nie śpi! Przez cały dzień i noc trwa rozpędzona maszyna mająca zapewnić turystom atrakcje i rozrywkę. Na plaży w dzień i w nocy można zjeść romantyczny posiłek z widokiem na zatokę, albo z drugiej strony wyspy z widokiem na port. W miasteczku znajdziemy każdy rodzaj kuchni, od miejscowych specjałów po włoską kuchnię.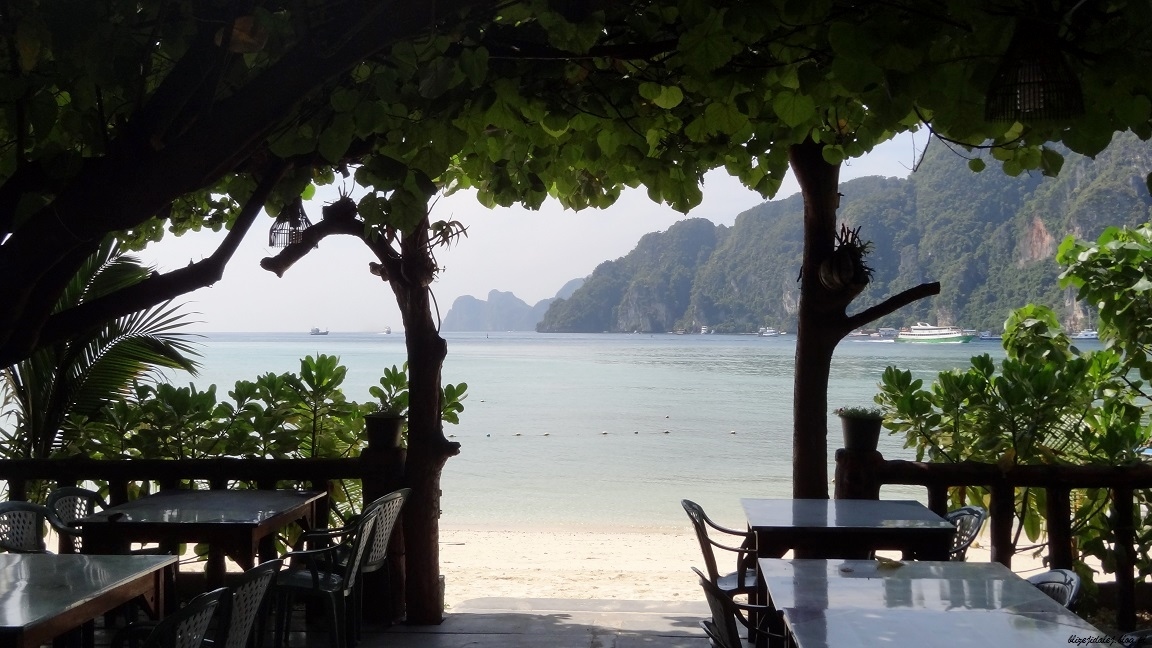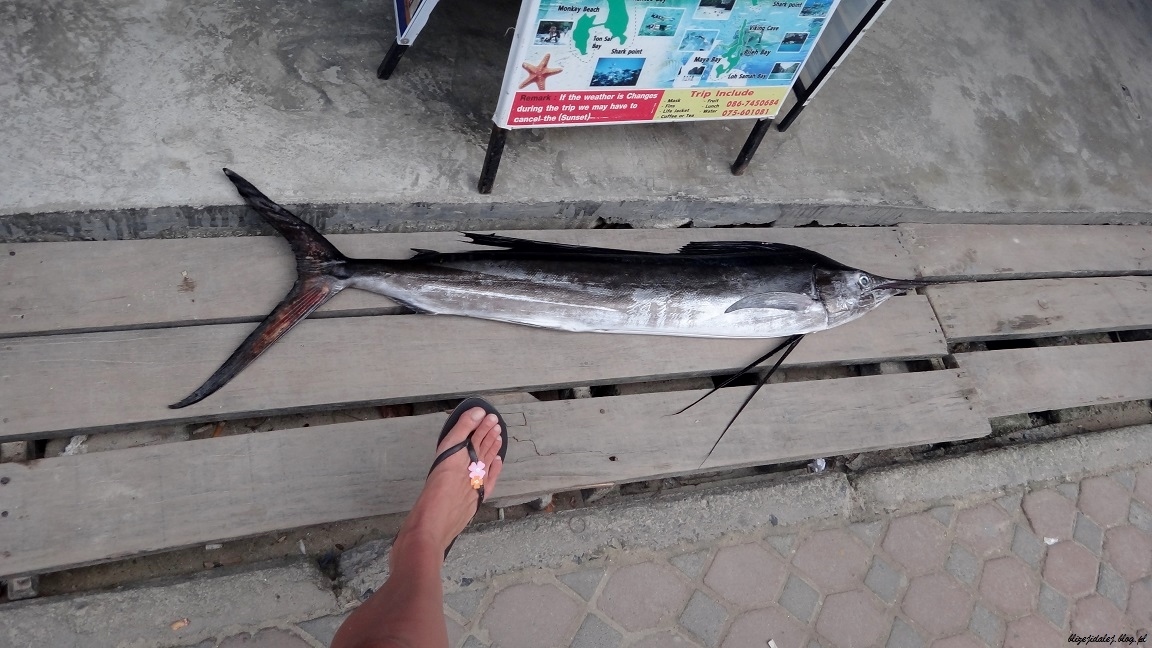 W nocy mamy do wyboru kilkanaście różnorodnych imprez czy to w klubach czy na plaży – ograniczeniem jest jedynie nasza fantazja i budżet. Mnie urzekły pokazy ognia organizowane każdej nocy na plaży w klubie pod nazwą Stone Bar albo Club – nie mogę sobie przypomnieć konkretnej nazwy. Na wyspie można wypić drinka z wiaderka – jakkolwiek to brzmi, smakuje wyśmienicie! Jest to najtańsza wersja drinka na Koh Phi Phi – kupowana w zestawie (whisky lub rum, napój, wiaderko i słomka), wszystko to schłodzone lodem i zachęcająco mrugające okiem ze stoisk alkoholowych!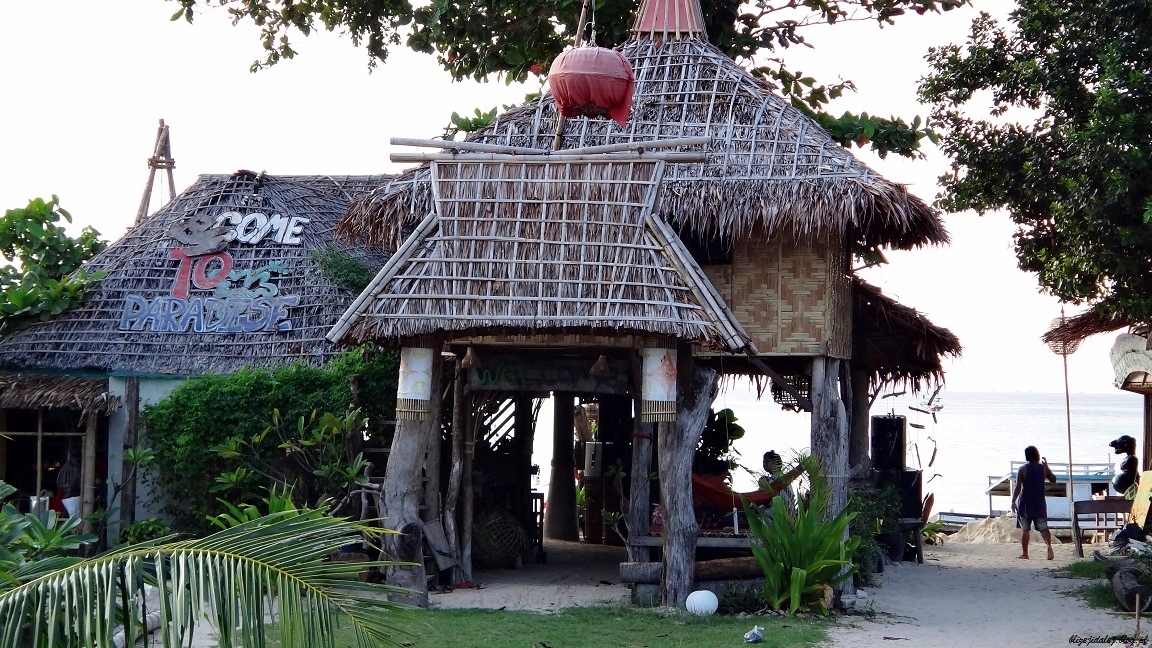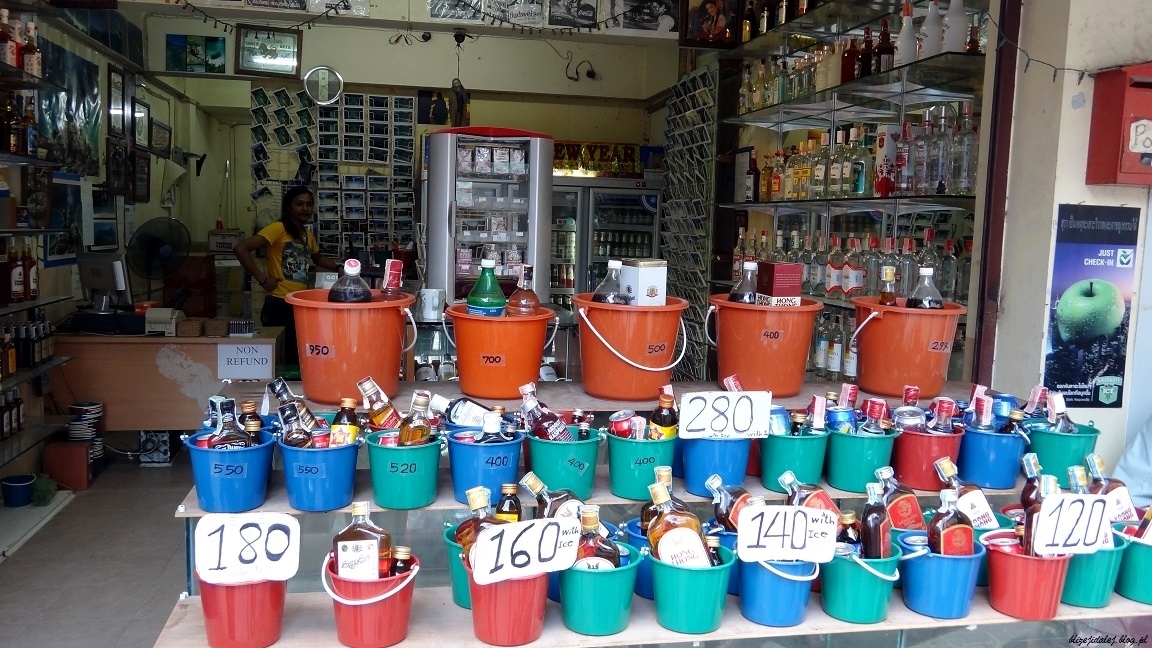 Wdrapaliśmy się także na punkt widokowy, zadanie to do łatwych nie należy z uwagi na żar lejący się z nieba, strome podejście i cały czas pod górę… jednak poświęcenie się opłaca. Z góry roztacza się nieziemski widok!
Na wyspie i w jej okolicach jest zapewnionych wiele różnorodnych atrakcji: snorkeling, nurkowanie, wycieczki łódką, pływanie i podglądanie morskich stworów oraz zapierające dech w piersi widoki – to wszystko w sławnym na całym świecie zakątku Koh Phi Phi.
---
You might also like