Ronda to kolejne andaluzyjskie miasto, które postanowiliśmy odwiedzić – co nas przyciągnęło do tego miejsca? Miasto jest usytuowane na wysokim klifie, przedzielone głębokim wąwozem i spięte masywnym, olbrzymim mostem – na zdjęciach wygląda zachwycająco, więc musieliśmy zobaczyć je na żywo :)
Miasto często określane jest jako "białe miasto" i jest jednym z bardziej znanych miejsc w Andaluzji i w okolicach wybrzeża Costa del Sol. Auto zostawiliśmy w nowszej części miasta, czyli chrześcijańskiej dzielnicy Mercadillo i rozpoczynamy spacer od jednej z najstarszych i najsłynniejszych w Hiszpanii areny walki byków Plaza de Toros zwanej Real Maestranza de Caballeria, została ona wybudowana w latach 1783-1785, a na terenie znajduje się także muzeum corridy.
Kilka kroków dalej dotarliśmy na punkt widokowy z wysuniętym tarasem mieszczącym się tuż nad przepaścią o nazwie Alameda del Tajo – w tym miejscu jest gwarantowany świetny widok na okolicę i kanion, oczywiście z odpowiedniej wysokości ;) Plotka niesie, że jest to najlepsze miejsce w całej Rondzie do podziwiania zachodu słońca – nie mieliśmy okazji aby sprawdzić czy to prawda…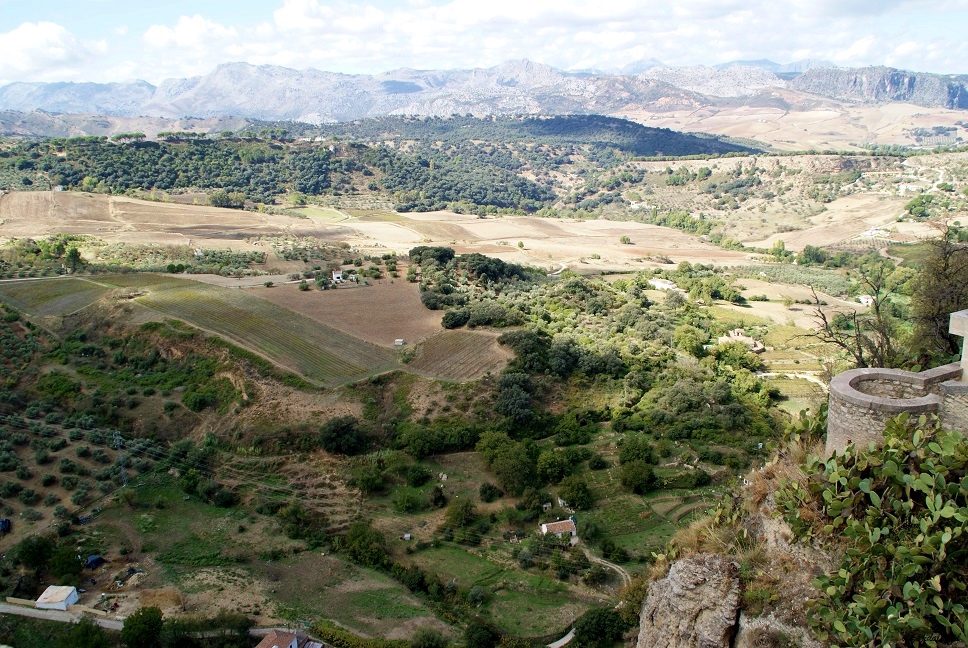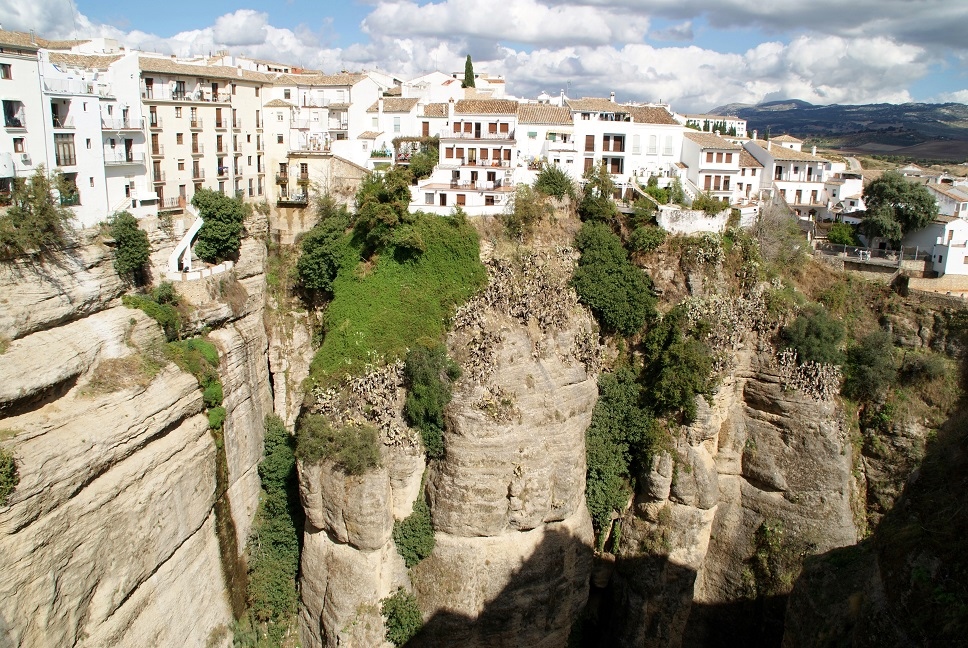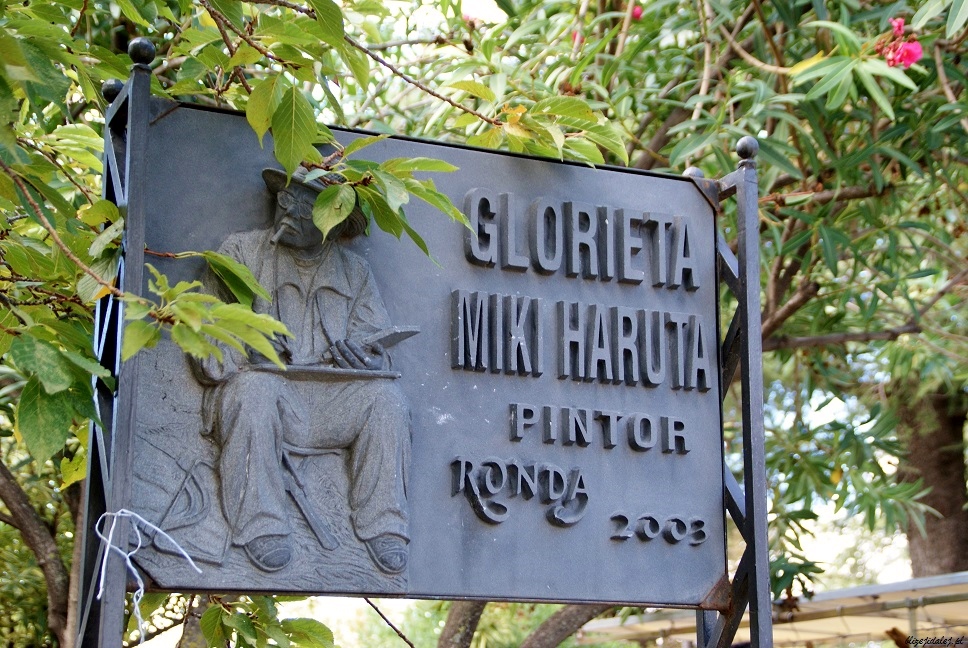 Ronda składa się z dwóch dzielnic: starszej (arabskiej) i nowszej (chrześcijańskiej) – obie części miasta są zawieszone na skale, domki znajdują się bezpośrednio nad urwiskiem po dwóch stronach głębokiego wąwozu zwanego El Tajo Canyon.  Kanion został wydrążony przez rzekę Guadelevin, a przez niego został przerzucony olbrzymi most Puente Nuevo z XVIII wieku – widok jest zachwycający!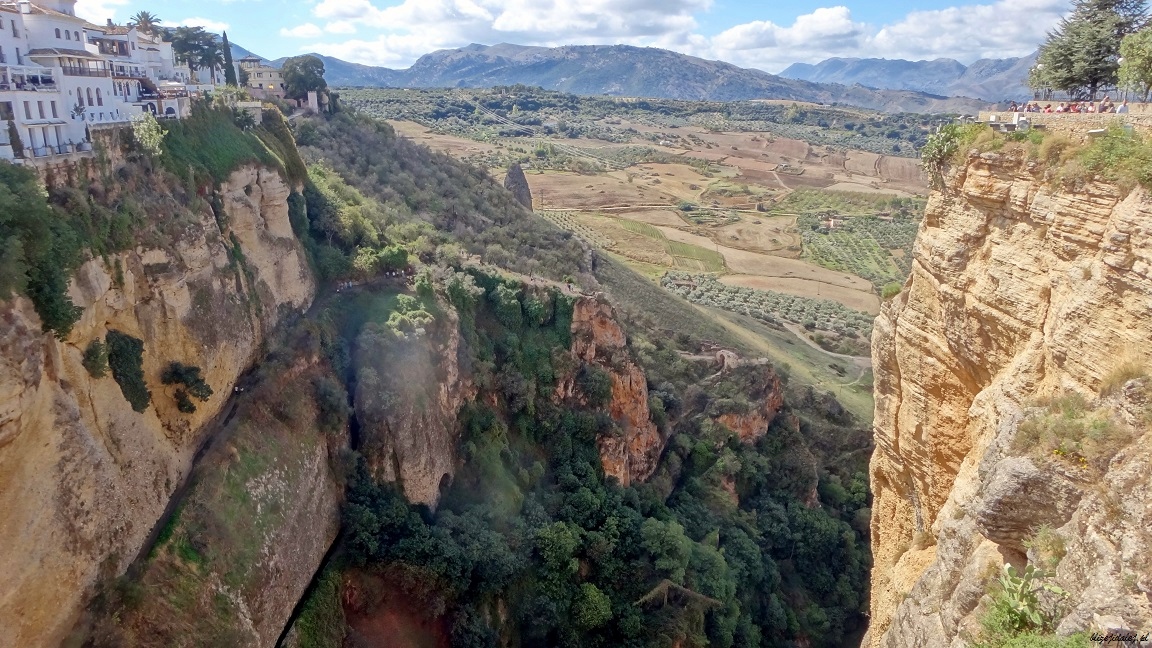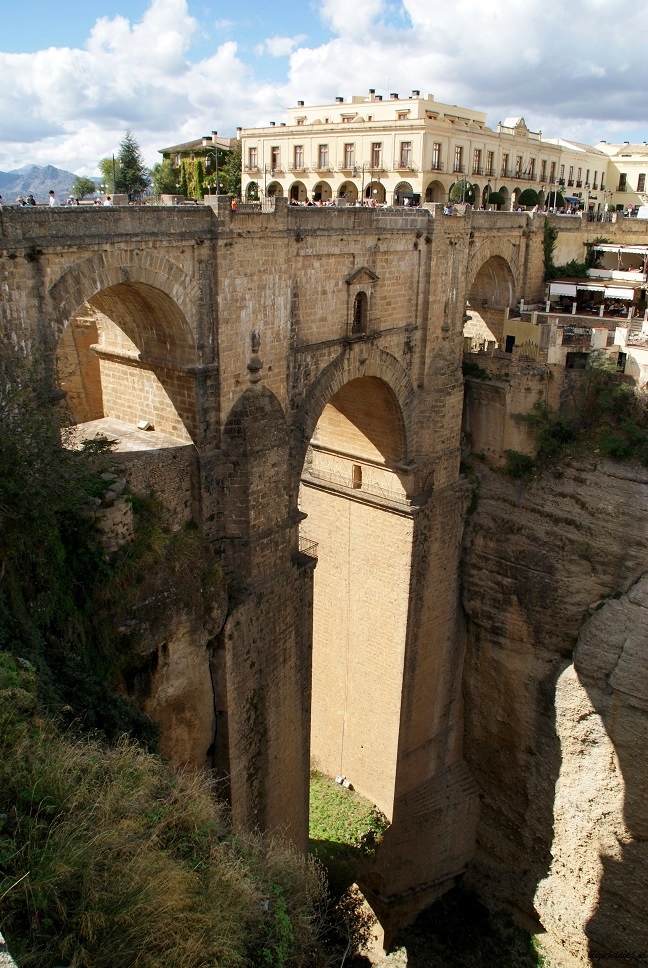 Po przejściu na drugą stronę miasta czyli do arabskiej dzielnicy Ciudad, udajemy się na spacer uliczkami miasteczka w kierunku kolejnego punktu widokowego, tym razem z widokiem na most Puente Nueve. Zejście na punkt widokowy mieści się tuż koło parku i jak zawsze, w dól schodzi się zdecydowanie łatwiej niż wraca na górę ;) Widok jest świetny i z tego miejsca widać niewielki wodospad, jaki znajduje się tuż pod mostem… udało nam się nawet trafić na mini tęczę :)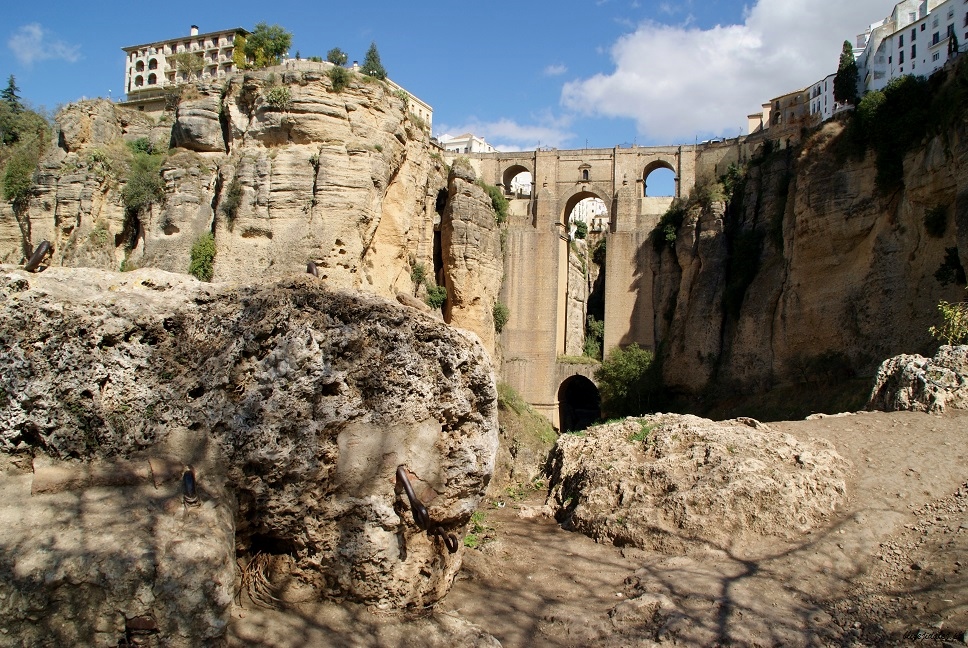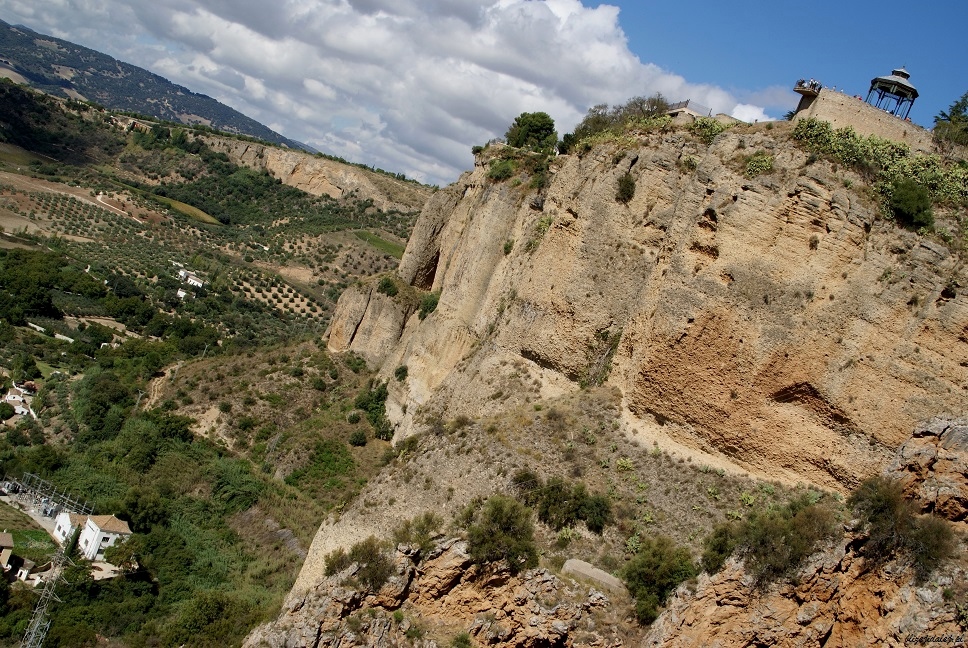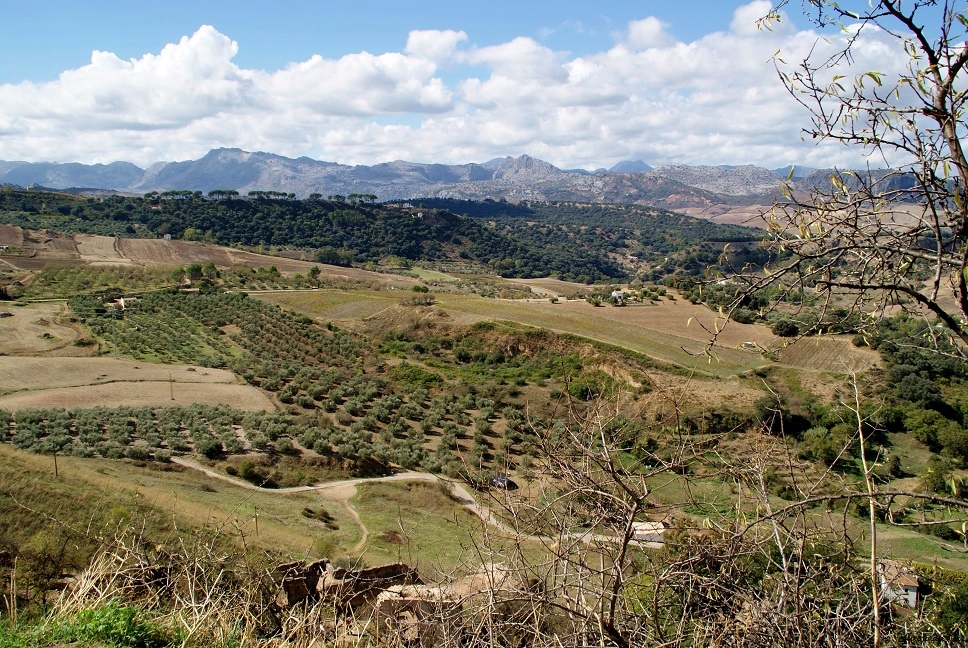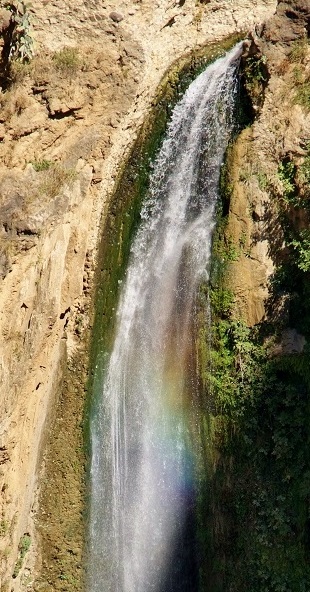 Stojąc tuż nad urwiskiem, nagle, nie wiadomo skąd, a właściwie wiadomo: z przepaści tuż pod stopami wyłonił się wspinacz – niezłe wrażenia musi dostarczać taka ekstremalna ścianka ;)
Dotarliśmy także do klimatycznego placu z nieskończoną ilością drzewek pomarańczowych oraz kolejną atrakcją, czyli katedrą Iglesia de Santa María la Mayor i jeszcze chwilę pokręciliśmy się po Starym Mieście i otaczających nas uliczkach…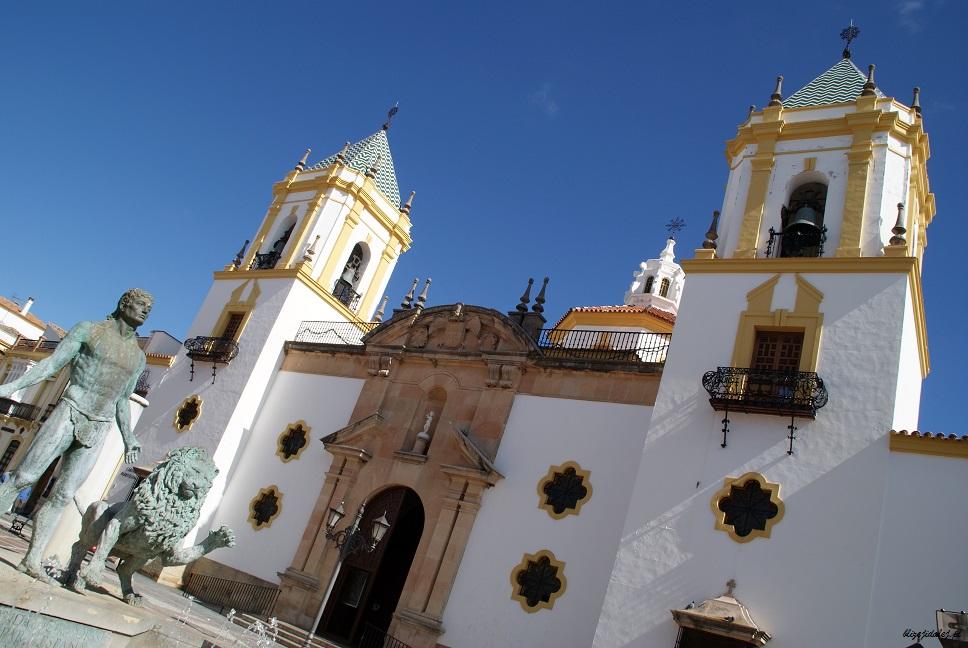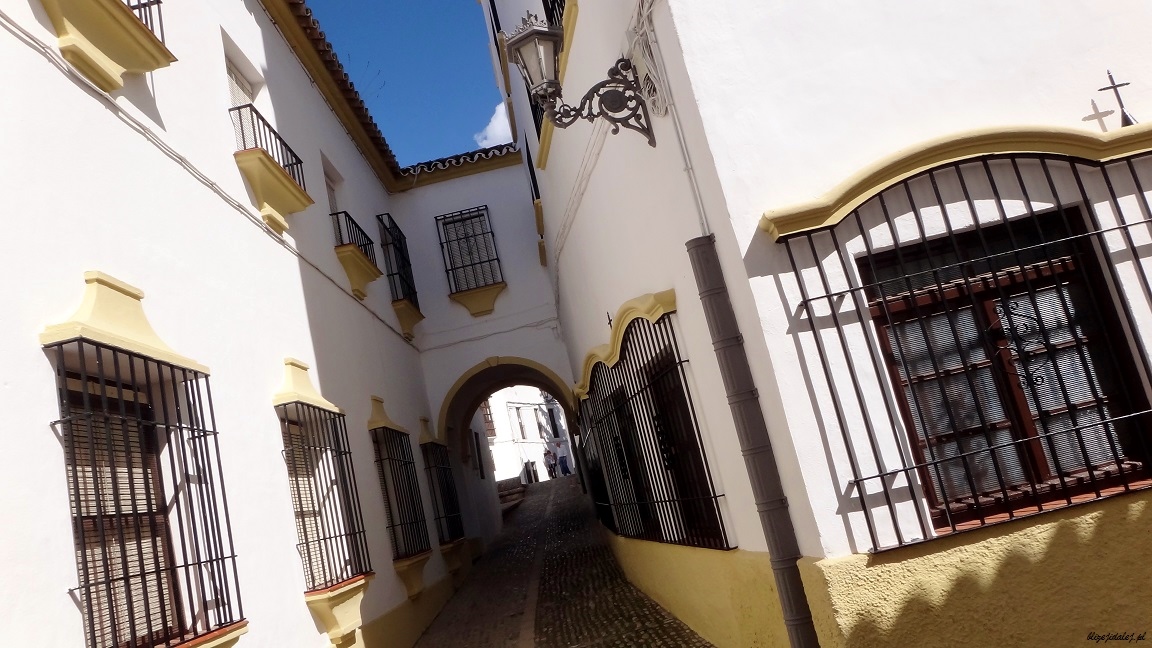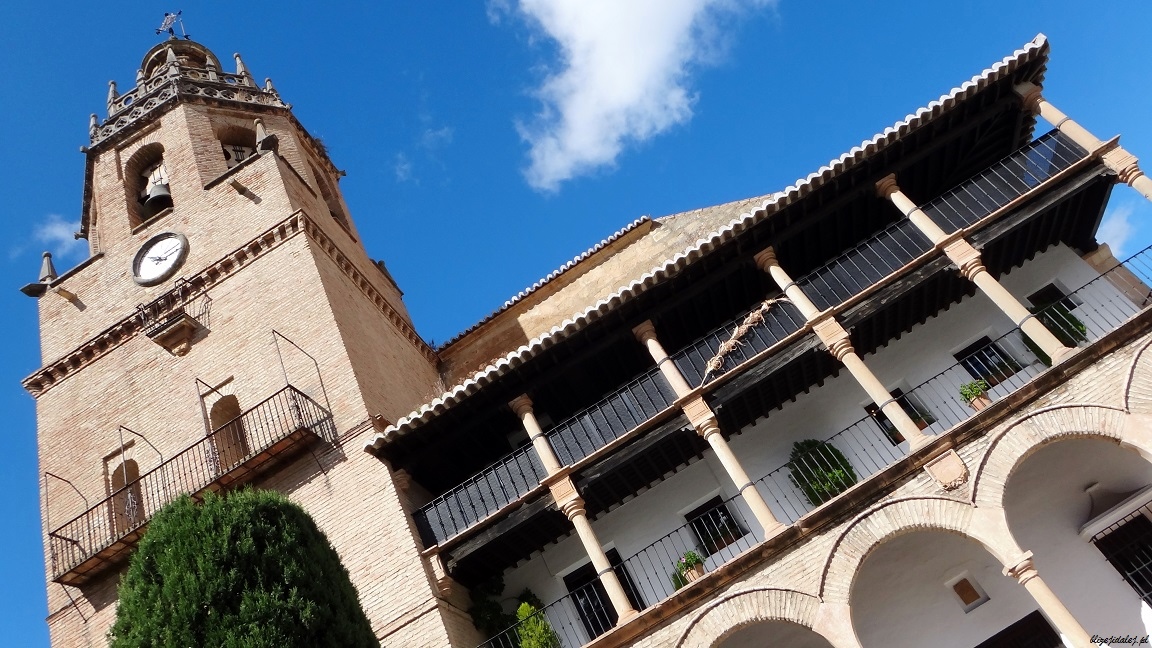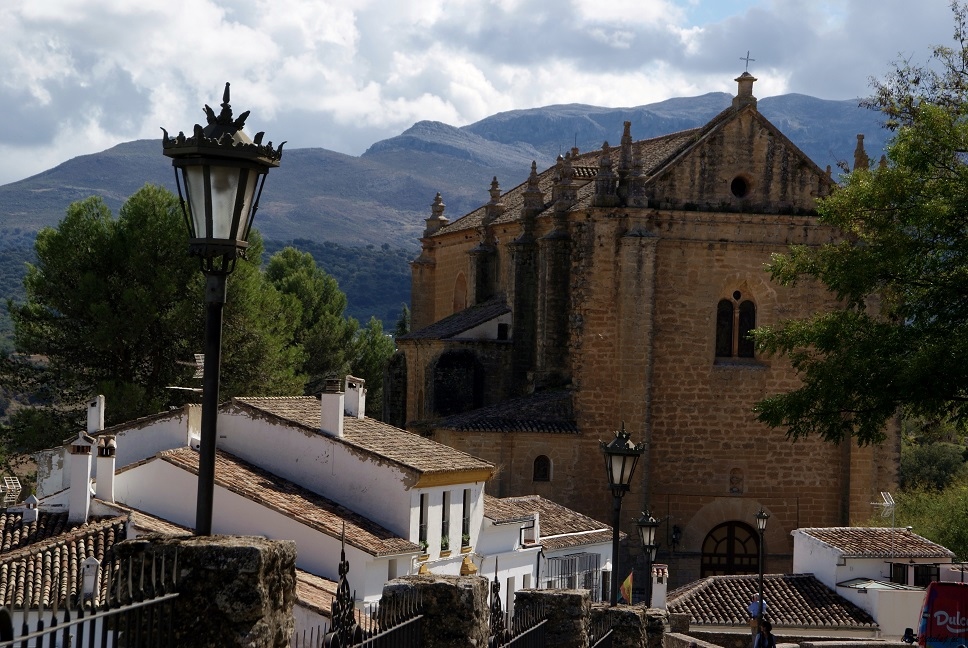 W samym miasteczku, praktycznie wszędzie, na ulicach, parkach czy placykach znajdziemy różnorodnych grajków, gdzie w akompaniamencie klimatycznej muzyki można odpocząć w cieniu drzew lub jednej z wielu restauracji…
Wracając do auta, zatrzymaliśmy się na chwilę na ostatnim punkcie widokowym Mirador de Aldehuela po drugiej stronie mostu.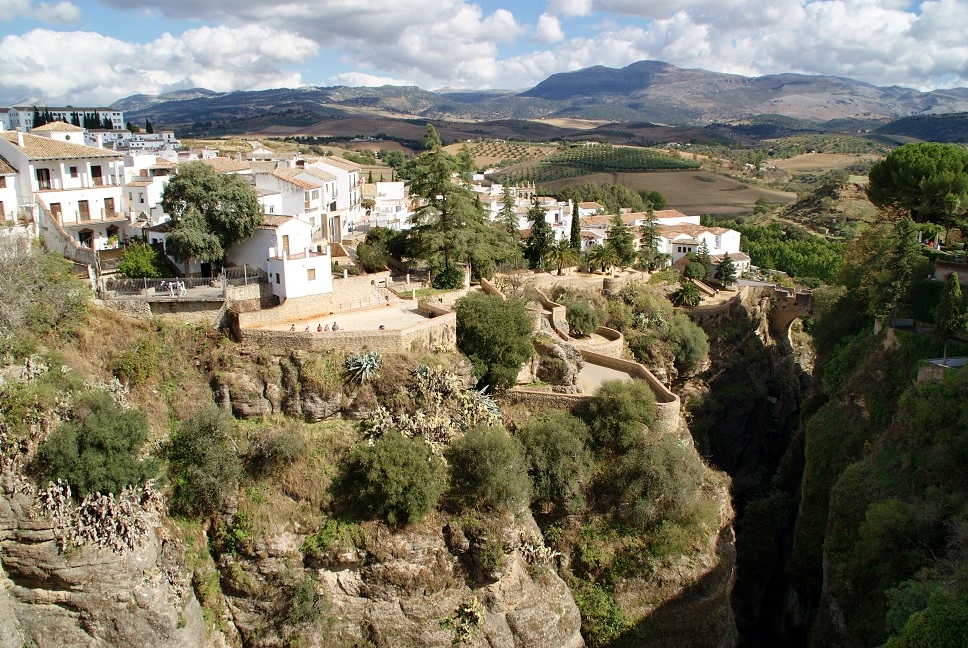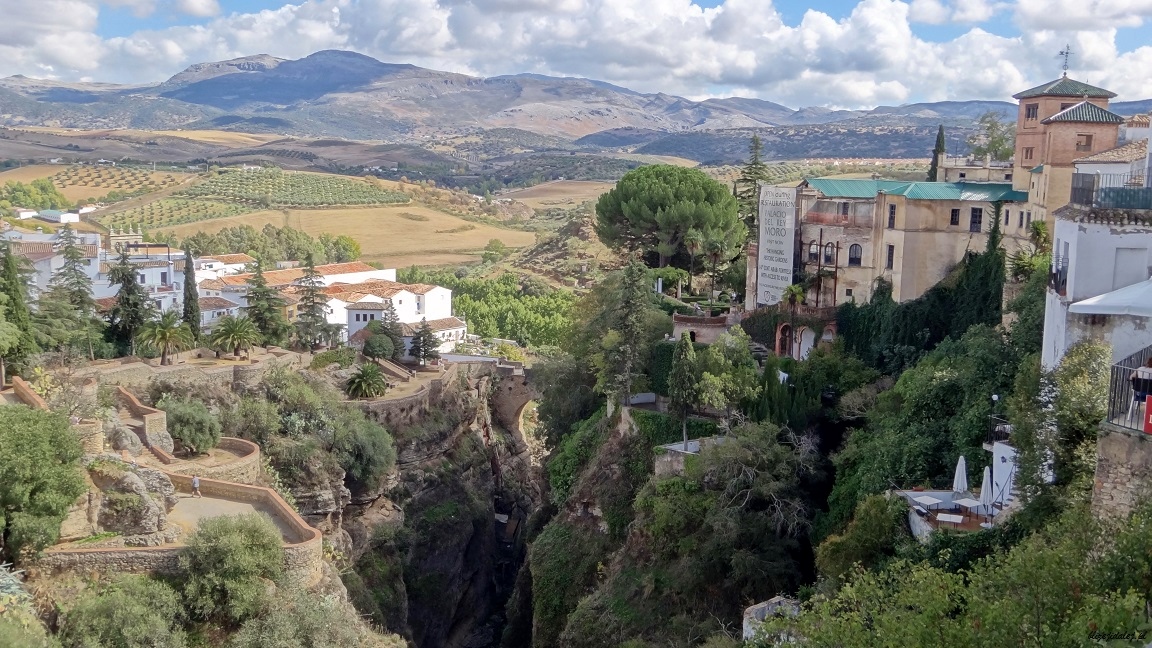 Ronda, to punkt, który powinien się znaleźć na liście każdej wycieczki – dla uroczych widoków, zachwycającego mostu i klimatycznej atmosfery w mieście :)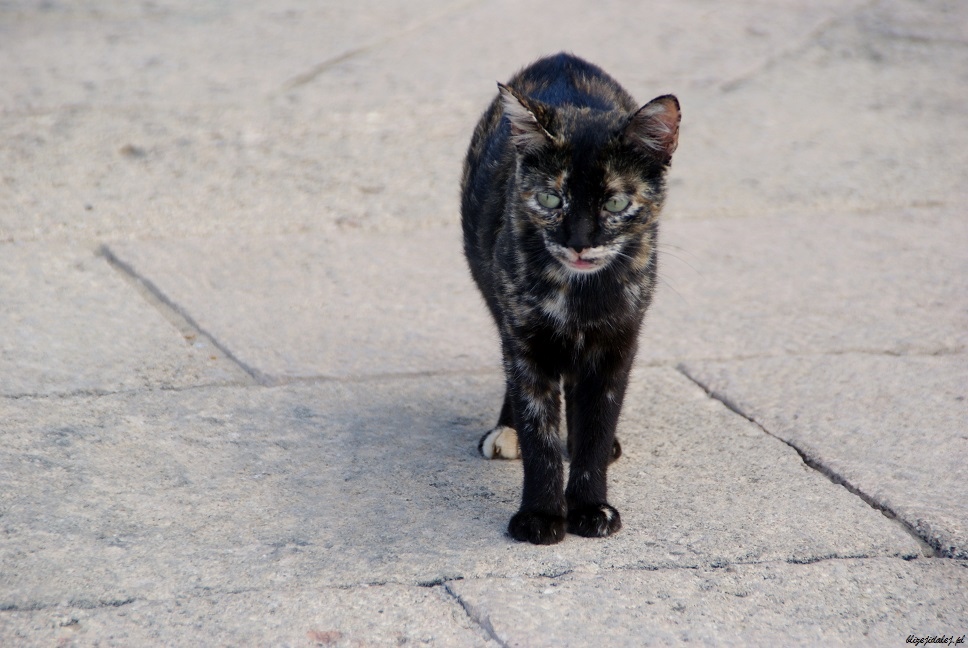 Dodatkowe informacje:

Ronda znajduje się około 100km od Malagi, a dotarcie na miejsce samochodem zajmuje 1,5h.
Plaza de Toros – bilet wstępu 7€
Katedra Santa María la Mayor – 8€
---
You might also like