Jezioro Toba to kolejna lokalizacja w naszym sumatrzańskim planie. Jest to największe i najgłębsze jezioro kraterowe na świecie, na środku którego znajduje się półwysep (często określany mianem wyspy) Samosir – wielkością dorównujący Singapurowi. W przeszłości Samosir był zamieszkany przez plemiona kanibali wg różnych danych jeszcze w XIX/XX wieku. Obecnie jest to jedno z niewielu miejsc na Sumatrze, gdzie większa część ludności jest wyznania chrześcijańskiego.
Trasa do pokonania to ok. 150km, czyli teoretycznie blisko, ale tylko teoretycznie… Ostatnio 100km z Medanu do Bukit Lawang zajęło nam cztery godziny. W związku z tym wybraliśmy transport samochodem siedmio-osobowym – rozwiązanie droższe, ale jest to jedyne bezpośrednie połączenie. I nie ukrywajmy jest to oszczędność bezcennego czasu, który w trakcie urlopu pędzi jak szalony… Z Bukit Lawang wyruszamy jako jedyni pasażerowie i w tych komfortowych warunkach docieramy do Binjai. Styl jazdy naszego kierowcy przyprawia mnie o gęsią skórkę i po kilku mniej lub bardziej niebezpiecznych manewrach postanawiam skoncentrować się na przewodniku – ku zdrowotności… O dziwo kierowca w aucie nie pali – czyżby jedyny niepalący Indonezyjczyk? Przyzwyczajona już jestem do tego, że do każdej podróży konieczne jest założenie skarpetek i bluzy z długim rękawem, ale bez przesady… na pierwszy postój wyczekuję niecierpliwie, a w aucie jest zimno jak w molochu na dziale z mrożonkami, litości! Jedziemy dalej w pełnym składzie i w tej samej mroźnej atmosferze – podobno nie da się przestawić klimatyzacji na bardziej ludzką temperaturę… Nie wiem, nie znam się, przekonana nie jestem ;)
Jesteśmy już tuż, tuż… serpentyną w dół kierujemy się ku miejscowości Parapat – widoki wspaniałe i kierowca postanawia zatrzymać się w punkcie widokowym czyli… na środku drogi ;)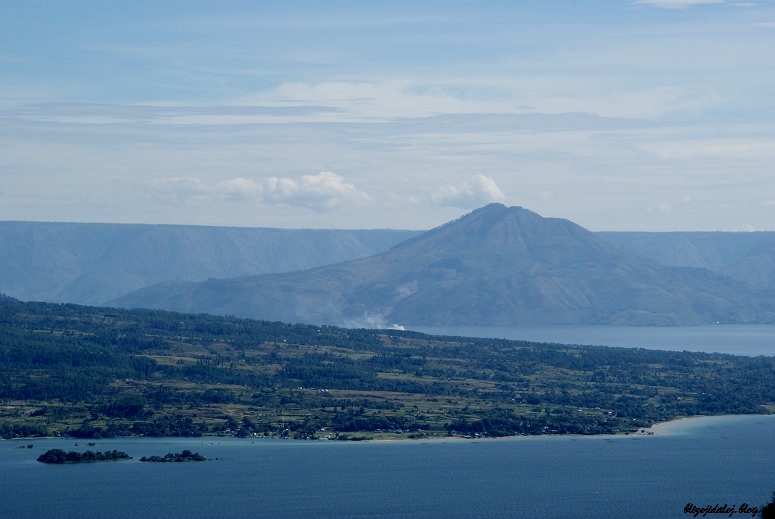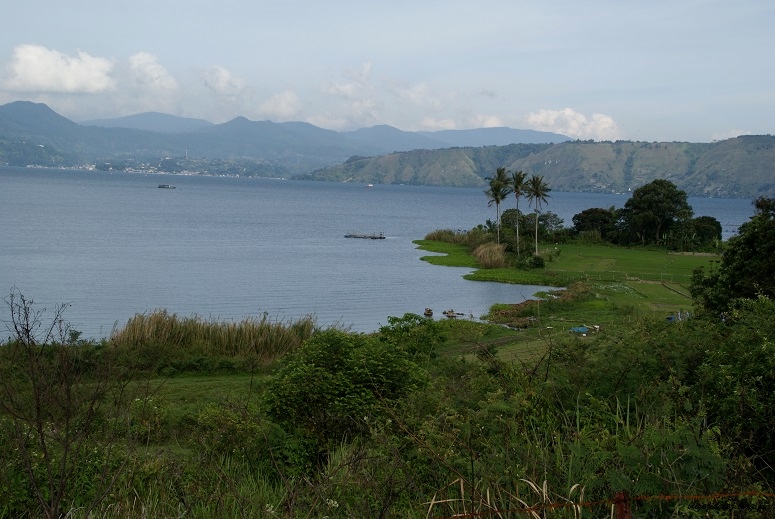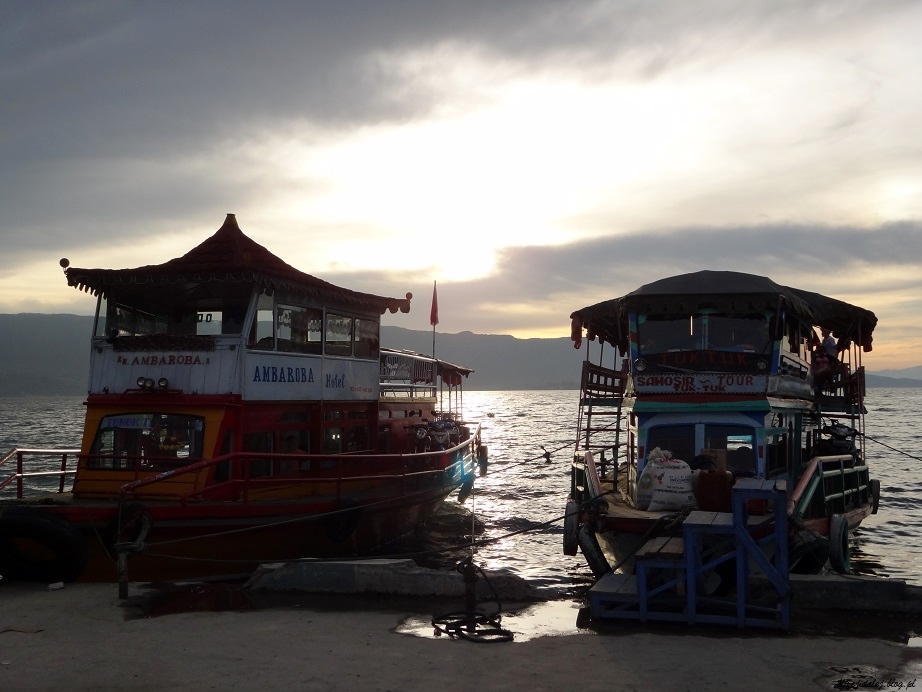 W porcie jest kilku chłopaków, którzy starają się przekonać potencjalnych klientów do reklamowanego przez siebie hotelu. Wsiadamy na prom i po 45 minutach rejsu w trakcie którego oglądamy zachód słońca, jesteśmy przy brzegu miasteczka Tuk Tuk na wyspie Samosir. Nie ma tu standardowego portu (a przynajmniej do niego nie dotarliśmy), padają nazwy hotelu i jeśli ktoś chce wysiąść to podpływamy do przystani – którą posiada praktycznie każdy szanujący się hotel. Wysiedliśmy przy wypatrzonym w przewodniku hotelu z domkami stylizowanymi na tradycyjne miejscowe domy, jednak ilość karaluchów w jednym miejscu przekonała nas do wieczornego spaceru w poszukiwaniu innego noclegu.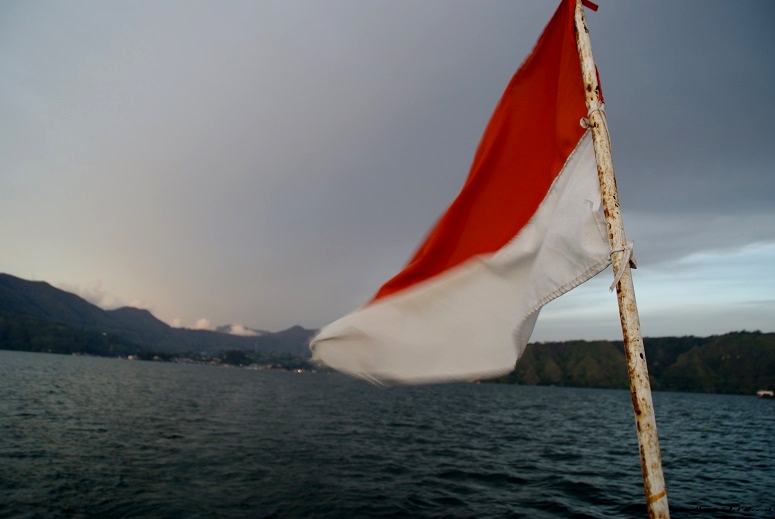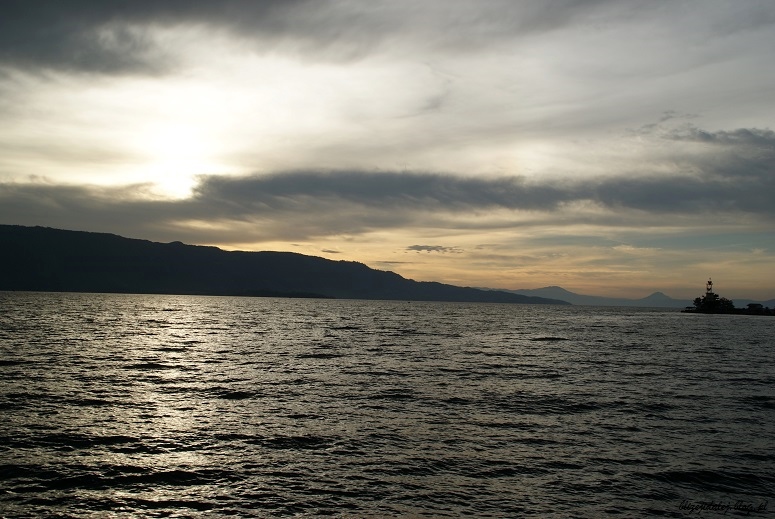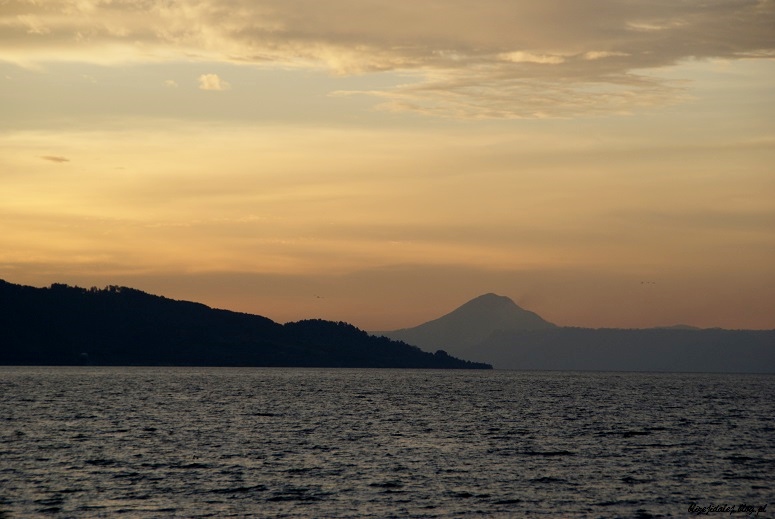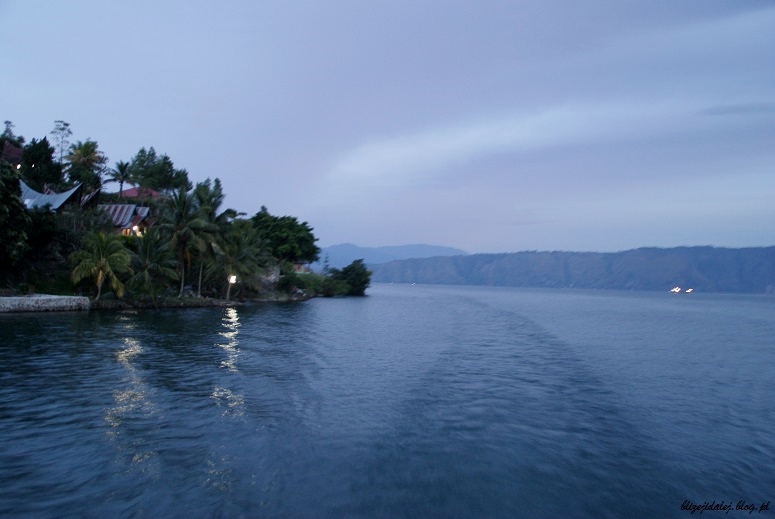 I tak po kilkunastu minutach poszukiwań, rozpakowywaliśmy się w hotelu Samosir Cottage w apartamencie dla nowożeńców przy samym brzegu jeziora.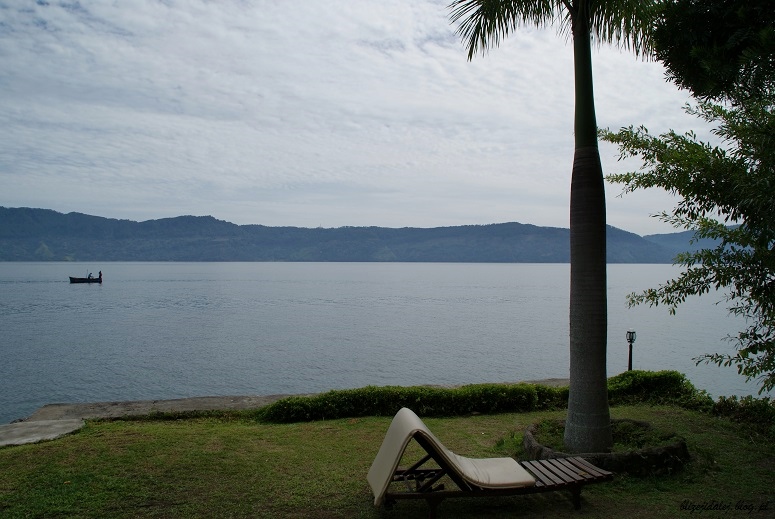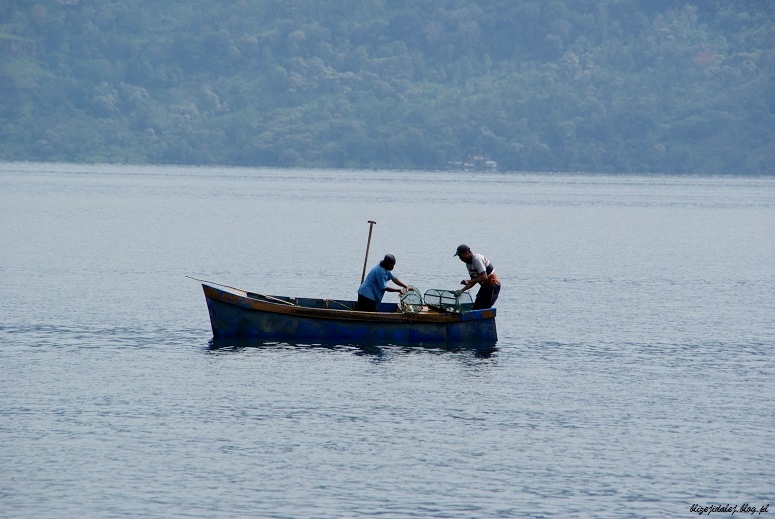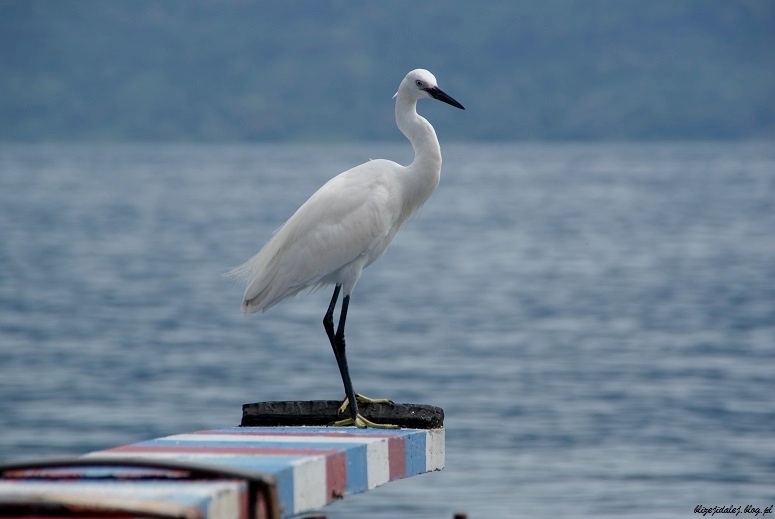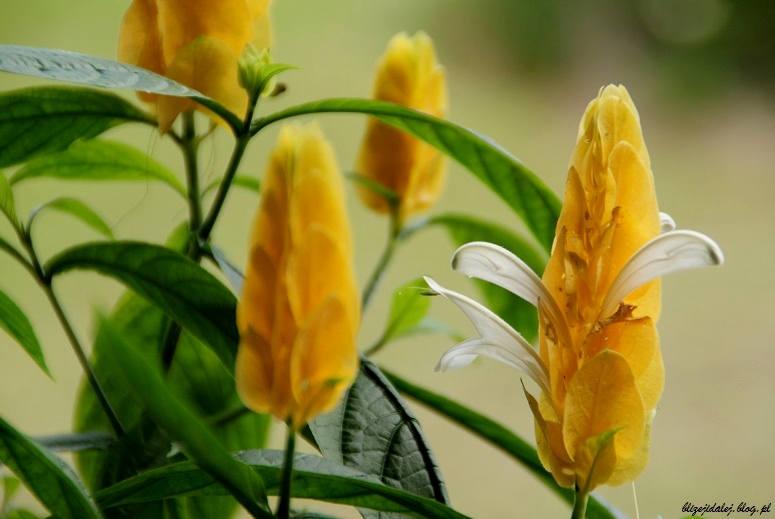 Okazało się, że jesteśmy tuż obok polecanej w przewodniku restauracji Jenny's – w której nie udało nam się zjeść, bo nie było ani jednego wolnego miejsca – ech, ta sława… W związku z tym wypróbowaliśmy azjatycką wersję frytek i pizzy w knajpce Rumba Pizzeria ;)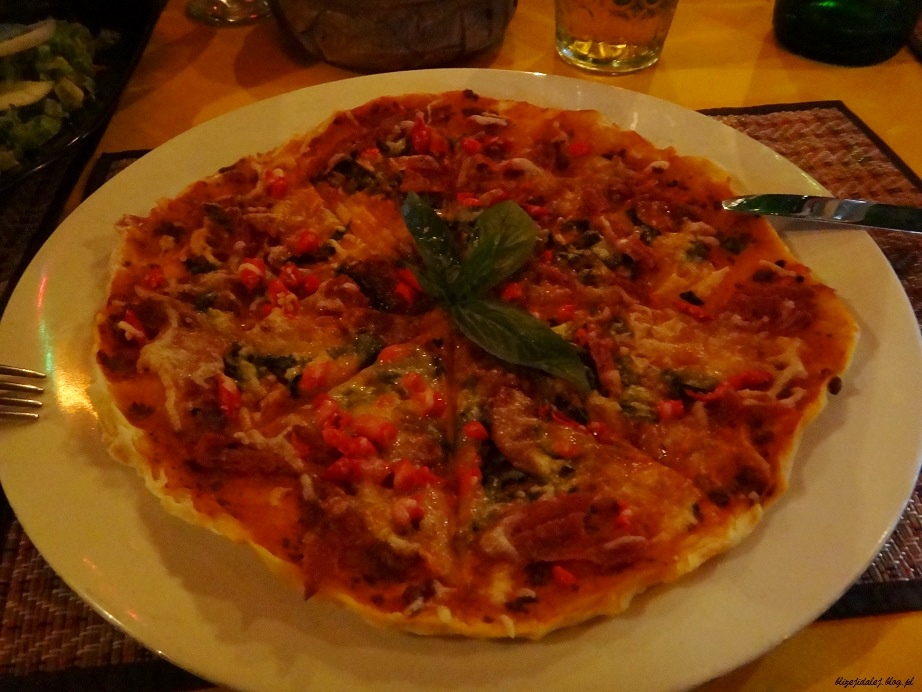 A jutro wypożyczamy motorek i rozpoczynamy zwiedzanie wyspy!
---
You might also like