W końcu nadszedł ten dzień – przed nami trekking! Cały dzień łażenia po dżungli i oglądania orangutanów. Oczywiście pod warunkiem, że szczęście będzie sprzyjać – jak to określił nasz przewodnik Alex. Wycieczka zalicza się do tych droższych, ale też Sumatra jest jednym z niewielu miejsc, gdzie taka atrakcja jest jeszcze możliwa – z tego co wiemy, orangutany żyjące na wolności można spotkać jeszcze tylko na Borneo. W miasteczku jest wielu pseudo przewodników za połowę ceny, jednak czy gwarantują powrót z dżungli? My zdecydowaliśmy się na sprawdzonego i polecanego przewodnika z licencją.
Pobudka, szybkie ogarnięcie się i biegniemy na śniadanie. Jeszcze tylko zakup wody i jesteśmy gotowi. Pojawia się Alex i z uśmiechem na ustach wita się z nami, równocześnie krytycznym okiem spoglądając na nasze najlepsze dżunglowe stroje. Potwierdzamy, że bez problemu damy radę – mimo to, nie wydaje się specjalnie przekonany. Idziemy po naszych towarzyszy wycieczki, jeszcze jedną parę. Kurcze, wyglądamy przy nich na totalnie nie przygotowanych. Trapery, bojówki i bluzy z długim rękawem – a my, jeansy, trampki i koszulki na ramiączkach… Nie mieliśmy nawet małego plecaka na wodę, którą przynieśliśmy prosto ze sklepu w reklamówce – na szczęście Alex nas poratował pięknym plecakiem w kolorze głębokiego różu! Hmm, czy my oby na pewno jesteśmy gotowi? Nie jest dobrze i coraz mniej mi się to podoba…
Ekipa w komplecie, czyli my, Farran z dziewczyną i nasz przewodnik z kolegą – całą szóstką wyruszamy na spotkanie orangutanom. Ponieważ samo miasteczko jest w dżungli, wystarczy przejść przez mostek i oto jesteśmy. Ściana dżungli, idziemy wydeptanym szlakiem w głąb lasu. Hmm… jak tak będzie dalej, to nie ma się czego obawiać.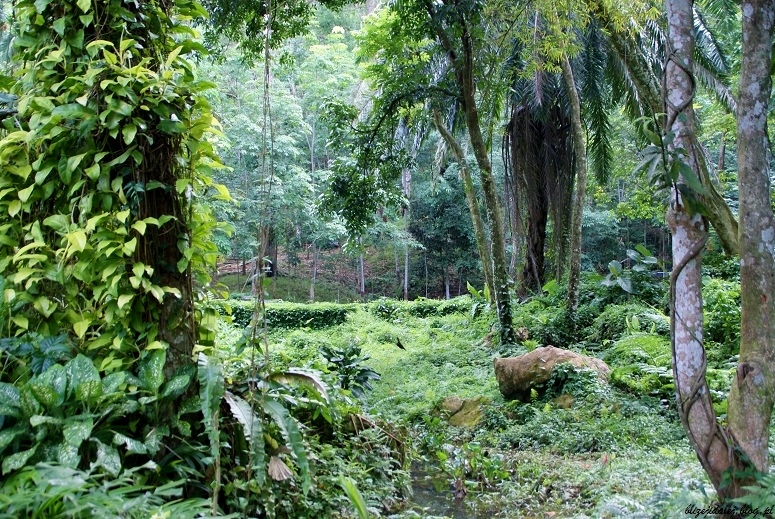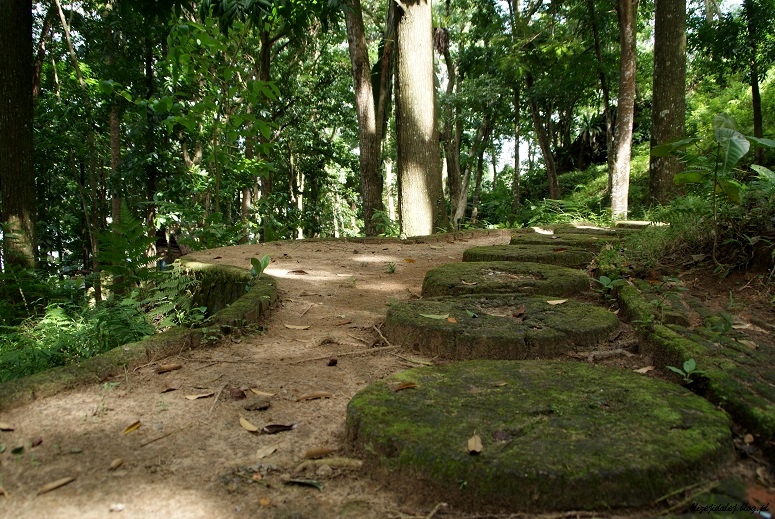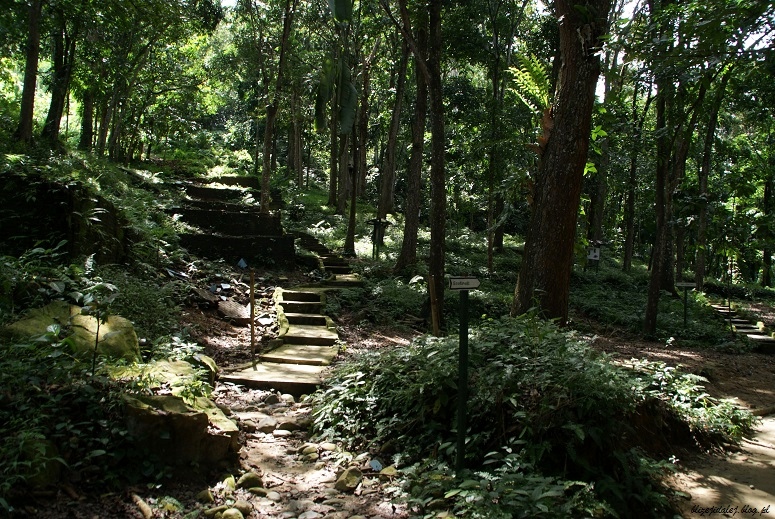 Już po kilku krokach, czuje się oplatającą duchotę i wilgoć, co przy panującym gorącu, nie ułatwia marszu. Kilka kroków dalej jestem mokra i pot cieknie strużkami. I to wcale nie od tempa, które jest marszowe i całkiem przyjemne. Czujemy się jak w saunie, pot zalewa oczy, jeansy (już) przyklejone do ciała utrudniają kroki, a trampki ślizgają się na rozmokniętej, glinianej dróżce. Oj łatwo nie będzie…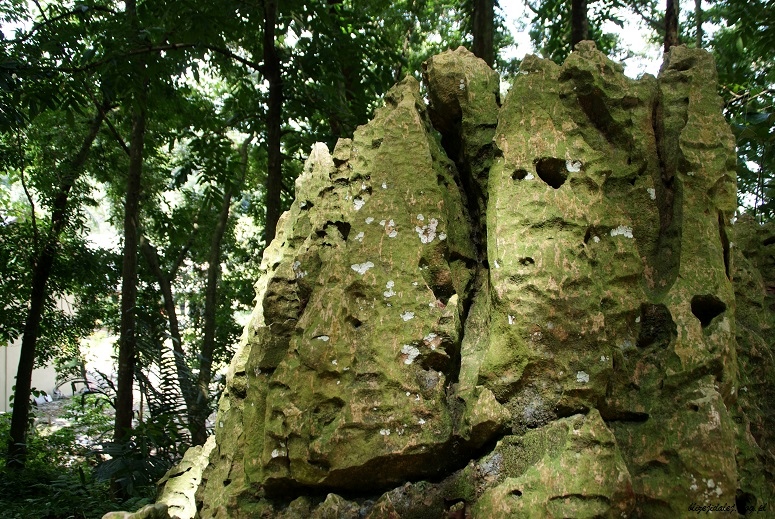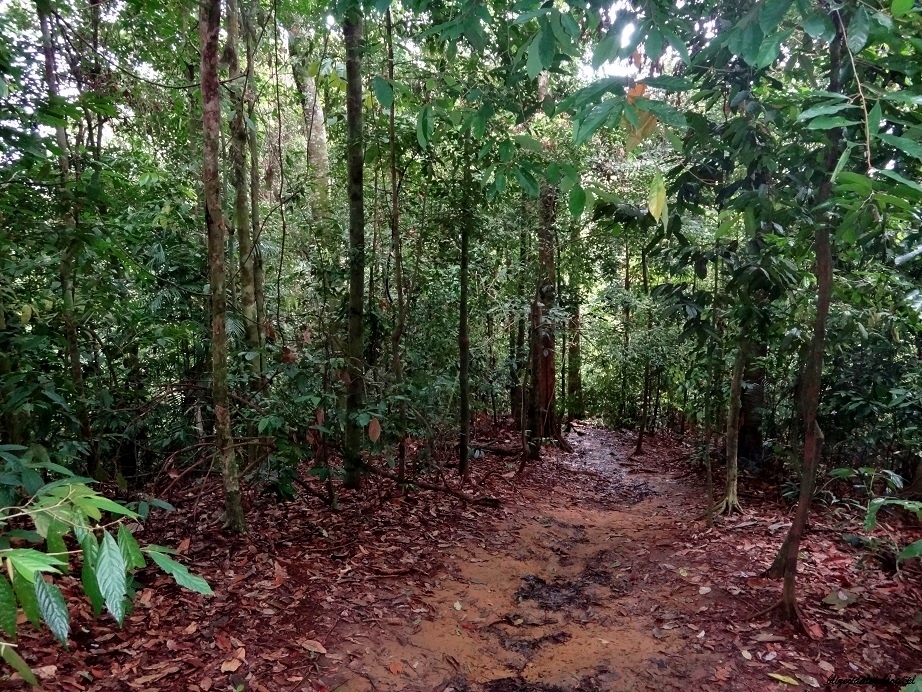 Alex mówi nam o najważniejszych zasadach obowiązujących w dżungli: uważamy na to, czego się łapiemy i na czym siadamy oraz kontrolujemy, gdzie stawiamy stopy. Hmm, jak coś będzie chciało mnie zjeść, to moje materiałowe trampeczki nie uchronią mnie przed tym niecnym planem… Zapuszczamy się coraz głębiej, pojawiają się pierwsze małpy, całym stadem nas otaczając – nie są groźne ani zaczepne, ale zainteresowane pojawieniem się nowych w ich małpim świecie. Śliczne stworzenia, zupełnie się nas nie boją i z cierpliwością pozują do zdjęć. Kilka kroków dalej, kolejne z innego gatunku.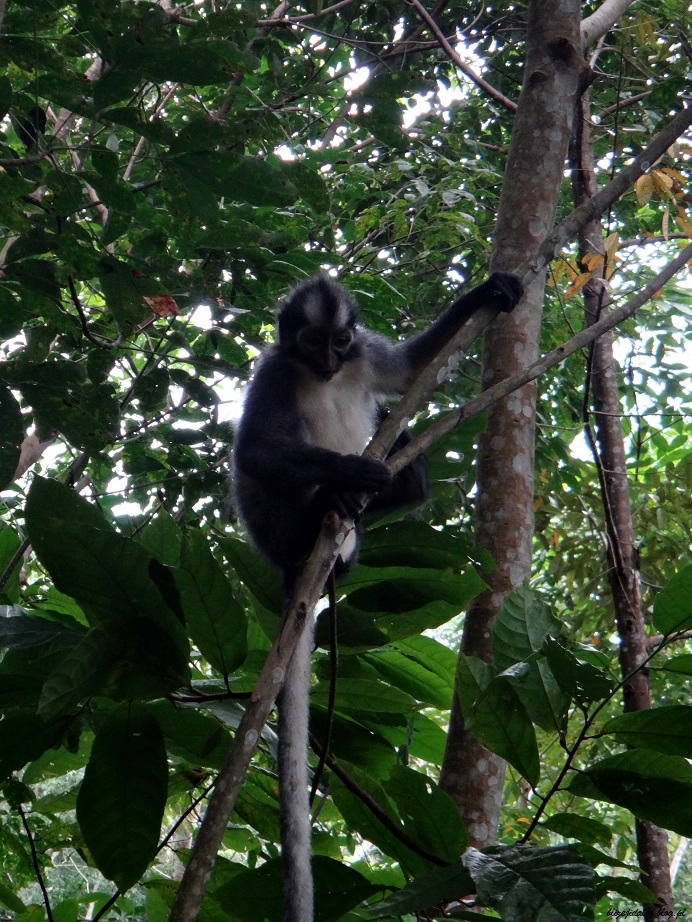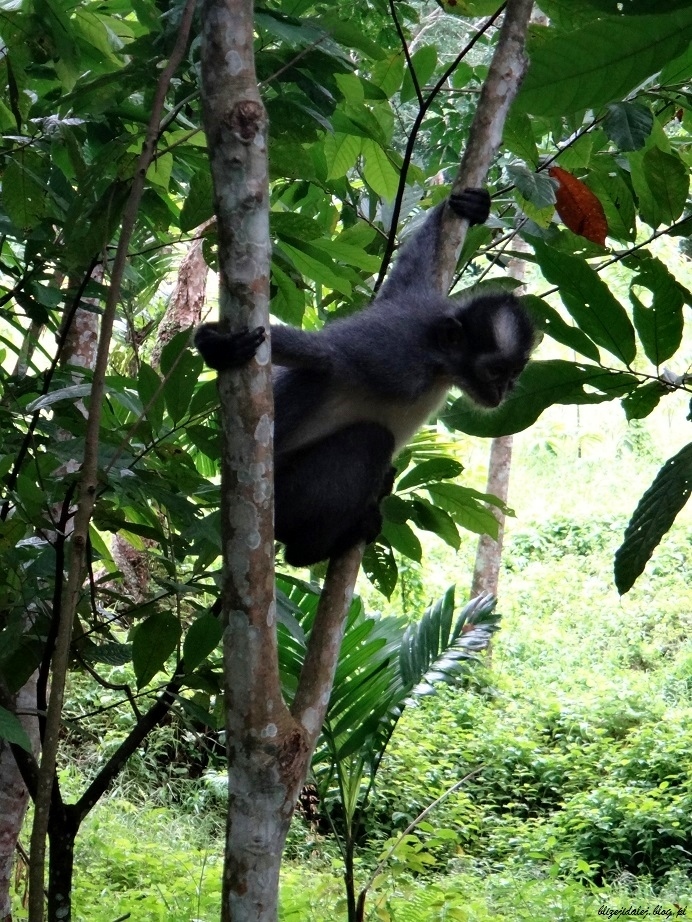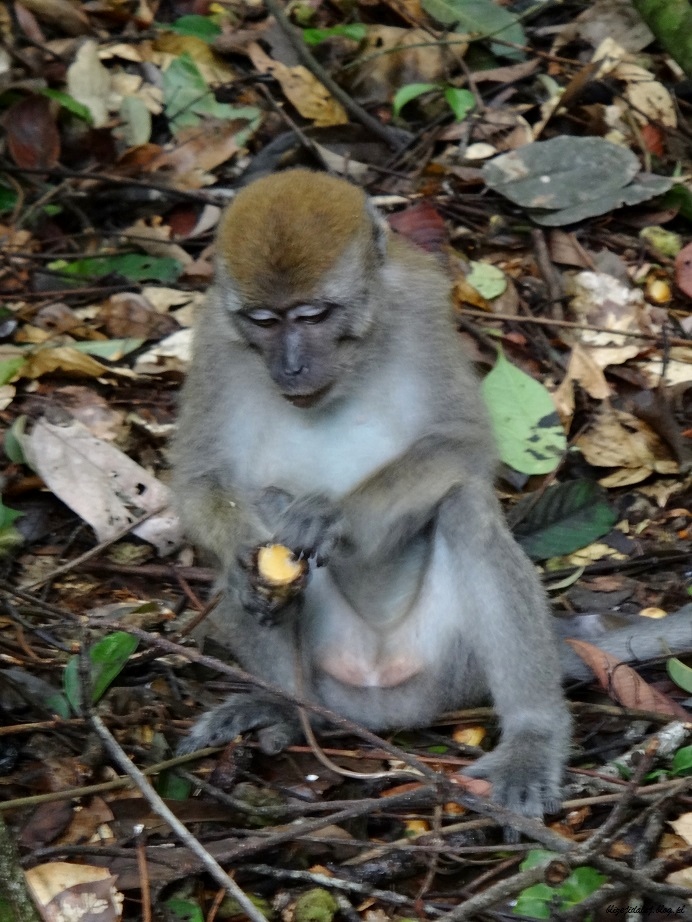 Następnie naszym oczom ukazuje się majestatycznie rozciągnięty na lianach orangutan. W niemym zachwycie przyglądamy się sile jaką emanuje ten olbrzym. Jest to pierwszy orangutan na szlaku, w związku z tym spotkaliśmy kilka innych wycieczek, które teraz stanowią jedną – widać, że nie do końca się to podoba olbrzymowi. Przewodnicy co chwilę uciszają i proszą o wyłączenie lamp błyskowych. Na nic się to jednak nie zdało, chwilę później orangutan z zainteresowaniem łapie się liany i puszcza lecąc w naszym kierunku. Słyszę jeszcze okrzyk Alexa "run run run"! Całkowicie niepotrzebny, wszyscy już dawno w biegu. Oczywiście nic się nie stało, ale towarzystwo bardzo skutecznie zostało rozproszone we wszystkich kierunkach.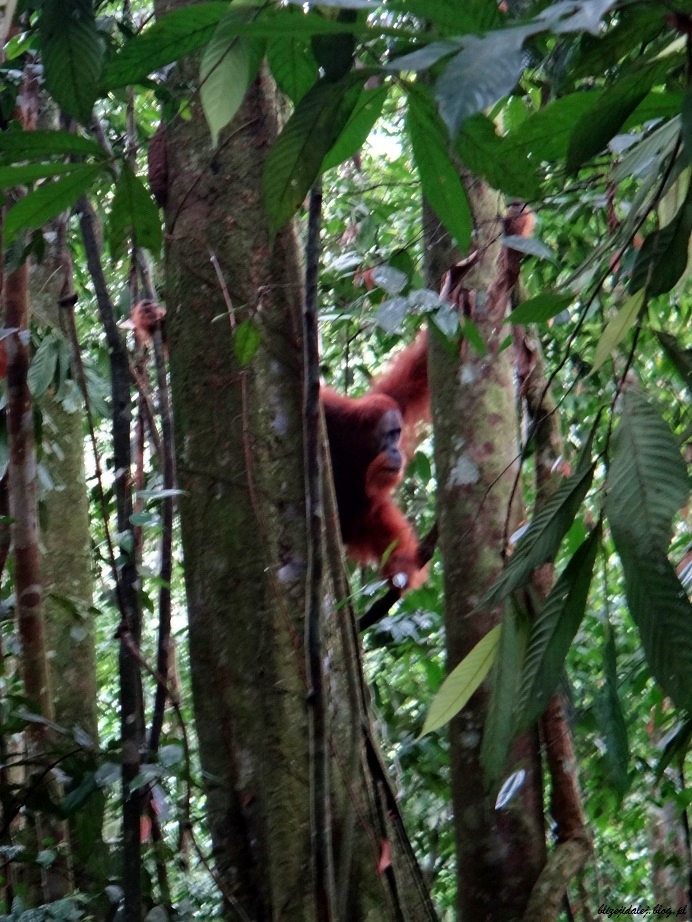 Idziemy dalej i jeszcze wielokrotnie spotykamy orangutany: a to mama z maleństwem dokarmiana mandarynkami, inny młody wysoko na drzewach próbujący dostać się do rodziców, kolejny wielkolud tym razem dokarmiany przez przewodnika bananami, aby pokazał się w pełnej krasie… Czy mi się wydawało, czy orangutanów karmić nie wolno?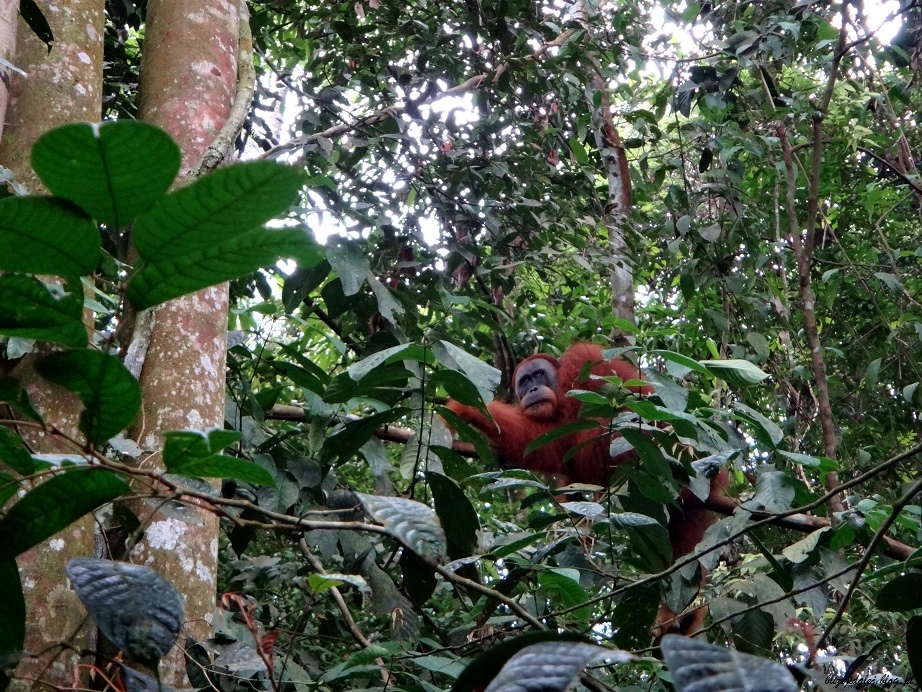 Po drodze trafiamy jeszcze na leniwca – urocze stworzenie wisi niczym niewzruszone na gałęzi. I kolejne orangutany tym razem bardziej wrogo nastawione, wychylają się na alejkę z zębami na wierzchu, zagradzając przejście. Innej drogi nie ma, więc przewodnicy znowu kombinują, jak tu się przedostać bez uszczerbku w ludziach…
Na obiad dostajemy nasi goreng (tradycyjna potrawa Indonezji – ryż z warzywami) podany w liściach bananowca. Spożywamy ją pod wielkim drzewem, jedząc palcami – pyszne. Ale to nie wszystko, jest jeszcze deser, czyli fantazyjnie pokrojone owoce. Wzmocnieni posiłkiem wyruszamy dalej. Miało nie być orangutanów a tu jest ich całe mnóstwo, specjalnie dla nas.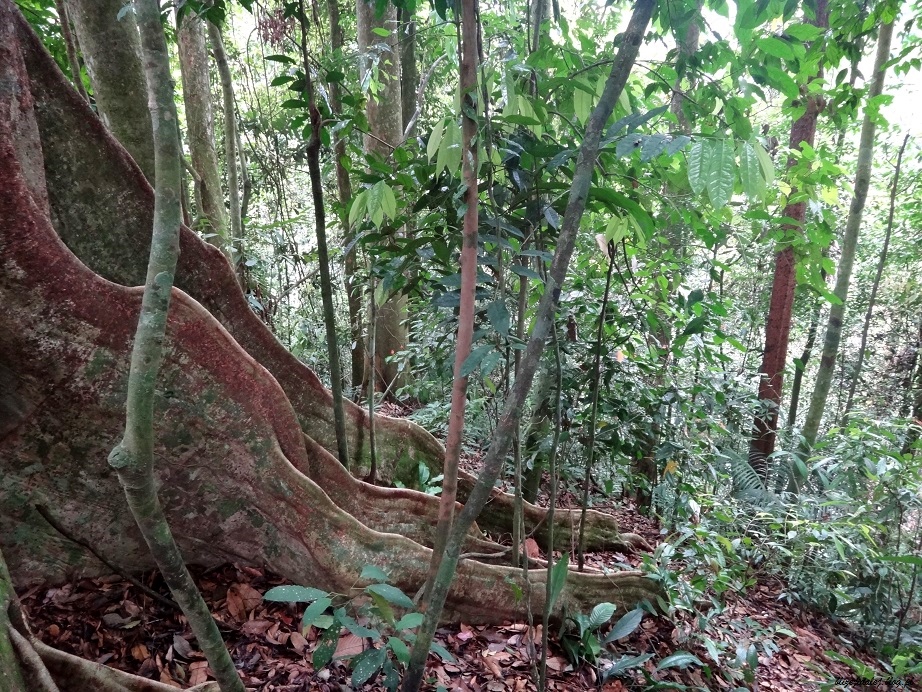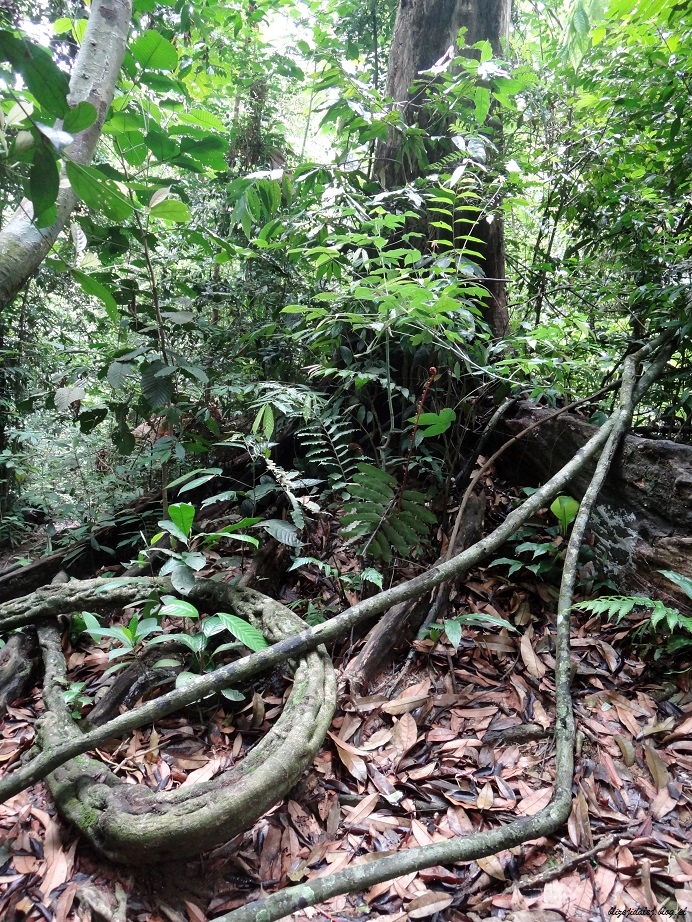 Docieramy do punktu widokowego, przed nami rozpościera się fantastyczna panorama dżungli. Jest to ostatni punkt przed zejściem do rzeki i raftingiem. Moment na złapanie oddechu, łyk wody czy też zapalenie papierosa. Niestety, nie zdążyliśmy nawet złapać głębszego wdechu i nacieszyć się widokiem, gdy usłyszeliśmy krzyk "fuc… run, run, run". Nie bardzo wiemy o co chodzi, ale nie zamierzamy czekać na wyjaśnienia, tylko całą czwórką rzucamy się w pokazanym kierunku. Nie ma z nami przewodników, nie wiemy co się dzieje, jednak szybko przemieszczamy się szlakiem w dół. Piotr mówi, że chyba widział orangutana idącego drogą… od razu przypominamy sobie rozmowę z Alexem, że orangutan, który zszedł na ziemię, nie jest przyjaźnie nastawiony i zazwyczaj nie wynika z tego nic dobrego – co niejako potwierdzili nasi opiekunowie, każąc nam się błyskawicznie ewakuować. Po kilku bardzo napiętych chwilach, przybiega Alex i mówi "we've got a problem", a to jest ostatnie co chce się usłyszeć w środku dżungli. Podobno od miejsca posiłku śledziła nas Mina – wszystkim w okolicy znany orangutan. Piotr cicho przebąkuje, że coś tam było w przewodniku o jakiejś wrednej małpie wychowanej wśród ludzi… Idziemy szybkim tempem, po chwili dowiadujemy się, że musimy biec, bo nie udało się jej zatrzymać i biegnie za nami – no bez żartów! Po pięciu godzinach spędzonych w dżungli, zmęczeni i spoceni, ostanie na co mamy ochotę to bieg… jednak nie zamierzamy na ten temat dyskutować. Uciekamy, przed nami urwisko, prawie pionowo w dół, my w tych przeklętych trampkach, ślizgamy się przy każdym kroku, łapiemy co popadło, żeby tylko nie spaść w dół. Nagle niecenzuralny okrzyk Piotra – złapał się gałęzi, która okazała się być kolczasta – no tak, jeszcze krwi nam brakowało. Ręka cała, biegniemy dalej, co rusz szorując tyłkiem po ziemi, zgrzani i przerażeni uciekamy w piątkę przed jakąś nawiedzoną małpą. Dodam, że drugi opiekun miał wspaniałe zadanie spowolnienia Miny, czyli podkarmiał ją wszystkim co mu zostało z obiadu. Kurcze, to już dawno przestało być zabawne, ledwo zipiemy i z przerażeniem w oczach przemieszczamy się naprzód, popędzani co chwilę przez Alexa hasłami "faster, faster". Na czele naszego biegu jest Farran, który w traperach przeciera szlak i uprzedza o czyhających zagrożeniach: a to wielkie mrówki, coś co przypomina dżdżownicę, pająk… Dotarliśmy do strumyka, Alex mówi że powinniśmy być już bezpieczni – ale nie, nie, to absolutnie nie znaczy, że możemy odpocząć… aż tak bezpiecznie to tu jeszcze nie jest. Przed nami wysoki na około cztery metry wodospad, po którym schodziliśmy na tyłkach w dół. Wszyscy są, lecimy dalej.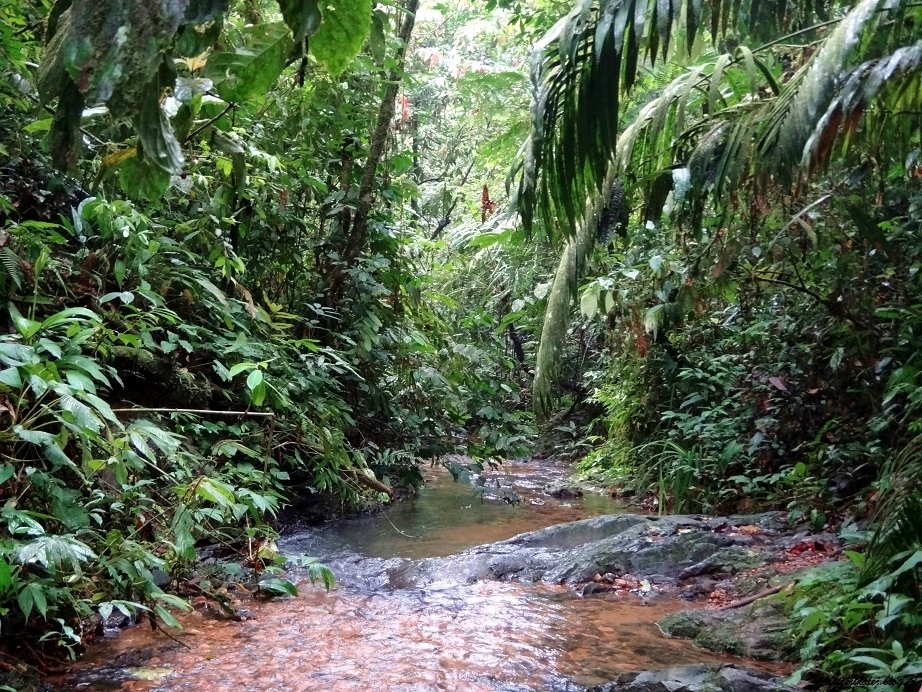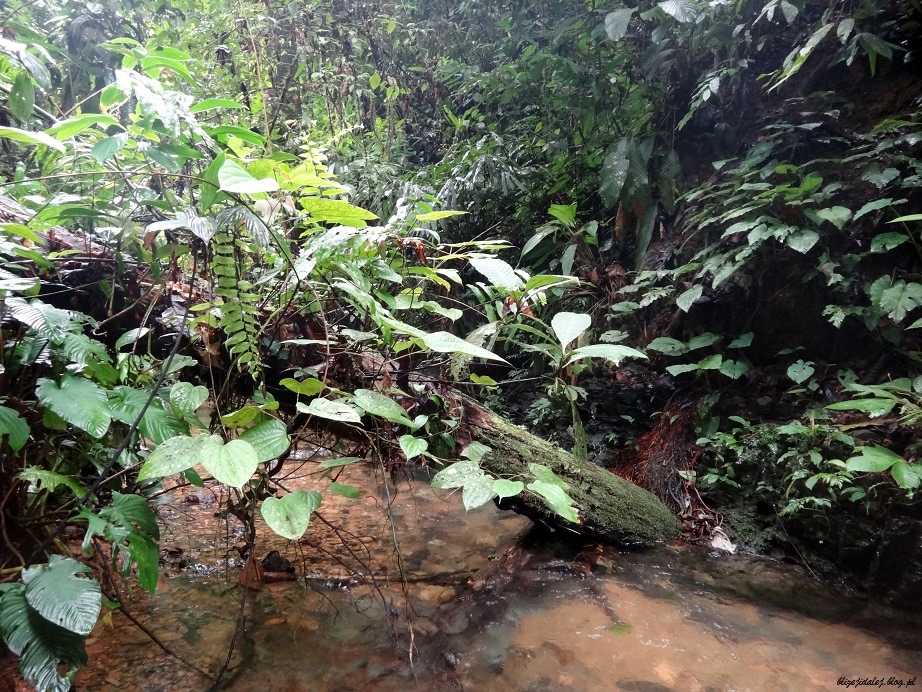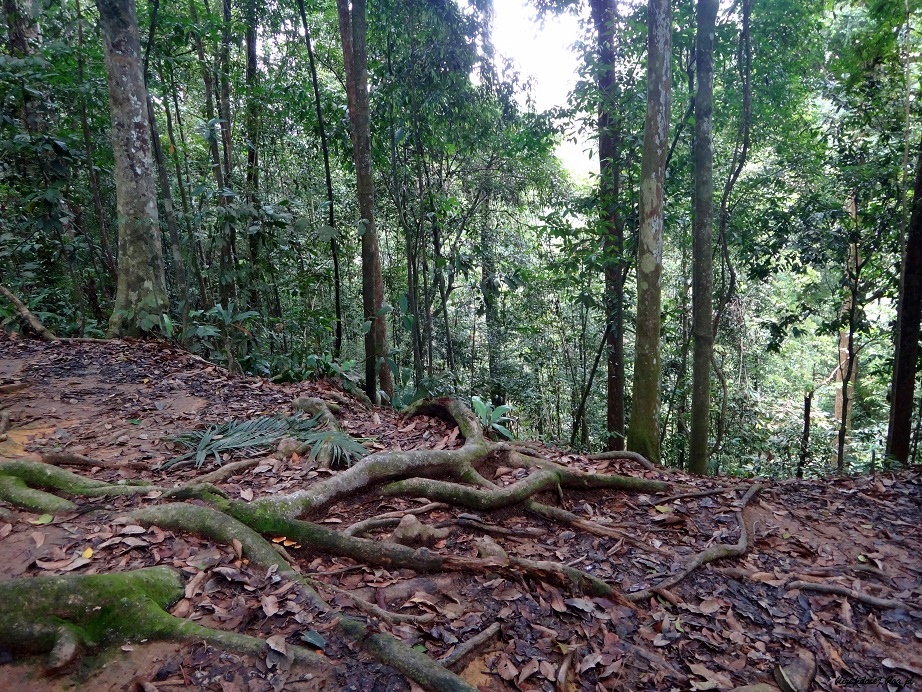 Biegiem dotarliśmy do obozowiska czyli noclegu dla tych, co zdecydowali się na kilkudniowy trekking. Z wypiekami na twarzy opowiadaliśmy na gorąco co się wydarzyło i dlaczego jesteśmy tak roztrzęsieni… Podsumowując, trasę z punktu widokowego, która powinna nam zabrać około 1.5h, pokonaliśmy w brawurowe 20-25 minut. To, że wszyscy byli cali zawdzięczamy tylko szczęściu i działaniu zespołowemu. Adrenalina jeszcze długo buzowała w naszych żyłach…
A tuz obok, w strumyku pływały sobie spokojnie dwa warany, które w pierwszej chwili na naszej czwórce nie zrobiły specjalnego wrażenia. Po wszystkich doświadczeniach z ostatniej pół godziny, marzeniem było usiąść i napić się wody… dopiero jak ochłonęliśmy z zainteresowaniem zwróciliśmy się w ich stronę.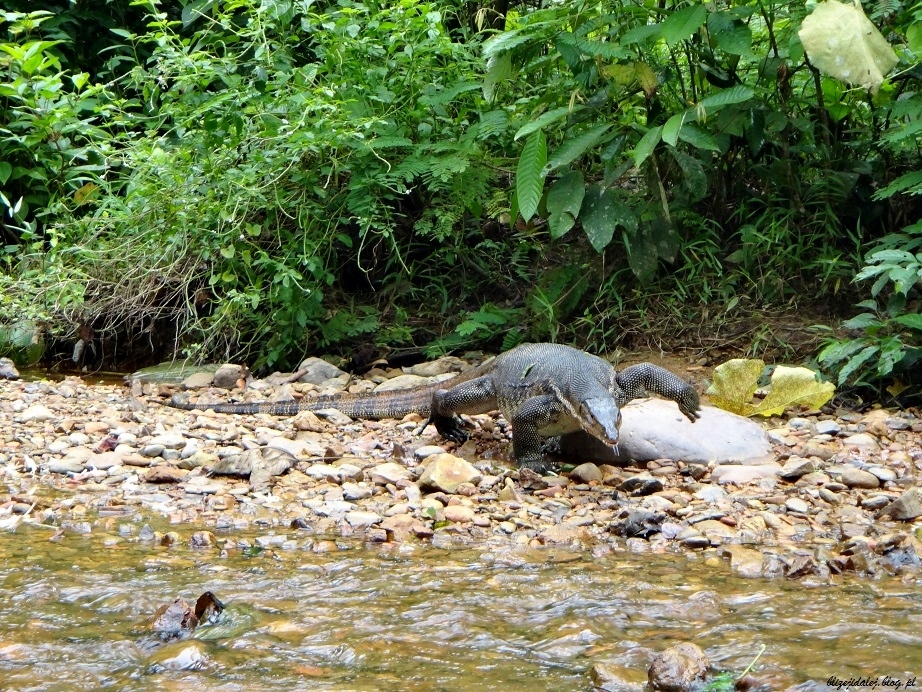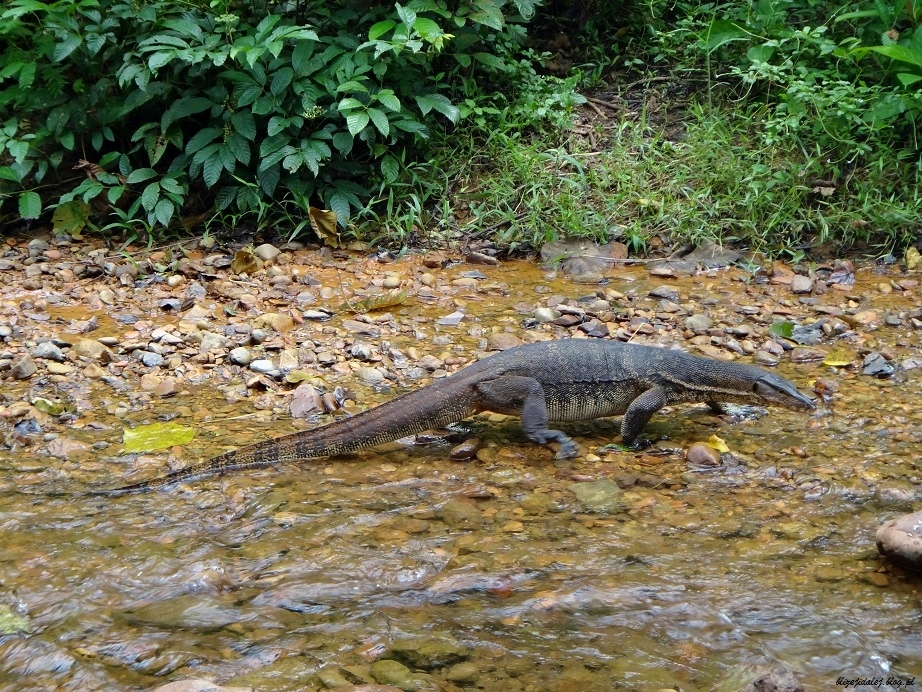 Po wszystkich przygodach w tej podobno bezpiecznej dżungli, zmierzaliśmy do ostatniej atrakcji jaką był rafting. Po dotarciu nad rzekę czekały na nas cztery opony związane kawałkiem sznurka i dwa kijki do odbijania się od skał. Po przygodach w lesie, nic nam nie straszne… rwąca rzeka zapowiada kolejne doznania. Rafting okazał się świetną zabawą, śpiewaliśmy z opiekunami i śmialiśmy się wspominając akcję pt. Mina.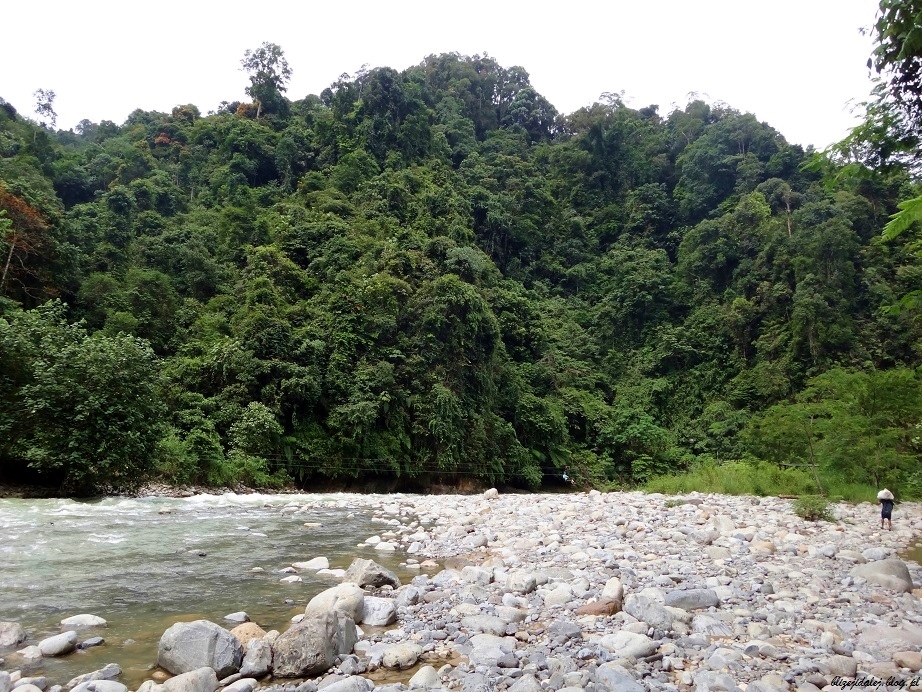 Już po dotarciu do hotelu okazało się, że Mina nie pierwszy raz zapewniła turystom dodatkowe atrakcje i jest doskonale znana wszystkim przewodnikom – pogryzionych przez nią zostało do tej pory ponad 30…
---
You might also like