Nie ma jak planowanie, wszystko właśnie wzięło w łeb! Nie wiem dokładnie co, ale zdecydowanie coś mi zaszkodziło. Ledwo żyję, jestem odwodniona i cały czas męczą mnie problemy żołądkowe. Jest fatalnie, nie pamiętam kiedy czułam się tak słabo… idziemy na śniadanie, może wymyślą coś, co mnie postawi na nogi. Dostałam ryż z mlekiem i bananami – no jak będą mnie leczyć mlekiem, którego mój organizm od lat nie przyswaja, to nic z tego nie będzie. A więc jestem uziemiona – jednym słowem dramat! Żadne polskie leki nie skutkują, więc dzień później jedziemy do szpitala, z którego wyszliśmy z reklamówką leków – bez nazw, dat ważności, opakowań, ulotki, nic, kompletnie nic. Odręczna rozpiska wykonana przez lekarza co i jak mam brać – niebieskie dwa razy dziennie, małe żółte raz, a to sypkie… szkoda się rozpisywać, pozostaje strach, ale nie ma wyjścia, trzeba łykać te azjatyckie świństwa niewiadomego pochodzenia…
Można powiedzieć, że proszki działają, więc z dwudniowym opóźnieniem bierzemy motor i w drogę! Docieramy do muzeum Huta Bolon w miejscowości Simanindo, w którym zachowały się oryginalne Batakowe domki czyli tradycyjne domy lokalnej społeczności. Mają one strzeliste dachy na kształt rogatej bawolej głowy, dodatkowo są rzeźbione i fantazyjnie zdobione – ciekawe i niepowtarzalne. Można tu także zobaczyć Batak Dance (regionalny taniec), niestety spóźniliśmy się, więc pokazu nie będzie. Za to trafiliśmy na wycieczkę dzieci z podstawówki, więc było troszkę zabawy i śmiechu ;)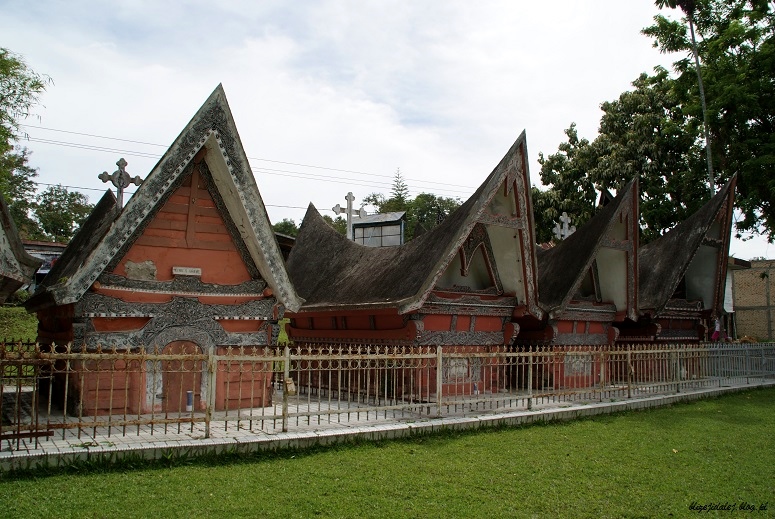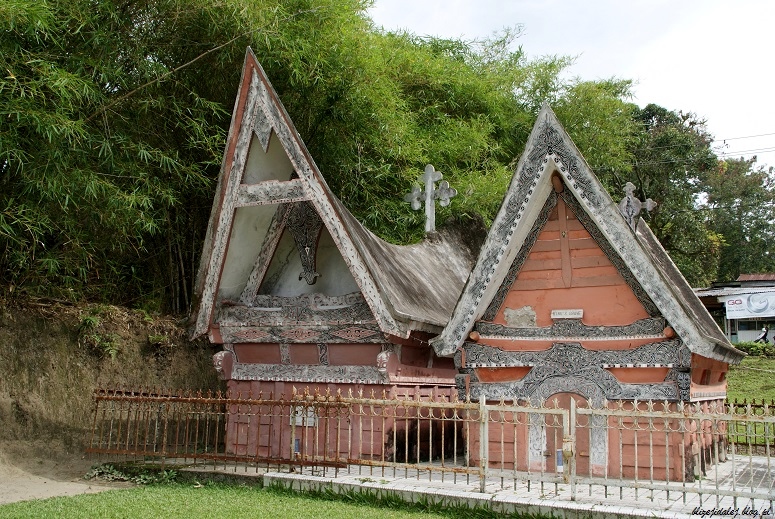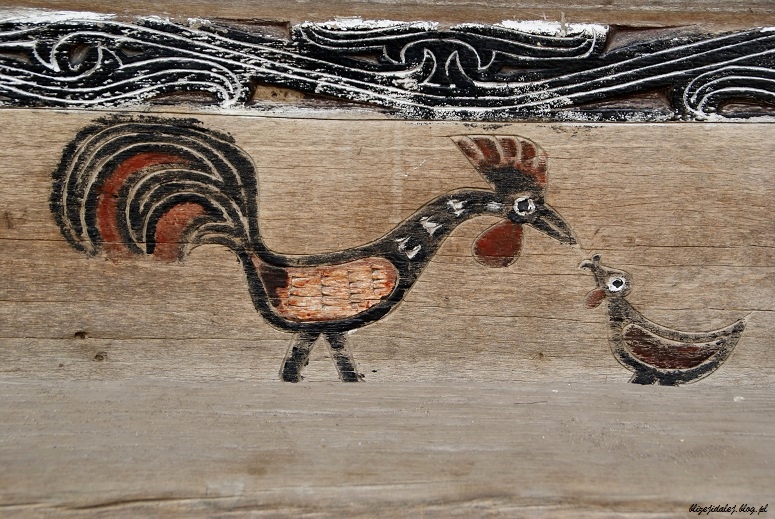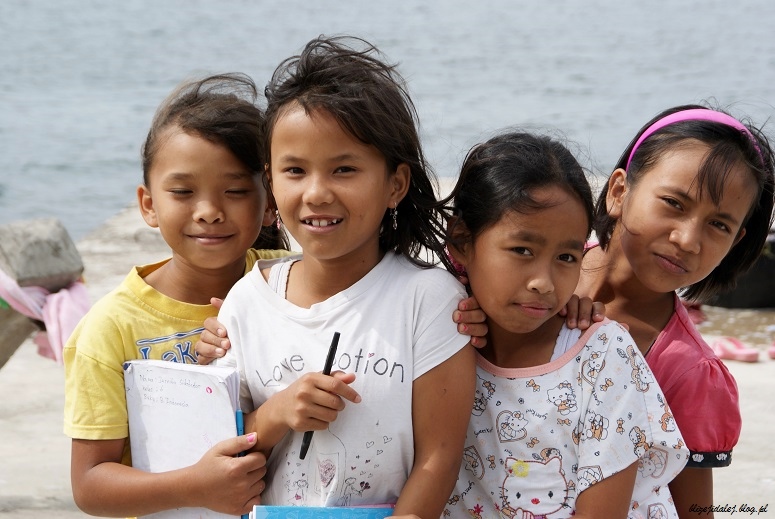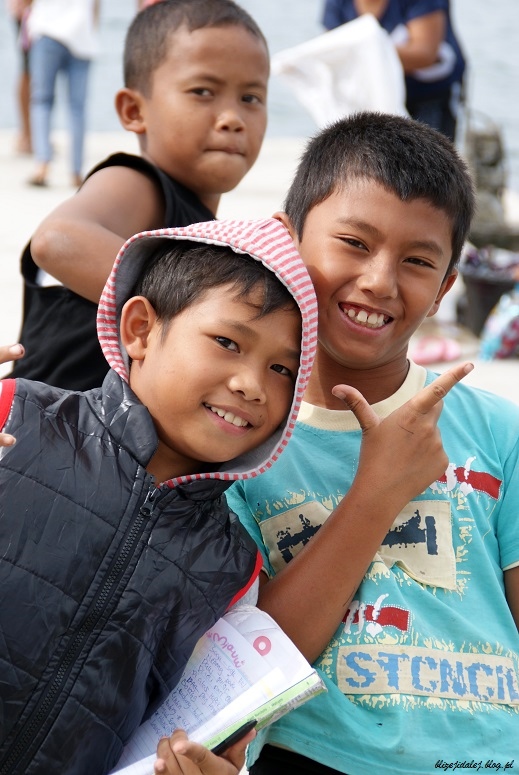 Po drodze mijamy miasteczka i wsie, osady rybackie i pola ryżowe. Sielsko i swojsko wkoło. Co jakiś czas mijamy małe grobowce, wyglądają jak domki w miniaturze. Są rozrzucone po polach, stoją dumnie przy drodze, nad rzeką – jakby bez większego planu.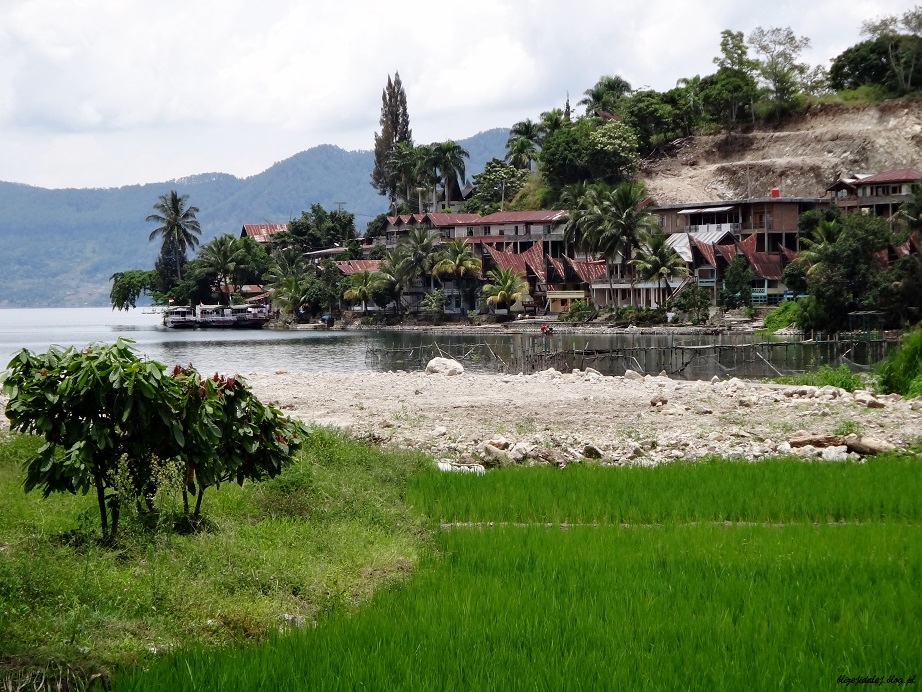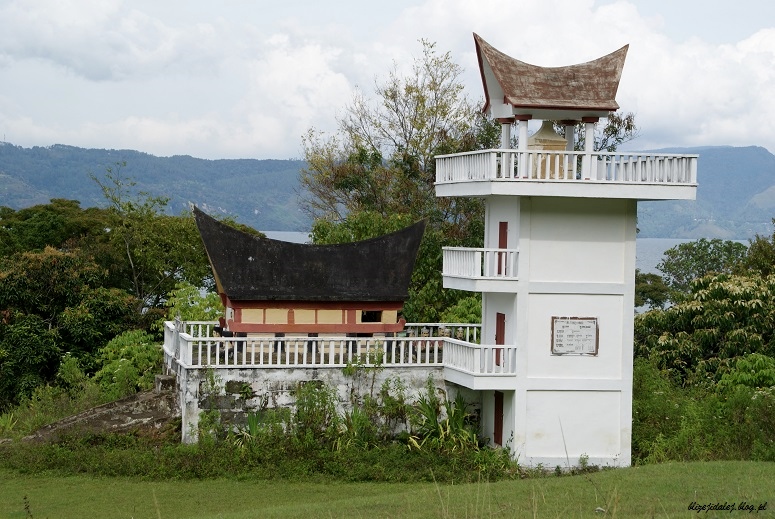 W miejscowości Ambarita trafiamy do Stone Chairs, w przeszłości miejsca narad i debat wioskowej starszyzny oraz miejsca egzekucji. Tu także znajdują się Batakowe domki, a jeden z nich można zwiedzić.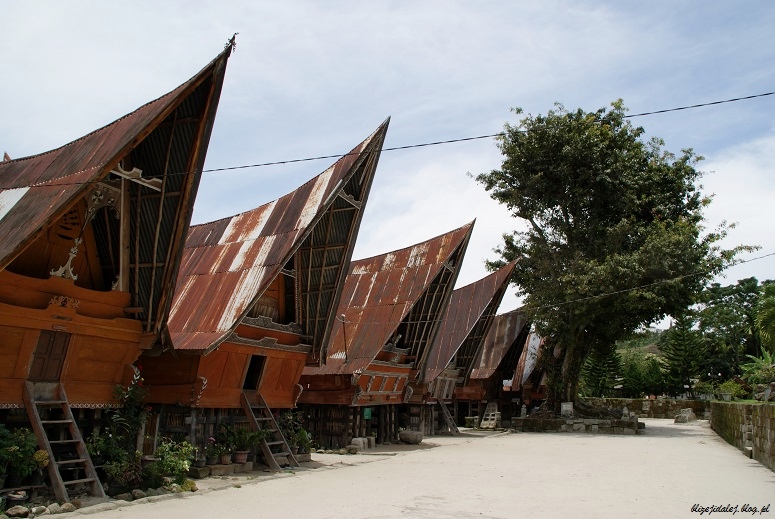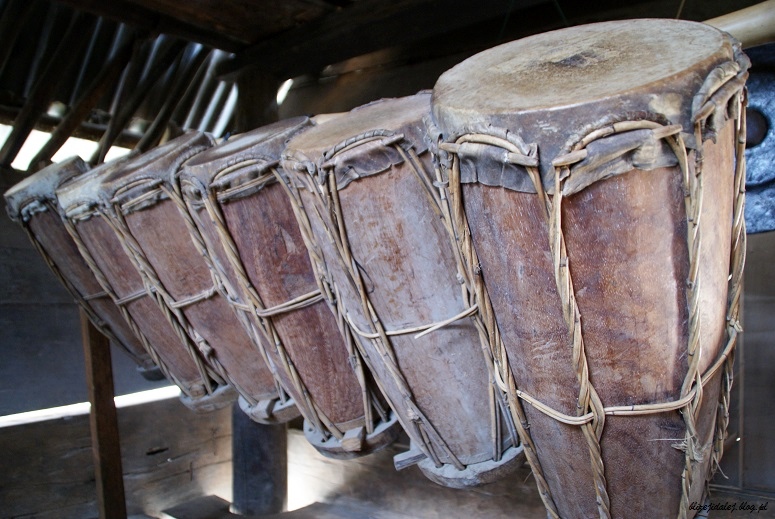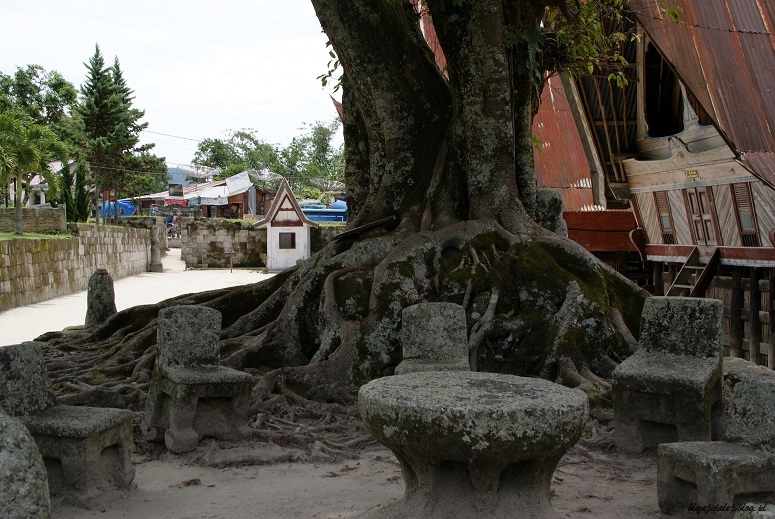 Wracając już do naszego hotelu postanawiamy zajechać i zobaczyć Grób Króla – jak się okazuje, aby do niego dotrzeć konieczne jest przejście przez wielkie targowisko, gdzie z każdej strony jesteśmy namawiani do zakupu miejscowych wyrobów, koszulek, butów i innych świecidełek. Jednak ani śladu ręcznie wyrabianych masek, za którymi rozglądamy się od przyjazdu na Sumatrę.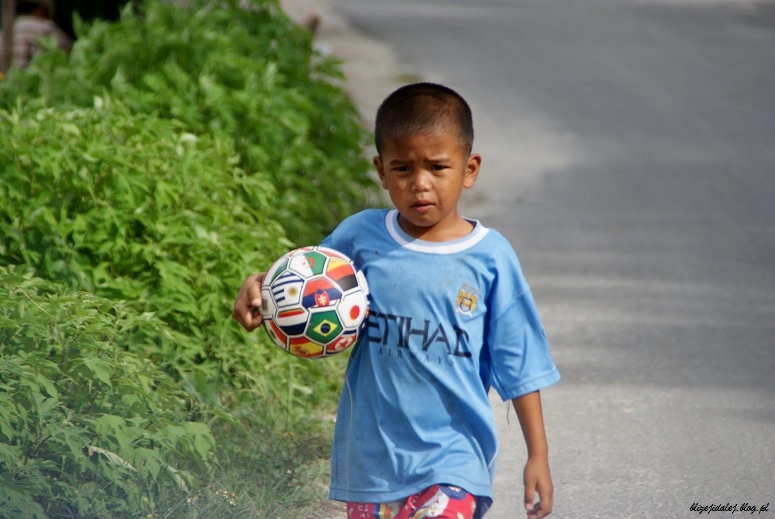 Po szybkim posiłku w przydrożnym, lokalnym barze jedziemy pokręcić się po bliskiej okolicy. I tu ponownie, pola ryżowe, osady rybackie i to na co czekaliśmy – maski!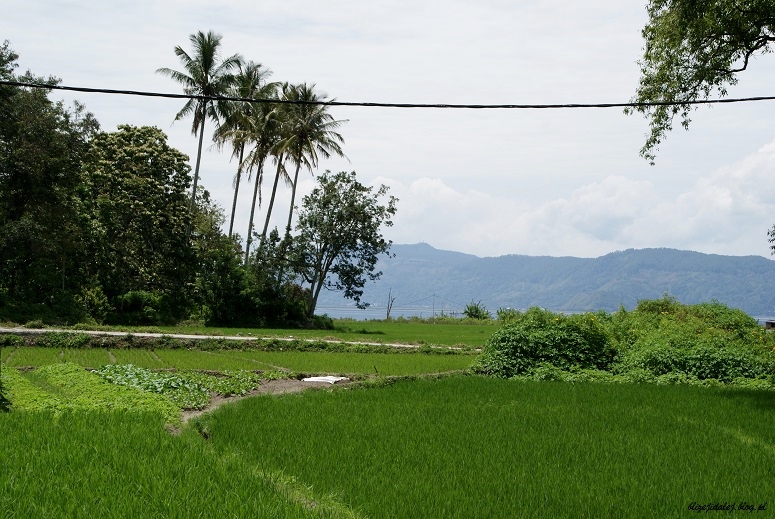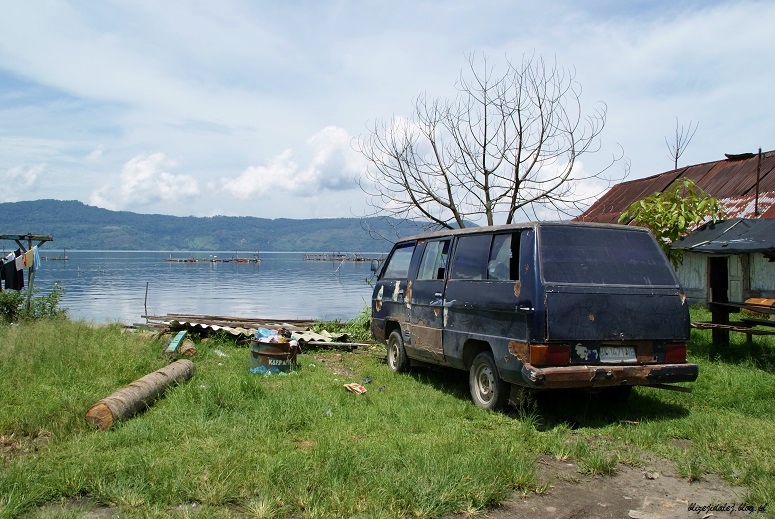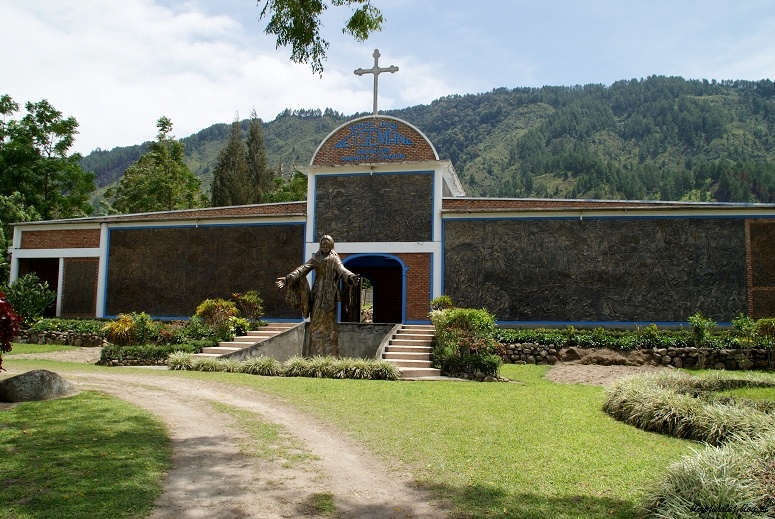 Odwiedzamy, jeden, drugi i trzeci sklepik i jesteśmy troszkę rozczarowani, wszyscy mają w sprzedaży najprostsze małe maseczki, a nie maski. Zatrzymujemy się przy każdym kolejnym i wytrwale poszukujemy czegoś ładniejszego i mniej "pospolitego". Zaglądamy do kolejnego sklepu i widzimy jak powstają maski, ręczne żłobienia, wzorki… tak jak kiedyś to się robiło, a nie taśmowo. Maski są piękne, każda w innym stylu i wzorze, aż trudno się zdecydować konkretnie na jedną. Wypatrzyłam, tak, to jest to czego szukaliśmy… cała rzeźbiona, stojąca na oko 40cm – jakoś damy radę ją upchnąć w plecaku, już wiem, że nie zamierzam wracać do hotelu bez niej. Cena kosmiczna, co najmniej europejska i rzeźbiarz nie zamierza z nami negocjować… stwierdza, że nikt tu takich nie robi i jak chcemy to możemy sprawdzić. Hmm, to już wiemy, w końcu zjechaliśmy prawie całą wyspę. Nie, za drogo… postanawiamy grać jak zwykle, czyli wychodzimy i czekamy na wołanie – nic takiego nie ma miejsca… wsiadamy na motor i odjeżdżamy. Nie mogę sobie darować, że jej nie kupiliśmy. Nie zamierzam wyjeżdżać bez niej… wracamy! Przepłaciliśmy za nią (jak na warunki Sumatry) okrutnie, ale jest piękna i nasza!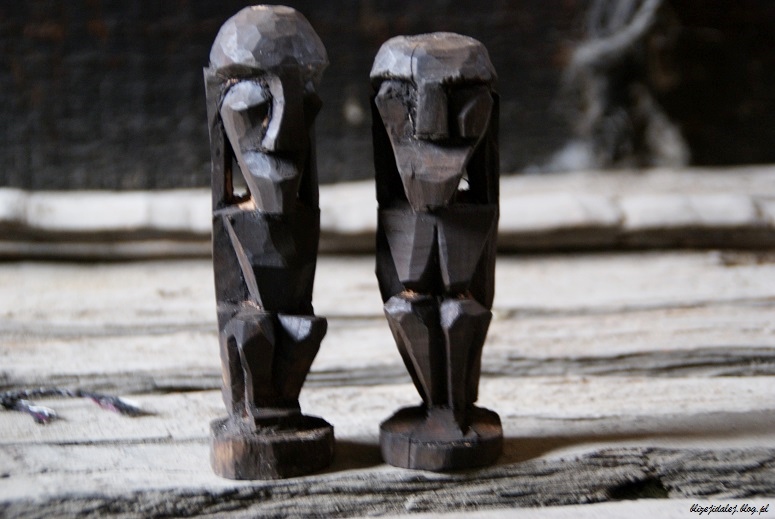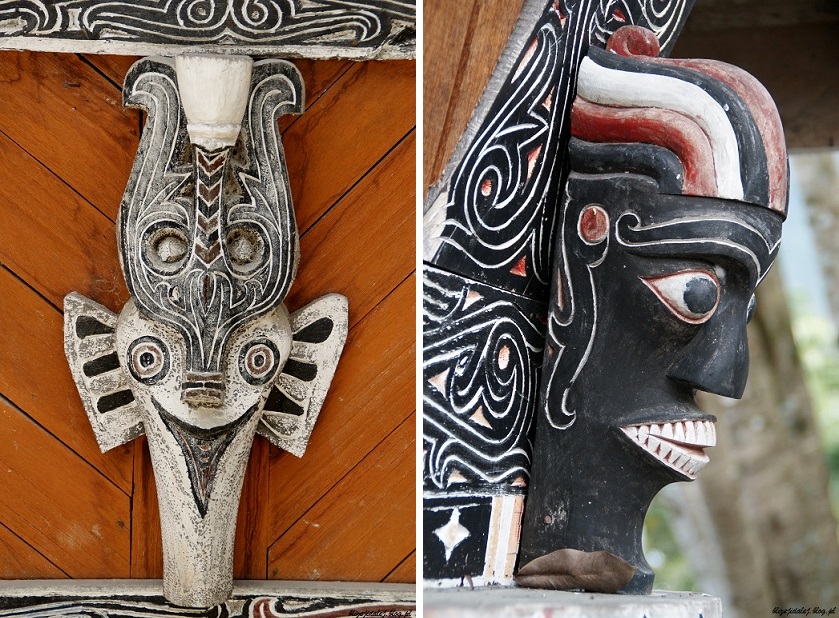 A w drodze powrotnej zauważyliśmy wielkiego "bożka", który idealnie wpisywał się w panoramę tego miejsca.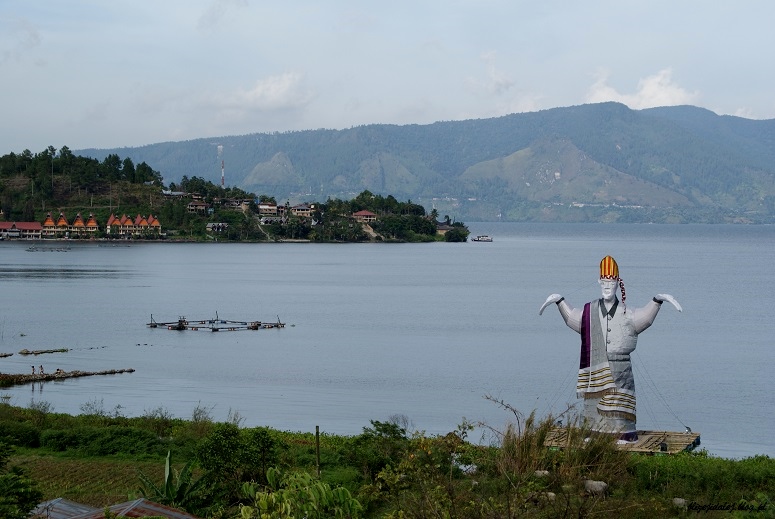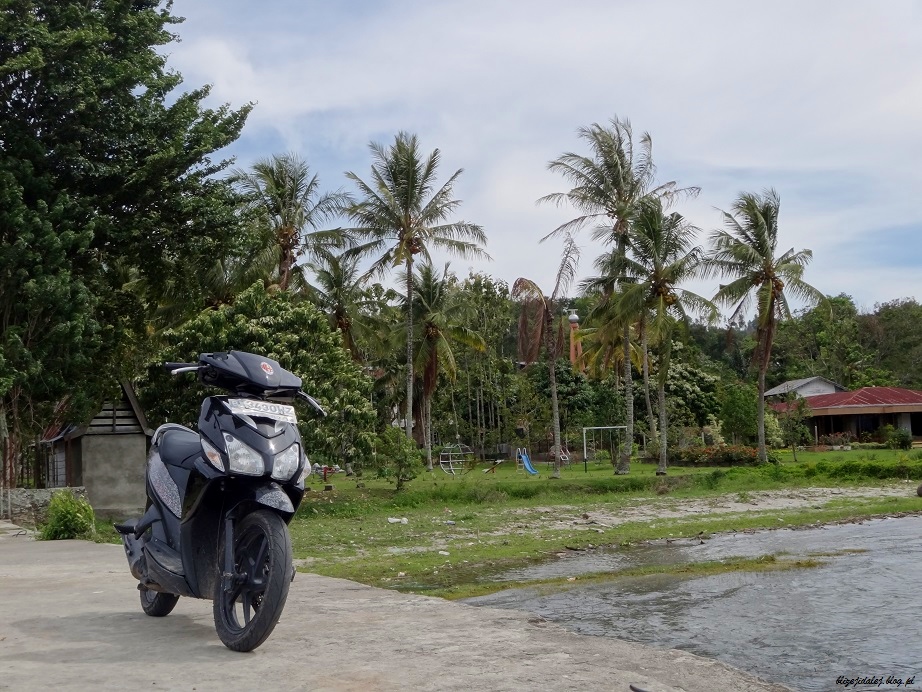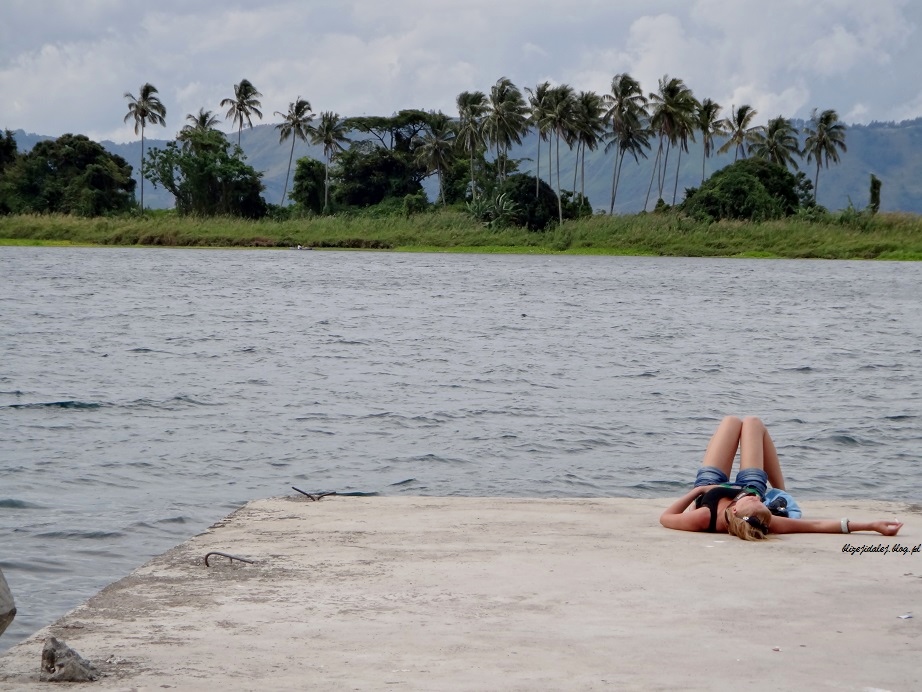 Zwiedzenie całej wyspy na motorze, dało także wyjaśnienie dla mojego paskudnego samopoczucia. Woda – woda służąca do wszystkiego rozpoczynając od kąpieli, przez mycie naczyń, płukanie (bo przecież nie mycie) szklanek, pranie itd. jest bezpośrednio z jeziora. Z tego samego jeziora do którego spływają wszystkie ścieki z wyspy. Tak, teraz już jest dla mnie jasne skąd te problemy żołądkowe… Spotkani turyści z Holandii także przedłużyli pobyt na wyspie z tego samego powodu. A więc, jeśli zamierzasz wybrać się w ten rejon, uważaj absolutnie na wszystko…
Jeszcze tylko zakup biletów do Bukittingi na następny dzień i możemy się zrelaksować. O jaaa! Kolejna transportowa przygoda przed nami, przejazd ma zająć orientacyjnie 18-20h – oczywiście, jeśli nie pojawią się jakieś niezapowiedziane przeszkody… Jeszcze trochę słabo się czuję, jednak mam nadzieję, że jakoś przetrwam – innej drogi nie ma, więc nie mam wyboru.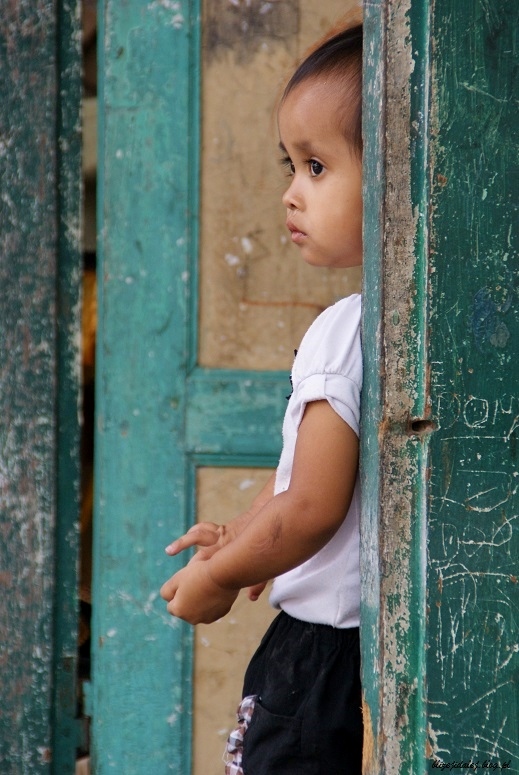 ---
You might also like