Poszukując kierunku podróży na krótki, tygodniowy urlop nastawialiśmy się na wycieczkę z biurem podróży na all inclusive – ostatni raz na takiej wycieczce byliśmy ponad osiem lat temu, więc doświadczenia specjalnego nie mamy a oczekiwania oczywiście ogromne ;) Plan był prosty, odpocząć i naładować baterie na nadchodzące miesiące intensywnej pracy. Szukając kierunku podstawowym kryterium było ciepło, morze na wyciągnięcie ręki i fajna lokalizacja – żeby nie było sytuacji, że wieczorem nie ma możliwości wyjścia na miasto… I tak, trafiliśmy na wycieczkę organizowaną przez Rainbow na wyspę Rodos i pięciogwiazdkowy hotel, który spełniał wszystkie założone oczekiwania – na Rodos jeszcze nie byliśmy, więc wiadomo, trzeba jechać! :)
Hotel Mitsis Grand mieści się na najdalej wysuniętym na północ krańcu wyspy, w samej stolicy czyli mieście Rodos. Hotel jest ogromny, zadbany i serwuje doskonałe jedzenie – rekonesans został przeprowadzony uczciwe i wszystkie głosy mówiły tak, tak, tak! ;) W sprzedaży są tylko pobyty all inclusive, niezależnie czy kupujesz przez biuro podróży czy booking – generalnie to śniadanie, obiad i kolacja. Na ostatni posiłek trzeba pamiętać o troszkę lepszym ubiorze niż plażowe ciuszki bo istnieje ryzyko, że zostaniesz grzecznie poproszony o przebranie ;) Kolacje są tematyczne, wieczór grecki czy z owocami morza był absolutnie doskonały :) Ponadto w trakcie posiłków serwowane są napoje bez/alkoholowe na zamówienie gościa.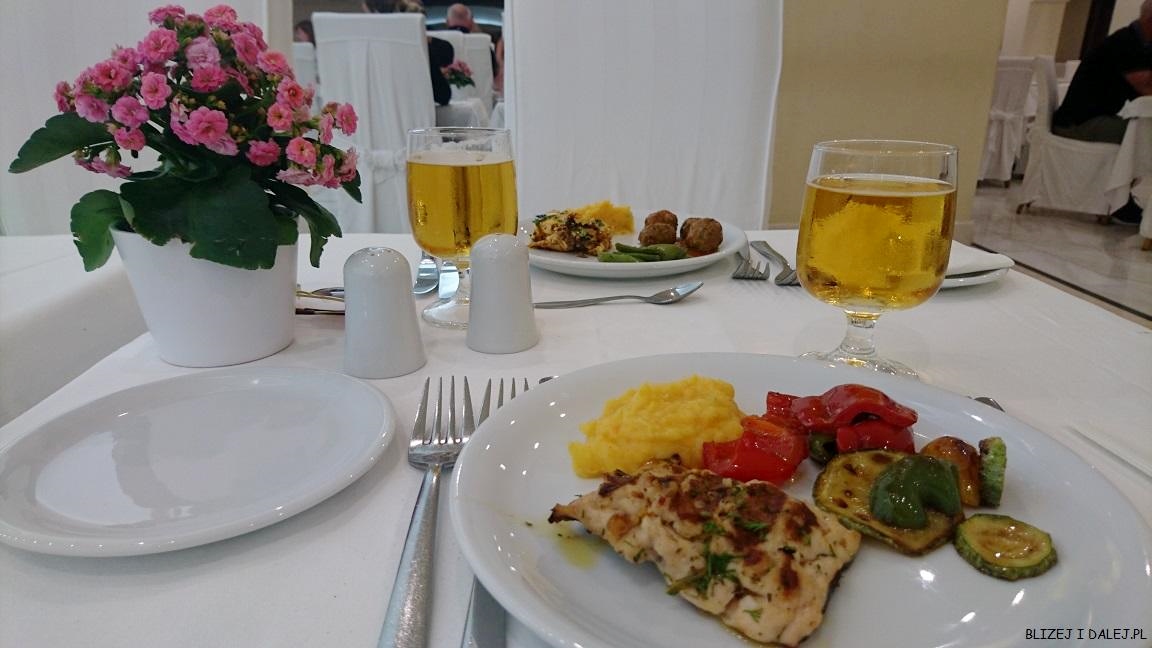 Co więcej, jeśli spóźnisz się na porę posiłku to na dużym, wewnętrznym basenie jest kilka knajpek w których w każdej chwili możesz zamówić danie z karty – polecam m.in. grecką! Już same przystawki zaspokoją głód a to dopiero przedsmak uczty :) Jest także do wyboru restauracja meksykańska, pita-burger, pizza na kawałki czy cukiernia z ciachami i lodami – super!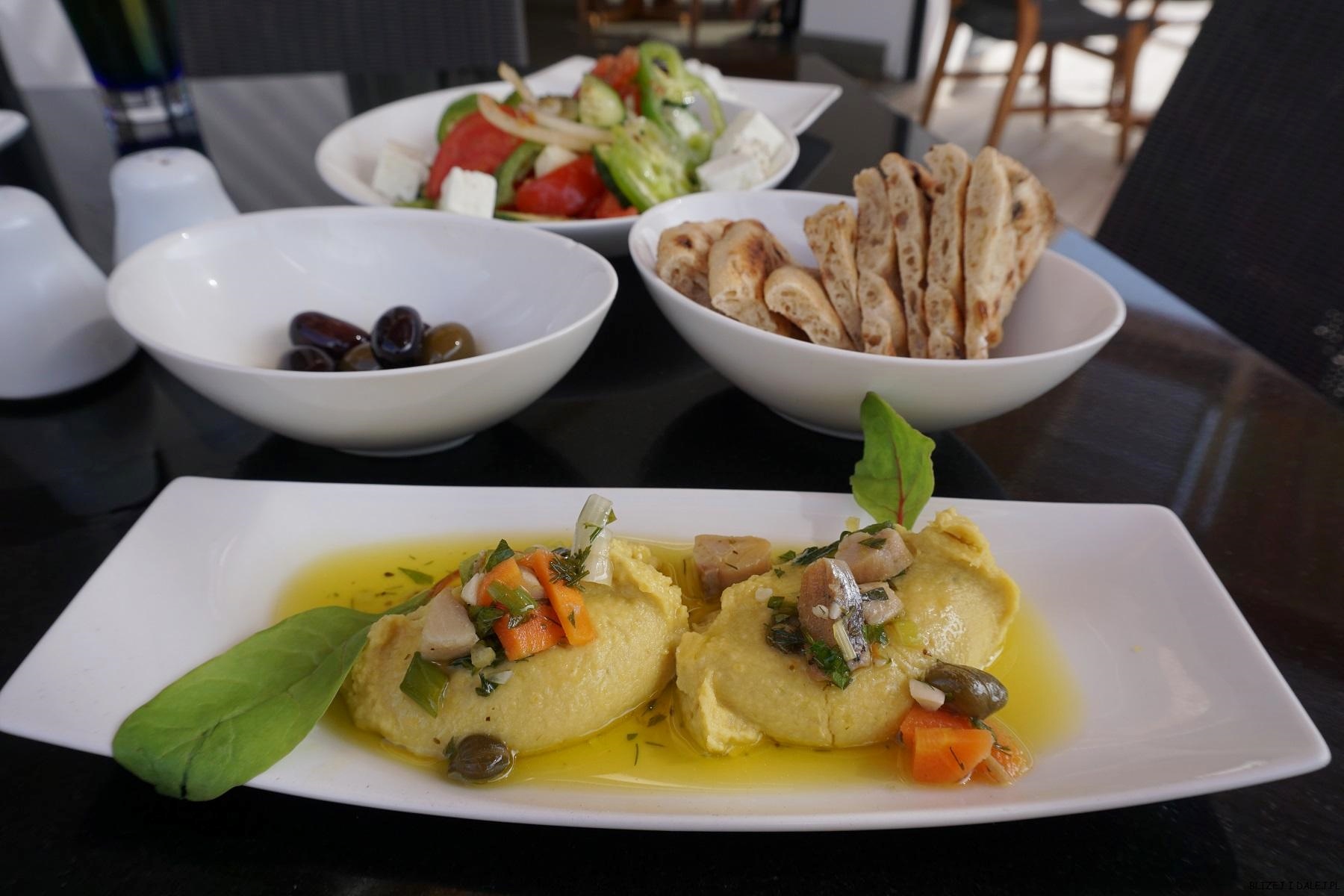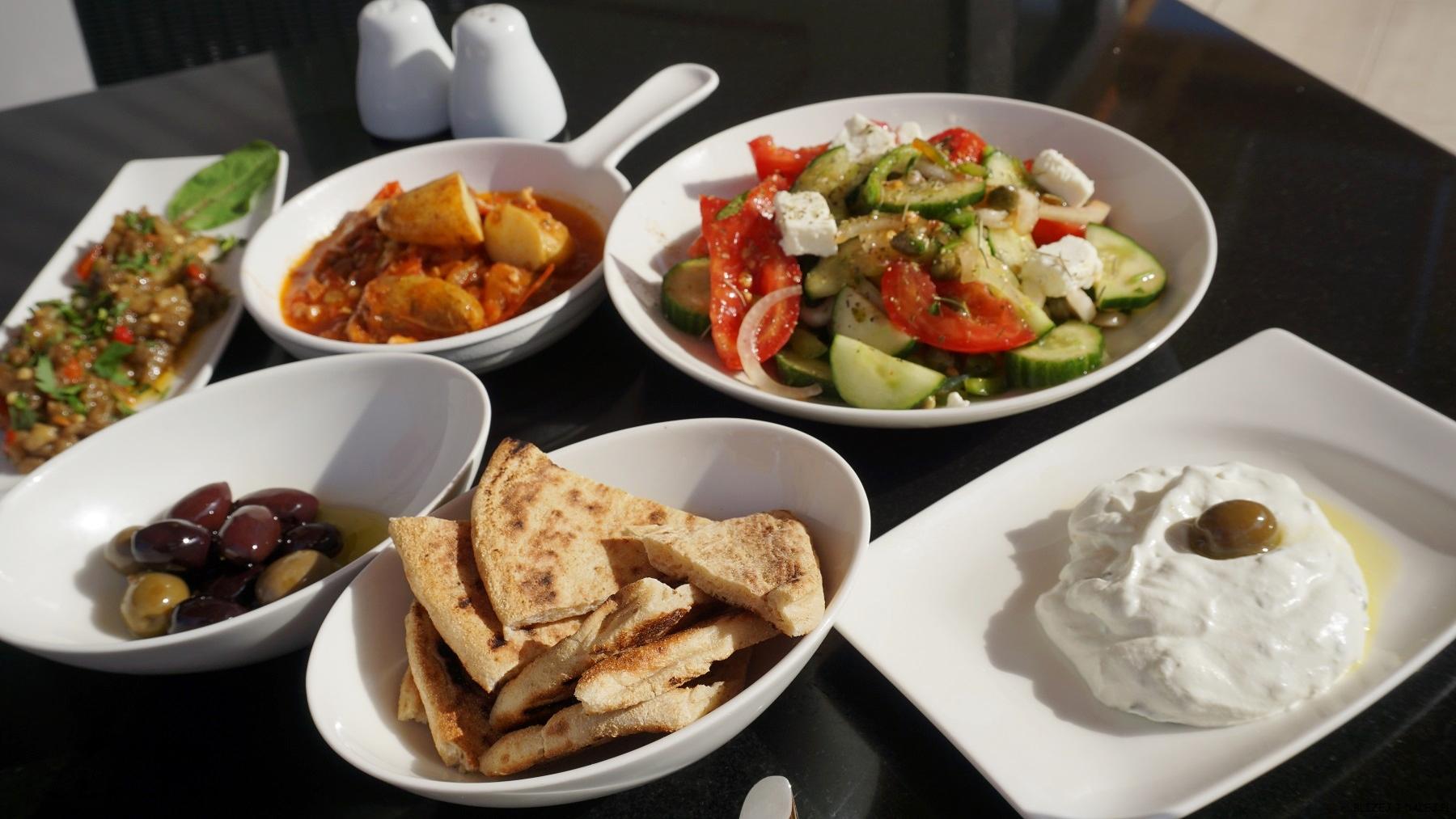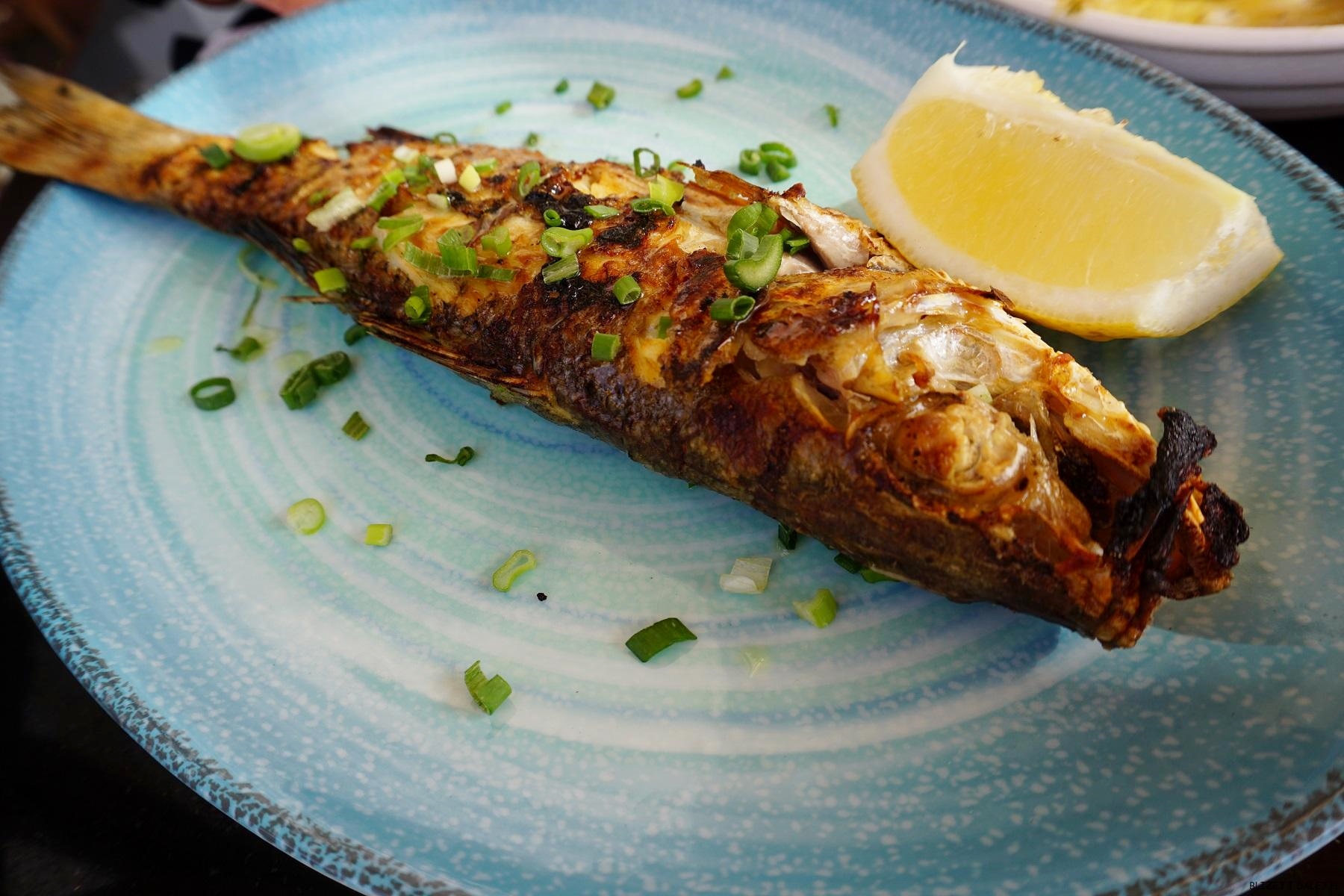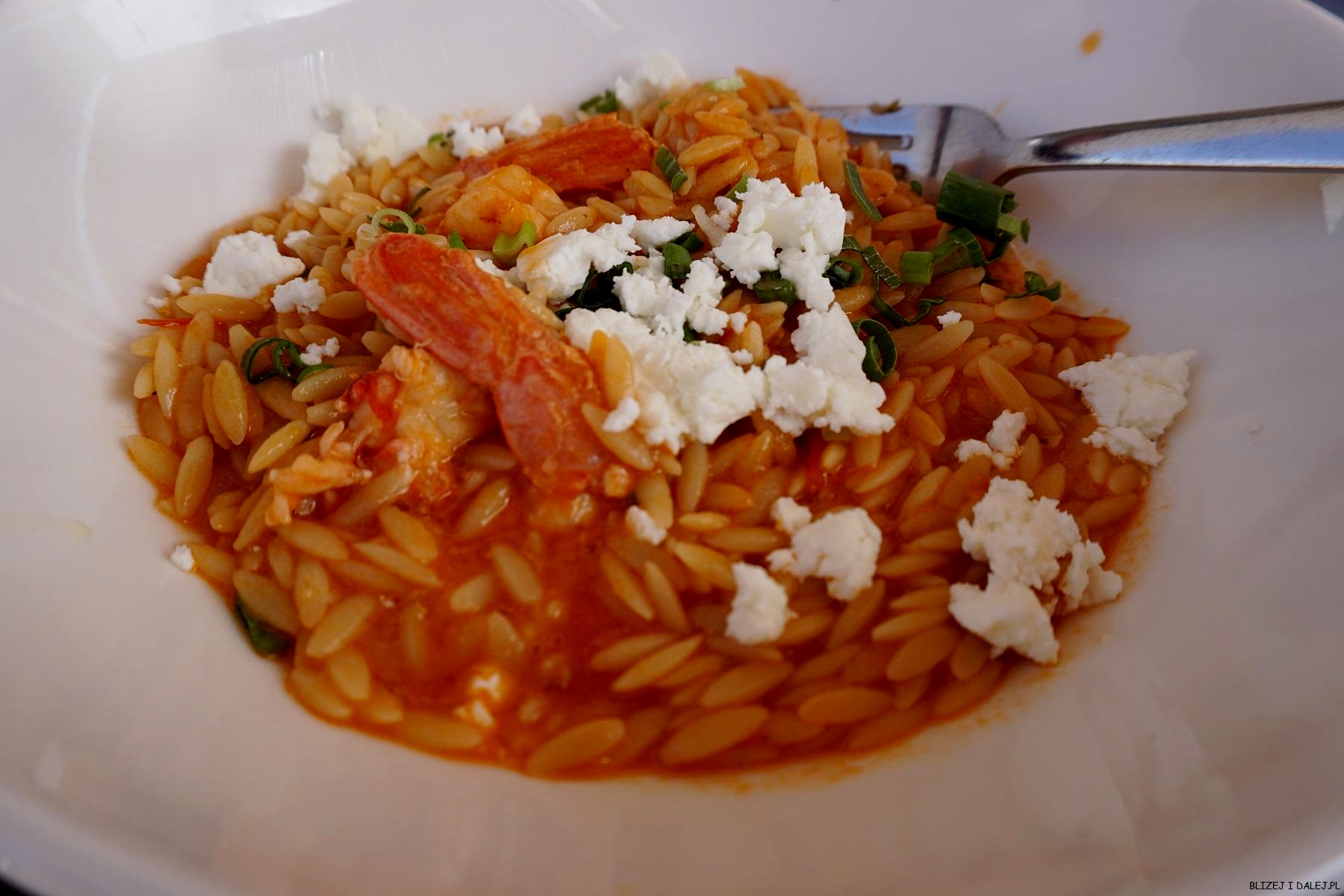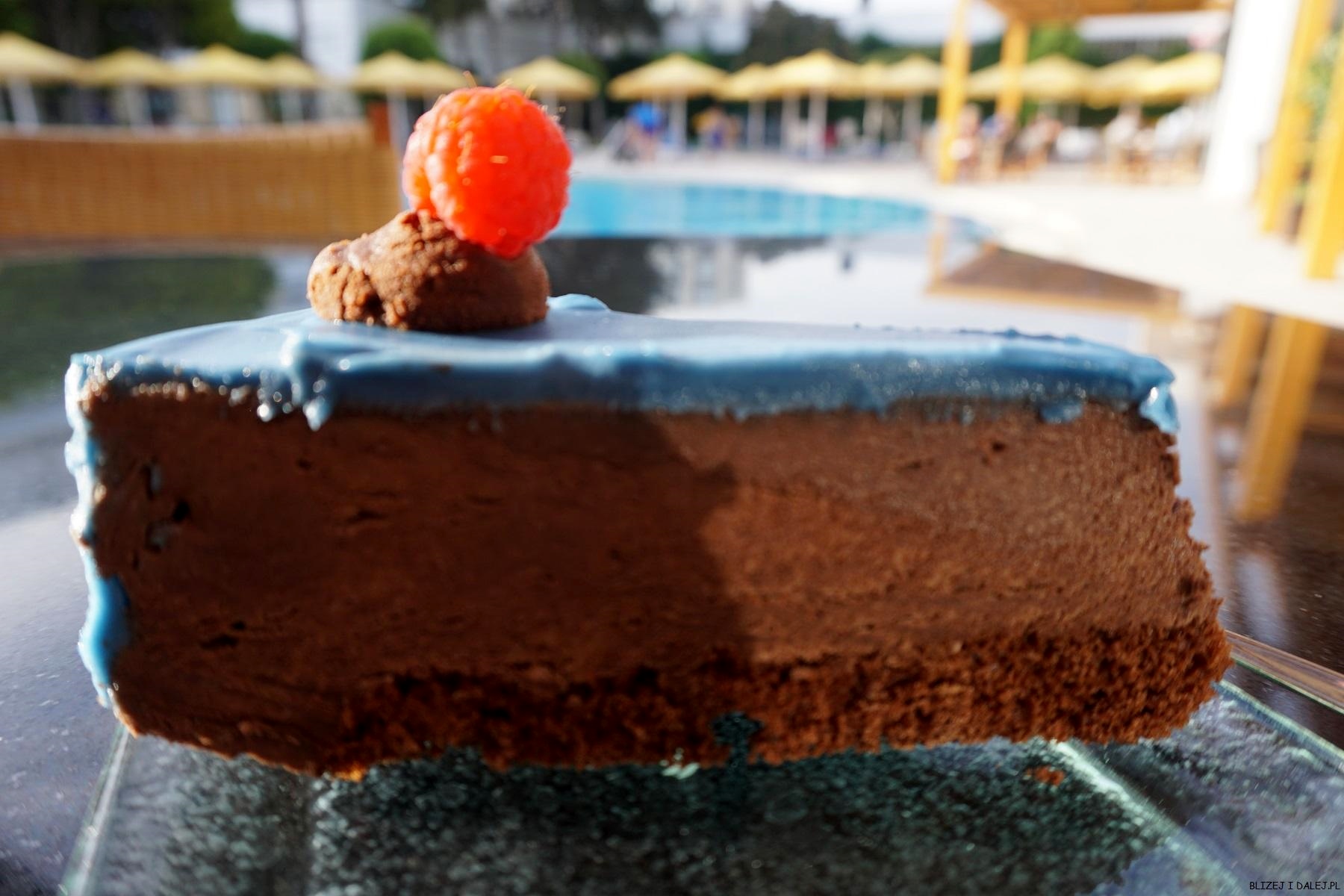 W hotelu są także dwie eleganckie restauracje, włoska i chińska w których należy wcześniej zrobić rezerwację na kolacje – miejsca te były dość mocno polecane, więc postanowiliśmy spróbować i zapisaliśmy się do chińskiej. Przystawki w postaci krewetek w tempurze i ośmiornicy wyśmienite! Jako danie główne zamówiliśmy makaron udon z kurczakiem (chyba) i wołowina kimchi ze śladową ilością kimchi (o ile w ogóle było…) – dania dość przeciętne. A na deser zaserwowano nam lody z płatkiem czekoladowej baklawy i ciastko z mango, absolutnie przepyszne. Tylko czy aby na pewno azjatyckie? ;) Taka elegancka, zeuropeizowana chińska kuchnia :) Żeby nie było wątpliwości do włoskiej już nie dotarliśmy…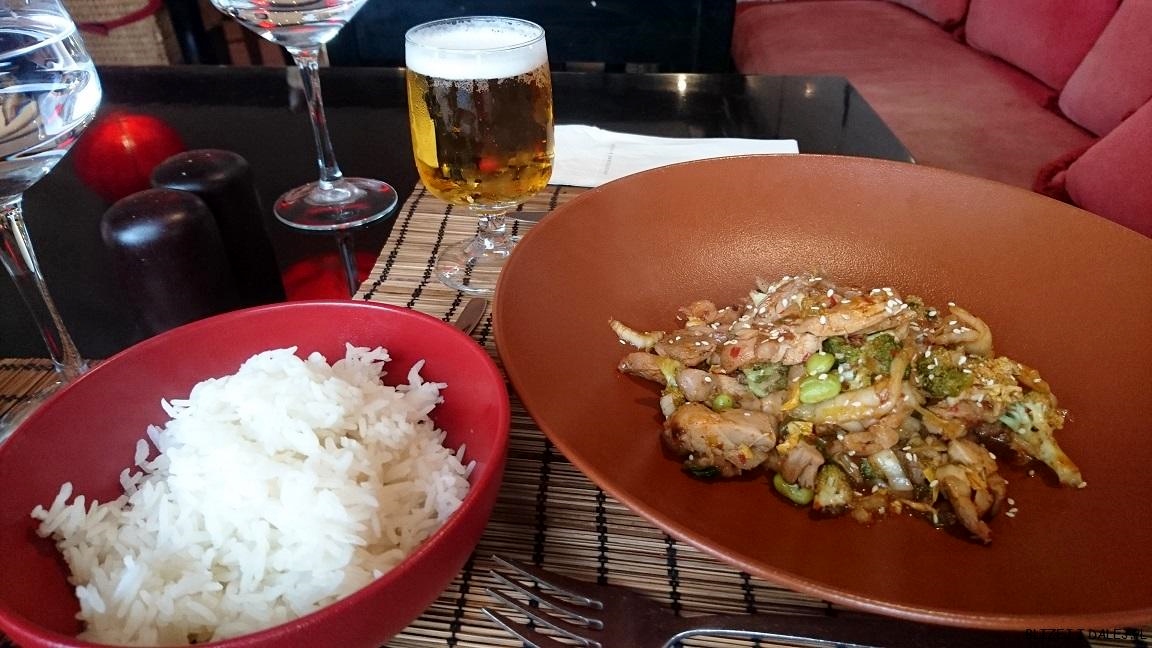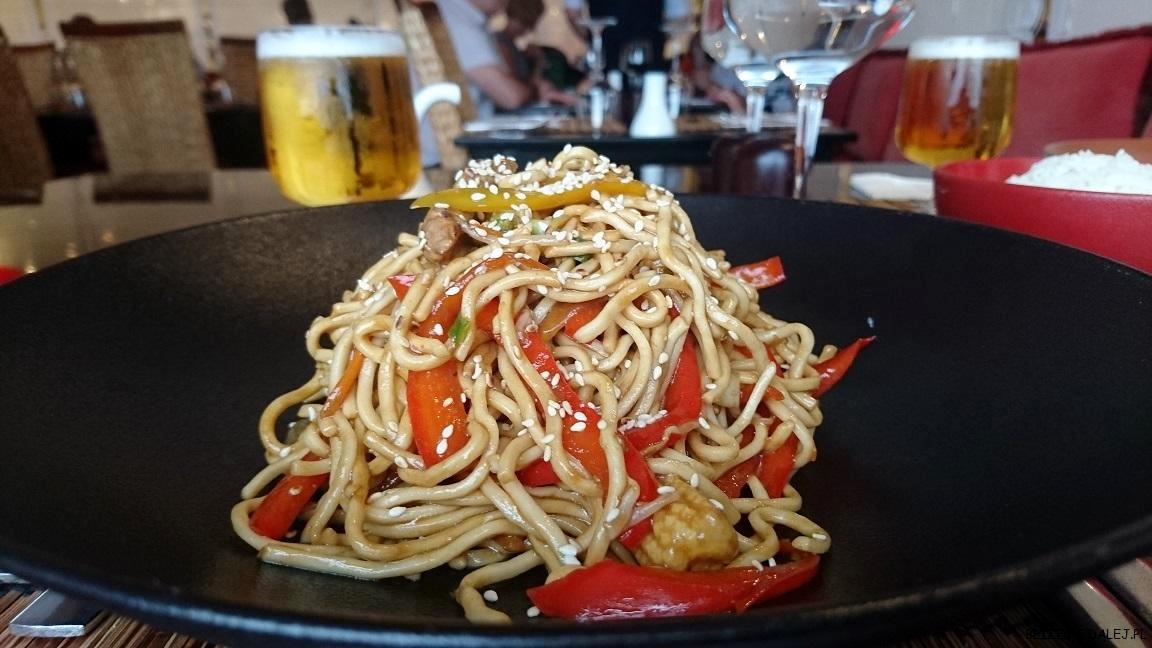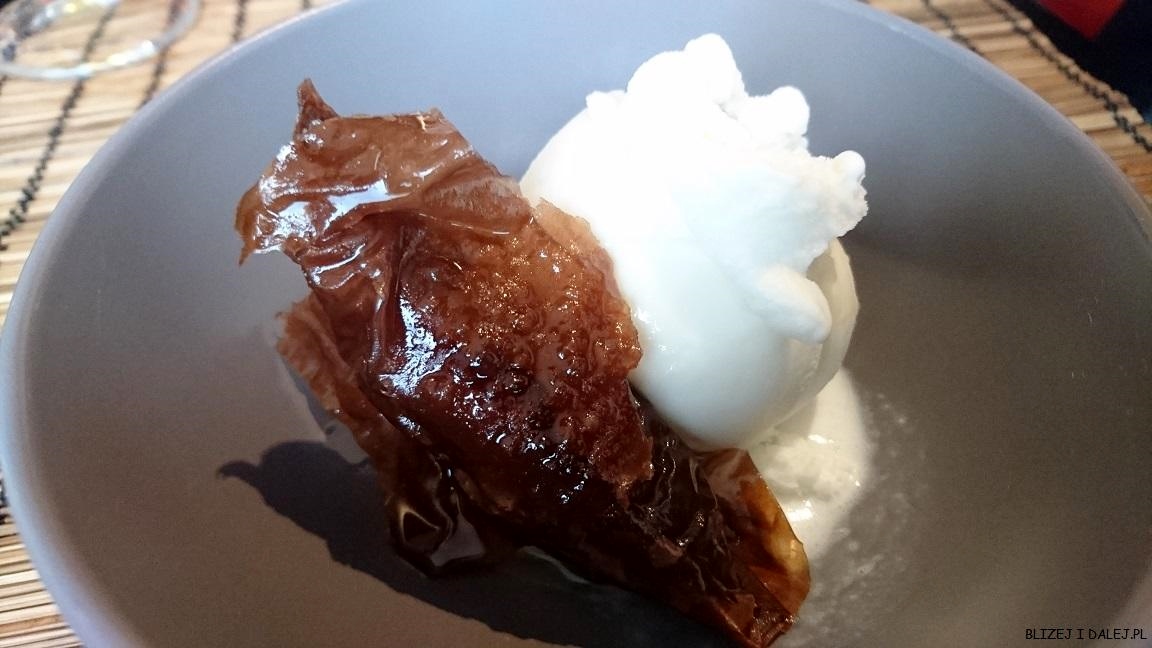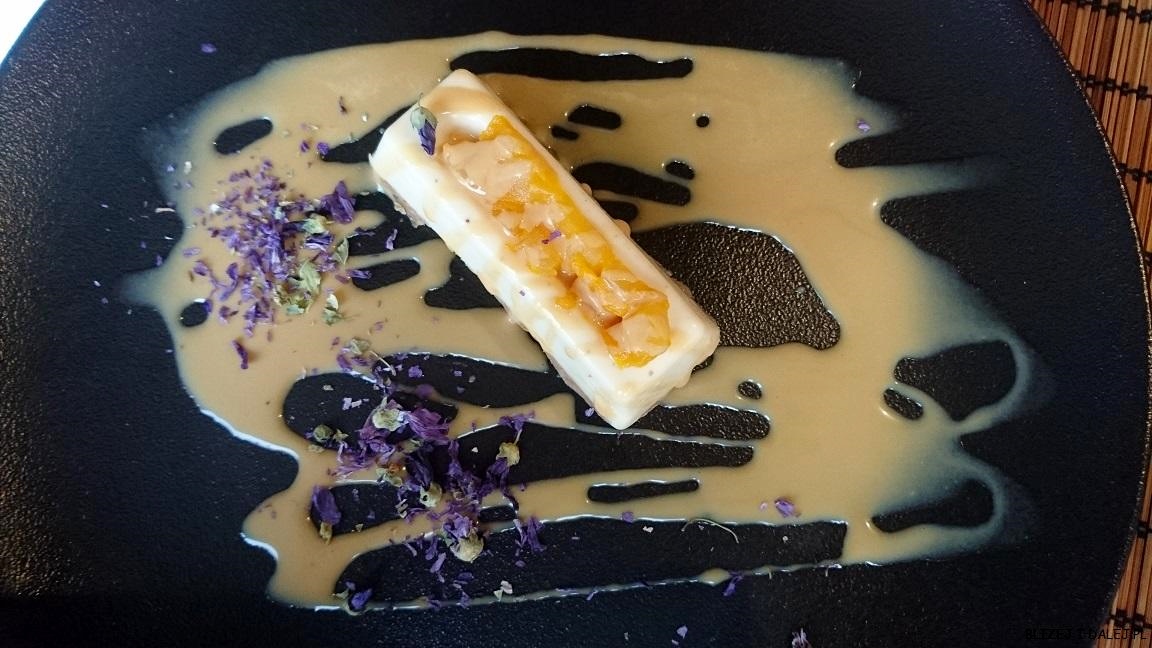 Codziennie o godz. 21 na basenie od strony ogrodu odbywają się różnorodne koncerty z muzyką na żywo lub pokazy takie jak zespół taneczny czy magiczne sztuczki ;) Atrakcje są na uczciwym poziomie, więc warto wybrać się na relaksujący wieczór z drinkiem w ręku.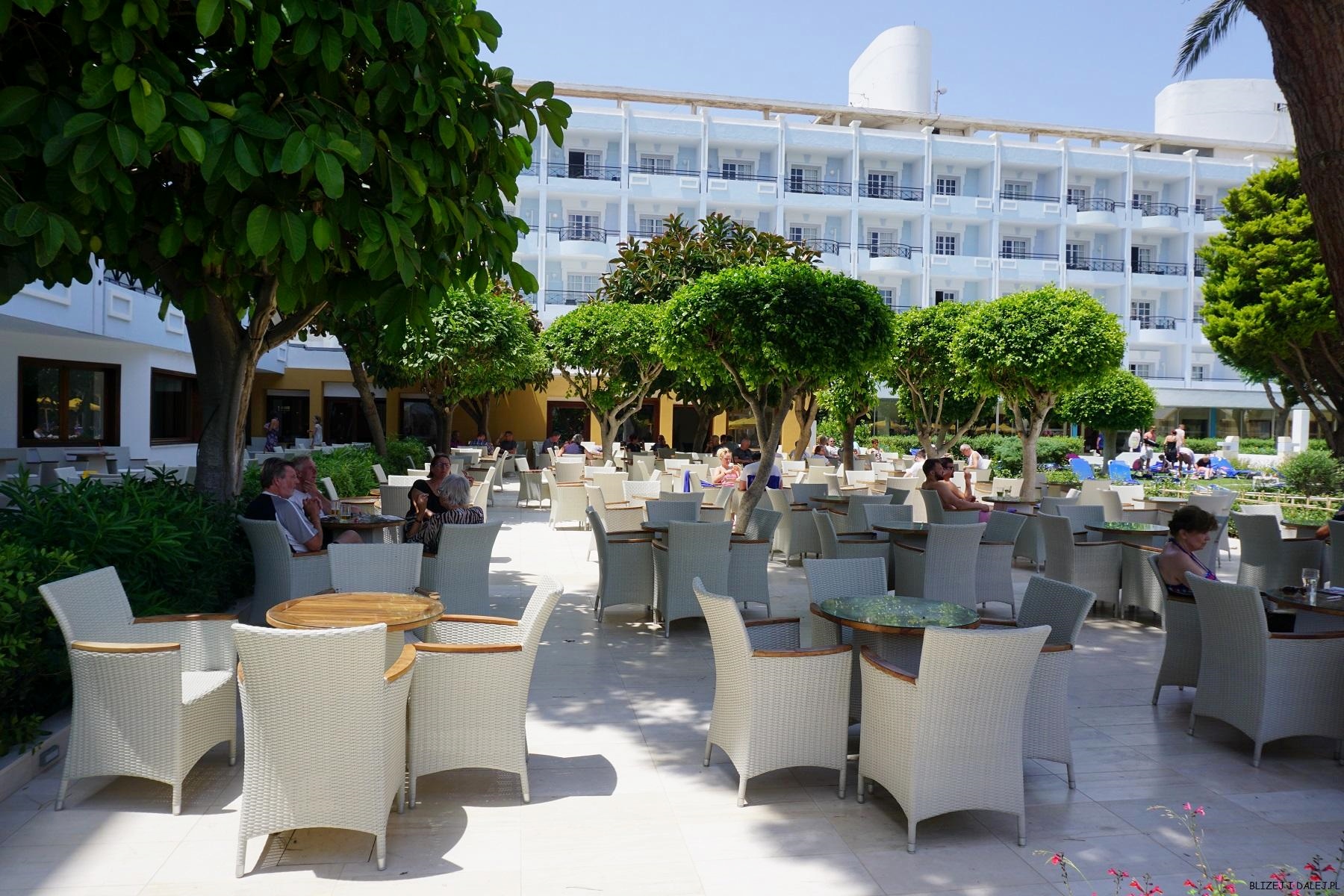 Przy rezerwacji wycieczki jak zawsze prosiliśmy o duże, małżeńskie łóżko i widok na morze – zdając sobie sprawę, że to drugie jest pewnie nierealne… Szczęścia nie mieliśmy, bo żadne z życzeń extra nie zostało spełnione, jednak pokój był przestronny i widny, więc nie zamierzamy narzekać. Natomiast wychodząc na balkon, pierwsze o co zapytałam to "gdzie ten ogród?" ;) Na szczęście w pokoju się właściwie tylko śpi, więc nie przeszkadzało nam to w niczym poza pierwszym lekkim rozczarowaniem…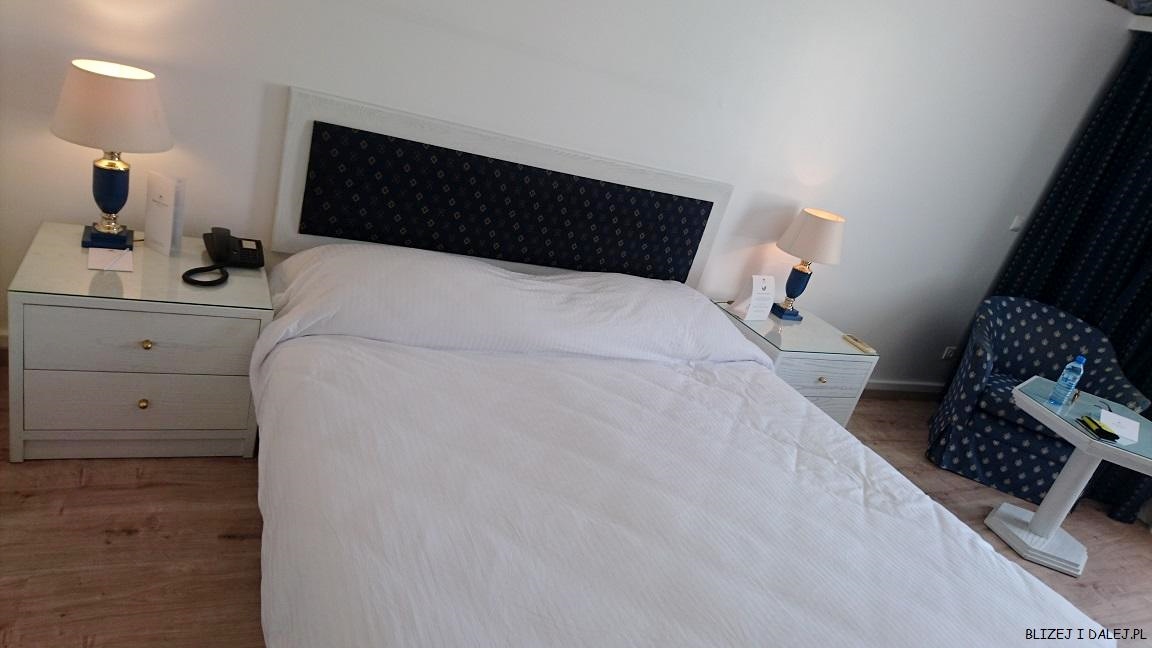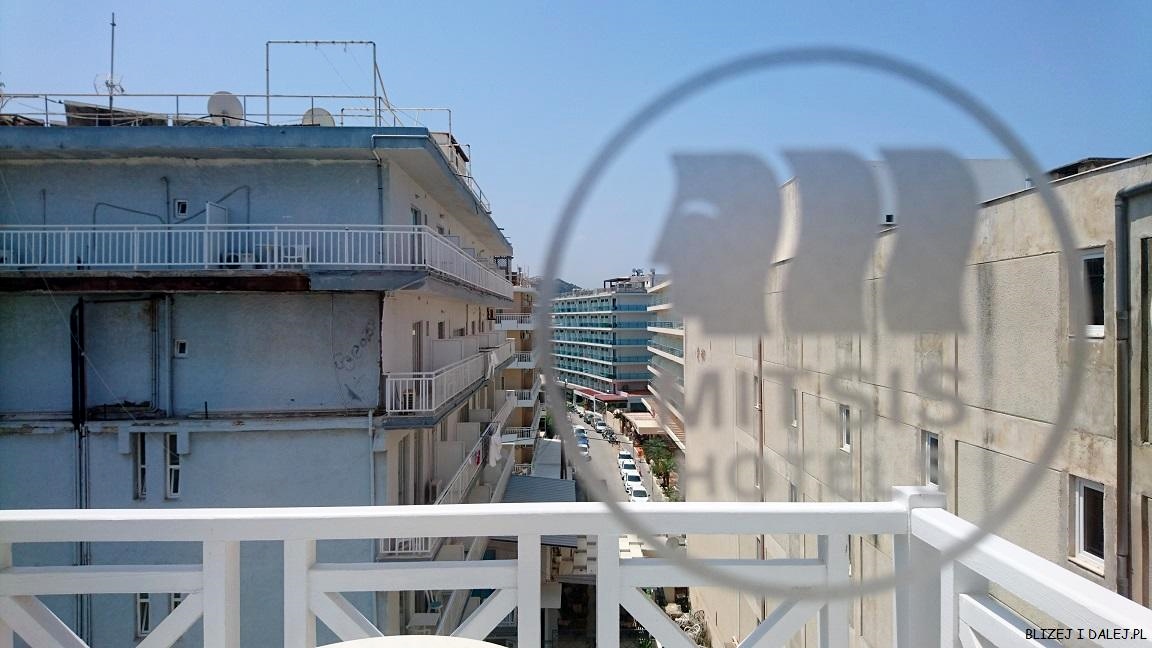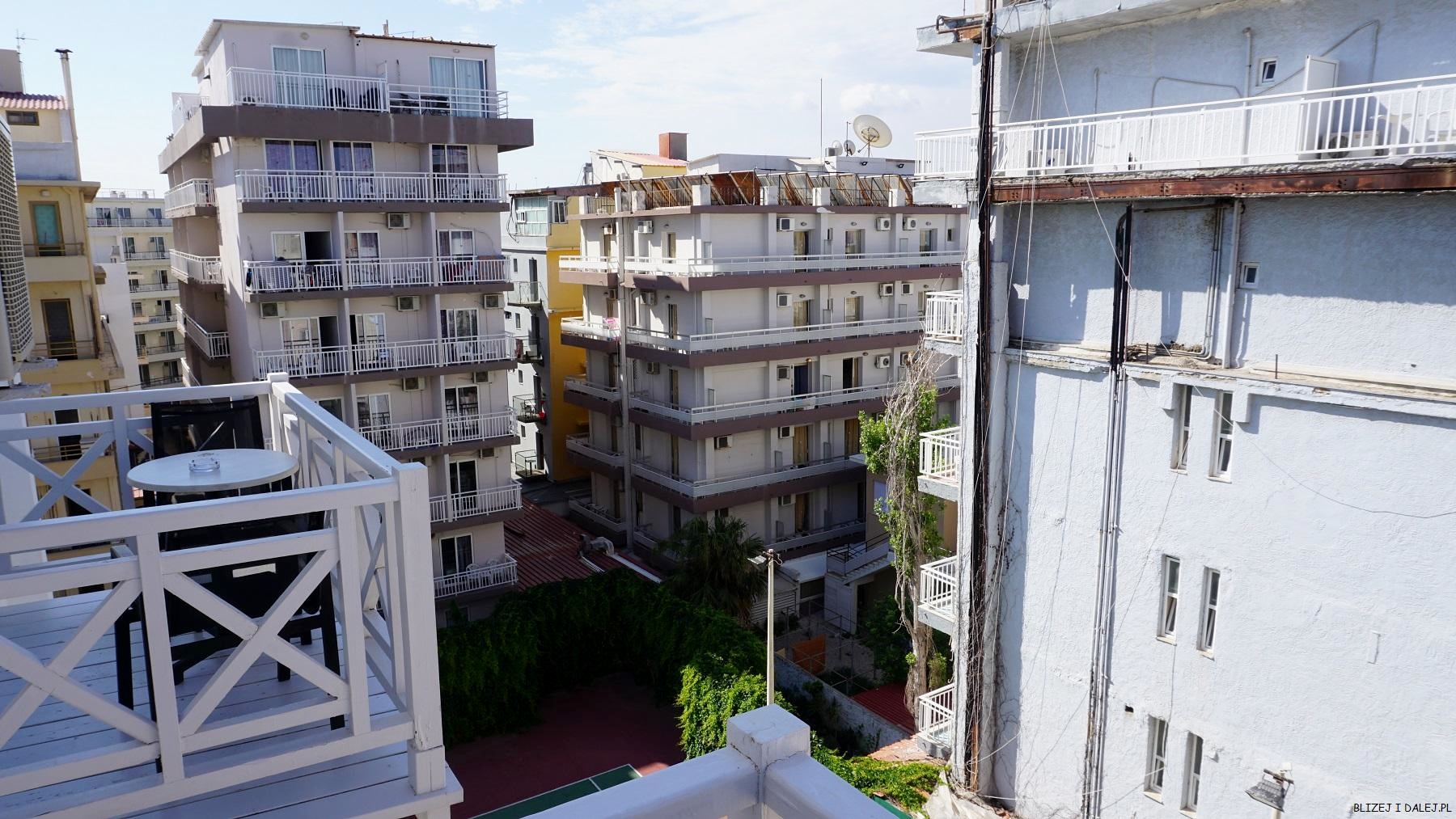 Hotel znajduje w turystycznej części nad samym morzem – dosłownie wychodzisz z hotelu i widzisz morze! Aby się do niego dostać trzeba przejść przez małą uliczkę i już jesteś na plaży Akti Miaouli Beach. Dodam, że kamienistej plaży więc bez leżaka szału nie ma, jednak wynajęcie na cały dzień kompletu (parasol plus dwa leżaki) to koszt 10€, więc spokojnie można sobie pozwolić na wiatr we włosach i szum fal :) Większość gości nie oddala się zbyt mocno od strefy barowej, więc wybór idealnego miejsca nie powinien stanowić problemu. I jeszcze ważna uwaga, plaża zdecydowanie bardziej dla dorosłych z uwagi na ostre zejście do wody, głęboko robi się już po 2-3 krokach.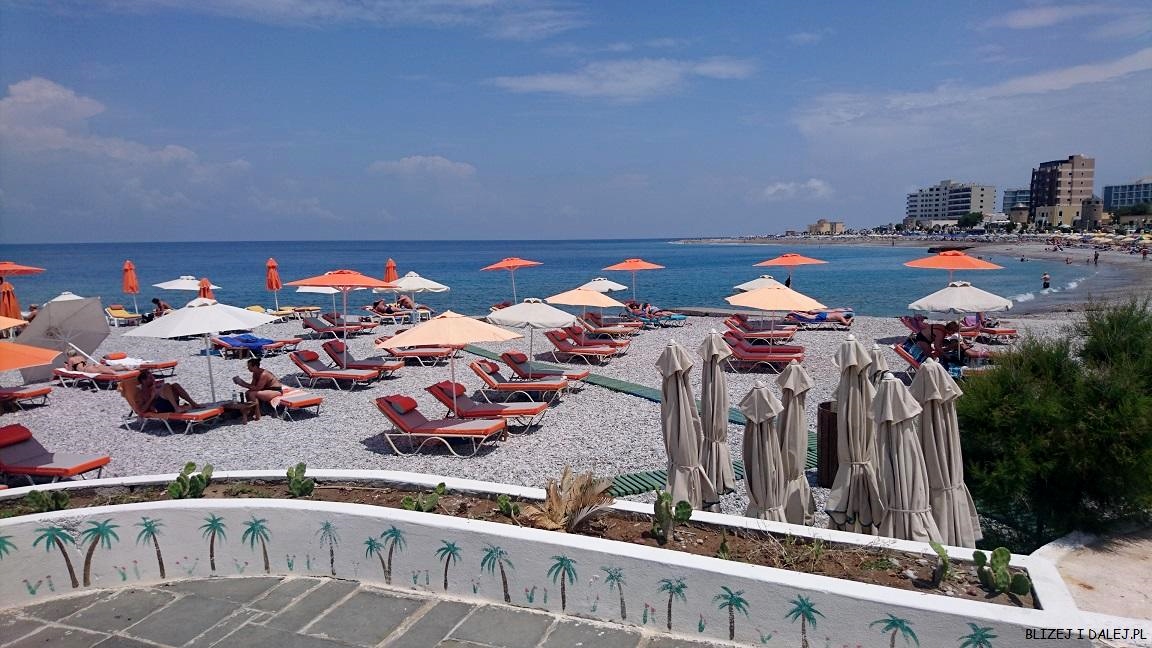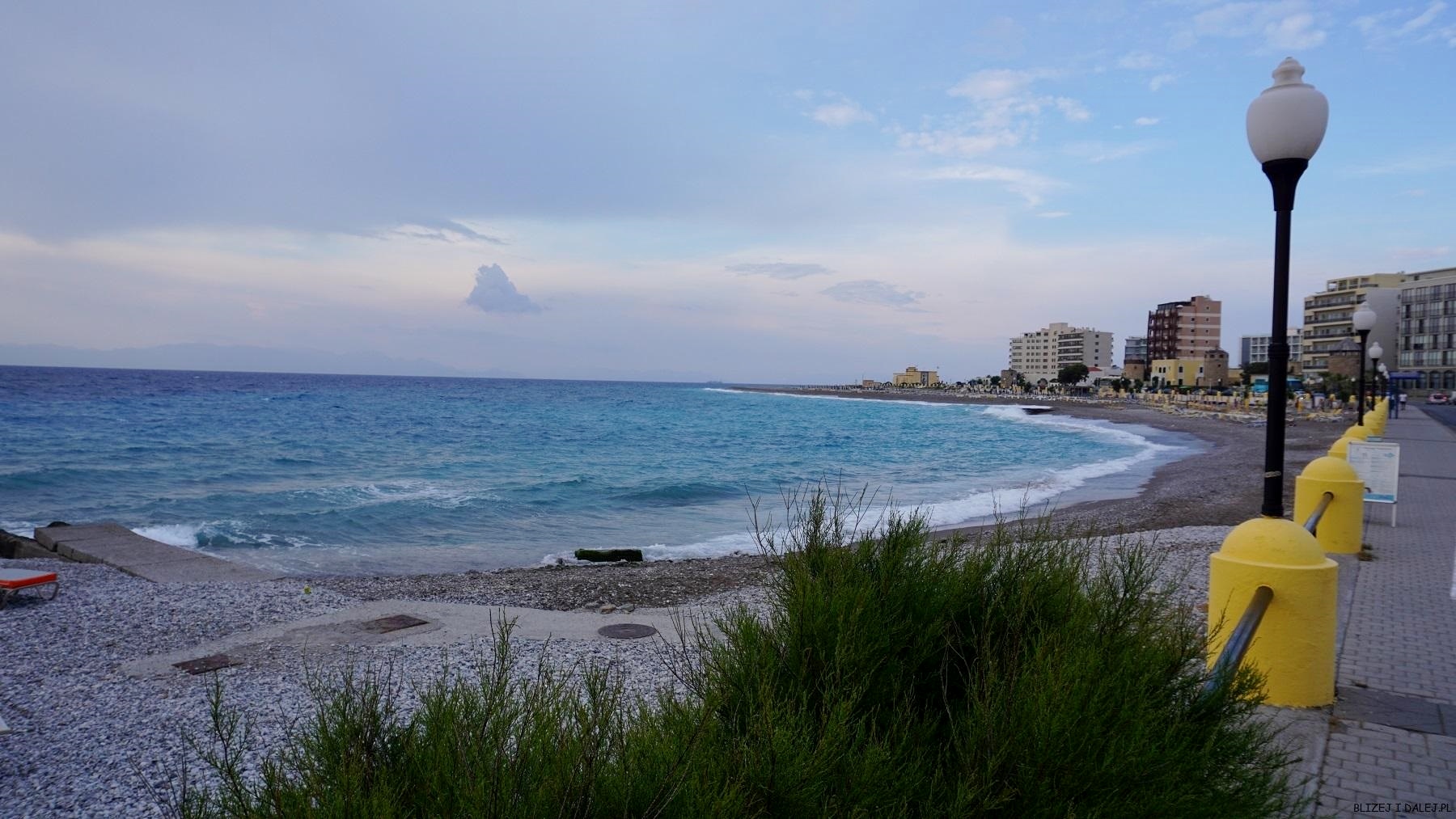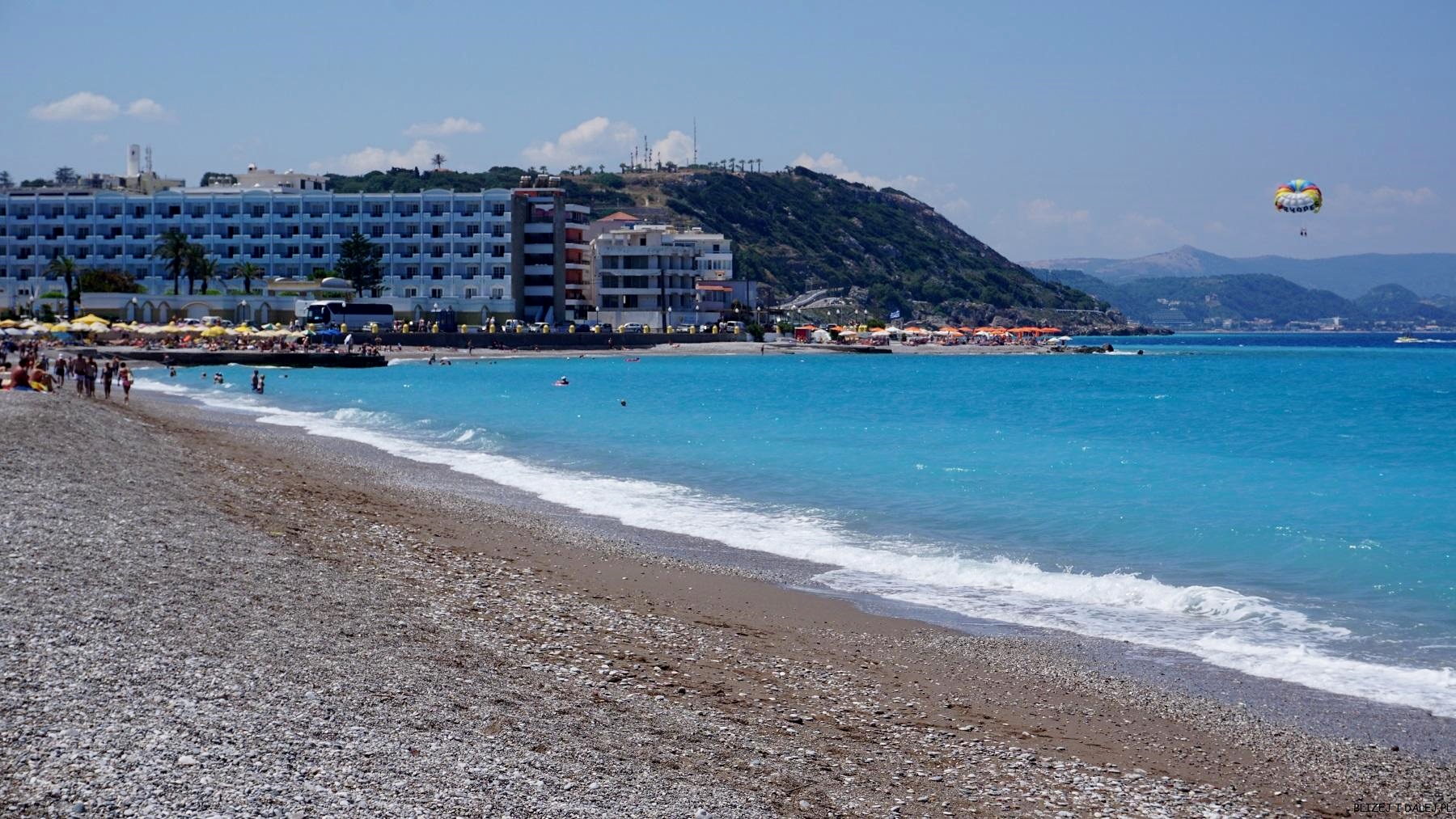 Jeśli należysz do grupy która preferuje hotelowe baseny, to do wyboru masz aż trzy, w tym dwa zewnętrzne z morską wodą. Nam zdecydowanie bardziej podobało się na spokojniejszym, mniejszym basenie. A jak już relaksujesz się na basenie to tuż obok znajduje się bar z genialną załogą. Polecam zdać się na kreatywność barmanów, wiedzą co robią! :)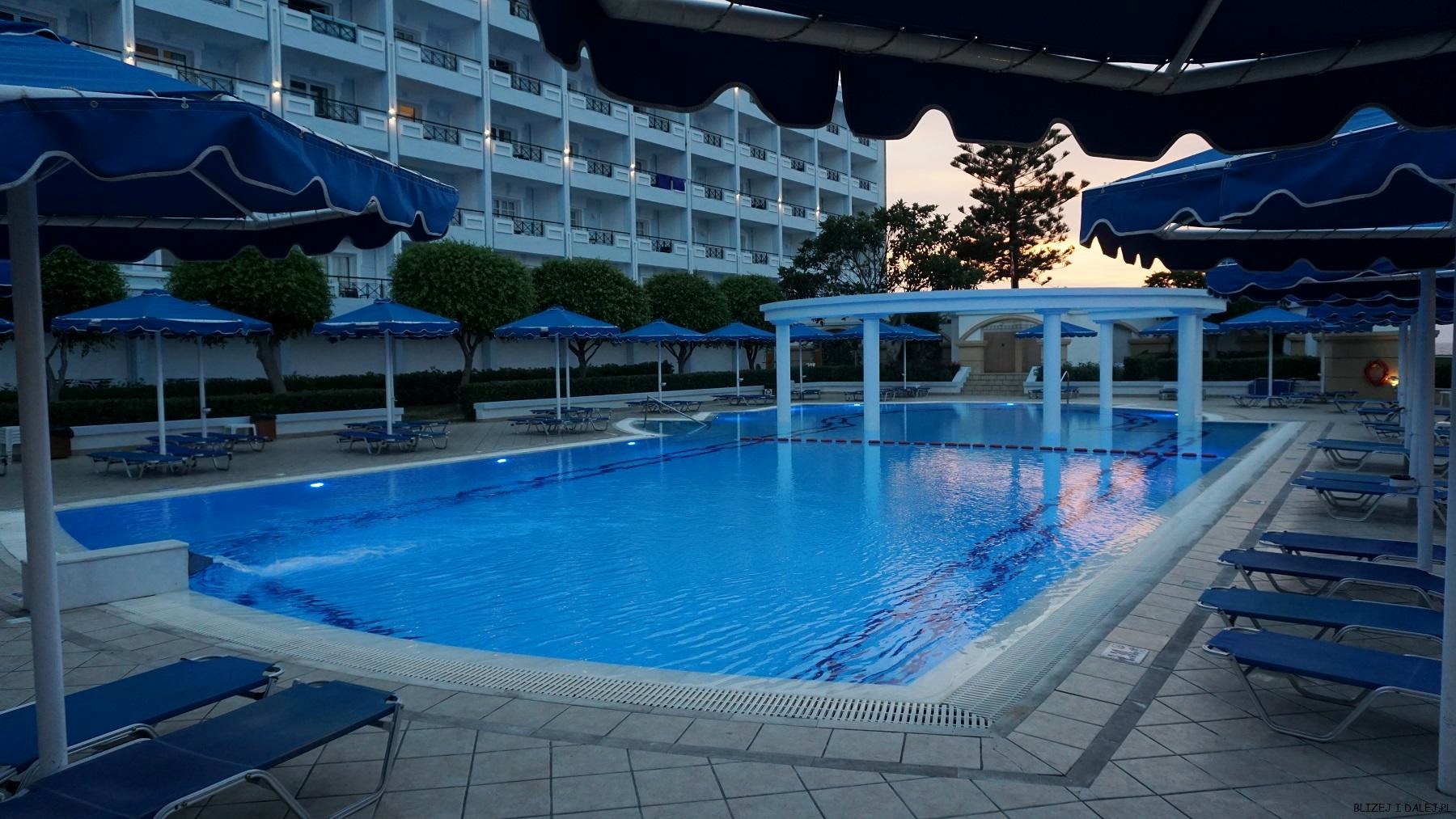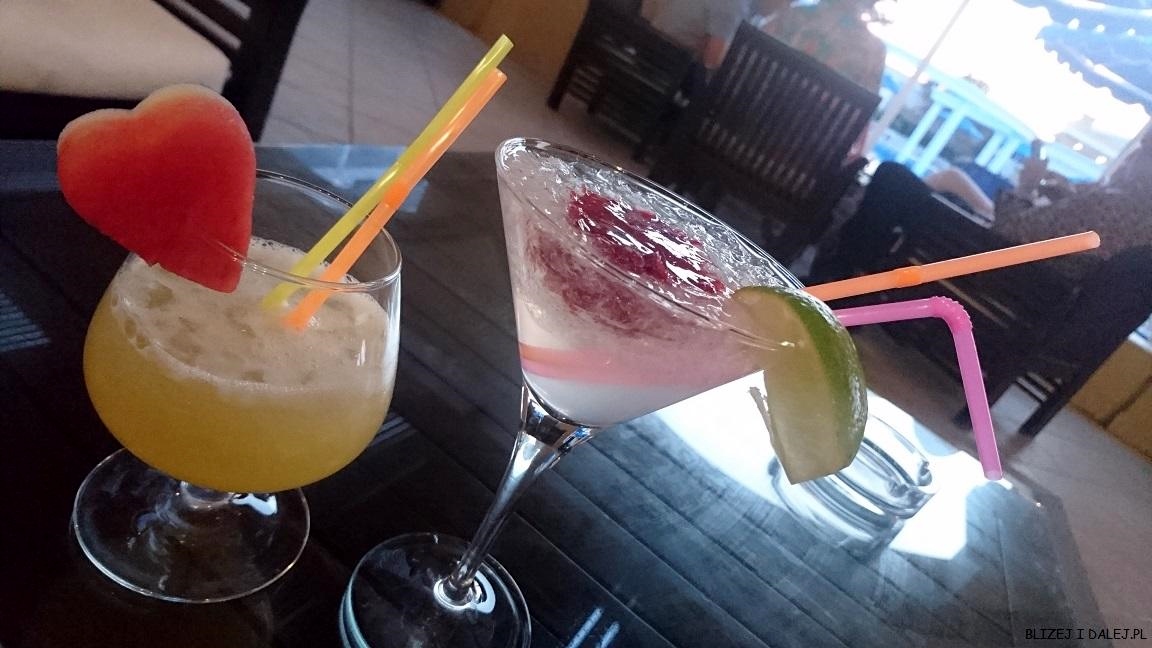 A wieczorem śmiało można się udać na spacer promenadą w promieniach zachodzącego słońca :)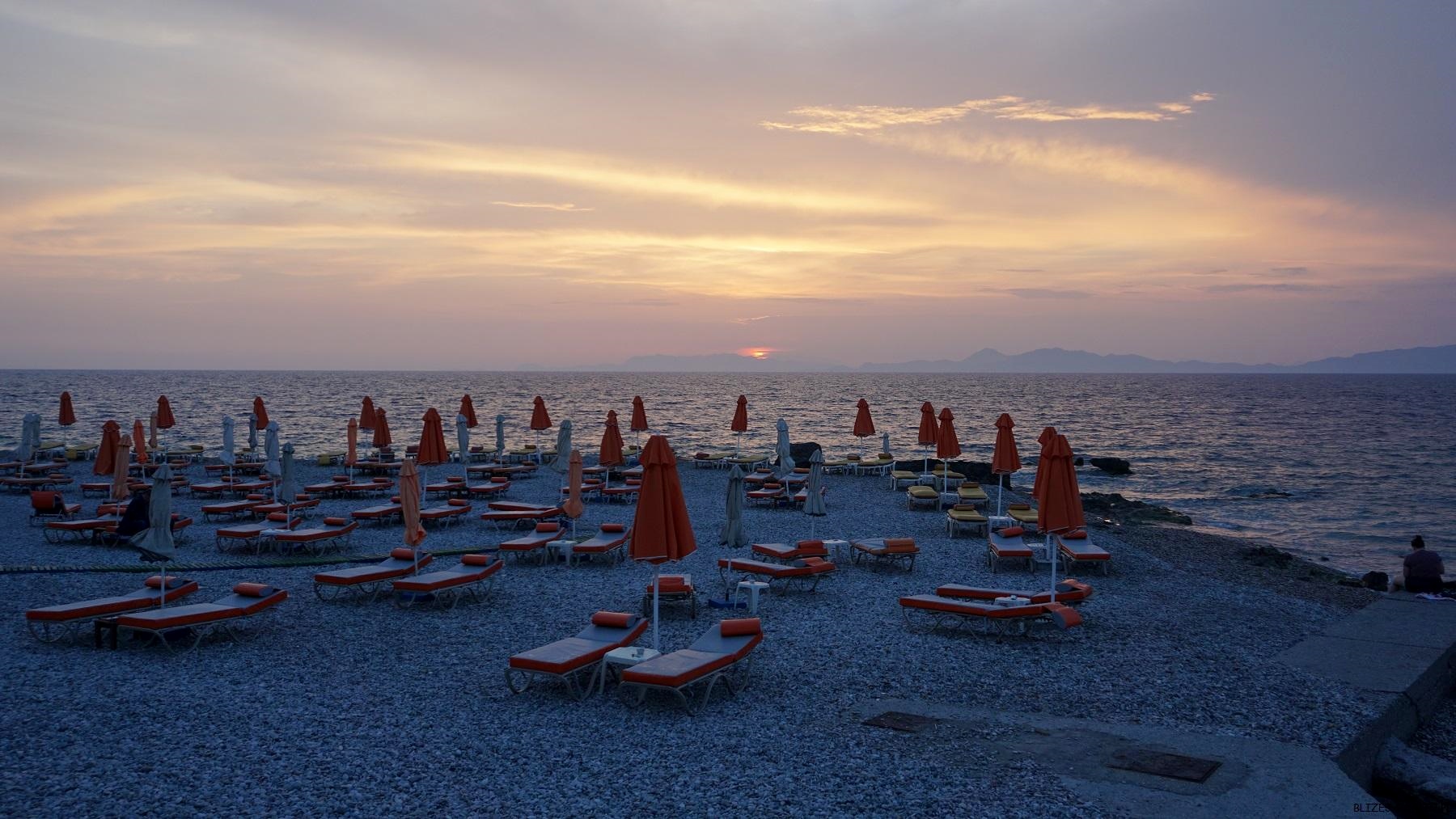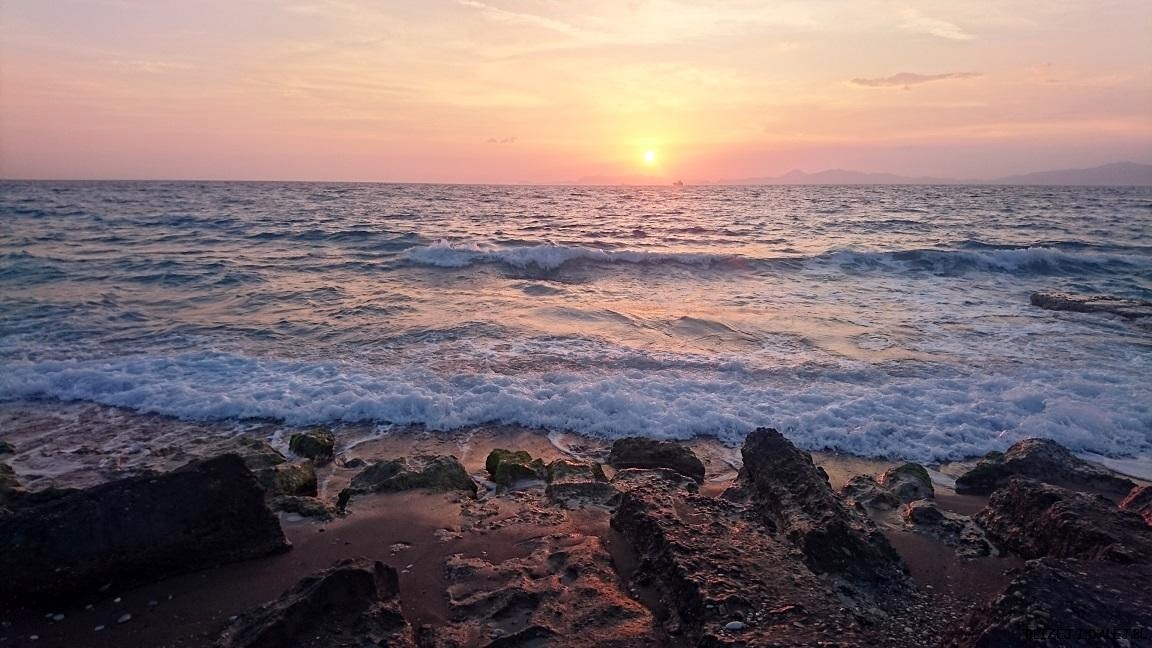 A co jeśli masz ochotę na spacer? Na szczęście nie musisz spacerować tylko plażą… zabytkowe Stare Miasto Rodos dzieli od hotelu niecały kilometr a port Mandraki jest o połowę bliżej. Warto wybrać się w dzień jak i po zmroku – niesamowicie klimatyczne miasto :)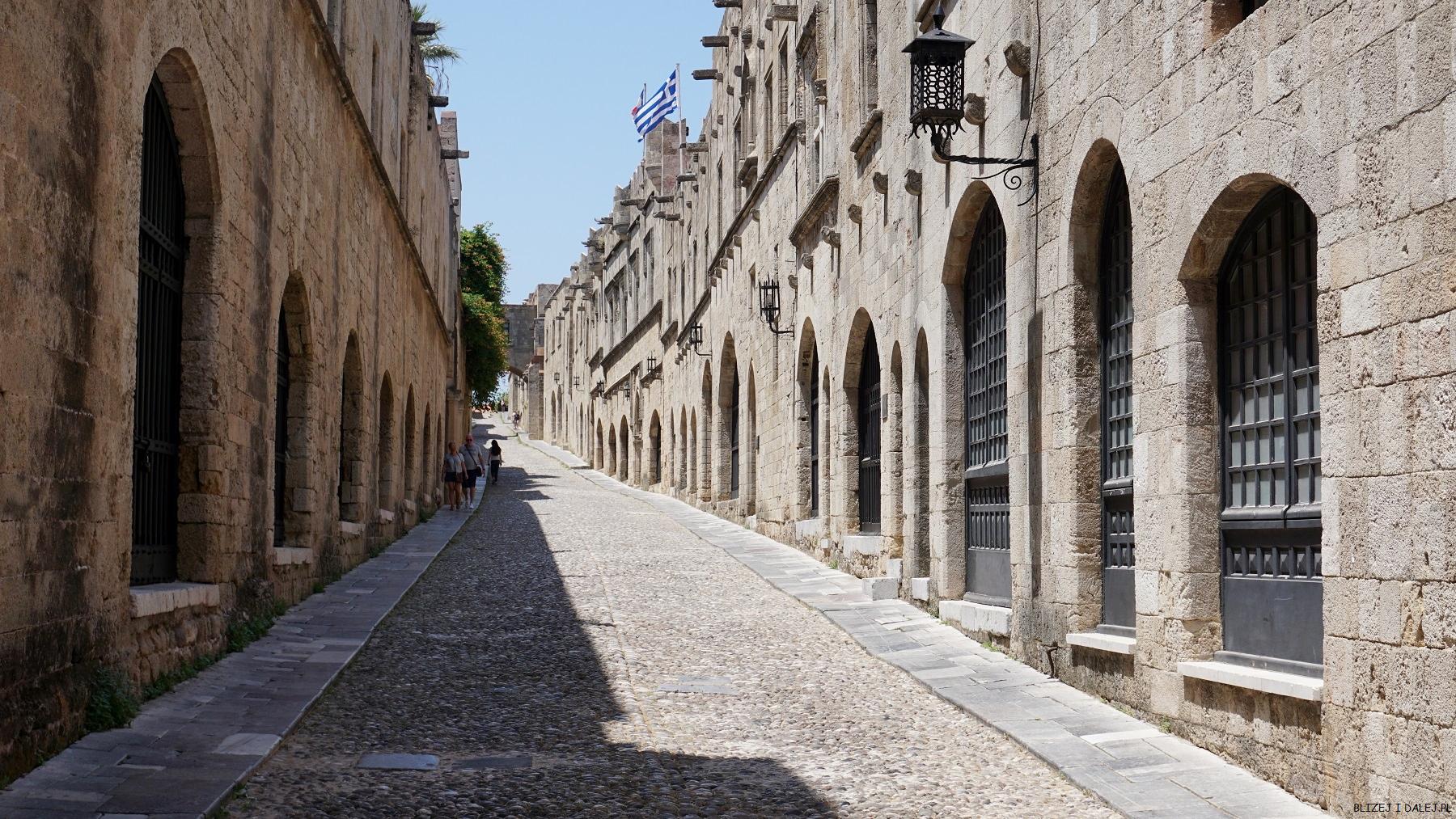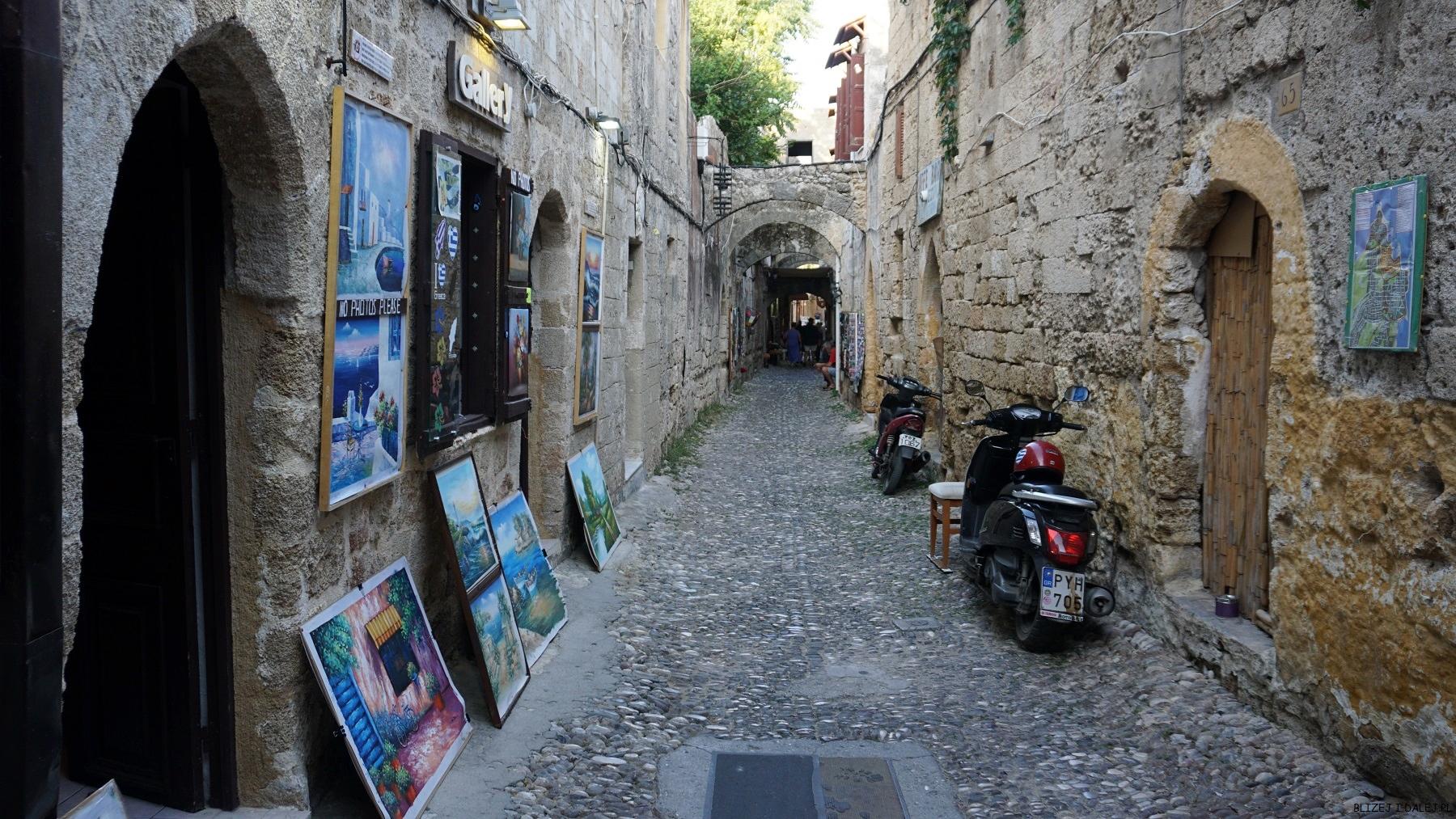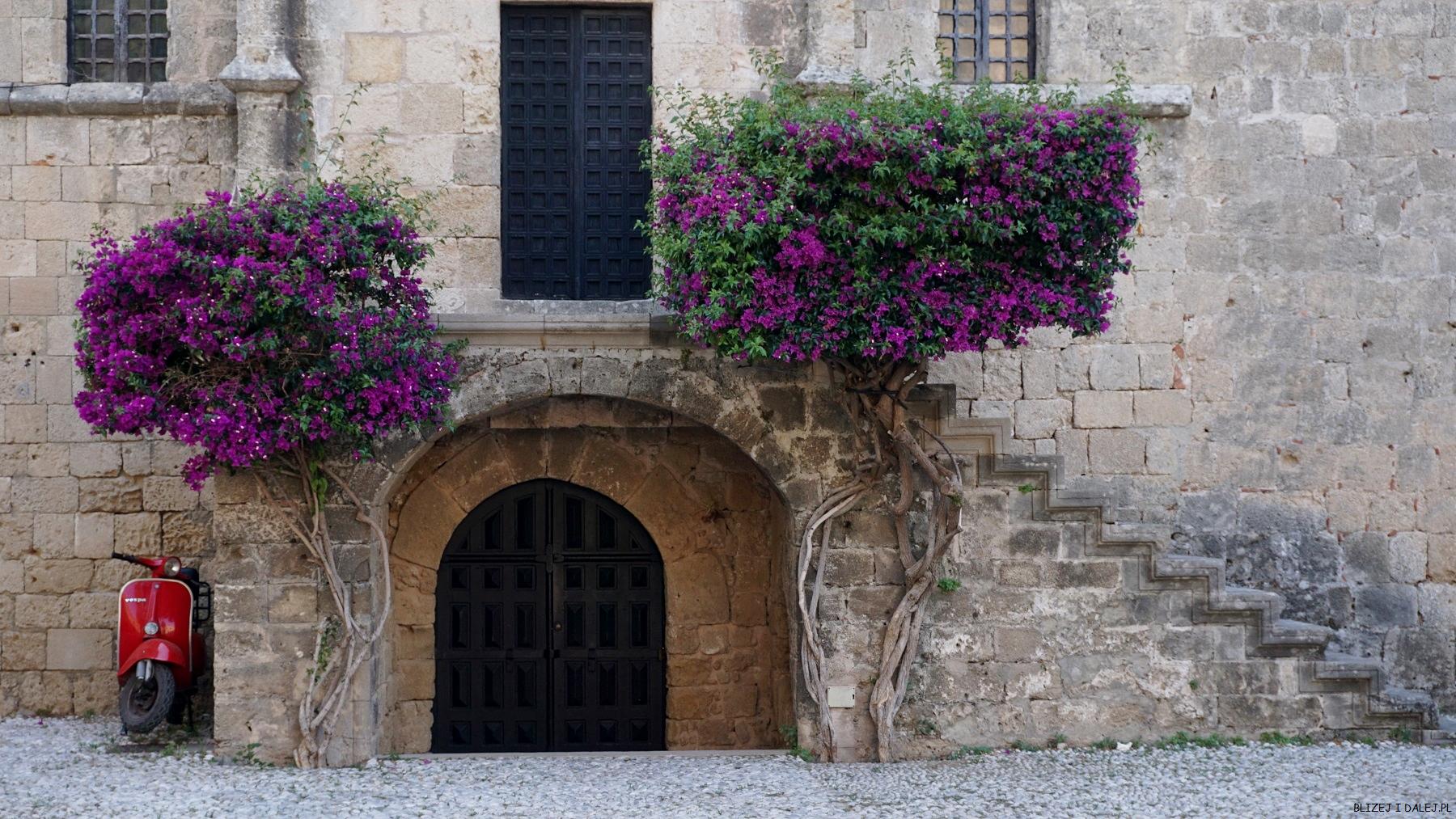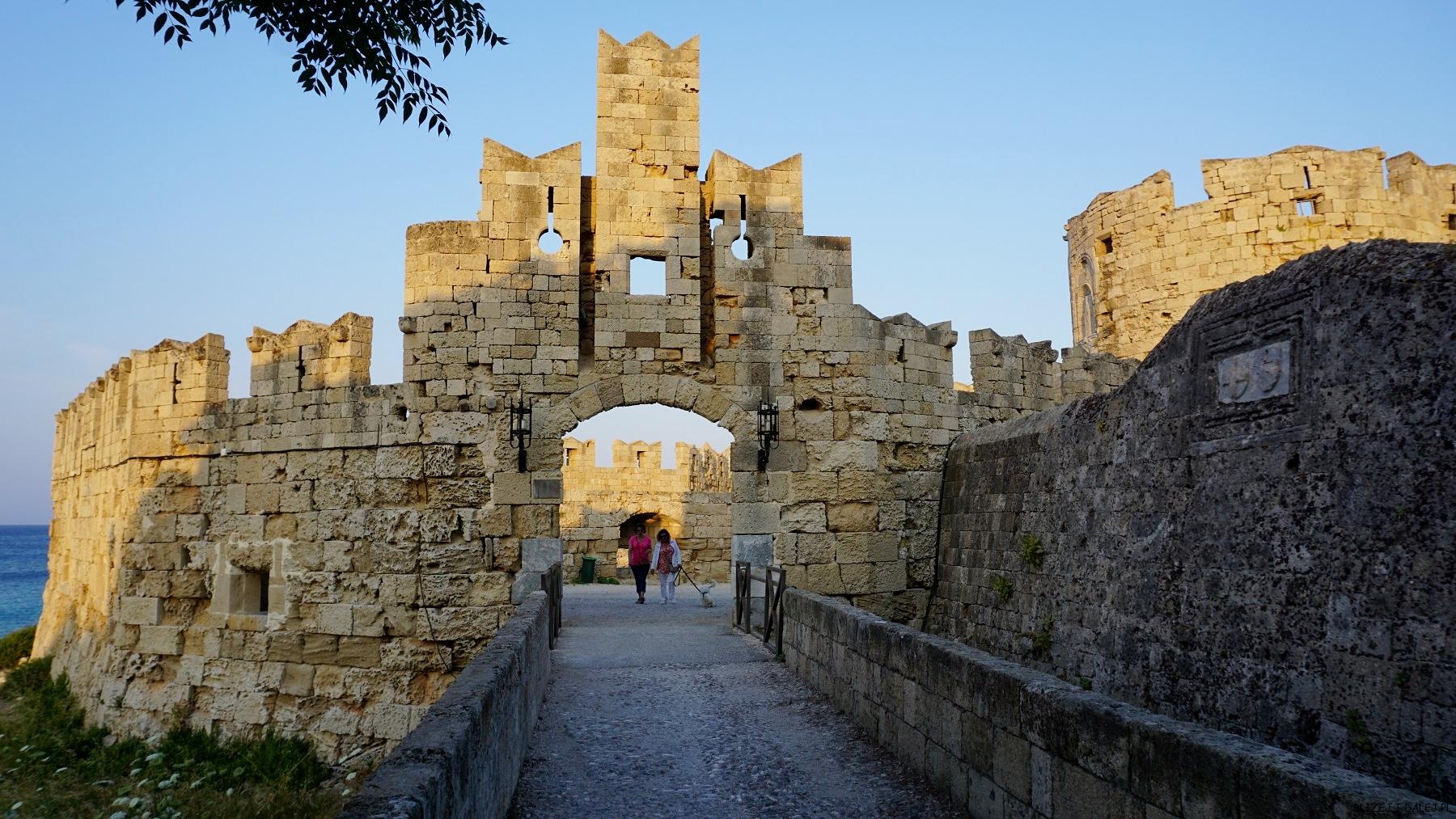 Cudowny czas! Zauroczył nas i zachwycił Mitsis Grand :) Praktycznie wszystko nam się podobało – uśmiechnięta i przesympatyczna obsługa, pyszne jedzenie i jeszcze pyszniejsze drinki. Do tego świetna lokalizacja i pogoda, która absolutnie nas rozpieszczała :) Bez wahania polecamy! :)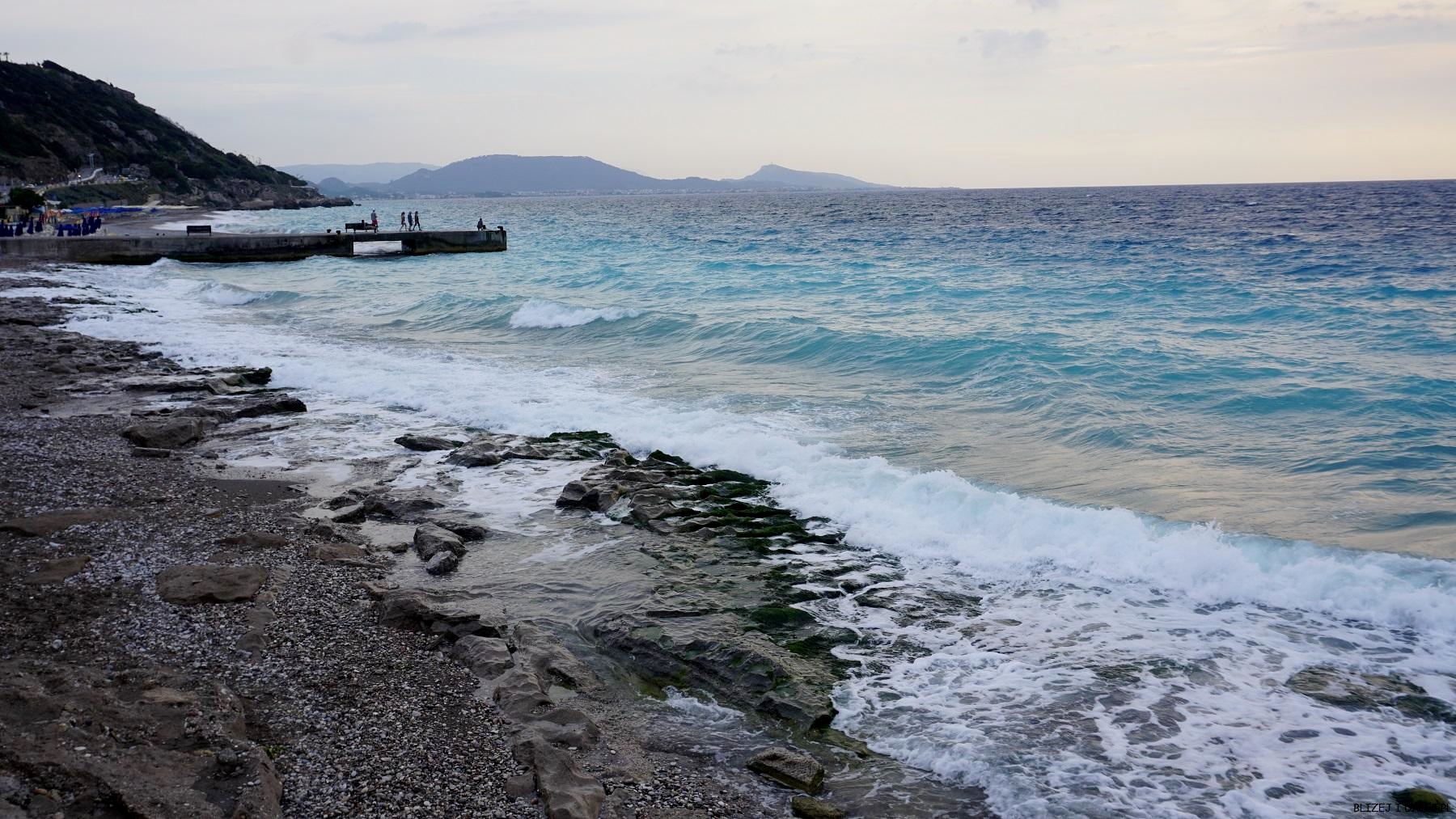 Dodatkowe informacje:
Hotel Mitsis Grand – więcej informacji na oficjalnej stronie hotelu
---
You might also like