W okolicach Chiang Rai w trakcie jednej z wielu wycieczek skuterem udało nam się trafić do wioski plemienia Karen czyli popularnie nazywanych długie szyje, żyrafy czy też smoczyce. Są to plemiona górskie, pochodzące z Birmy – dzięki mnogości programów i reportażów telewizyjnych prawie każdy coś słyszał na ich temat.

Plemiona te można spotkać przede wszystkim w północnej Tajlandii, a więc między innymi w okolicy Chiang Mai, Chiang Rai i Mae Hong Son. Nie byliśmy zainteresowani zorganizowaną wycieczką, którą można zakupić za ok. 100-120zł w lokalnych biurach podróży, postanowiliśmy dotrzeć do wioski na własną rękę.
Nikt do końca nie wie o co chodzi z tymi obręczami, słyszałam wiele mniej lub bardziej niedorzecznych opinii… Jednak powtarzają się dwie, jedna mówi o tym, że to w obronie przed tygrysami, które atakując rzucały się do gardła, a obręcze miały zabezpieczyć przed śmiercią; druga opinia mówi o swoistej gwarancji wierności, jako że obręcze miały pozbawić małżonki atrakcyjności. Jedno jest pewne, obręcze wcale nie wydłużają szyi… pod naciskiem opuszczają się ramiona i to tworzy wrażenie, że szyja jest niesamowicie wydłużona.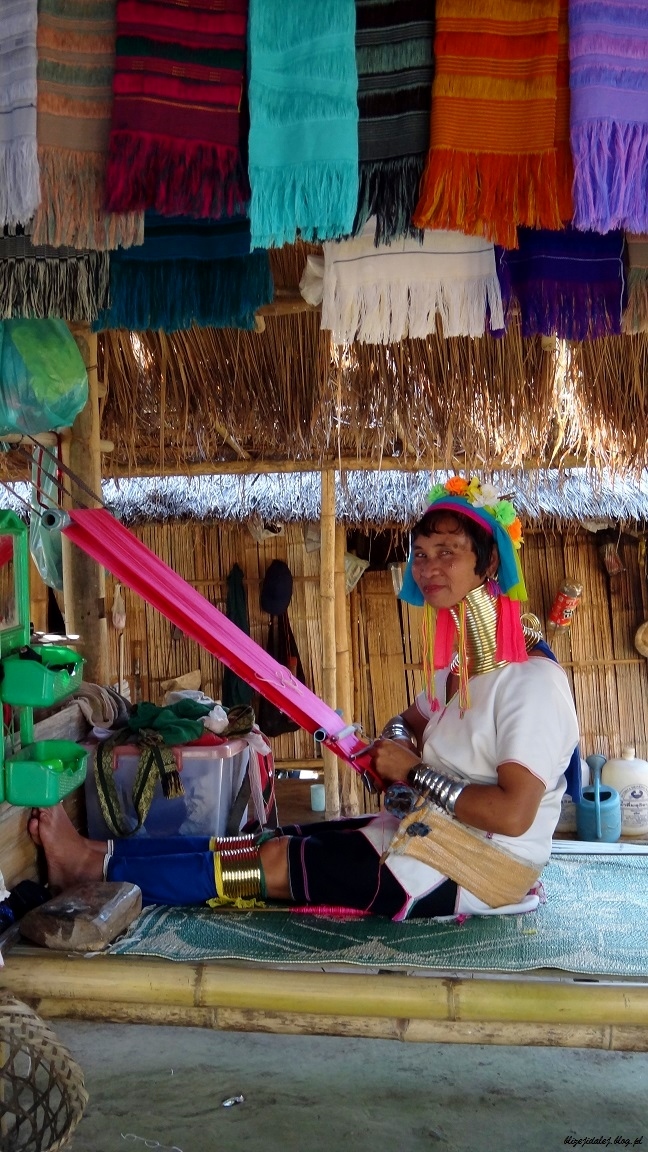 Przed wejściem zakupiliśmy bilet wstępu do wioski (ok. 25zł) i oto nadchodzimy! Po przejściu drewnianego mostku wstąpiliśmy w mikro miasteczko z wieloma straganami, na których można było zakupić różnorodne pamiątki, od rękodzieła po wszechobecną tandetę. Każdy stragan obsługiwany był przez przedstawicielkę jednego z trzech plemion: Karen, Akha lub Lisu.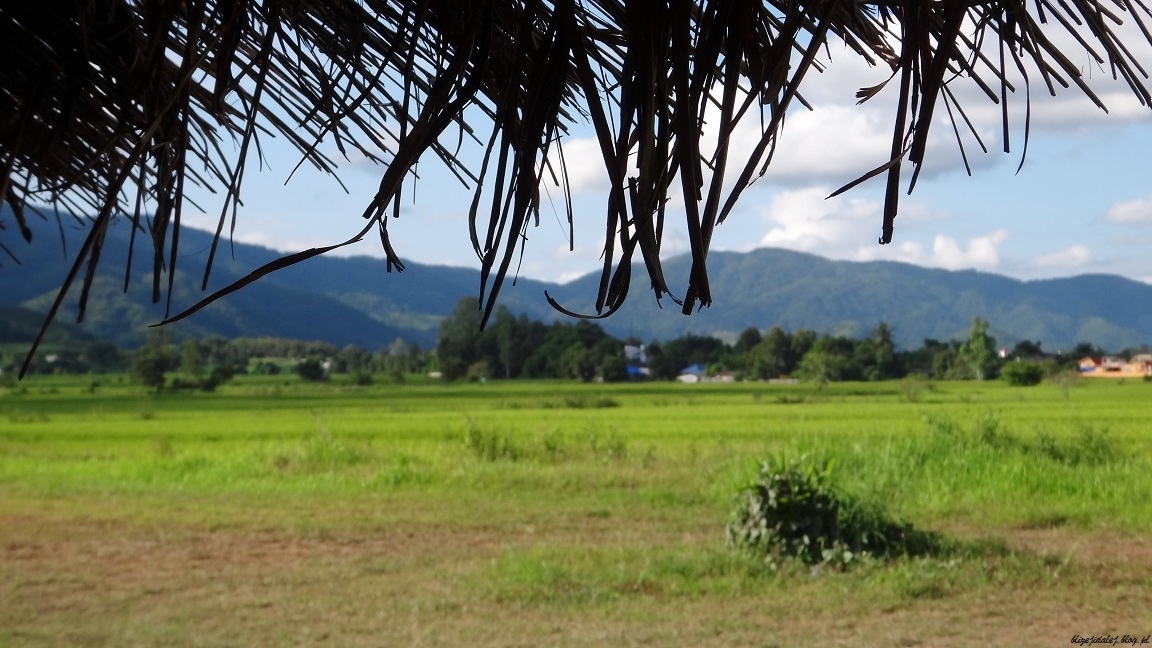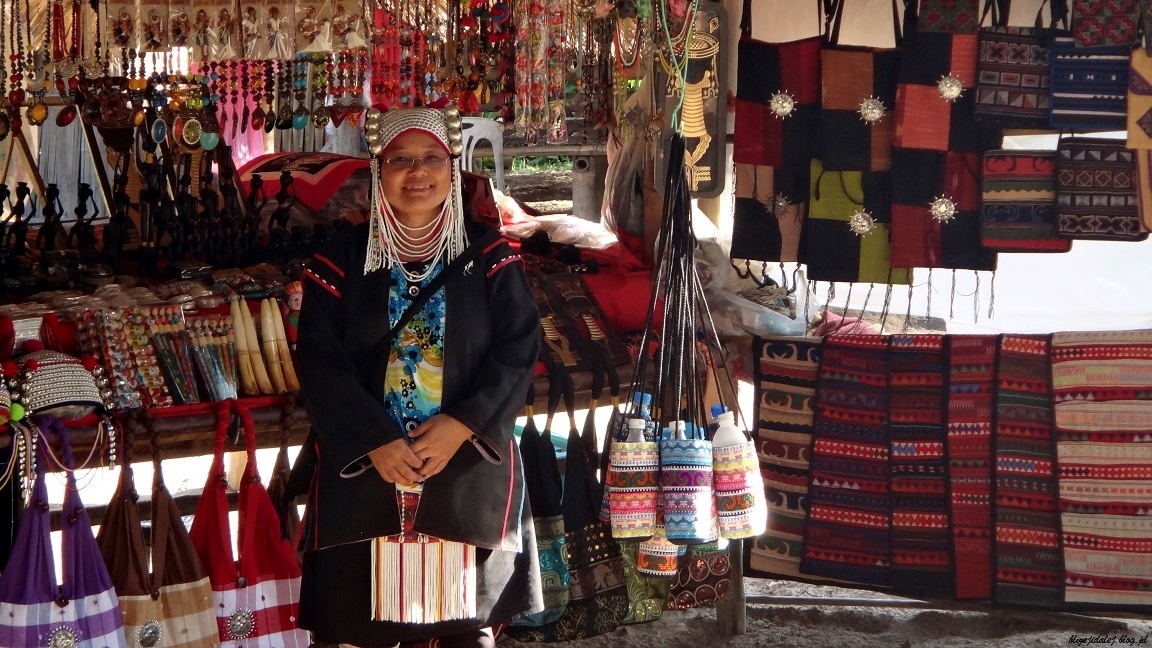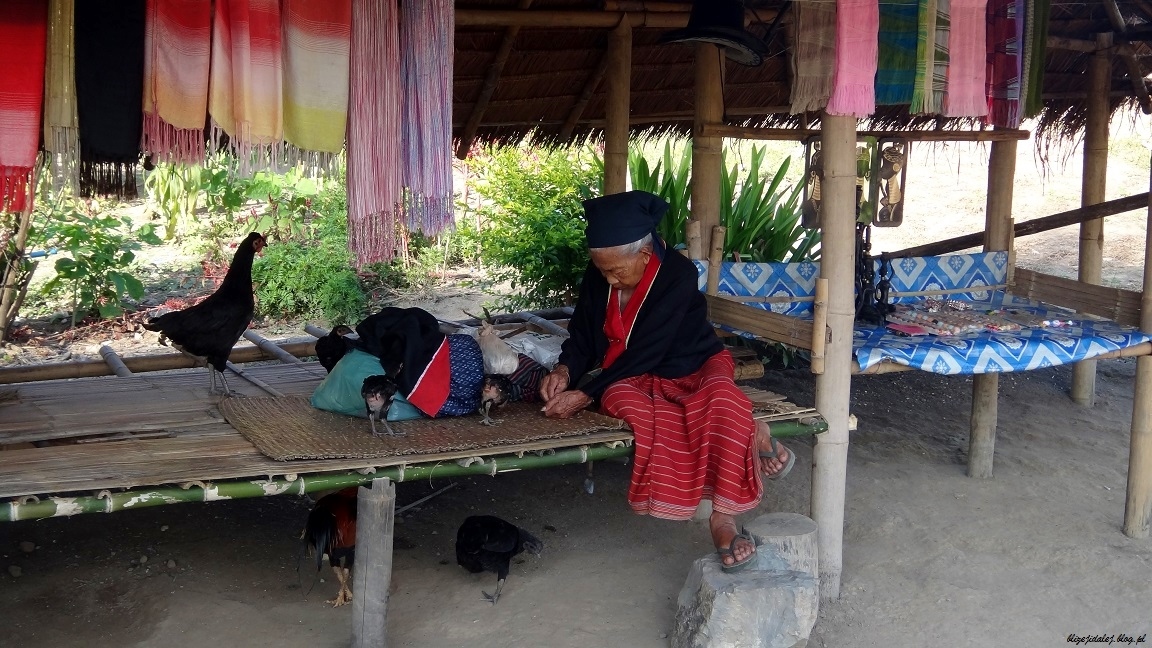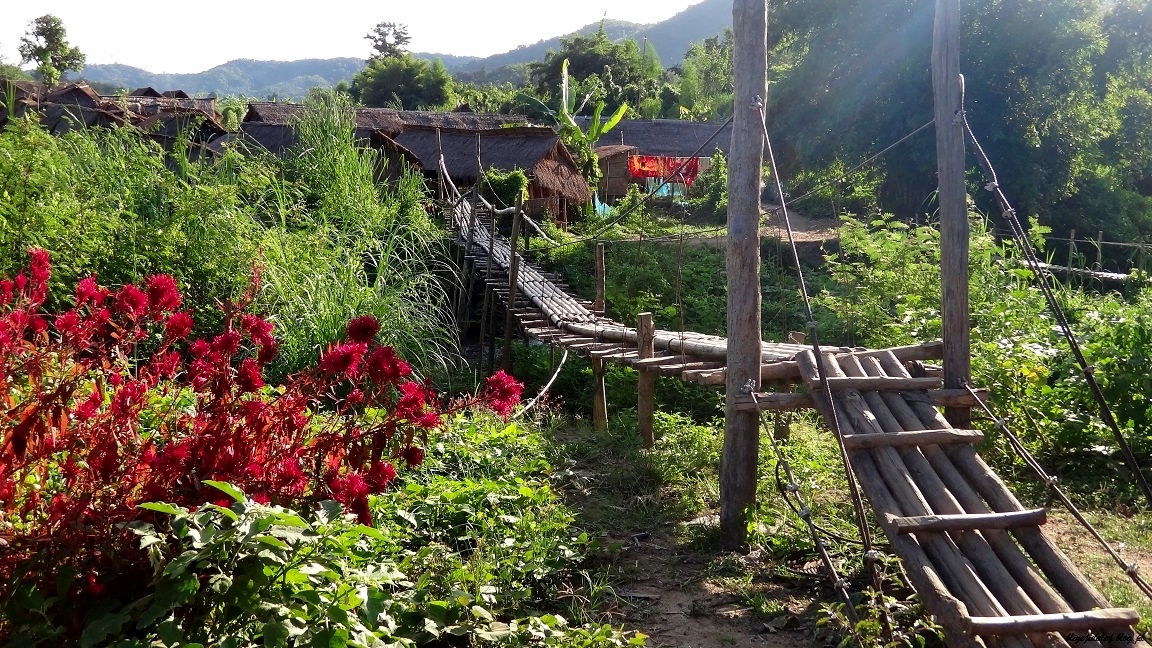 W środku tej małej wioski znajdował się plac, coś na kształt ryneczku, wokół niego na specjalnie przygotowanych podestach siedziały kobiety i dziewczynki wyrabiające szale, sprzedające kolejne pamiątki czy też grające na różnych instrumentach. Wszystko to wydawało się troszkę dziwne, sztuczne i bardzo na pokaz… na początku miałam wątpliwości co do robienia zdjęć, jednak panie uśmiechem, gestem i łamaną angielszczyzną przekonały mnie, że jak najbardziej można, a nawet powinnam je robić ;)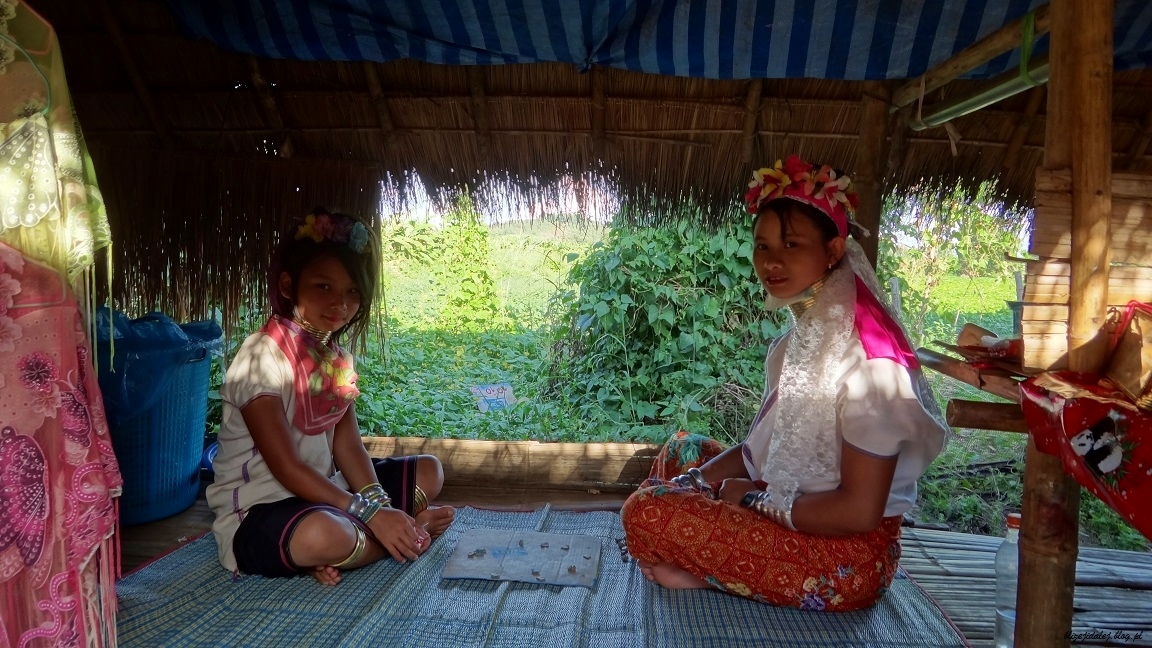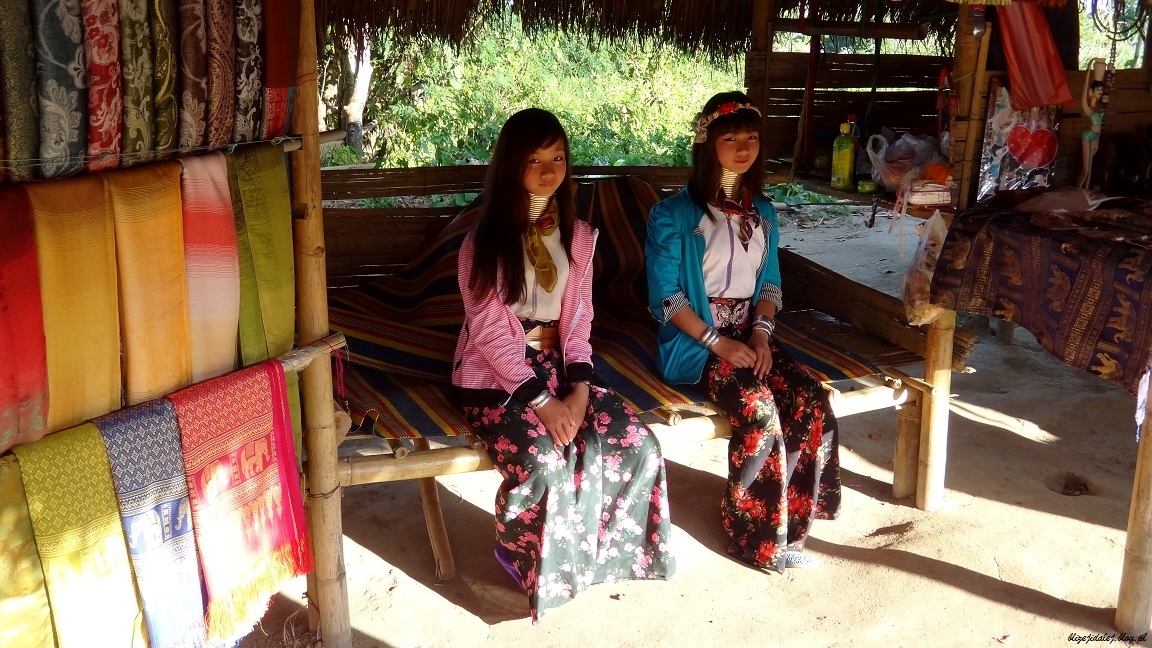 Wszystkie kobiety były pozytywnie nastawione, proponowały swoje wyroby i chętnie pozowały do zdjęć. Niektóre z nich miały czarne uśmiechy i to nie od nieznajomości usług dentystycznych, a od żutego non stop betelu (używka). Za serducho złapała mnie mała dziewczynka, która tkała szal. Mała, śliczna dziewczynka a już miała kilka obręczy na szyi. Co zrobiła, jak dostała od nas kilka monet, oczywiście to co każde dziecko w jej wieku, niemalże natychmiast pobiegła po loda!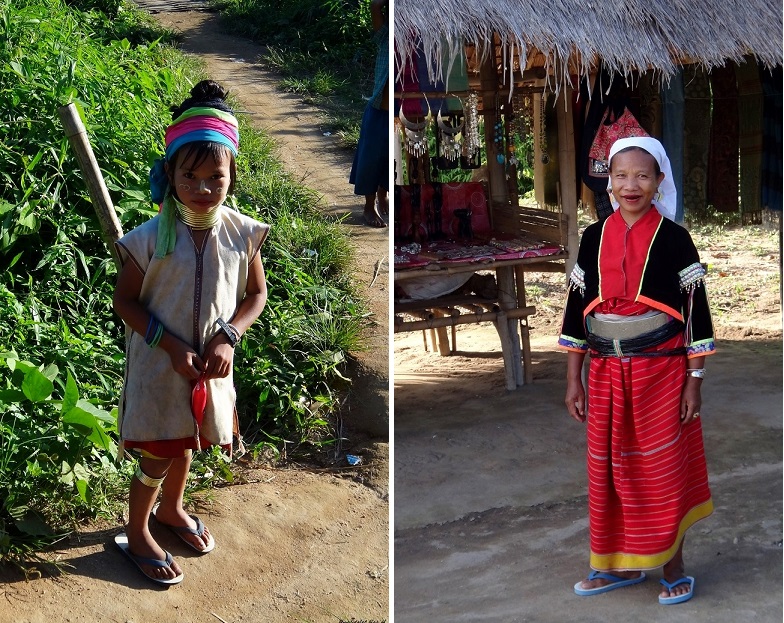 Mam mieszane uczucia… zawsze chciałam zobaczyć taką wioskę na żywo, więc sama nie wiem o co chodzi. Wiem, że z tą tradycją to już ma niewiele wspólnego, a cała akcja wiosek "długich szyj" służy przede wszystkim za atrakcję turystyczną. Jednak czy te dziewczynki mają wybór? Czy one chcą w tym uczestniczyć? Podobno tak… pierwsze obręcze zakłada się dziewczynkom w wieku pięciu lat, a następne po ukończeniu dziesięciu i tylko jeśli dziewczyna zamierza w tym przedsięwzięciu uczestniczyć. Tylko czy dziecko mające 10 lat i nie znające innego świata, może mieć pewność, że tego chce? Jednak faktem jest i muszę to przyznać, że skojarzenia z "ludzkim zoo" nasuwają się same…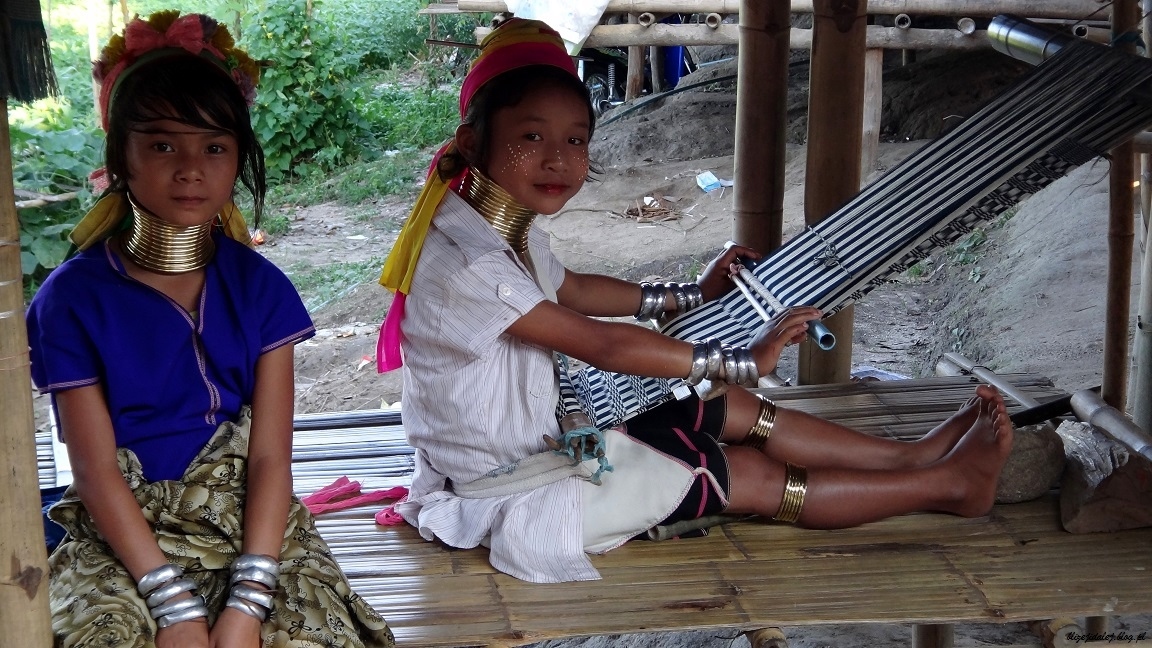 A co do samej mikro wioski, to jak ktoś sobie wyobraża, że tam nie ma prądu, rodziny śpią na ziemi, nie wiedzą co to telewizja i telefon – to się grubo myli. Jak tylko zboczyliśmy z wyznaczonego szlaku to mogliśmy się przekonać, jak wygląda życie wioski "po godzinach odwiedzin". Prąd oczywiście jest, telefon komórkowy mieli praktycznie wszyscy, skutery zaparkowane na tyłach wioski, w bambusowych chatkach widać płaskie telewizory a i wielki azjatycki talerz do satelity też się znalazł – no więc, tak, źle tam nie mają! Niestety, bardzo szybko zostaliśmy zauważeni i wyproszeni ze strefy nie turystycznej…
---
You might also like