Park Narodowy Cinque Terre w dosłownym tłumaczeniu oznacza "pięć krain" i pod tą nazwą faktycznie kryje się pięć uroczych miasteczek zawieszonych na skałach tuż nad bezkresnym morzem Liguryjskim. Cinque Terre zostało wpisane na listę Unesco w roku 1997 roku i cieszy się ogromnym i niesłabnącym zainteresowaniem wśród turystów z całego świata… Zapraszam na krótką wycieczkę po tej pięknej, włoskiej krainie :)
Początek naszej wycieczki miał miejsce w mieście La Spezia, gdzie tuż pod dworcem kolejowym zaparkowaliśmy auto na podziemnym parkingu i udaliśmy się w dalszą podróż pociągiem. Jest to najdogodniejsza forma przemieszczania się pomiędzy miasteczkami a karta turystyczna Cinque Terre Card pozwala na całodzienne korzystanie z pociągów na terenie całego Parku Narodowego. Samochodem także można się dostać do wszystkich miasteczek, jednak liczba miejsc parkingowych jest ograniczona, co oznacza kłopot ze znalezieniem miejsca aby we względnie bezpiecznych warunkach pozostawić auto – wszyscy odradzali nam tą formę zwiedzania, a po jeździe wąskimi uliczkami i wiecznych problemach ze znalezieniem parkingu tej formy także nie polecam…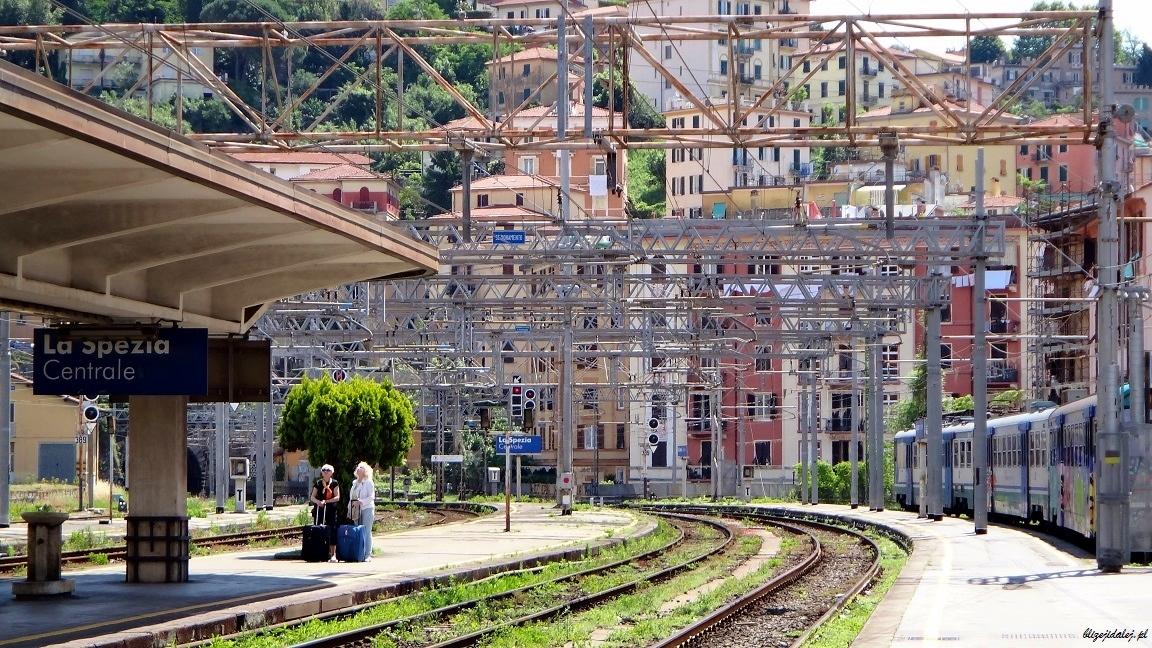 Droga pociągiem prowadzi przede wszystkim tunelem wydrążonym w skale, na powierzchnię wyjechaliśmy pierwszy raz po kilku minutach i oczom naszym ukazał się cudny błękit po horyzont… Cały pociąg westchnął z zachwytem, aby kilka sekund później mruknąć z zawodem – ponownie wjechaliśmy w tunel…
Po około 20-25 minutowej jeździe dotarliśmy do pierwszej stacji, czyli miasteczka Riomaggiore, to także nasz pierwszy stop. Miasteczko położone jest w dolinie między wzgórzami, a kolorowe domki łagodnie schodzą w kierunku morza…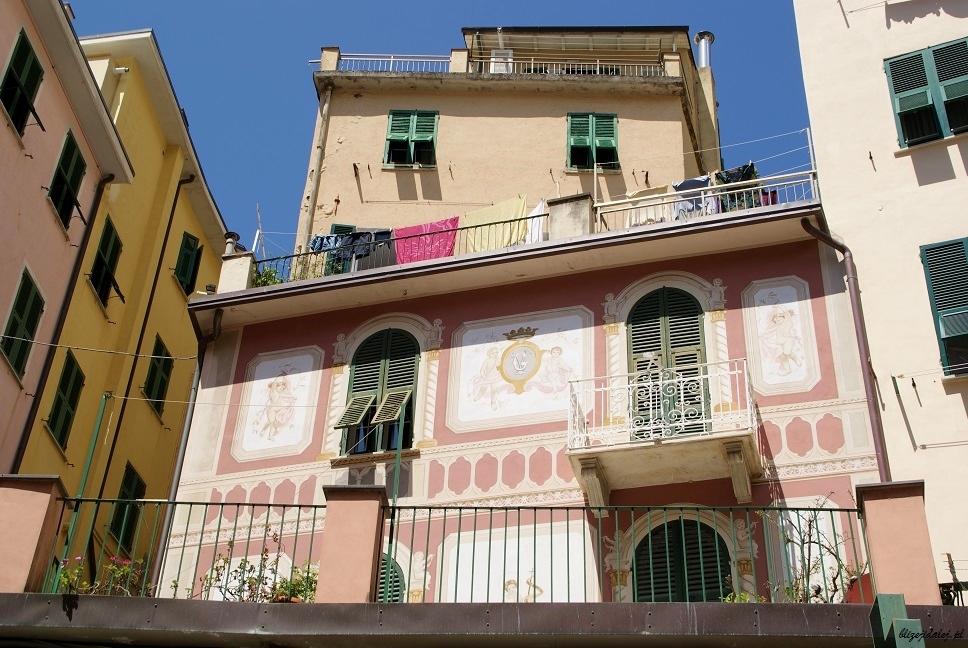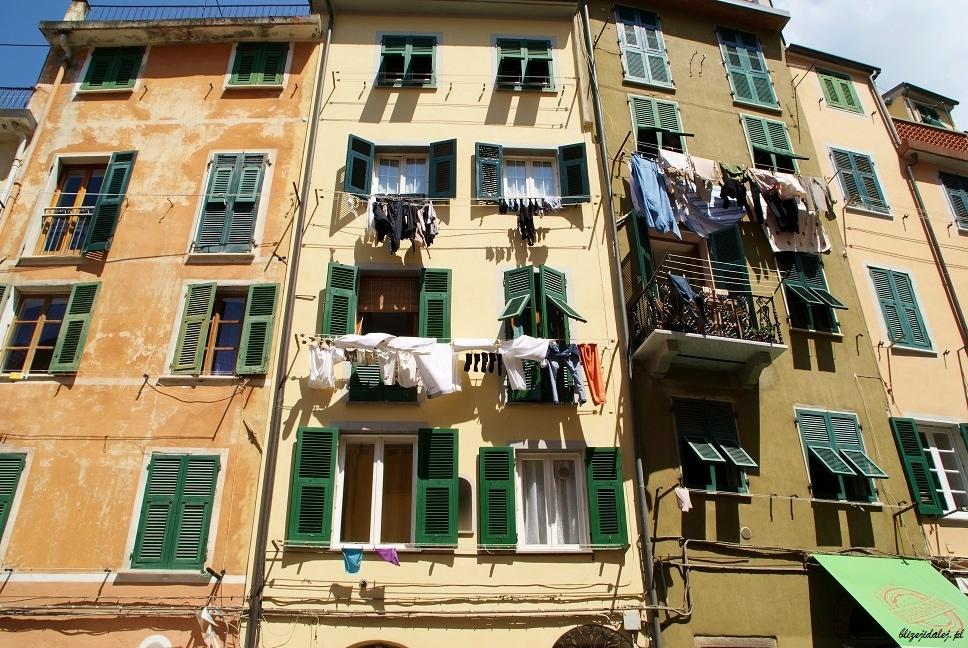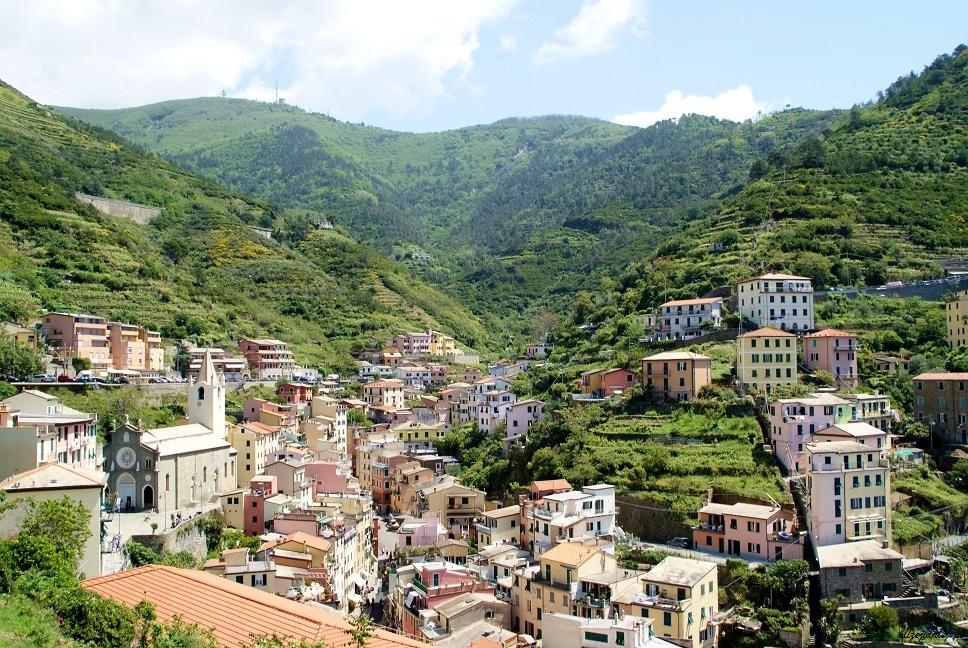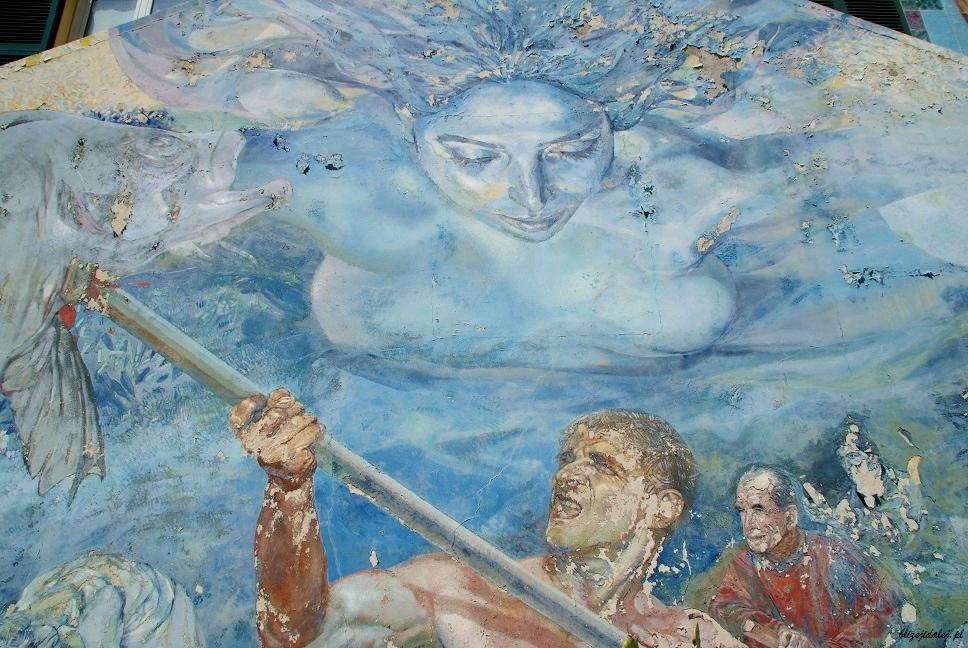 Spacerujemy troszkę po wąskich uliczkach, docieramy do kościoła Św. Jana Chrzciciela a także wdrapujemy się na pozostałości zamku, czy też bardziej mury zamku z fajnym tarasem widokowym na okolicę.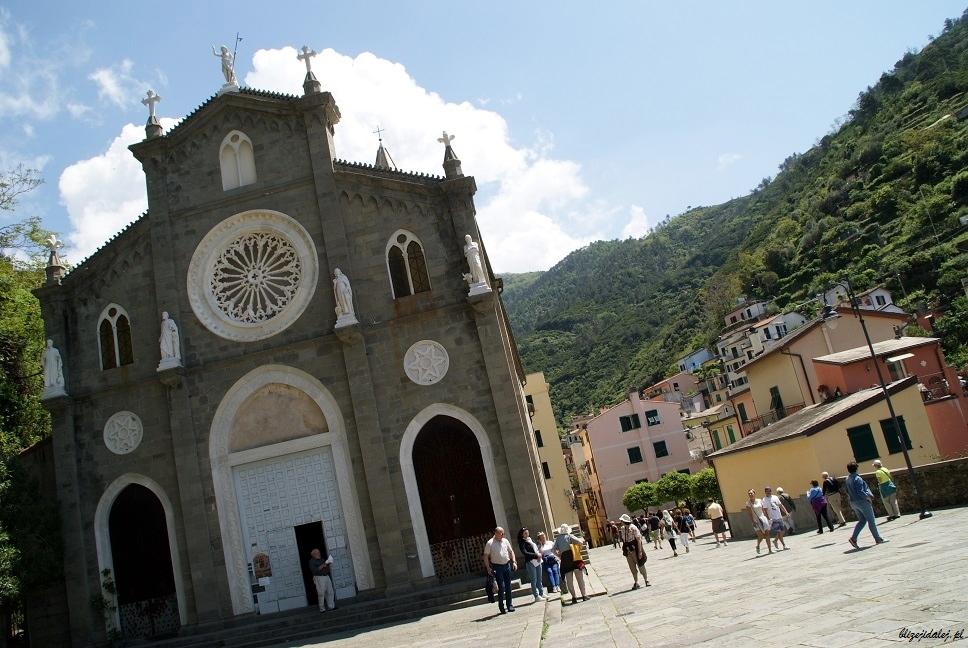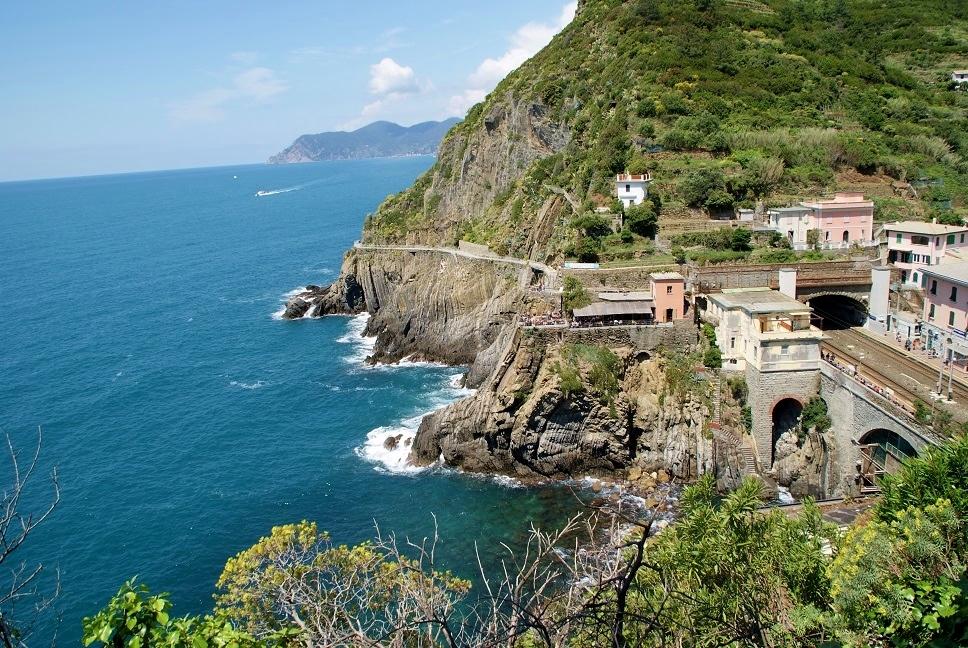 Następnie wąskimi schodkami w dół docieramy na niewielką, kamienistą plażę na której największą część zajmują mniejsze i większe łódeczki oraz kajaki. Kolorowe domki z obdrapanymi i odpadającymi z wilgoci tynkami, tuż obok skaliste wybrzeże i granat morza – to wszystko ma niezaprzeczalny urok :)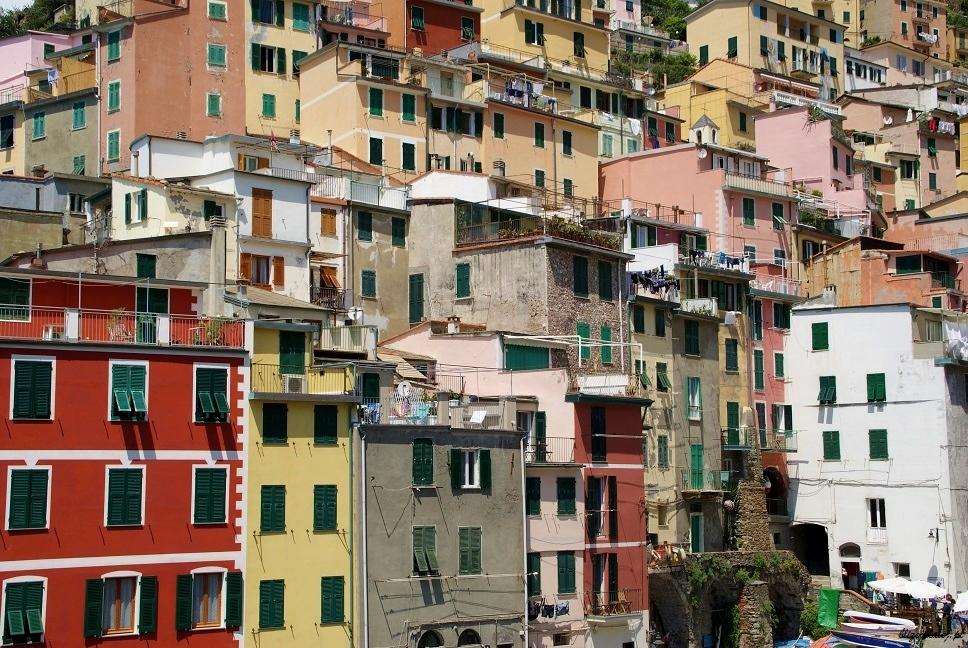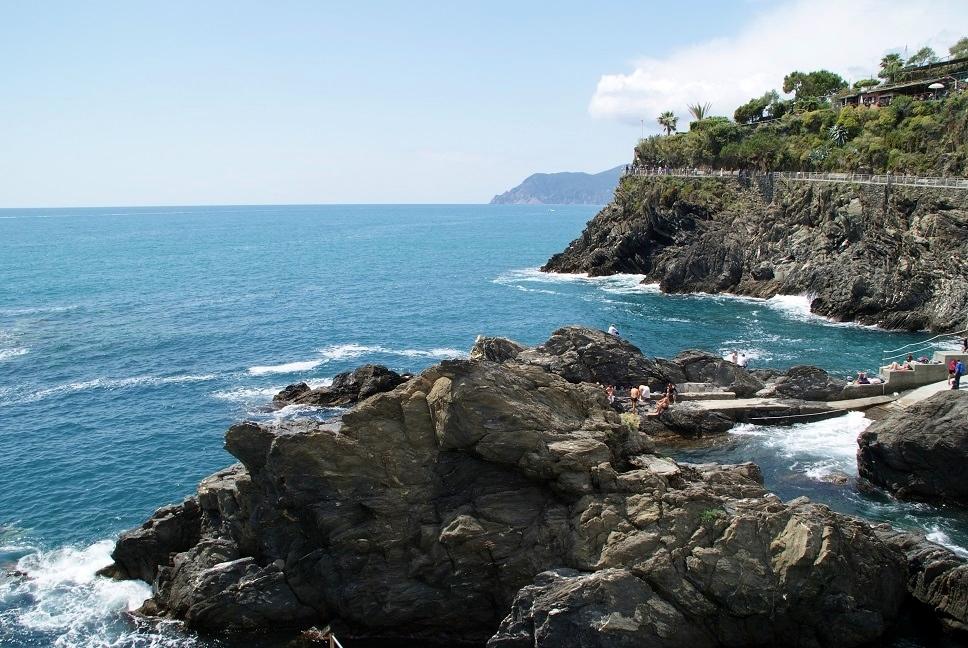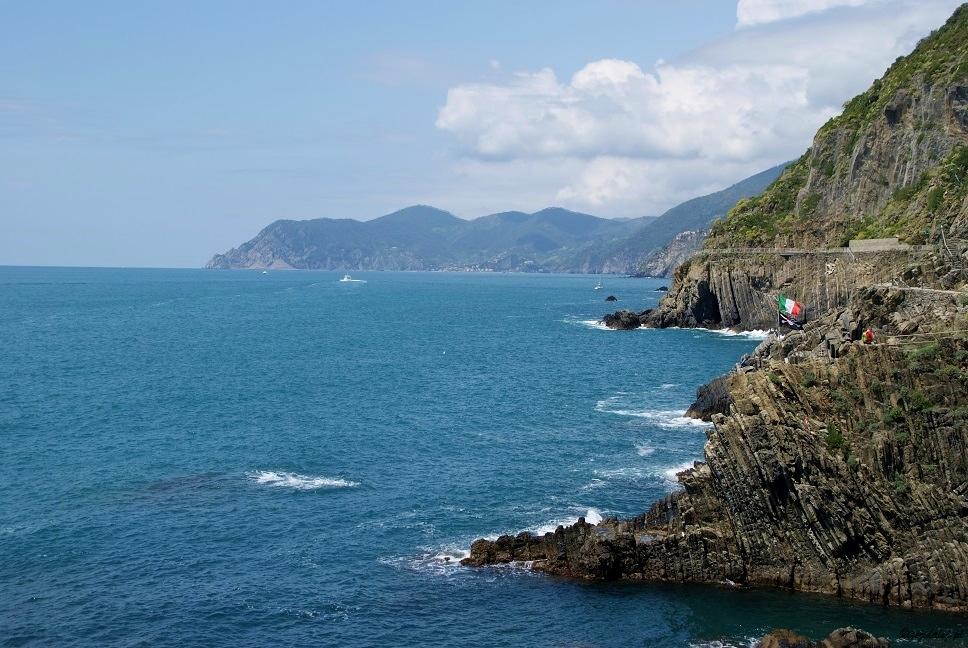 Chwilę później kierujemy się na stację, aby przenieść się w kilka minut do kolejnego punktu wycieczki, miasteczka Manarola. Główna ścieżka z dworca prowadzi w dół do plaży wzdłuż sklepików i restauracji, po chwili docieramy na niewielki placyk z kolorowymi parasolami i skalistą plażą. Tu ciągnie się ścieżka widokowa (częściowo otwarta) na którą koniecznie trzeba się skierować… z tego miejsca rozciąga się cudowny widok na zatokę i miasteczko – piękny widok! Kolorowo, romantycznie, po prostu cudnie :)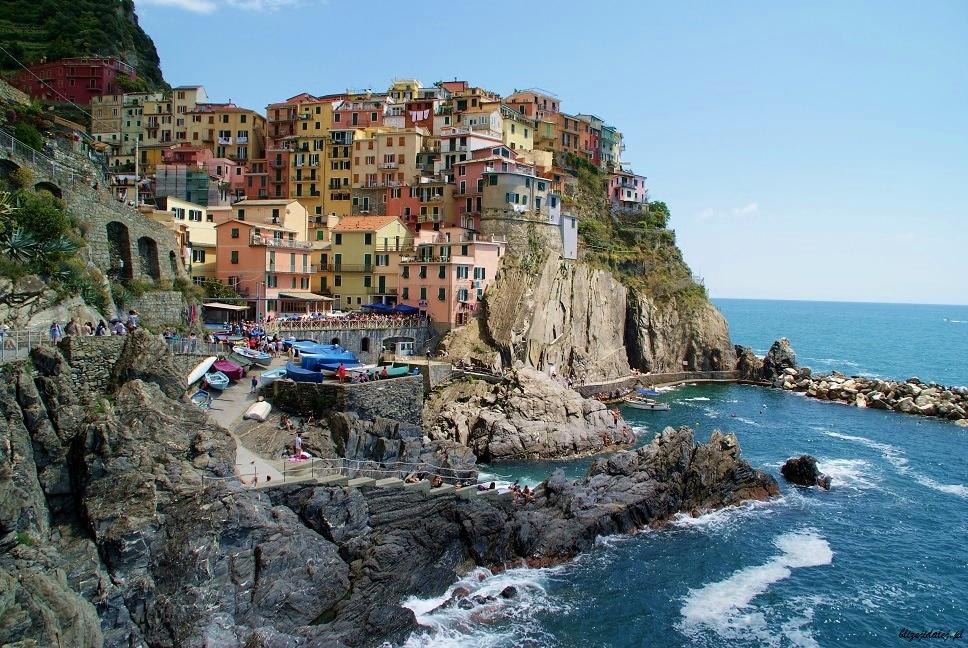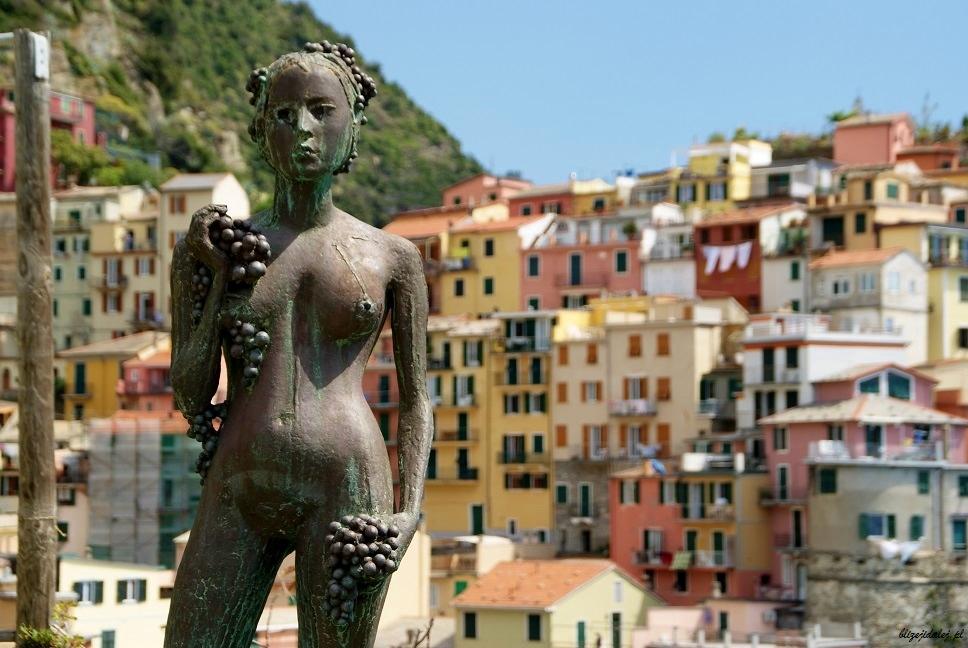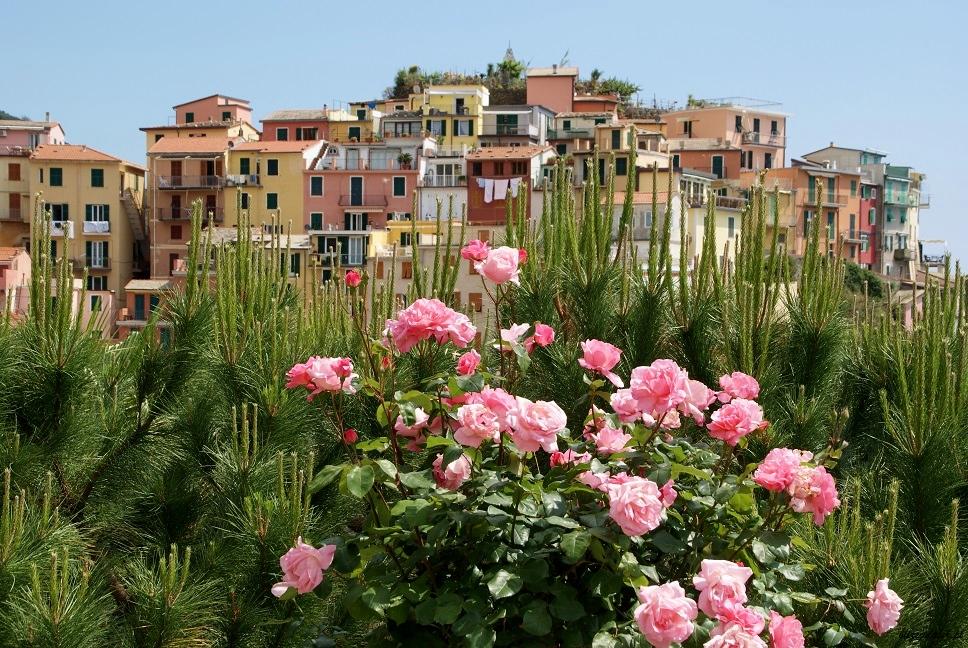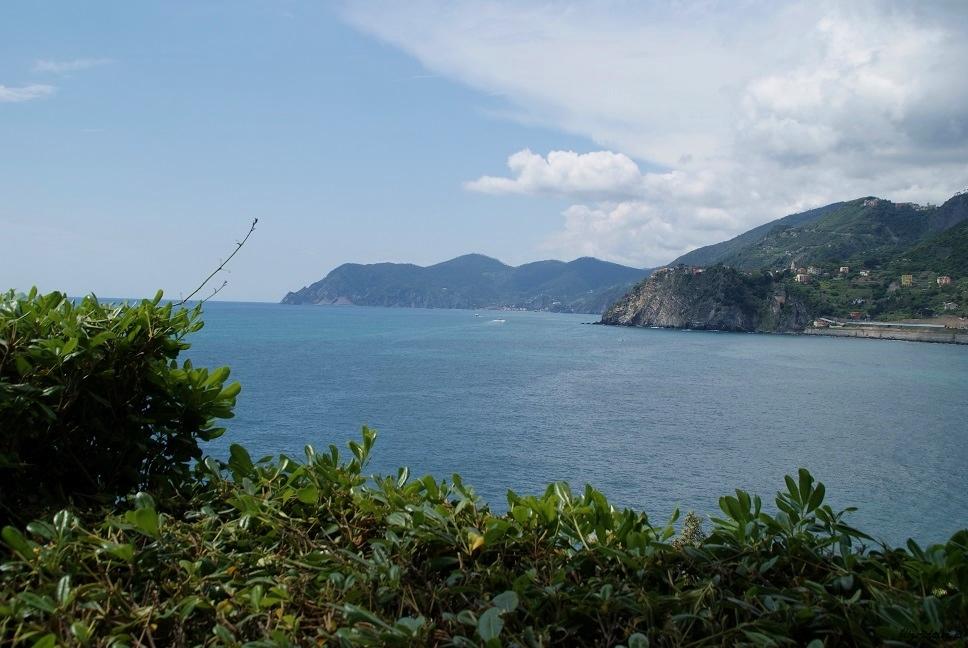 Większość plażowiczów rozkłada się na skałach, a co odważniejsi konkurują w skokach w dal do morza – my tylko z daleko przyglądamy się z lekką nutką zazdrości dla ich wyczynów ;)
Następnie jedziemy do miejscowości Monterosso, gdzie znajduje się duża, piaszczysto-żwirowa plaża na której większość ekipy decyduje się na orzeźwiającą kąpiel… No cóż, należę do zmarźlaków, więc pomimo że jest końcówka maja i wiele osób się kąpie, to dla mnie temperatura wody jest nie do zaakceptowania…wykorzystuję czas na szybkie zwiedzanie okolicy.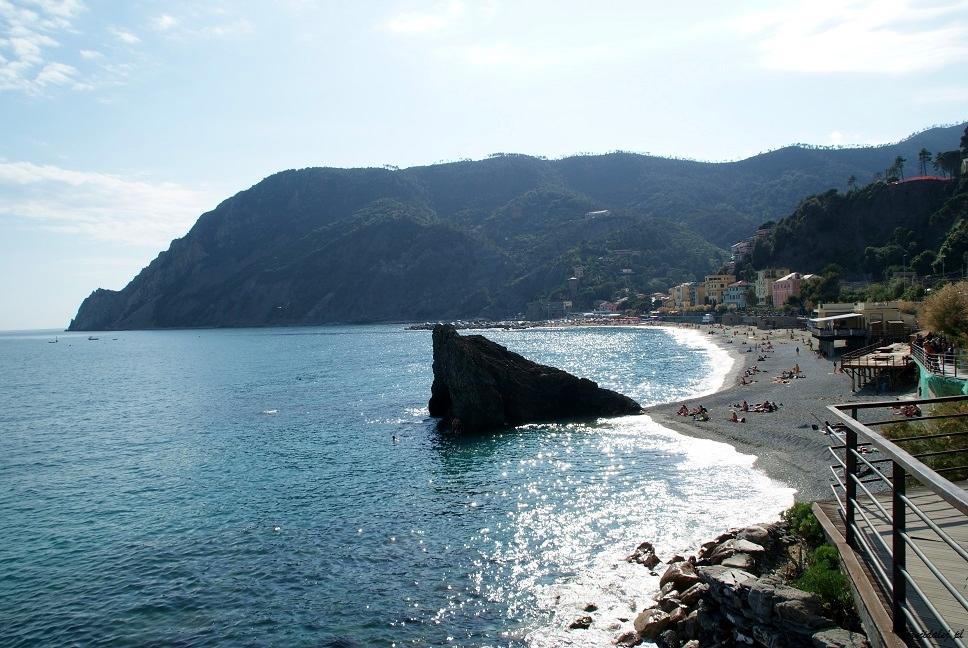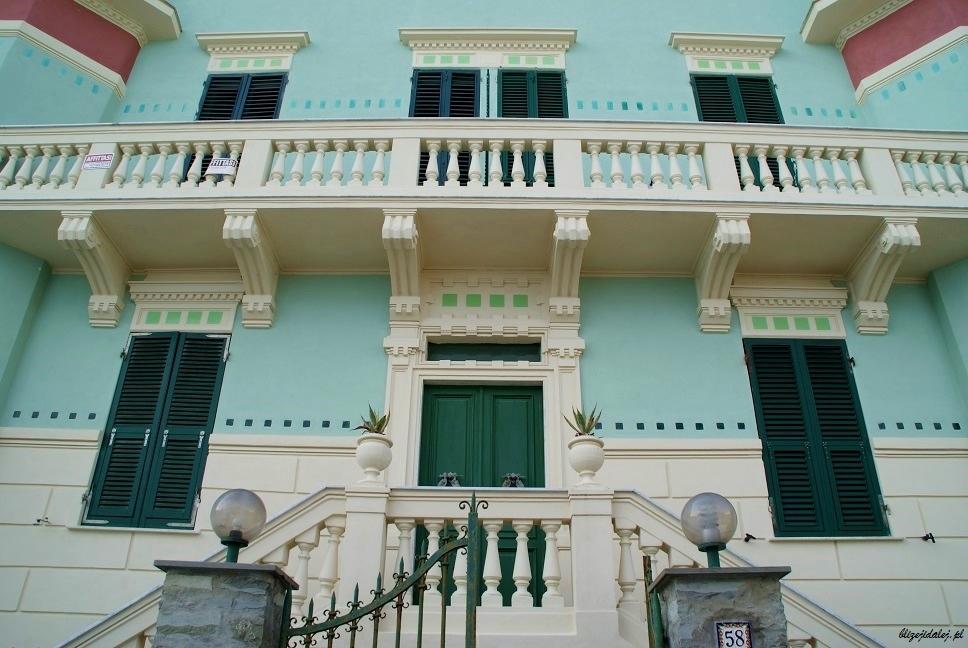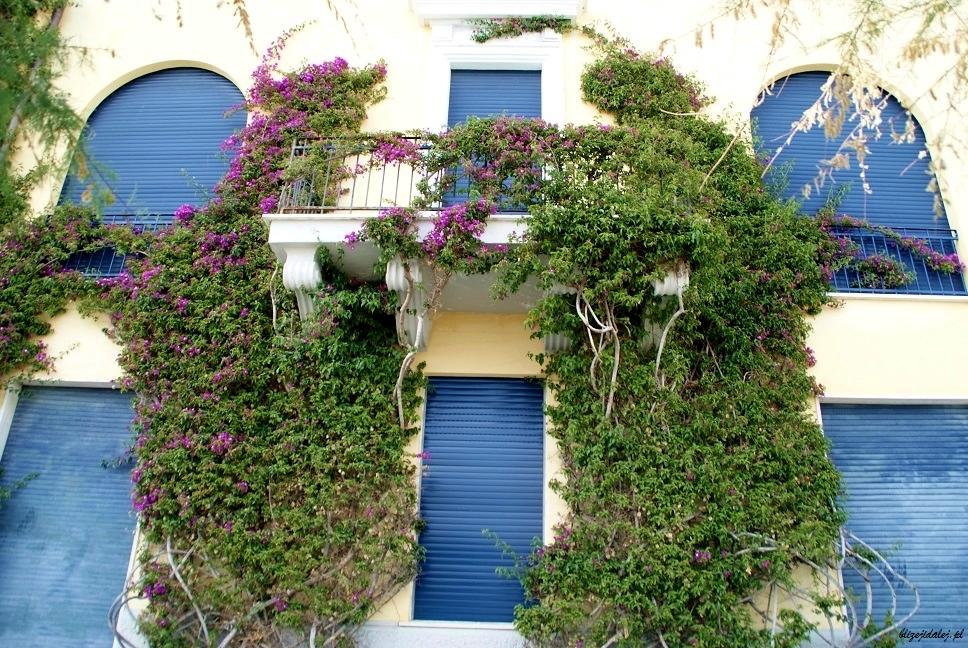 Wzdłuż plaży ciągnie się promenada z klimatycznymi domkami, restauracjami i sklepikami… a my w oczekiwaniu na pociąg smakujemy pierwszej grappy i limoncello – nigdzie tak dobrze nie smakuje jak w samych Włoszech :)
Ostatni punkt w naszej całodziennej wycieczce to Vernazza – jednak to, że ostatni nie znaczy wcale, że najsłabszy… jest dokładnie odwrotnie – Vernazza zachwyca! :) Malutkie miasteczko, kolorowe z oczywiście obdrapanymi domkami, wszędzie w oknach rozwieszone pranie – urocza atmosfera :) Na głównym rynku uwagę zwraca kościół św. Franciszka z wieżyczką zegarową, kolorowe parasole, łódeczki "zaparkowane" na większej części placu i całkiem spora plaża – uroczo i romantycznie!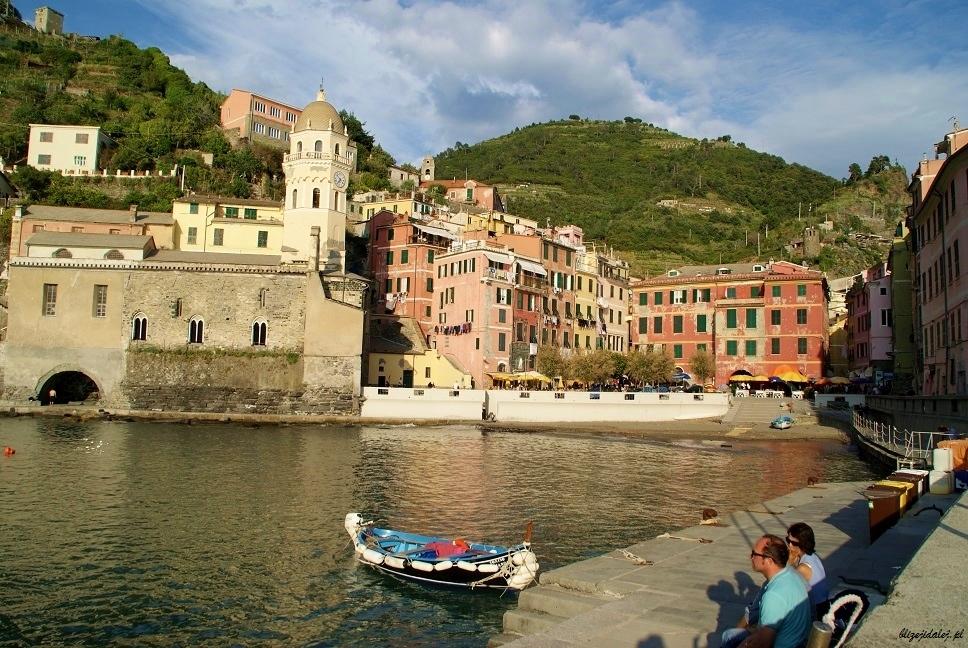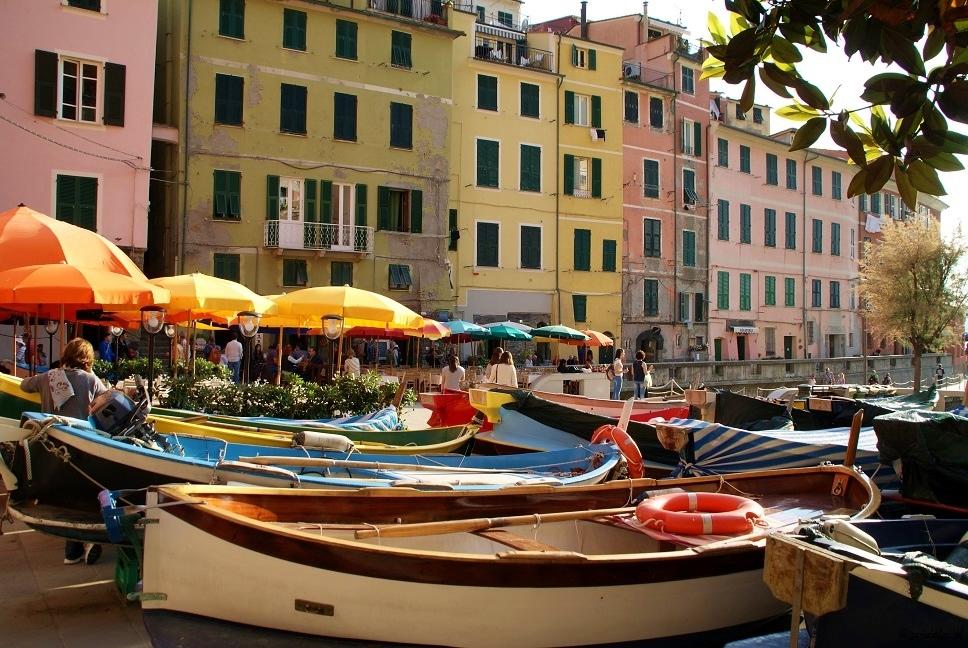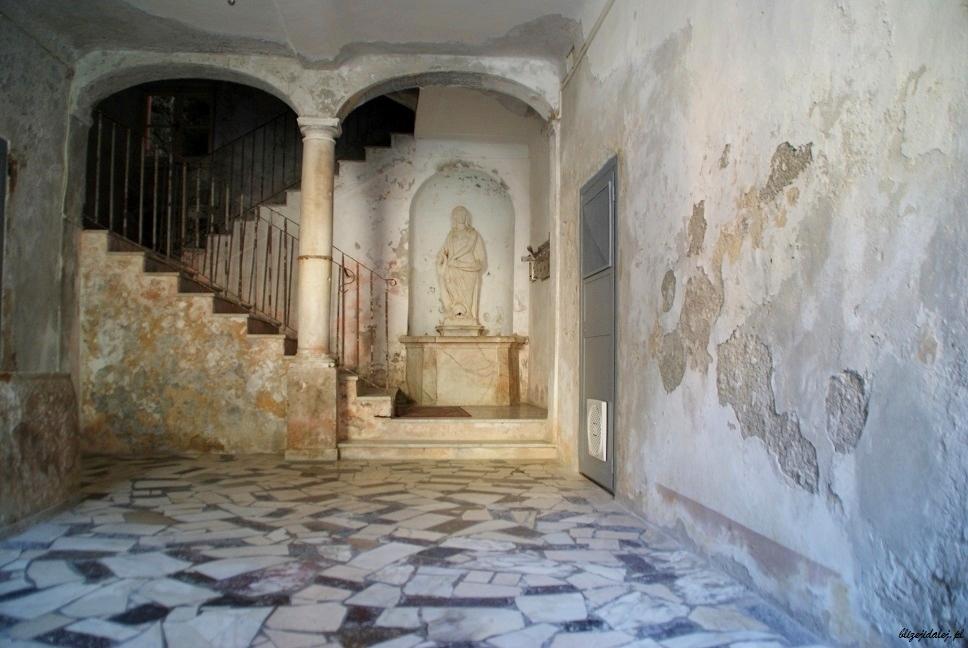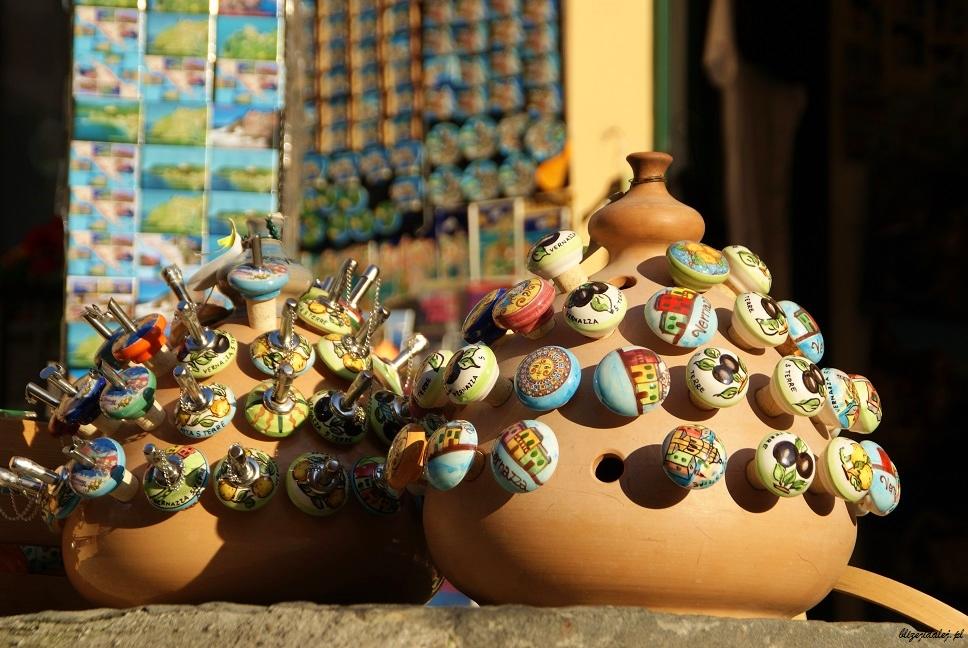 Ostatnie, piąte miasteczko o nazwie Corniglia, nie ma dostępu do morza – do tego miejsca jednak nie udało nam się dotrzeć, sił nam zabrakło… to był i tak dzień pełen wrażeń :)
Dodatkowo, pomiędzy miasteczkami można udać się na spacer ścieżkami widokowymi – niestety ścieżka na którą się szykowaliśmy, czyli najbardziej znana "ścieżka miłości", która rozciąga się między Riomaggiore a Manarolą, obecnie jest w trakcie remontu i to aż do połowy 2018 roku. Szlaki częściowo są zamknięte, więc przed wyjazdem warto sprawdzić na jakim odcinku są utrudnienia lub też brak przejścia…
W całym Parku Narodowym Cinque Terre jest mnóstwo turystów i należy wciąć to pod uwagę przy planowaniu wypadu – jednak absolutnie z tego powodu nie można odpuścić tego miejsca! Ewentualnie można wziąć pod uwagę termin wypadu, aby nie spacerować w tłumie… my byliśmy w maju i tłumu nie było, ale jak na maj to w mojej ocenie i tak było bardzo dużo ludzi – jednak pomimo tego widoki i atmosfera wynagradzają wytrwałość i cierpliwość ;)
Do Cinque Terre chciałam przyjechać od momentu kiedy przyjaciółka na ekranie smartfona pokazała mi takie śliczne, włoskie miasteczko – tak, tak od tej chwili Park Narodowy Cinque Terre znalazł się na liście "zobaczyć – koniecznie"! I faktycznie zachwyca: pastelowe kolory, błękit po horyzont, czarne, poszarpane skały i kolorowe rzędy parasoli wprowadzają w romantyczny nastrój – nic, tylko wygodnie usiąść i z lampką lokalnego wina lub kieliszkiem czegoś mocniejszego delektować się widokiem :)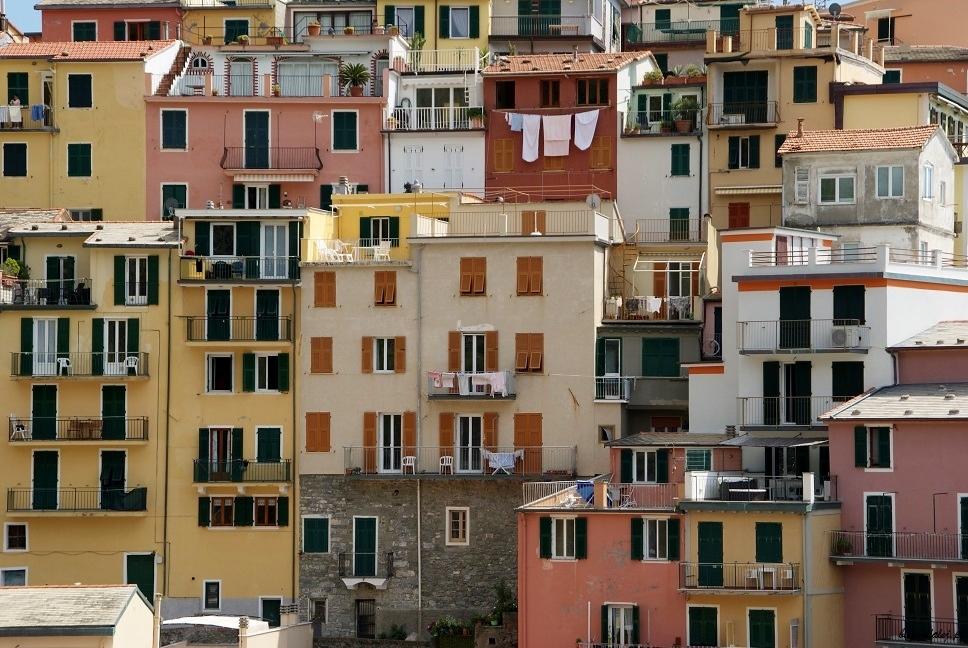 Dodatkowe informacje:
Cinque Terre Card – koszt 7,5€ bilet jednodniowy/ osoba

Oficjalna strona: www.parconazionale5terre.it

Więcej artykułów na temat Włoch (kliknij).
---
You might also like